For single-unit properties, Zeevou will auto-generate the unit type and the unit for you when creating the property. If you rent out multiple units out at the same location, you will need to create the unit types and units manually after creating a property.
Naming convention: Call your property which name you plan to call it on Booking.com as a marketing name. Creating the Property please remember this is the entire property if you have an Apartment block thus the Entrance Code, Wifi Name and Password kind of Unit details should not be put here if you have more than 1 apartments in the same building. When building the property the important details besides we should make sure to enter the required fields are here.
By default, Nightly Plans is available for your organisation; however, in Settings -> Organisation Configuration, you can enable Weekly and Monthly Rates as well.
In Listings-> Properties, if you Create Single Unit Property, you can set Nightly/Weekly/Monthly Security Deposit Amount for Unit Type under Unit Information title.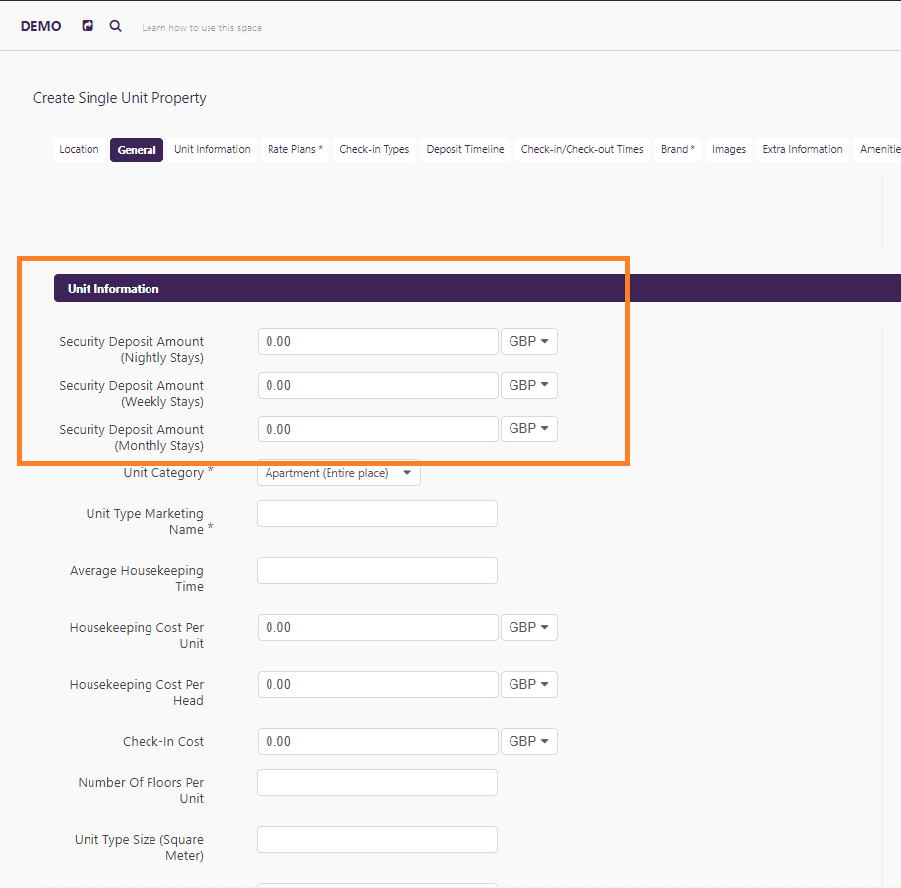 Then under Rate Plan title, you need to make sure at least one Rate Plan is set for your property. You also can add Nightly/Weekly/Monthly Rate Plans. The Rate Plan you set in the property page works as default amounts. That is if you forget to set a rate plan for a period of time for a property, property default details will be applied.
– To be able to save the created property, you need to add the Rate Plan, set a Name for it, choose whether it is going to be your default Rate Plan, and determine its Type.
– For Min Stay field, please note that if you choose weekly and monthly rate plans, the Min Stay cannot be less than 7 nights for weekly and 28 nights for monthly types.
– Then you need to fill Max Stay, Min Guests, Max Guests, Default Rate, Extra Guest Fee, and Add-Ons.
– Please note that only Nightly Rate Plans can be mapped with Zeevou Channels at the moment. Weekly and Monthly Rate Plans and Rates can only be applied to your Zeevou booking engine and direct bookings.