When you log in to Zeevou, you can see the details of your contract. On the top right of the page, under your login name, click on Account.

If you are a partner, you are using the Annual or Monthly plans, you can increase the number of your licenses by going to Account -> Contracts -> Click on the Contract -> Buy License.

In the opened page, you can set the number of new licenses you would like to purchase per Entire Places and/or per Rooms.
Entire Places' examples are Apartment, Suite, Studio, etc. that refer to the Entire Place.
Rooms' examples are Single, Double, Dormitory, etc. that refer to Private or Shared Rooms.
For more details, check below:
Total Number of Licenses shows the number of licenses you have access to.
Number of Licenses Used
Number of Licenses Available
Current Price per Month shows the amount you are paying for your current licenses.
Number of Licenses to Be Purchased
Additional Price per Month shows the amount that will be added to your current commitments.
Unit Price
Amount to be paid for future billing month shows the sum of Current Price Per Month and Additional Price Per Month.
Amount to be paid for current billing month shows the amount you are going to pay as your first invoice for the purchased licenses.
Finally, you need to click on the Make Payment button to see the payment page and complete the process.

Please note that if you have unpaid invoices and your balance is negative, when you click on the Buy License button, a warning message will appear. In this case, at the bottom of the contract page, you need to open the Unpaid invoices and click on the Pay Invoice button that leads you to the Payment page.

In Zeevou Payment page, you can download the PDF invoice for your first payment by clicking on the word "here." Also, you need to insert your personal details such as your First Name, Last Name, Address, Postcode, City, and Country. Then, you can set details of your credit card to pay for the purchased licenses.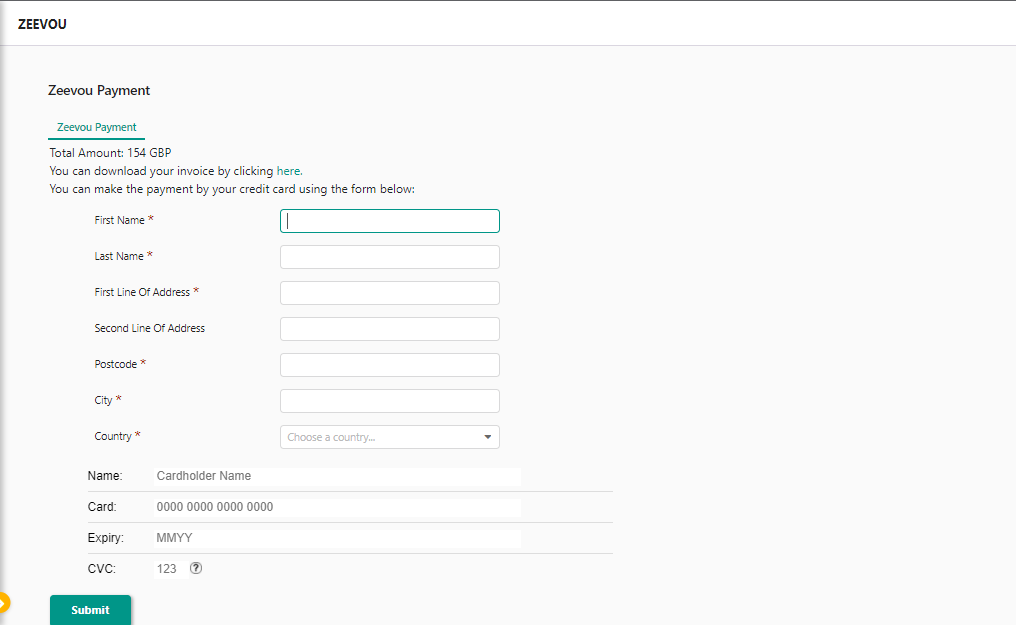 If the payment processes get completed successfully, when you reopen or refresh your contract page, you can see that details of your contract get updated automatically. In addition, in the contract page, if you click on your name in the Customer field, you can see the balance of your account. Please note that your Balance would show zero, only if you have paid for your purchased licenses in Zeevou.