Streamline is a vacation rental software founded in 2005 in Arizona, USA, to provide owners with a solution to run properties in the short-term rental industry. It is a cloud-based property management platform that helps users to manage online booking, housekeeping, and front desk activities. Streamline offers all-in-one software and helps vacation rental businesses manage leads, websites, accounting, distribution channels, partners, document systems, and POS. 
Streamline offers owners a portal to manage their vacation rental units, maintain reservation calendars, submit maintenance requests, and view statements. It also allows housekeepers to access their housekeeping module and update their progress. Tools available in Streamline's front desk module allow agents to create reservations and access property setup, staff management.
All the reservation and accounting packages are in a central hub. One of Streamline's advantages is that it does not need any manual upgrades. As the system is cloud-based, it will be automatically upgraded so there is no need to buy any upgraded hardware or software. 
In this article, we explained the solutions offered by Streamline based on the information we managed to gather to help you to make the right choice.
Essential Factors Which Can Affect Your PMS Choice
As your rental business grows, you need a professional and functional PMS to help you manage all processes more efficiently. A PMS with various automation tools can assist you to handle your business' workload, reduce human errors, improve your guests' satisfaction levels, and maximise your profits. The booking process is one of the important areas, the automation of which not only affects the efficiency of your hospitality business but also improves guest experience.  
Besides, every short-term rental comes with its unique challenges, highlighting the significance of a qualified support team that can help you fix your challenges quickly. Furthermore, a secure payment processing functionality within the PMS of your choice ensures that your hard-earned cash will always be safe, and you'll remain unharmed against chargebacks. Also, to safeguard against losses following property damages, you need to think of a process to handle security deposits in a very efficient way.
Automated Booking Processing
Streamline's reservation management system is one of its top features that allows hosts to place or move bookings and concierge requests. The rental agreement is automated by e-signature, which is used to send contracts for signature post-reservation. 
Streamline also offers a Guest App used to inform the guests about their upcoming reservations and reservation details.
Streamline also offers a Guest App used to inform the guests about their upcoming reservation and reservation details.
Streamline directly integrates with some third-party distribution channels: Vrbo (HomeAway), Airbnb, Booking.com, TripAdvisor, HomeToGo, Yonder, HVN, GuestSmiles, Whimstay, Find Rentals, Rentalz.com, Rent 30A, Ocean Beds, Top Villas, CanadaStays, HouseStay, and Ilovevacations.com.
Streamline has a calendar management system to manage multiple calendars and updates all channels' calendars automatically.
Streamline features a housekeeping app that allows the housekeepers to know which units they need to clean. As they go through their list, they can click on "Complete," which will let the system know that the unit is clean and ready to check-in. Also, another option lets hosts integrate cleanings with inspections to track the housekeepers' activities.
With the translation option on the app, those housekeepers with a foreign language won't have problems understanding the tasks they have to do. 
The manager can customise the cleaning statues as closed or re-cleaned ones (if needed).  
Receiving three different reports, check-in, in-house, and check-out, a quick overview can be easily accessed to see what's going on.
Also, the standard labour pricing can be defined, the discount for labour cost can be entered, and finally the labour cost can be directly synched into accounting reports.
Streamline allows guests to self check-in by using the guest application. The automated e-signatures & guest welcome emails are other features of Streamline. E-signatures are handled by using Streamline's Managed Documents suite to send contracts for signature post-reservation.
Also, a phone system provides the host to text the key code and Wi-Fi credentials.
Streamline allows the hosts to get a new website or integrate their existing website.
Streamline uses SEO and SEM, which can be integrated seamlessly with WordPress with a plugin. Also, discount management and coupon systems can be set through the website.
At Streamline, using the Google local rankings, companies that don't have incredible marketing budgets can show up at the top of the results. This is done by acquiring reviews, setting the host website up with online citation services, and using the correct keywords on the host's site.
Streamline allows hosts to set weekly or nightly rates. "Stay Restriction" is another feature that allows the host to set the minimums on the number of nights (length of stay).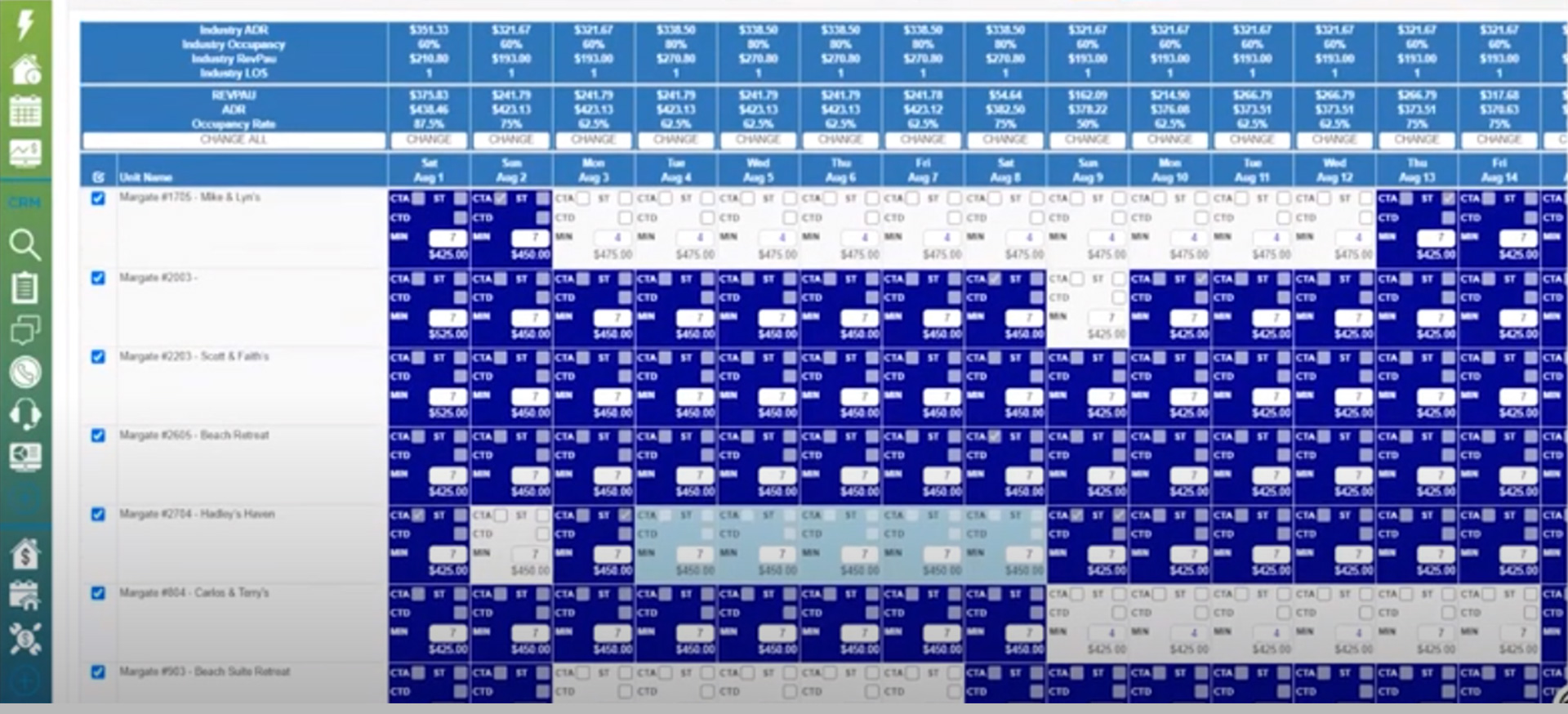 Streamline offers a Guest App which is used for informing the guests about their upcoming reservation, gives their reservation details, welcomes them to the property, and offers extra services (i.e. selling activities, bike rentals, firewood, etc.). Also, having integration with other websites, the guest's charges can be linked automatically to their folio and be part of their reservation.
Streamline allows the automation of post check-out emails or texts, directing guests to leave reviews for the property or their overall stay experience.
To obtain housekeeping, maintenance, and guest experience data, hosts can send surveys.
The communication center allows hosts to target guests and send emails/texts based on the guest's budget, desired amenities, and size, which can positively affect the guest experience. 
A coupon/discount management system is offered to reward loyal guests and entice new bookings.
The phone system provides hosts with guest data, recent quotes, previous reservations, and historical notes before answering the phone. This can affect the greeting quality and improve relationships with guests.
3.Kigo provides a ready-to-use template for your automated guest messaging system.
Streamline includes different features that can be related to the guest CRM:
The phone system allows hosts to access call/guest data.

Having AIO Software (All-in-one software), different modules are available such as quote generator and email management. Sending quotes and an automated document trigger system that includes welcome emails, e-signatures, and marketing communications to the guests allow hosts to create targeted emails that can be integrated with MailChimp and Constant Contact, primarily used for building a CRM.
Streamline links the maintenance team with the housekeeping team with the help of two apps. The PropertyCare housekeeping mobile application allows the housekeepers to report any issues they find while cleaning it and pushing it directly to the maintenance team.
The PropertyCare maintenance app allows users to take pictures and assign each operator or vendor (with priority, sorting, viewing, and specific details for each task). The head operator can supervise all of the pending tasks, active tasks, pending closing, and closed tasks.
set your expectations by attaching photos and have a place to receive photos in real time from cleaners

automate all communications through the system by email and SMS.
Streamline has different Apps to be used by other sections of the host business. 
The Owner App allows the property manager to be connected with the owner.
The Housekeeping App allows the manager and the housekeeper to communicate and complete their work. 

The Maintenance App allows users to take pictures, add labor and price, send owners the automated photos of the pre- and post-work done on their property. 

The Guest App informs the guests of their upcoming reservation, gives their reservation details, welcomes them to the property, and upsell concierge services.
Information about this was not available on their website.
Streamline helps the hosts to manage the operation tasks by offering different apps:
With the Housekeeping App, check-in, in-house, and check-out status of the housekeepers can be viewed. Managers can also supervise the housekeepers' work by integrating cleanings with inspections. Also, the housekeepers' location can be tracked by the application, and any issues can be reported by the housekeepers and communicated directly to the maintenance team.
The Maintenance App is used to calculate the log hours and cost of parts. Besides, the head operators can see all of their pending tasks, active tasks, pending closing, and closed tasks, allowing them to assign operators, vendors, priorities, and block out a unit if they find a serious problem. For clarity, the before and after photos can be uploaded when doing work so you can show them to your owners.
Through the Guest App, the check-in and check-out process is taken care of. Also, the quotes can be sent to the guests.
Streamline features give owners transparency in their investments by offering a portal to manage their units, maintain reservation calendars, submit maintenance requests, and view statements.
Streamline offers the Owner App, which allows the property manager to connect with the owner. Besides, through the Maintenance App, the maintenance tasks can be observed by the owners, and the photos of the pre- and post-work done by the maintenance team can be sent directly to the owners.
Owners can: 
check property availability calendars.

book an owner stay, or guest-of-owner stay

download their owner statement
Information about this was not available on their website.
It accepts bank transfers, checks, and cash payment. 

You can add payments manually, send payment requests and payment reminders.

Pre Authorisation can only be granted for seven days. 

Lodgify charges you 1% transaction fee.  

You can set 2-3 payments: a percentage at the time of the booking and the remainder some days before arrival, for example.
Streamline has a CEO dashboard, where a quick overview of the software performance, revenue pacing, revenue comparison, sale pacing, and other critical reports can be observed.
The software's occupancy can be viewed by daily, weekly, monthly, and quarterly filters. Streamline also helps the host compare the data against the previous year or report the team's performance for further analysis. 
Streamline's phone system allows the host to record and score calls. Also, having tools such as Key Performance Indicator (KPI), hosts can evaluate their performance.
Streamline offers a revenue management tool that helps to optimise rates with dynamic pricing per distribution channel. Streamline works with dynamic pricing integration partners: PriceLabs, KeyData, LSI, Transparent, Beyond Pricing, and Wheelhouse.
Upon the rules the property manager sets, the rates will automatically adjust. 
Rates can be changed based on occupancy and booking window per day per unit per price group.
REVMAX is one of Streamline's products, giving the hosts revenue reports and revenue pacing, and enabling them to compare the data against the previous year.
Streamline supports its customers by onboarding sessions, live support, email, and phone. The phone support team is available Monday-Friday 8 AM-7 PM, as well as on holidays and weekends. 
The software shows the users the account progress and tells you what steps are left to thoroughly set up your system. 
There are articles and instructions both on the website and in the software itself.
Streamline's accounting platform uses ACH, Check, and NACHA to keep track of the owner's money, advanced payments, vendor payables, taxes, and in some cases, security deposits. The system also allows to manage the host's travel agent income/expenses, report the owner transaction details, sales and revenue pacing, and an analysis of the profit.
You can generate invoices to employees. 

You can keep track of the expenses.

The system allows you to create accounting statements. The statements will be updated automatically based on received and sent payments.

The amounts on the payments are not automatically updated. 

There is no bank account for the owner; the split proportions of income on each booking are for reporting purposes.
Unified inbox is one of Streamline's features that helps to communicate with guests and the listed OTAs. This allows the host to manage all emails, texts, and chats from one central area
2. You can reply to the guest via email. Each booking has a unique Email String. Only when you respond to this string, the conversation will be saved in the reservation.
Which automated emails are sent to your guest depends on the channel. For example, If the reservation is from Airbnb, "2 days before rental arrival" and "2 days after rental departure," emails will be sent automatically.
Streamline does not offer any free trials. Streamline's pricing starts at $1,000 (713.52 GBP) per month, depending on the number of units. Accessing the RevMax MD toolset, which is a Streamline product for revenue management, costs $5 (3.57 GBP) per unit per month.
Streamline: A Property Management System to Choose?
Choosing Streamline, you will have access to different features such as a new website or integration to an existing website, various mobile apps for the owner, housekeeping/maintenance (Property Care App), and guests (Happy Stays App), customisable reporting, integration with multiple distribution channels, a point of sale (POS), targeted email marketing, and a calendar management system that helps the user to manage multiple tasks. 
We are committed to ensuring that all our analytical articles are factually entirely correct and accurate. If you have spotted anything that you feel is wrong or misleading in this article, we'd appreciate hearing from you.