Confirmation Page Settings allow you to:
Customise the confirmation steps. 

Specify whether a field should be mandatory or optional for guests. 

Include or exclude your desired fields in the confirmation steps. 

Customise your Marketing Consent settings. 
Set different settings for Person Booking, Lead Guest, Additional Adults or Children. 
Activate Upsells before the Payment page. 
Customise the content the of Payment, Security Deposit, and Success pages. 
Confirmation Page Settings
By clicking on this link, you can open the Confirmation Settings, where you'll be able to customise the fields and texts in the Confirmation Process. 
Step 1: General Info 
On this page, you can specify the following details:
Booking General fields

Person Booking fields
Marketing Consent content
Privacy Policy Note
Go to

Confirmation Page Settings

.

Set your brand name by clicking on the upper right button.

Go to the

General Info

tab

which contains

General

,

Person Booking Info

,

Marketing Consent

and

Privacy Policy

sections.

 

Turn on the items which need to be shown to guests during the confirmation process.

Determine whether the item should be mandatory or optional for guests. 

In the

General Info

section, you can choose

Booking Purpose

,

Departure Time

, and

Arrival Time

to be asked from guests.
Note: When you turn on some mandatory items by default, you can see: "Filling this field will be Mandatory for the Guest."

Go to

Person Booking Info

and turn on the items which need to be shown to the Person Booking during the confirmation process:
Finally, go to the

Marketing Consent

section.
Note: You can update and inform your guests of the latest marketing promotions and exclusive discounts via various channels here.

Toggle

Disable

to

Enable

to turn on Marketing Consent (GDPR) and choose from the tick the

Marketing Platforms

you want your guests to give you consent for marketing purposes and initiatives:

Note: You can also customise the text that will be displayed to guests.
To do so, click on Edit to make changes in the Opt-in Prompt and finally click Save.
Step 2: Guest Info
You can do this the same as you did for the Person Booking section. If the Lead Guest and Person Booking are one person, the system will sum up the fields related to both. Otherwise, related fields will be shown to each.
There are two more sections as Additional Guests for Adults and Children which you can enable to be shown during the confirmation process:
Note: Disabled sections will be hidden from guests on Confirmation Pages.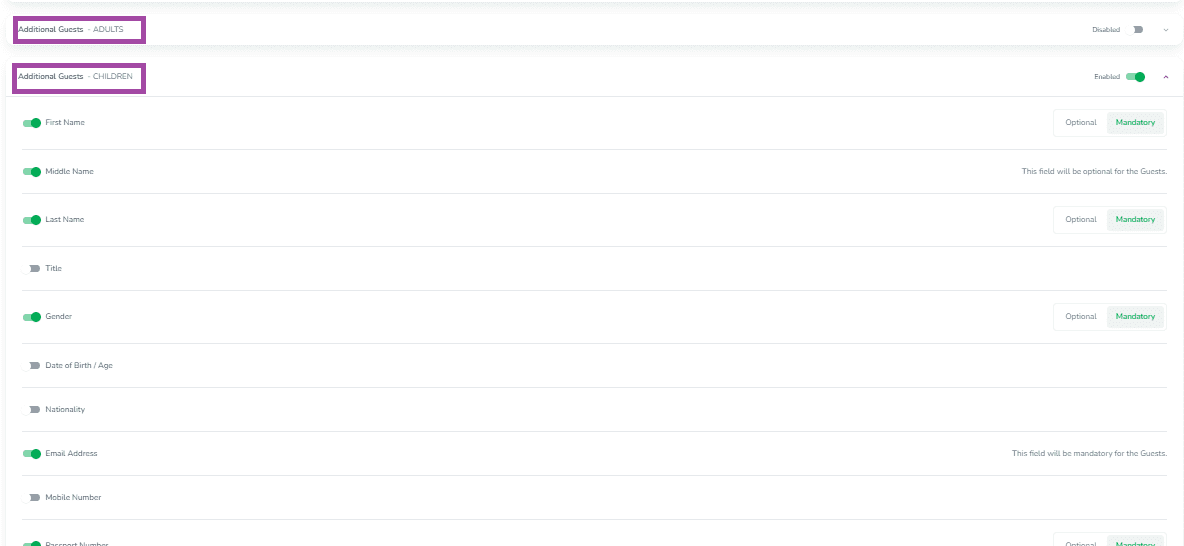 Step 3: Upsells & Payment
If you turn on Upsells, your guests can see each property's list of Upsells which you have already created. 
You can Edit the Payment Note which will be shown to guests.

Step 4: Security Deposit
You can Edit the Security Deposit Note which will be shown to guests.