How can I block dates on my availability calendar?
In order to block certain dates on your calendar go to Zeevou Sell-> Blocked Dates -> Create Blocked Dates
Choose the property/unit and set the dates and time. You can add a reason for your future reference.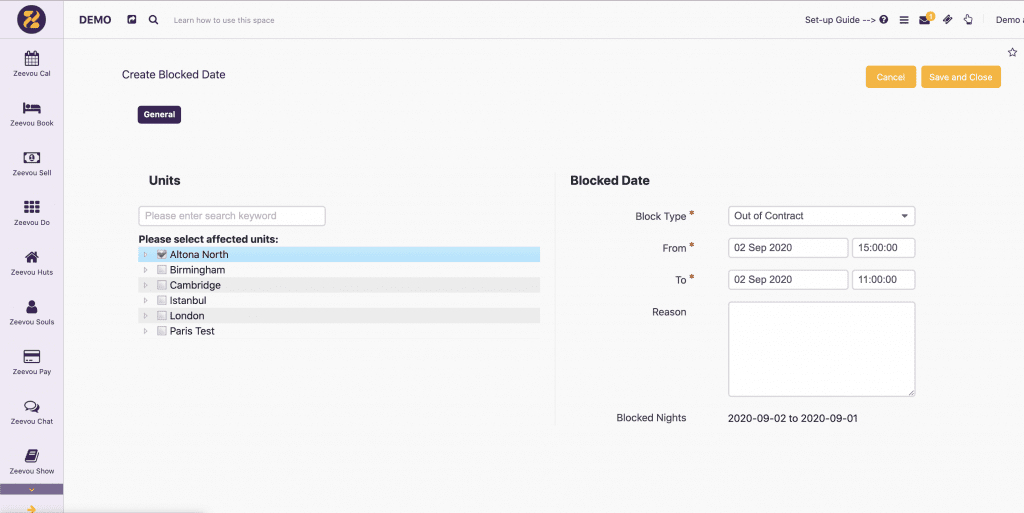 How can I capture security deposit?
In order to capture security deposit, go to booking view page, click on Finance and choose Capture Security Deposit. Then enter the amount you want to capture and confirm.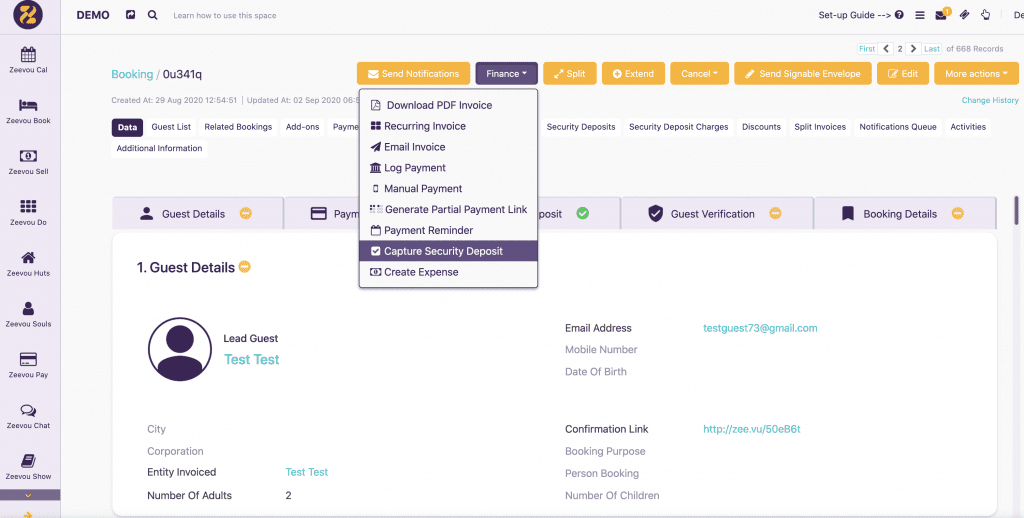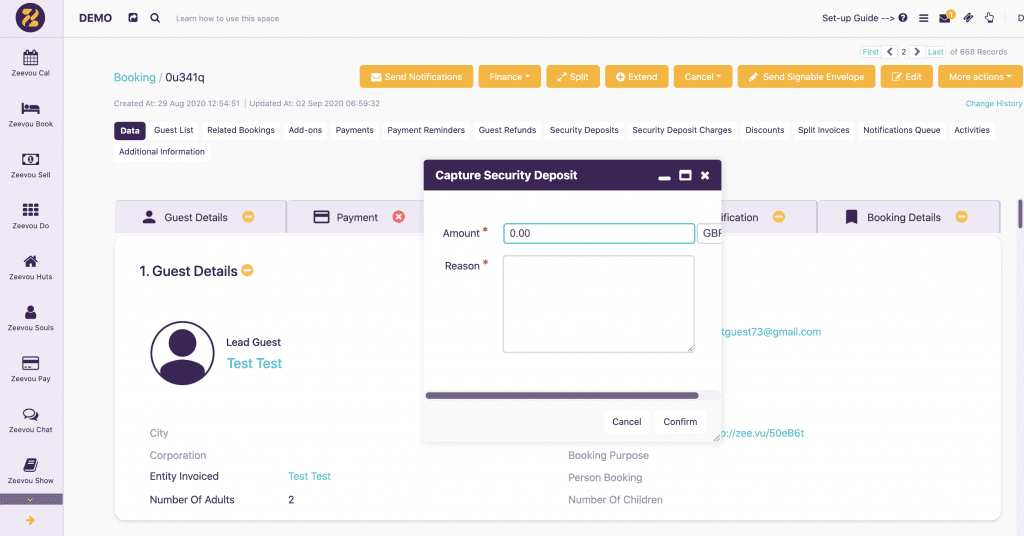 What is the purpose of Send Notification button in booking view page?
In Zeevou Set/ Triggers, if you tick the Favorite box of a trigger, the content (templates + attachment) you have set for that trigger becomes available in the booking page-> Send Notification button and can be fired manually as well.
What is Auto Charge/ Auto Refund option?
In Zeevou Set-> Organisation Configuration, if you choose Stripe as your Gateway, Auto Charge/Auto Refund option becomes available.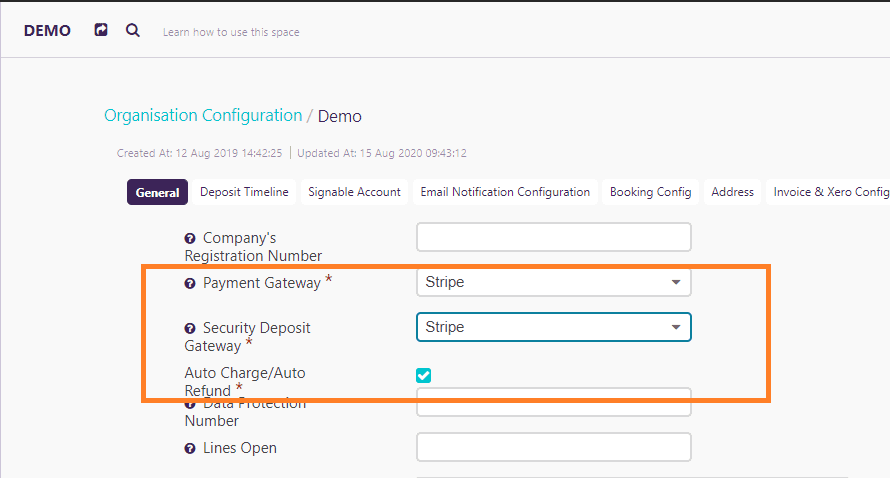 Stripe dose not keep deposits more than a week and releases them after 7 days automatically. Thus, for bookings more than a week, you need to renew the deposit after 7 days manually (that is avoiding the deposit and asking guests to do the process again).
However, if you tick Auto Charge/Auto Refund box, system considers Stripe deposits as actual payments. That is when guests authorise the deposit, the amount is transferred to your account and after guests' departure, if you do not want to Capture some or all part of it, it will be automatically refunded to them based on your setting in Organisation Configuration.
Please note that  £3.00 per deposit transaction will be reduced from your account.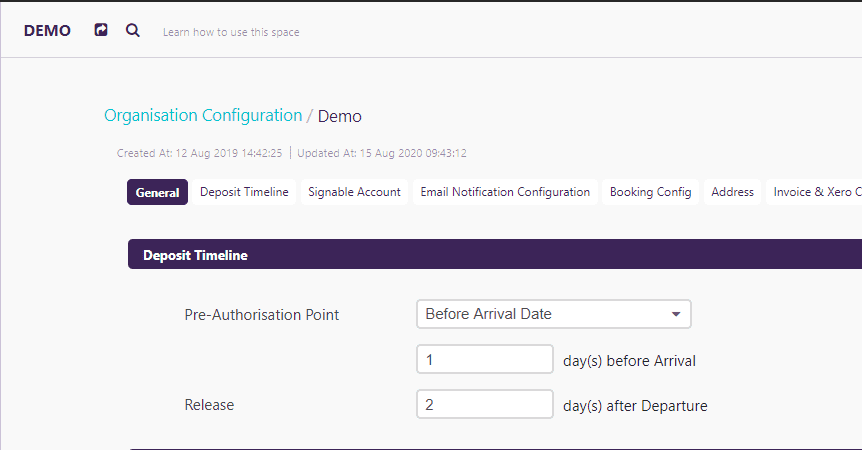 How can I change my Signable template?
If you would like to make any modifications to your Signable Template, please make the changes in your Signable account to the template and then copy/paste the exact name of the modified template in Zeevou Set/ Organisation Configuration/ Signable Template title.
Why my emails are sent empty to the recipients?
If the total size of your template, including your Logo,Signature, images you may have added, exceeds 1 MB, the content of the email will not be presented to the recipient.
Why system does not allow me to add a username?
In Zeevou, each username is unique. That means each username can be registered in Zeevou only once.
Thus, if you try to add a username as an investor or staff and system does not let you, probably the username has been already registered.
Please note that you the username may be not part of your organisation but belong to other organisations.
Why I cannot save my preferred timing for Booking Config?
In Zeevou Set-> Organisation Configuration, under Booking Config, you need to make sure the time you enter in the fields follow bellow order:
earliest possible <earliest free <latest free <latest possible
Please note that time 23:00:00, 23:30, 23:59 is considered the last hours of a day, while 00:00:00, and 00:30:00 are considered the beginning hours of a day.


How far in advance does Zeevou open up the calendars on OTAs?
Zeevou sends 720 days of update in terms of availability & rates to channels. However, each OTA accepts updates on a different basis. Most of the OTAs accept 365 days of availability but some of the OTAs like Expedia, Booking.com & Airbnb support 500 days of updates.
How can I activate automatic invoice posting?
You can force Zeevou to generate booking invoices automatically a set number of days after check-out. The system can also post invoices automatically to Xero. We recommend that you try a few manually before activating this option.
To activate automatic invoice posting, simply go to
Zeevou Set → Organisation Configuration → Invoice & Xero Configuration
Click on the tick-boxes next to the following properties:
Auto Post Invoices to Xero
Auto Generate Invoice
Enter the number of days after check-out when you want the invoice to be auto-generated and posted across to Xero.