Multiple Location Property Management System
Zeevou's multi-location PMS allows you to manage all your properties from one central login.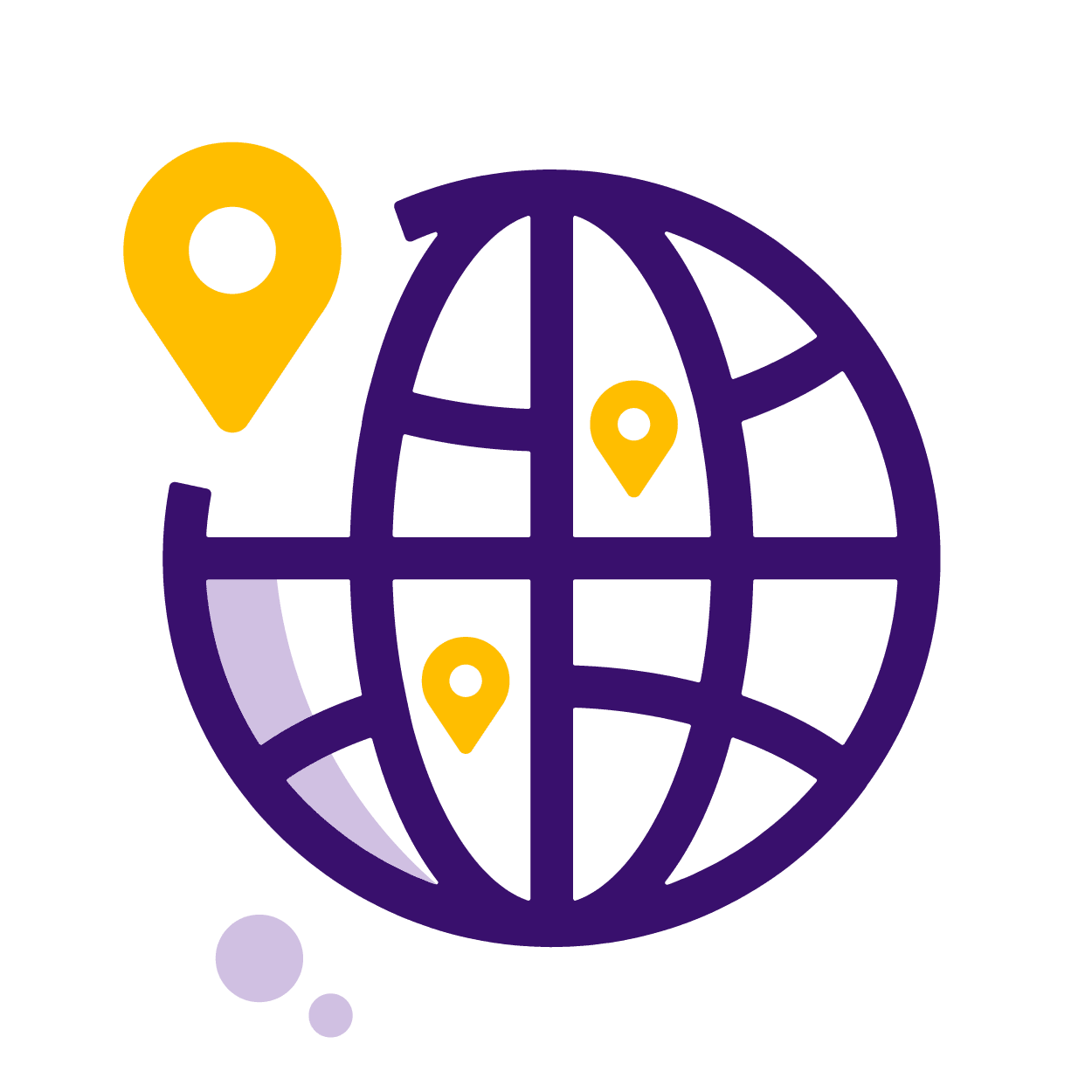 We understand your challenges...
Unlike in hotel management, vacation rental management involves renting out properties that may be spread across more than one location. Using a standard PMS system usually requires you to have a separate account for each location. In the best of cases, you may then be given a central login. However, you would still need to keep switching between accounts. This is obviously very time consuming when trying to flick through your calendar and comes with further downsides such as the lack of centralised reporting.
However, with Zeevou's multi-location property management system you can manage all your properties from one single login. Even though they are located across several countries!
You can imagine how much time this will save you!
How Can Zeevou's Multi-location PMS Help?​
Zeevou's multi-location property management system allows you to uniquely combine the benefits of a hotel booking system and those of a vacation rental channel manager. While built on the concept of a property with multiple units categories by unit type, it does not compromise on the flexibility of having units at multiple locations either. Thus, Zeevou combines the best of both worlds.
Hierarchical structure
Our hierarchical structure allows you to specify the Countries in which you operate. List Cities within those countries and break them up by Area. Within areas you then add your properties. A property corresponds to a location in real life terms. So this could be a development with multiple Buildings, each Floor of which could house several Units. Units with similar specifications which you want to sell at the same price are grouped together by Unit Type.
Zeevou allows you to specify different currencies for different properties which enables you to operate across multiple countries seamlessly.
Automatically generate a page for every property
The structure according to which the properties are set up in the Zeevou Extranet, is automatically reflected on Zeevou's direct booking website and booking engine. The system will automatically generate a page for every property, city, and country that you add to the system. This means that by the time you are done with setting up Zeevou, you will have a sparkling direct booking website up and running at no time at all.
Calendar syncing 
The iCal import function allows you to create conditional blocks at the property, unit type, or unit level. Both internally and by importing or exporting from and to other sites. One of the ways this can be used is to create blocked dates in Zeevou. When a booking is made on a 3rd Party site which is not one of the 200 channels that we connect with via two-way API. Similarly, a third-party calendar can be blocked when a booking enters Zeevou. The feature can be used to build parent/child relationships. Whereby if you are renting out a property both as an entire place and as separate rooms. The rooms can be set to block if the entire place is booked out and the reverse can also be achieved.
Zeevou allows you to have countries set up in the system. At the country level you can upload images, add a description, and enter your meta title and meta description for SEO purposes. Moreover, you can specify open graph tags to optimise how your links are displayen when shared across social media platforms.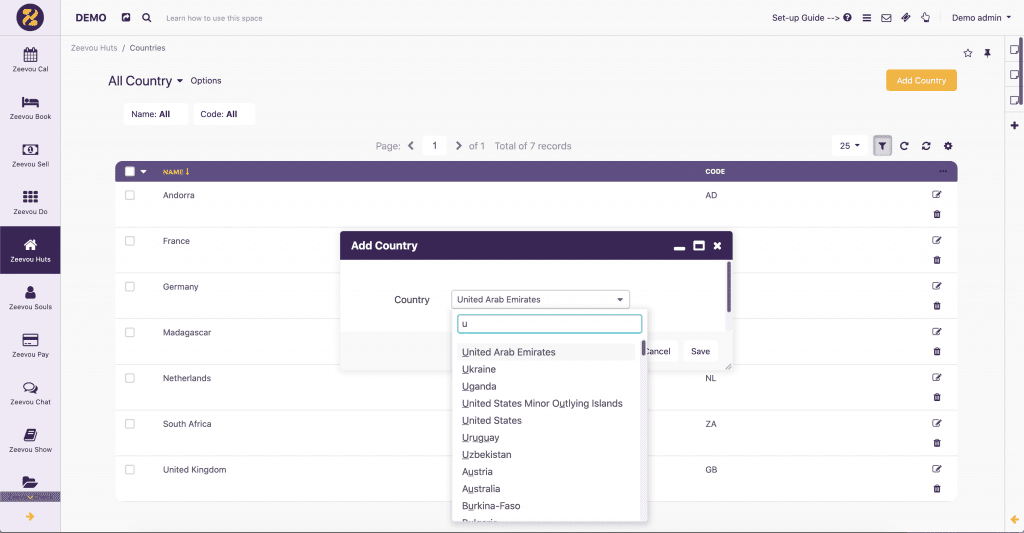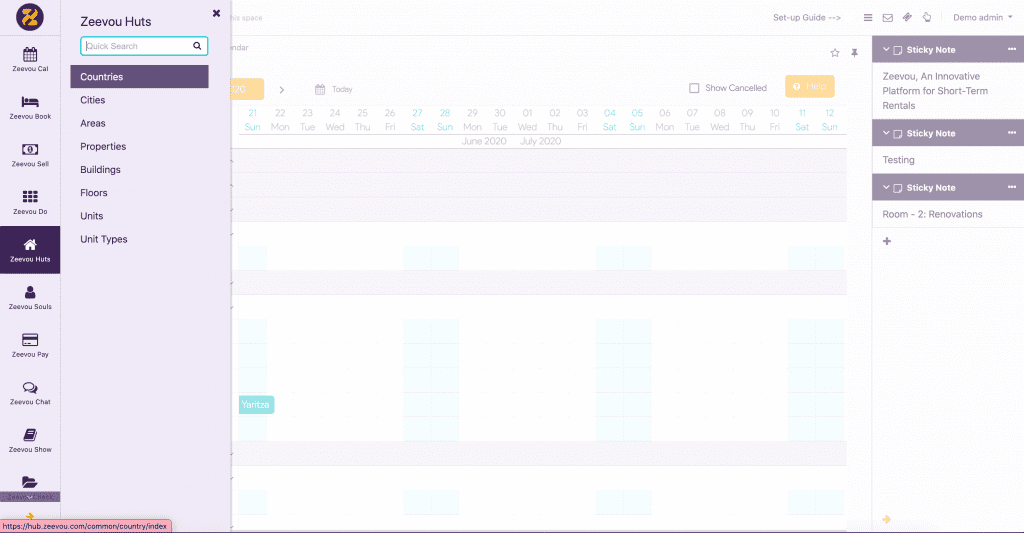 Each city in Zeevou is categorised under a country and a county or state can be specified for it. At the city level you can add a brief description as well as  a  full description and upload images to be used on the front end website. Besides this similar to the country level you are able to specify SEO options.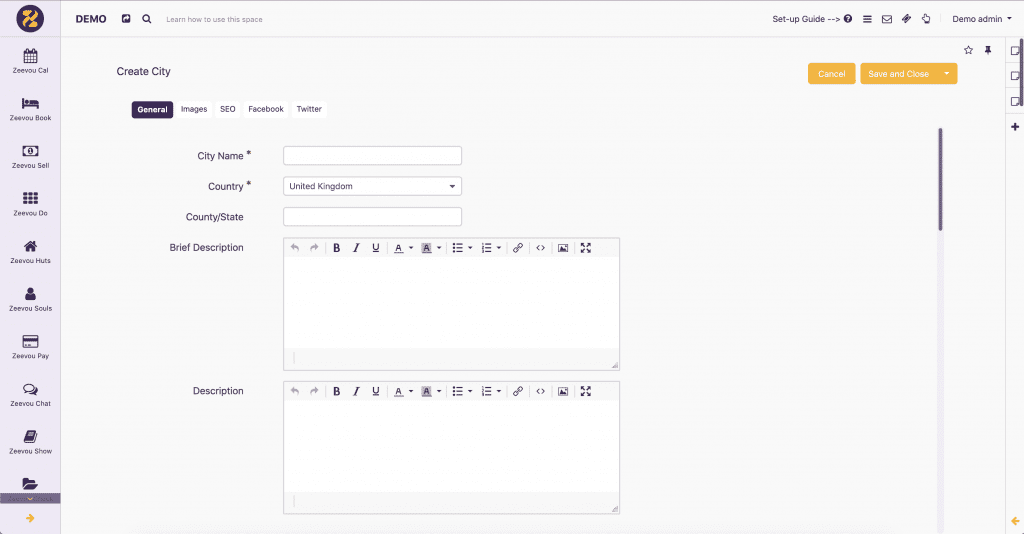 The areas allow you to seperate properties within a city by the section of the city in  which they are located. The area level is useful in setting bulk rates, creating blocks  and also for reporting and analysis at a sub city multi property level.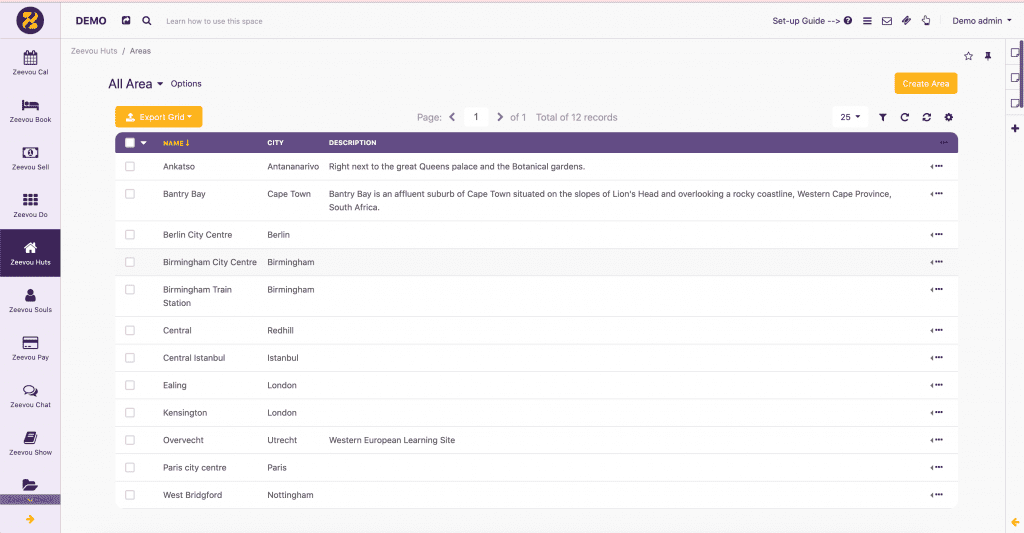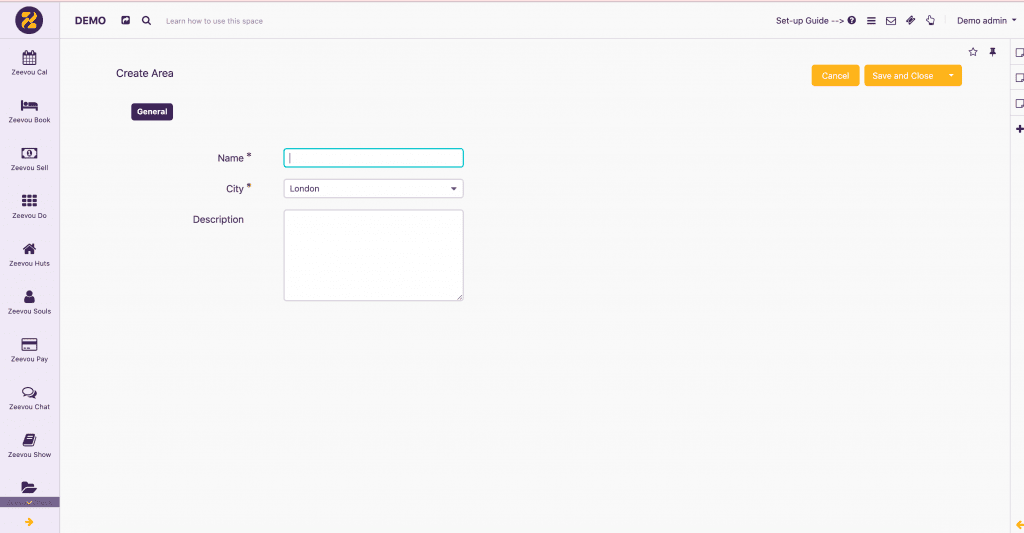 At the Property level, you can upload a house manual and a check-in guide to be emailed out automatically to guests at various points during the booking process.
Moreover, you can keep detailed track on information relating to parking, access, storage, WiFi details, key collection, and housekeeping frequency for extended stays. You can also assign staff members of various roles to the property such as housekeepers, office staff, check-in staff and detail who is in charge of maintenance.
Zeevou allows you to enter the TripAdvisor URL and Google My Business URL for the property, so that you can make use of these fields in trying to obtain feedback from happy guests following their stay.
The description, images, and amenities added at the property level are automatically pulled across to the property page of the website that the system generates to enable you to take direct bookings.
A number of options specified at the organisation level can be overriden and customised at the property level, such as the security deposit pre-authorisation timeline and check-in/check-out times and associated fees.
There are dedicated fields for check-in instructions, check-out instructions, and details on how to find the property. These can all be pulled into the automated emails that you can set up within Zeevou, avoiding the need to create a separate check-in template for each property. The check-in type(s) and their order of priority are also specified at the Property Level, and the default check-in template that you are given once you sign up has conditions built in so as to only send out information relevant to the check-in type that applies to any given booking.
For those operating under multiple brands, Zeevou allows you to seemlessly manage your operations across your brands from one place, while ensuring that the marketing distinction is taken care of. Each property requires a default brand, and can at the same time have additional brands (which would mean it would show up on more than one of the booking websites that the system generates for you).
Lastly, there is an Additional Information field which is for admin purposes only, and allows you to keep track of any account numbers, etc. that you may wish to keep track of for easy reference by yourself or your colleagues, without needing to use Excel spreadsheets.
The Unit Type level is where information is set that is common to all the units that are grouped within it. This includes rates, the extra guest price for the booking engine, booking-related costs such as housekeeping and check-in, the security deposit amount, and the average housekeeping time.
Moreover, you can specify the make-up in terms of different rooms (bathrooms, bedrooms, hallways, kitchens, living rooms) and specify the sleeping arrangements in each room.
Should you wish to do so, you can override certain information set at the property level.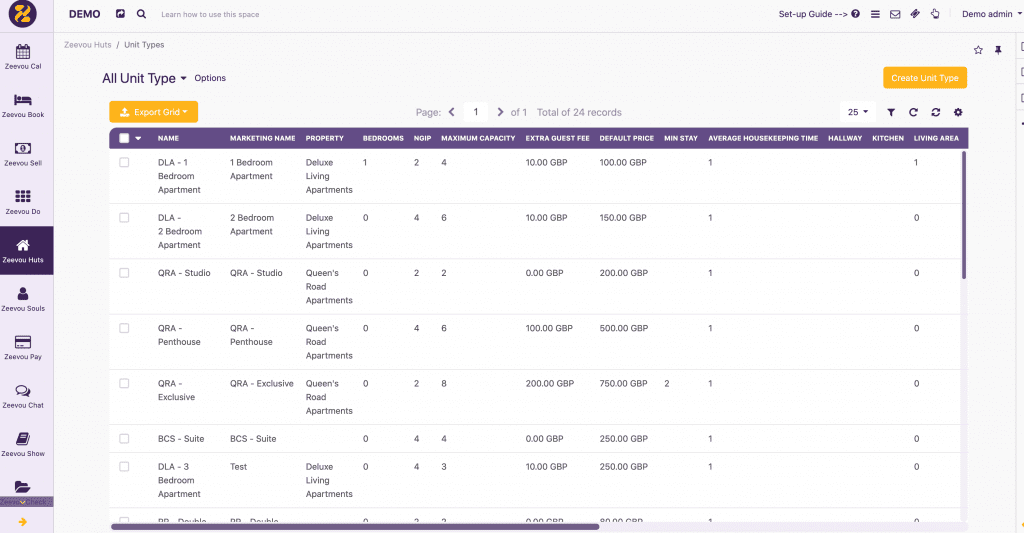 At the unit level you can upload images of the unit itself, add to or override check-in instructions and WiFi details set at higher levels, keep track of the unit access code and specify the parking spot number(s) assigned to that unit.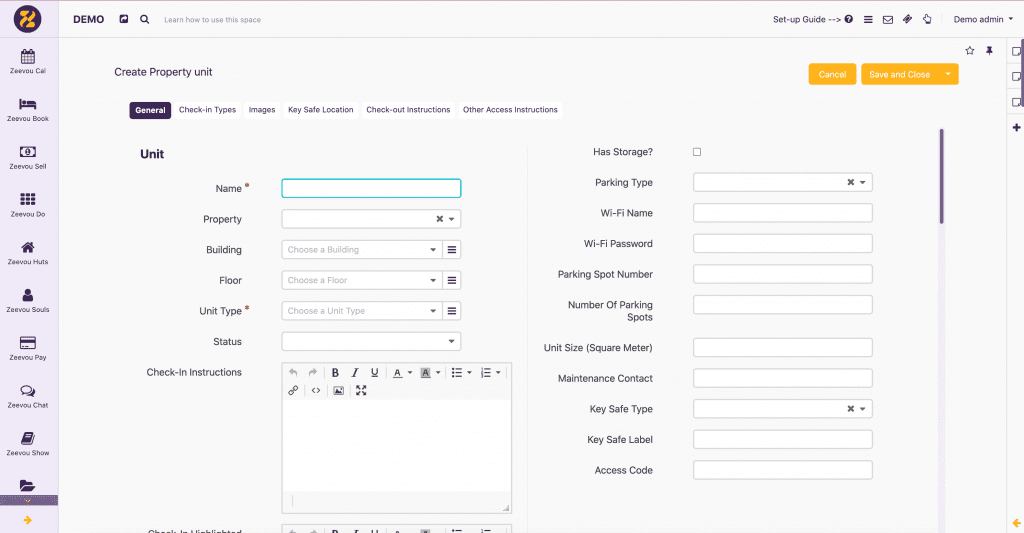 Ready to decrease costs and efforts whilst reducing manual errors? Start automating your business with Zeevou.