Efficiently manage your operations as you scale your vacation rental business with our 2 types of calendars.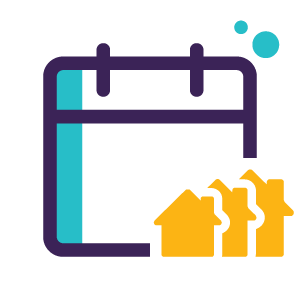 We understand your challenges...
As hosts grow their vacation rental management or serviced apartment operation businesses, they face scaling issues on all sides. One of these can be having a clear visual overview of bookings at various properties. While a solution is required that displays all the properties in close proximity to each other on the same page, these are usually needlessly compounded by displaying properties in other cities on the same page, thus making it difficult to easily find a booking or answer questions regarding availability following an enquiry by a booking.
Moreover, for effective price setting, revenue managers require an overview of the rates for all unit types and their availability, as well as any restrictions that may have been applied at the click of a button. A lot of software providers may lack this feature, which makes rate inspection unnecessarily time-consuming.
How Can Zeevou's Multi-Unit Calendars Help?
At Zeevou we fully understand the issues that hosts experience as they scale their businesses, and we have thus tried to come up with effective solutions for the problems they face while doing so. As part of this, we have developed two multi-unit caledars – one for bookings, and one to display rates and availability.
Rates & Availability Calendar
Besides generating a Bookings Calendar for all your properties, Zeevou also generates a calendar for each city in which you run units. This makes it easier to navigate your calendar if you have a lot of properties, and saves you those valuable seconds while you are on the phone to your guests, enabling you to deliver top-notch customer service. To further facilitate this process, you can collapse the units within a unit type or within a property into a single row, thus allowing you to focus on the properties that are of interest at any point in time.
Furthermore, you can create bookings and block dates directly from the Bookings Calendar, reducing the number of clicks required to get the job done!
The Bookings Calendar displays bookings in different stages of completion in different colours. Besides being able to get a preview of each booking by clicking on it, you can also easily drag and drop bookings between units. Doing so will require you to confirm the changes displayed, and provide you with the option of overriding the booking price in the process.
Moreover, each unit's cleanliness status is also displayed. Whenever a housekeeping task is due (such as upon check-out or if a mid-stay housekeeping task has been generated), the unit is marked as dirty, until such time as you or your cleaners have marked the unit as clean (which is automatically done if a housekeeping task is marked as complete through the mobile app).
Rates & Availability Calendar
The Rates & Availability Calendar allows you to see the rates you have set for each unit type, alongside any restrictions. Moreover, it displays the total number of units for each unit type for each night, and shows you how many of those are left to sell for the night. Seeing this information in one place allows you to easily check which rates may need tweaking to help maximise your occupancy.
Once you have made up your mind about changing the rates for a given set of dates, you can do so by simply dragging and dropping your mouse from the start date to the end date over the row of the affected unit type. Should you wish to change the prices for multiple unit types in one go, worry not – we've got your back covered through our bulk rate-setting feature!