Why I cannot save my preferred timing for Booking Config?
In Zeevou Set-> Organisation Configuration, under Booking Config, you need to make sure the time you enter in the fields follow bellow order:
earliest possible <earliest free <latest free  <latest possible
Please note that time 23:00:00, 23:30, 23:59 is considered the last hours of a day, while 00:00:00, and 00:30:00 are considered the beginning  hours of a day.


How can I close my account?
On the top right of page, click on My Contract. In the opened page of contract, click on Cancel Subscription button.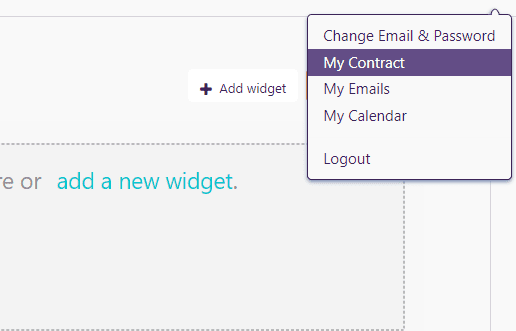 How can I remove the imported iCal link?
In Zeevou Sell-> Blocked Dates, click on Manage Calendar Import button. In the opened page, choose your preferred imported option and click on Edit button.
Remove the tick from Active iCal Import box and save the page.
How far in advance does Zeevou open up the calendars on OTAs?
Zeevou sends 720 days of update in terms of availability & rates to channels. However, each OTA accepts updates on a different basis. Most of the OTAs accept 365 days of availability but some of the OTAs like Expedia, Booking.com & Airbnb support 500 days of updates.
How can I disconnect from Xero?
Under Zeevou Set -> System Integrations, scroll to Xero and click on Disconnect from Xero. You will see the red button turn to a green Connect to Xero button once successful.
How can I activate automatic invoice posting?
You can force Zeevou to generate booking invoices automatically a set number of days after check-out. The system can also post invoices automatically to Xero. We recommend that you try a few manually before activating this option.
To activate automatic invoice posting, simply go to
Zeevou Set → Organisation Configuration → Invoice & Xero Configuration
Click on the tick-boxes next to the following properties:
Auto Post Invoices to Xero
Auto Generate Invoice
Enter the number of days after check-out when you want the invoice to be auto-generated and posted across to Xero.
How can I post an invoice manually?
Make sure the booking has its status set to Checked Out. Create an invoice manually in Zeevou in the booking view, by clicking Download PDF Invoice.
View all Guest Invoices:

From Zeevou Pay menu, choose Guest Invoices. To post an invoice to Xero, select an invoice from the list of generated invoices and go to view mode.
After posting to Xero, the Remote No field will be auto-populated with the Xero invoice number and the description field will show information about the posted invoice. If any error occurs during the posting process, the error message will be shown in the Post Info field.
You should now be able to see the see posted invoices in Xero's Invoices section.
The Zeevou Booking Number will be shown as the invoice's Reference along the top of the invoice.
How can I set Min Stay for my property?
To set the minimum stay for a property/unit type/unit and get it applied to channels, in Zeevou Sell-> Rates, click on Create Rate button. In the opened page set the Min Stay for the maximum period of time you would like. Please note that data you enter in this page will override the previously set ones. However, for the fields that you leave empty, previous data will be applied automatically.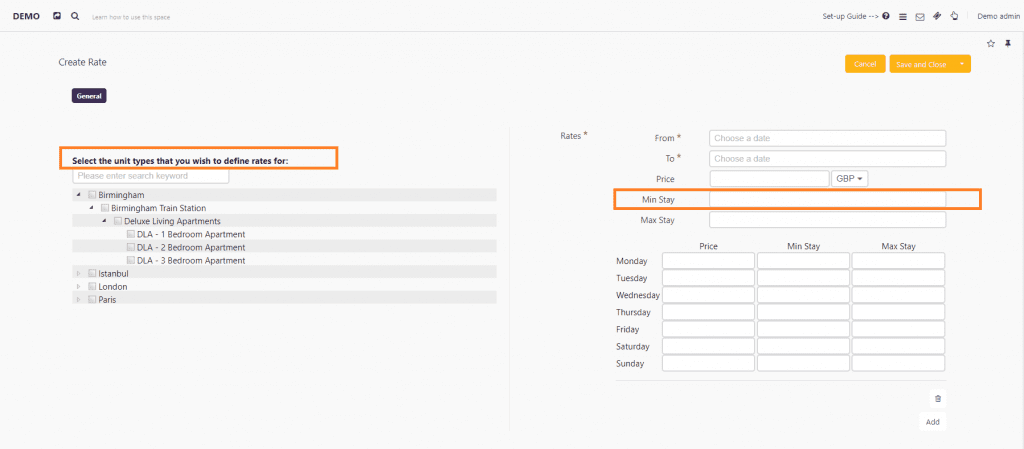 How can I delete a property?
Since system keeps the records of all created bookings, if there are bookings associated with a property, system does not allow property deletion.
In such case, you can Deactivate the property instead.
First, make sure property is disconnected from Zeevou Channels.
Second, check the status of below boxes in the property edit page: Allow Direct Booking, Publish On Zeevou Direct, Publish On Here To Help
Third, click on Deactivate Property.

If there has been no booking associated with a property, first you need to delete the associated unit, then unit type, and finally the property can be deleted.
As long as bookings are associated with a unit, system does not allow deleting it. You need to first make sure the unit you want to delete has no booking associated with it. Please edit bookings, remove the units (make the booking unallocated), and save the changes. Once all the bookings associated with the unit get unallocated, system will allow unit deletion. 
Also, to delete a unit type, you need to first delete its associated unit, then system will let you delete the unit type.