How can I change the confirm booking button color in the template?
Open the template, click on Source code (<>) and search for "Confirm Booking" in the page with the help of ctrl + f (in Mac cmd + f).
You will need to find the color code, replace it with the new color code, hit Ok and press Save button in order to apply the changes.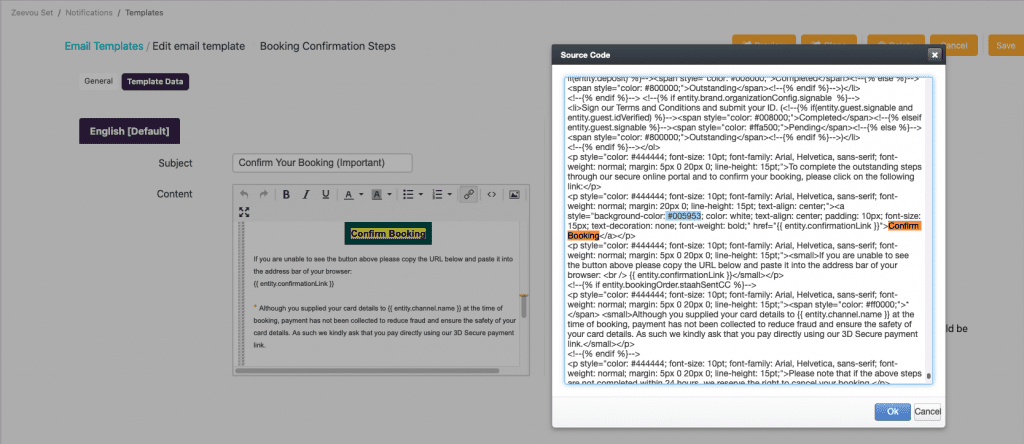 What are the status of security deposit?
There are Five status for security deposit: Saved Card, Not- authourised, Pre-authourised, Released, and Captured.
– Saved Card is shown when guests have agreed to use the same card details, they used for payment, for deposits. Their card details will be saved in the system and deposit will be authourised on the specified date.
– Not-authourised is shown when deposit has not been authourised.
– Pre-authourised is shown when deposit is authourised. This step will be done based on the details you have set in Zeevou Set/ Organisation Configuration/ Deposit Timeline.
In setting your preferred details in Org Config please note that base on the payment gateway you are using there may be some default setting for automatically releasing the deposit.
For example, Stripe deposits are automatically released after 7 days. Thus, if you set Pre- Authourisation Point on booking date, depends on the interval between pre-Authourisation and guest arrival, you may have authourised or released deposits when guests arrive.
– Released is shown when you do not capture all or part of the deposit and it is returned to the guest account. Deposit are released based on your setting in Zeevou Set/ Organisation Configuration/ Deposit Timeline.
– Captured is shown when you capture all or part of guest deposit. You can capture the deposit in the booking view page through Finance button.

How can I change cleaning fee for Airbnb?
Go to Zeevou Hut -> Property
Go to Channel Manager Config.
Click on plus + on the gray area.
When the mapped channels appear, click on "map" in front of Airbnb.
click on edit sign.
A new pop up window appears.
Go to Listing Rooms Page and change the cleaning fee.


What does Scheduled for Cancellation do?
Scheduled for Cancellation allows you to resell the night and keep track of which bookings you still need to cancel on the OTA. You can find to the list of the bookings scheduled for cancellation in Zeevou Book-> Scheduled for Cancellation

How can I generate a secure payment link for a customer for an add-on via Zeevou ?
If you add an add-on to a booking you can use the payment link to collect payment.
Why a unit type is not shown in the Rates and Availability Calendar?
When you create a new unit type, you should make sure that it has at least one unit under that. Otherwise, the rates can not be pushed to OTAs and the website. (You can't map the unit type)
So go to Zeevou Hut-> Unit Type and choose the unit type. Then in the unit section click on +add unit.
How can I change invoice colors?
Please note that the colors shown in your invoice is based on the ones you set for your brand in Zeevou Set-> Design Customisation.
To find the hex code for a your preferred colors, you can use link.
Below image shows the effective fields of Design Customisation in your invoice choice of colors:
Below you can find the guide of sample presented invoice:
This is a sample invoice that shows how the effective fields will be reflected in the invoice.
How can I check my final version of email templates?
To fully preview what an email template will look like, open a booking, click on More Actions on the top right, then select Send Email. In the pop-up that opens, select the appropriate template and choose Apply. You can expand the preview to full screen by clicking on the symbol with 4 arrows pointing to 4 diagonal corners in the controls above the body field.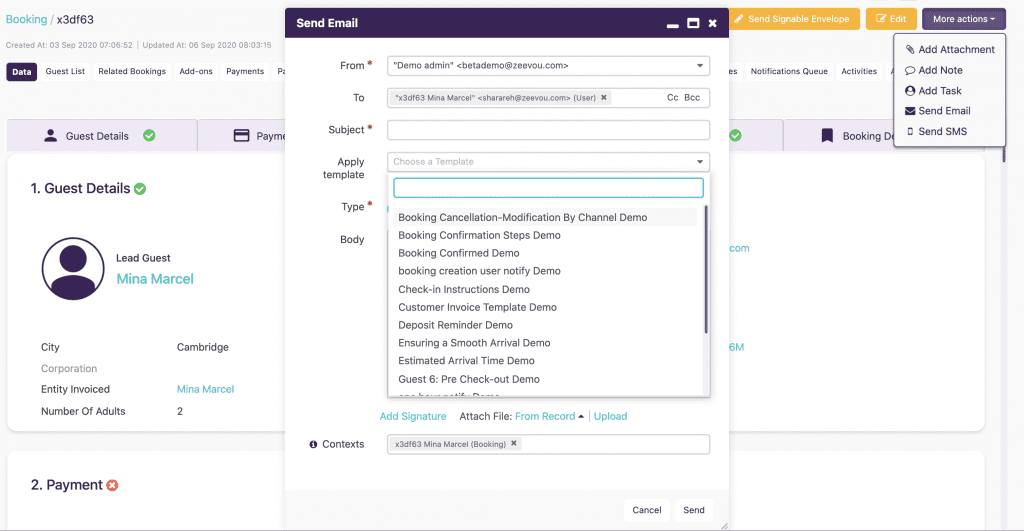 where can I find pet settings in Zeevou? Can I charge for pet, or let them know my place is pet friendly?
Zeevou does not currently have any pet settings. You can add your pet policy to the property description in Zeevou Huts-> Property. You can handle extra fees for pets through add-ons in Zeevou Sell -> Add-ons. Then you can add it to the booking.
If multiple rates overlap dates, does the highest rate take priority?
The latest rate will always override previous rates. You can check the rates and Min Stay sent to OTAs in Rates and Availability Calendar.