The short-term rental market has grown by almost twenty-five per cent over the past five years. Other sectors in the travel industry, however, have seen low, single-digit growth. Big chain hotels and airlines were struggling even before the pandemic hit, all the while the demand for short-term places kept growing and growing.
The pandemic fundamentally changed how people travel and think about lodging options. Millions of travellers were forced to try short-term rentals for the first time, and for the most part, they seem to have liked it. That is not to say, however, that there aren't hurdles to overcome. It's still a relatively small piece of the hospitality landscape that's dominated by multi-billion dollar hotel and hospitality organisations, and they've been operating for decades using cutting-edge systems and technology.
The best and most effective way short-term rental properties can compete for those precious traveller dollars is to have an effective revenue management strategy, and the key component to this strategy is dynamic pricing.
How Dynamic Pricing Works
Dynamic pricing is the ability to automatically understand and respond to not just historical data but also real-time supply and demand changes on a daily basis.
It means being able to automatically charge higher rates when there is greater demand and charging lower rates when there is less demand. Without a dynamic pricing tool, you're almost certainly leaving money on the table by not being able to react quickly to market changes.
The chart above shows how big the daily fluctuations in historical data can be, as well as the uneven spread in pacing we see in the future. As you can see, there is a lot of daily fluctuation.
A dynamic pricing tool allows your prices to immediately respond to these changes in supply and demand. It's built to find pockets of revenue in areas other tools can't, therefore maximising potential revenue.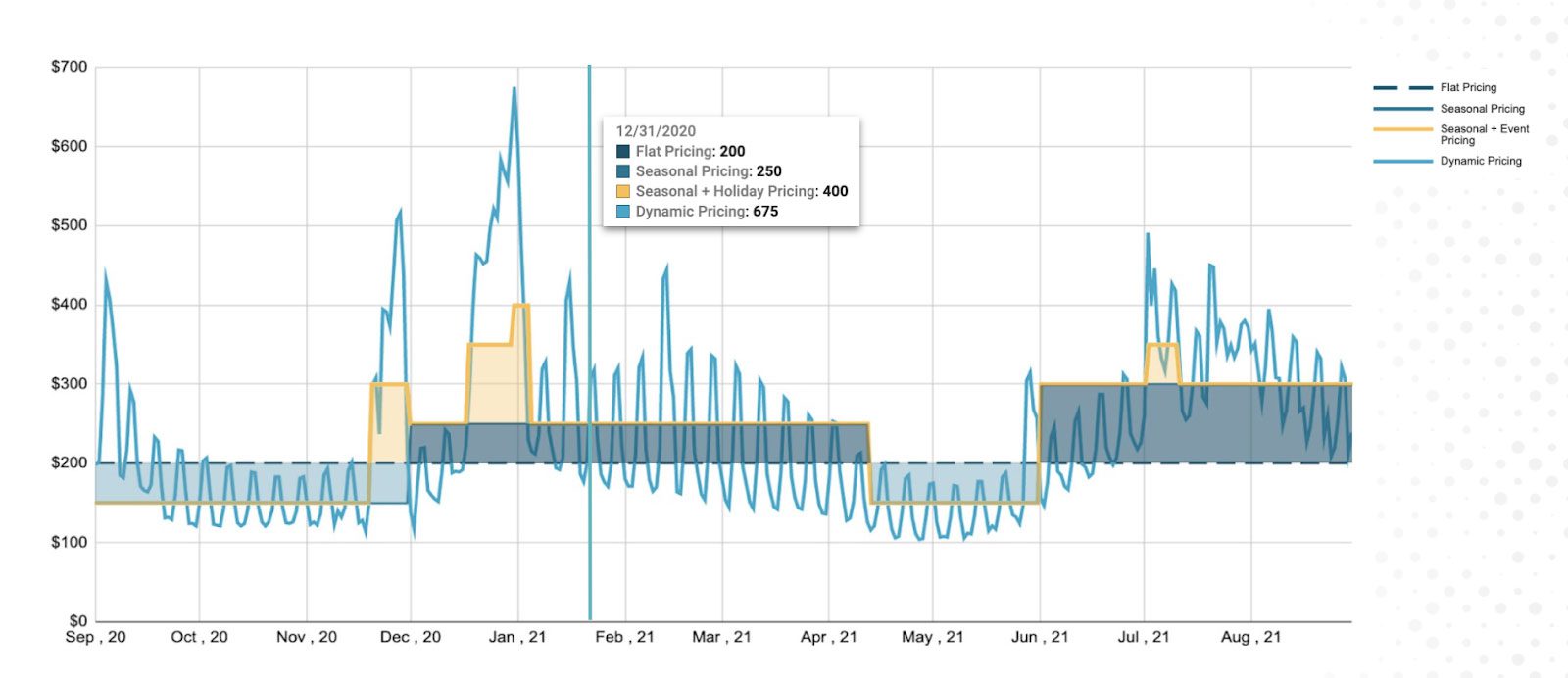 This chart illustrates those hidden pockets of revenue—fluctuations in daily demand. With flat or seasonal pricing, it doesn't account for these changes. It also doesn't allow you to go as high as you should when demand spikes, or as low as you should when demand craters.
Dynamic Pricing Lets You Focus On Other Areas
Manually pricing, or trying to manage a less sophisticated pricing tool, is tedious and time-consuming. Dynamic pricing in general gives you a more advanced strategy that operates in a more efficient way.
The additional added value of trusting a dynamic pricing tool is that you will now have more time to do other important things, like spending more time on problem listings, working closer with harder-to-please owners, and addressing guest issues in a more timely manner.
There is an owner behind every listing a short-term rental manager has, and that owner expects a return on their investment. Having a proactive revenue management strategy in place that is centred around dynamic pricing will not only save you time and increase your revenue, it's also a sure-fire way to keep your owners happy. It's hard to argue against real, hard numbers.