Your direct booking website lets you engage with your potential guests and capture their attention to receive more commission-free bookings. As a result, it's essential to know how to build a good property page and what sections to include there. Placing the right information and sections on your property page can boost your conversion rate. Here are the core elements of a good property page on your website.
What Sections Should a Good Property Page Include?
High-Quality Images
Including high-resolution images on your property page is paramount to attracting potential guests and increasing your conversion rate. Stunning photos of your property from multiple angles can capture attention and enhance the understanding of text descriptions. Additionally, including pictures of different spaces within your rental can prevent any surprises when renters arrive.
However, it's crucial to remember that the images should be optimised for your vacation rental website. This means resizing and compressing images to ensure they load quickly and do not slow down your website's performance.
Featuring videos or photos of the surrounding areas can be equally essential. Highlighting local attractions can excite potential guests who are looking for entertainment hubs, parks, or other places of interest. This can help them visualise themselves in the location and increase their interest in booking your property. By showcasing the local amenities, you can give guests a glimpse into what they can experience during their stay and make your property stand out from the competition.
Maps
It's crucial to provide the precise location of your property on your website. This not only makes it easier for potential guests to find your property but also helps them evaluate the neighbourhood's accessibility, transportation options, and nearby attractions.
By including detailed information about the location, you can enhance the guest experience and increase their interest in booking your property.
Make sure the map is zoomable, so the users can make a sense of the place and surrounding areas.

Reviews
Providing a special section allocated to reviews will add social proof and build trust. This section represents opinions of your guests about the quality of your services based on their real experiences. Guests' feedback can help potential audiences decide whether you are a trusted brand. Indeed, visitors more than often check out reviews before booking your accommodation.
Additionally, reviews can boost your website ranking on Google and ultimately improve your exposure and conversion rates. Using a review aggregator like Revyoos facilitates gathering all reviews from various channels and displaying them on your website.
Description of Your Properties
You should describe your property and provide essential information such as location, type and size of the property, number of bedrooms (and beds), rate, and security deposits. Although you can highlight your unique features, bear in mind that you should be honest and never exaggerate. Make sure your description is SEO-friendly.
You can give a short description of your property for those who want to find the key information and also provide a full description for those who need more details.
Your Amenities
Highlighting the amenities available in your property is an essential aspect of creating a good property page. Potential guests are keen to know what facilities they can access during their stay. And displaying these amenities on your website can save you and your guests valuable time by avoiding repetitive questions.
Be sure to include a comprehensive list of all amenities available in your property. Additionally, ensure that the listed facilities are accurate and up-to-date, as this can impact the expectations of your guests.
If there are any fees associated with the amenities, state them clearly to avoid any misunderstandings or surprises. Guests appreciate transparency, and disclosing any extra costs can help build trust and prevent negative feedback.
Remember, amenities can greatly influence a guest's decision to book your property. Therefore, make sure your property's amenities are described in detail to increase your chances of attracting guests and securing bookings.
Availability
An availability calendar is an essential section of your property page. Using a channel manager will help you keep your calendars updated and synced across all listing sites and your website. This feature allows your guests to access real-time data on current reservations and safeguards you against double bookings.
If you have specific length-of-stay requirements, make sure the calendar manages them in a user-friendly manner.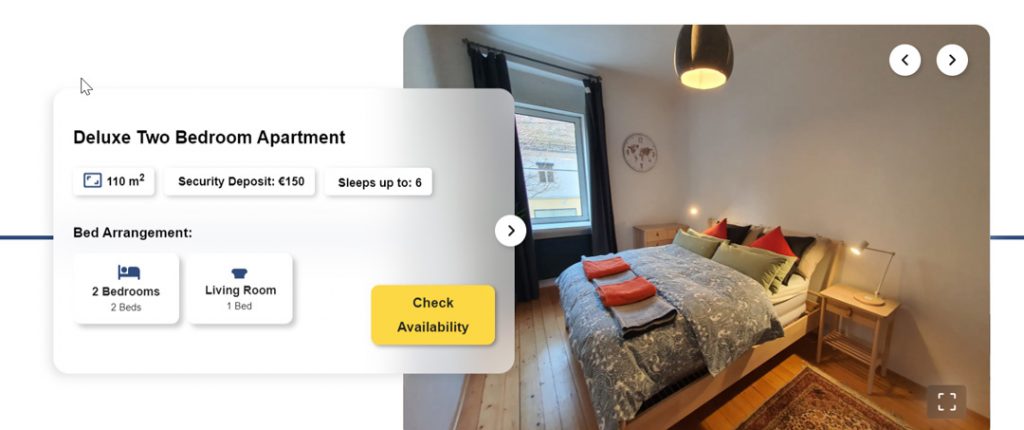 Live Chat
In this era, clients – and prospective guests – want immediate responses to their questions. Live chat is a great solution to address this need. Guests and potential bookers can resolve their doubts and receive real-time answers using the live chat capability of your website. This feature helps you communicate instantly with your potential guests and improve your customer support by understanding their needs.
Installing a live chat widget on your direct booking website can enhance guest engagement and boost your conversion rate.
Your Social Media Icons and Contact Form
Putting social media CTAs (Calls to Action) such as Instagram and Facebook on your website can capture your visitors' attention. It can motivate them to like, follow, or share your content.
You can communicate with your potential guests through a contact form that allows visitors to leave their enquiries and messages. Having this form on your website can provide a convenient way for potential guests to reach out to you and ask questions.
Do You Want to Build a Good Property Page on Your Website?
You can instantly convert your Airbnb listings into a free direct booking website with Zeevou. Subscribing to Zeevou's free plan allows you to use this feature.
Zeevou will pull all the relevant information from Airbnb – photos, amenities, and description – and will automatically populate the listing section of the new website. The websites can be branded with the host's own logo and colour scheme, and support full blogging functionality.
Besides that, the website is SEO-friendly and can help you rank higher on search engines. Zeevou's direct booking website allows guests to search and book instantly across your whole portfolio. It is also perfect for multi-location serviced apartment providers or vacation rental management companies. The website has a sleek and modern design, customisable based on your logo and brand colour.Do you want to know more about Zeevou's direct booking website and get started right away, for free? Arrange a Free Demo right now!