Why Booking.com?
Booking.com is the world's leading digital travel company, with over 20 million monthly visitors. Here's our rundown of why we think Booking.com is the primary choice for many hospitality businesses when it comes to online booking channels:
Appealing to a broader range of vacationers and travellers globally. 

Including over 28 million total annual property listings in over 180,000 destinations in 226 countries.

 

Operating in 43 languages and also multiple websites for different countries. 

Offering 24/7 customer support.

Providing information on flights, car rentals, vacation packages, cruises, and other travel services across the globe. 

Having the largest advertising budget and offering the most outstanding features compared to other channels.

Listing your property on all affiliate websites of

Booking Holdings

such as Priceline, and Kayak, once you create a listing on Booking.com.
With so many people looking to make reservations through Booking.com all over the world, and property owners having the option of various flexible policies and prices, it makes sense to use Booking.com to help put your property listing(s) in front of millions of highly-targeted travellers and bookers. Ever wondered how to list your property on Booking.com? Follow our step-by-step guide, and you'll be able to get your very first booking through Booking.com within hours!
Joining Booking.com
First of all, you need to create a listing of your property. Visit the sign-up page and get started. If you've already registered, click on the "Add a New Property" button.
After entering your full name and phone number and creating a strong password, you are asked to select and set up your property as follows:
Enter Your Basic Information
Now, it's time to jot down the basic specifications of your property. Your details must include:
Step #1: Name and Location 
Choose a name for your property.

Add an accurate address of your property.

Pin the location of your property on the map.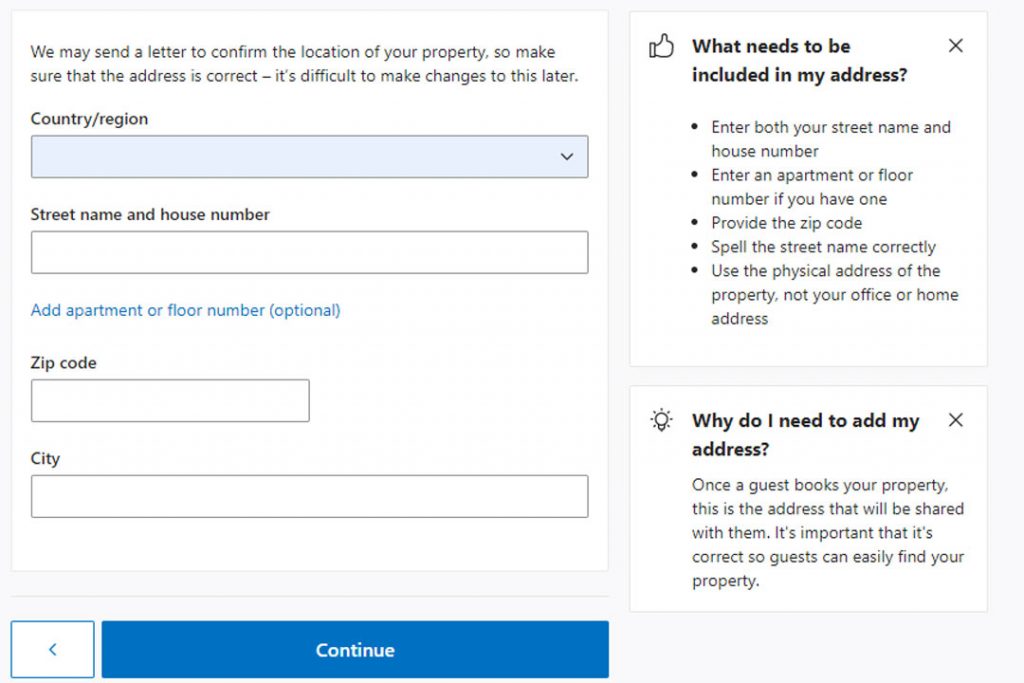 Bear in mind that you can speed up the registration process if your property is already listed on other platforms such as Airbnb, Vrbo, Agoda, etc.
Step #2: Property Setup
Now, in order to list your property on Booking.com, you need to add general information about your property, including your property type, your facilities, amenities, house rules, the language you speak, etc. 
Determine your property type. Add information about your property's sleeping arrangements, guest capacity and the number of bedrooms.

Highlight the available facilities at your property.

These facilities, amenities and services often vary based on the location of the property, the type of the property you are listing and also from country to country. The hassle-free registration process of Booking.com allows you to filter what amenities you are providing to the guests.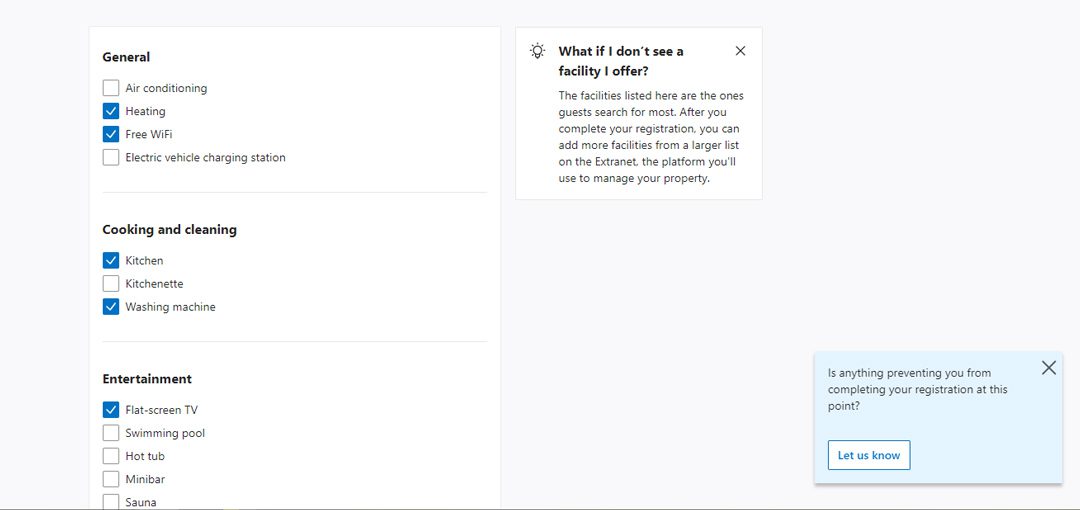 You can add more facilities to your property, including:
Bedroom: High-quality bedding, coverlets, plumped-up pillows, cloth hangs, nightstands, mosquito nets or lights, earplugs, etc.

Kitchen: A kettle and a coffee maker, fridge, oven, dishwashing soap and sponge, cups, cookware, food processor, etc.

Bathroom: Shampoo, soap, hairdryer, fresh fluffy towels, toilet tissues, conditioner, body lotion, toothpaste, mouthwash, etc.

Entertainment: Wi-Fi, games, books, Cable/Satellite TV, DVD/Blu-Ray Player, streaming networks such as Netflix, Hulu or Amazon Prime, etc.

Utilities/Features: Air conditioning, iron, heater, fireplace, electrical adapters and chargers, first aid kit, etc.

Transfers and tours: Local maps, guidebooks, sightseeing tours, airport pick up/dropoff, chauffeur service, etc. 

Recreation: Gym, hot tub, table football, swimming pool, tennis table, beach supplies, bikes, barbecue, parking space, etc. 
Mention whether you serve breakfast at your property and whether you provide parking for your guests.

Select the language you or your staff speak.

Add your desired house rules once you list your property on Booking.com.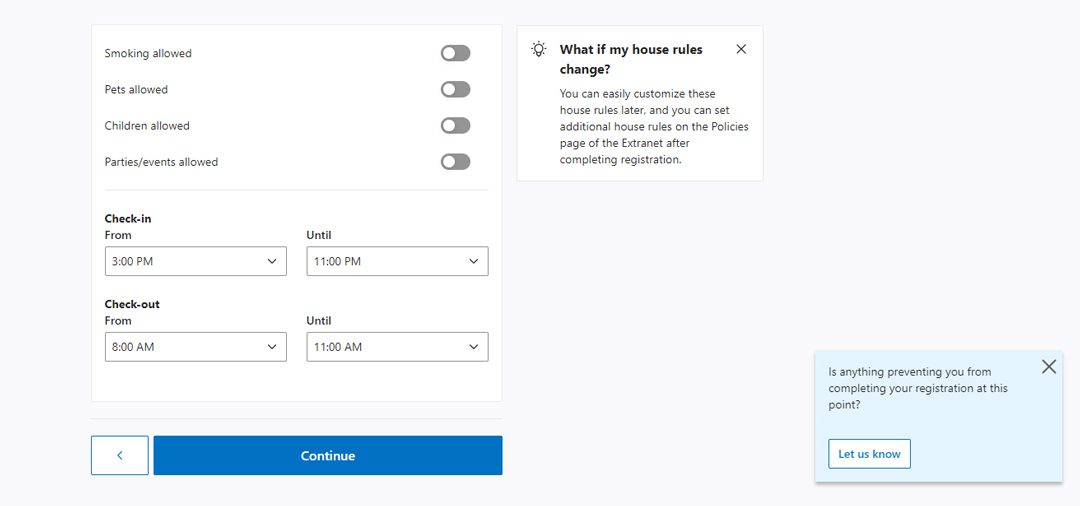 Step #3: Photos 
The first thing guests will see when they visit your listing are the photos of your property. Make sure they're an accurate representation of your space. Attach high-resolution images of all the areas of your property that are available for guests (i.e. living room, bedrooms, bathrooms, additional rooms).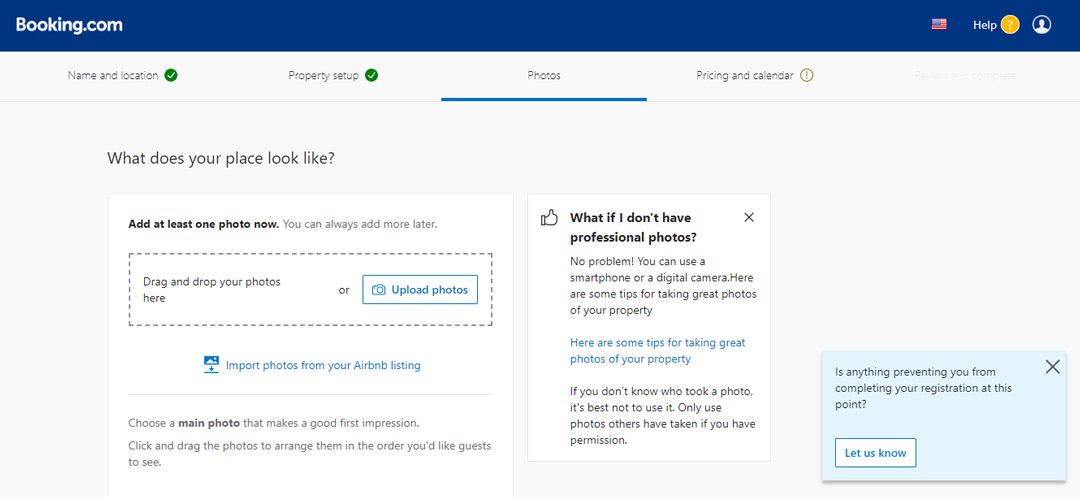 The photos should be at least 2048 x 1080 pixels, though preferred to be 4000 x 3000 pixels. Visuals can also help boost your ranking when trying to list your property on Booking.com, taking into account the quality of photos. Booking.com allows you to post a minimum of 24 images. Let the light in and shoot from the right angle.
Step #4: Pricing and Calendar 
According to the information you previously added, you are now prompted to fill in additional information such as payment mode, rate plans, cancellation policy and availability. You will need to decide both on the currency and price points based on nightly rates and the availability of rooms.
Select your guest payment mode. Booking.com offers a variety of payment methods, including credit cards, debit cards, PayPal, and Apple Pay.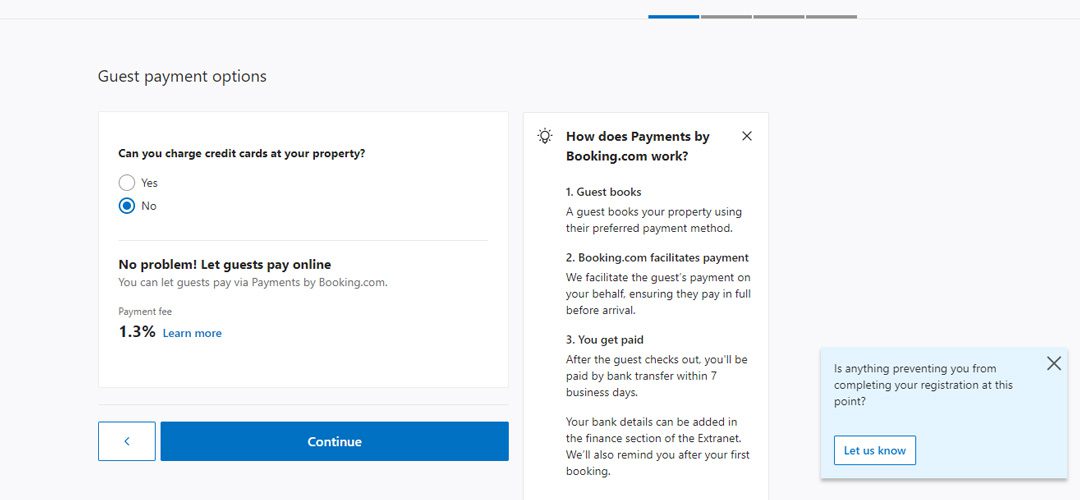 Choose the price you would like to charge per night.

As a property owner, you can add a fixed price at the beginning of your registration process and then transfer any other relevant data or modifications through your channel management system.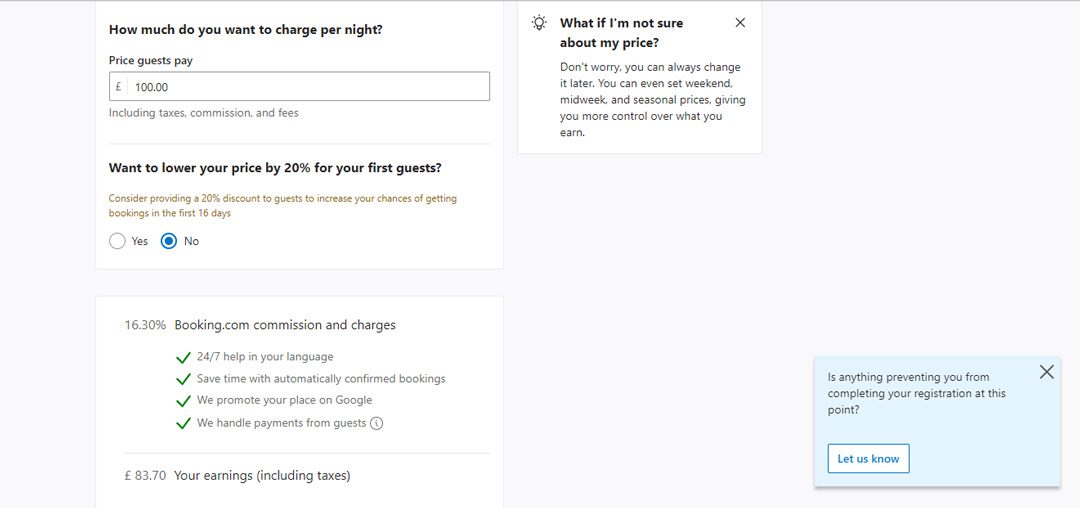 Set up your rate plan.

Booking.com recommends that property owners set up multiple rate plans at this stage. Booking.com charges a 15% commission with no hidden cost as follows: promoting your property on Google, 24/7 customer service, and offering automatically confirmed bookings.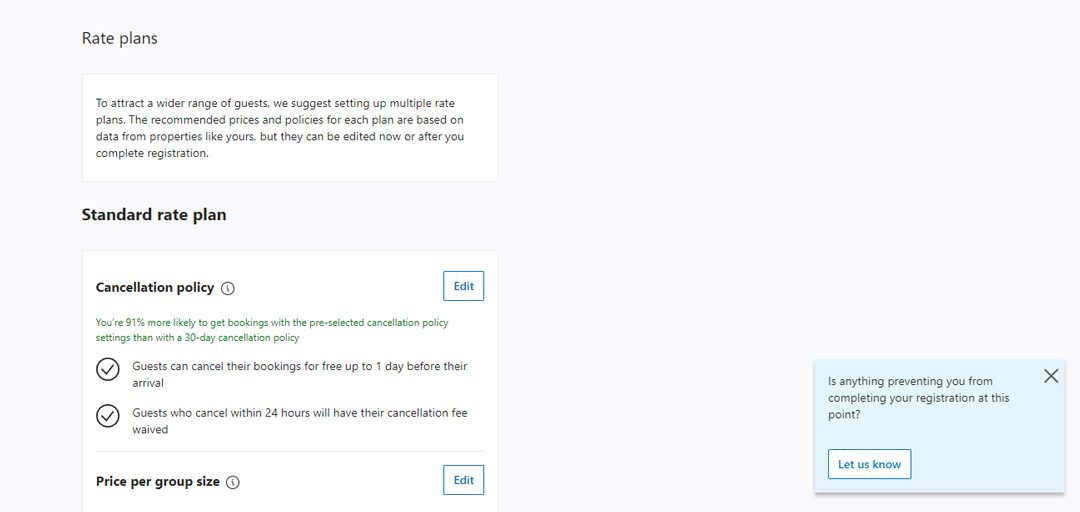 Non-Refundable Rate Plan: This policy will let you offer discounts and decrease the rates for 100% confirmed occupancies. The guest will pay 10% less than the standard rate for a non-refundable rate. This doesn't let guests cancel their bookings for free anytime.
Set the availability of your property.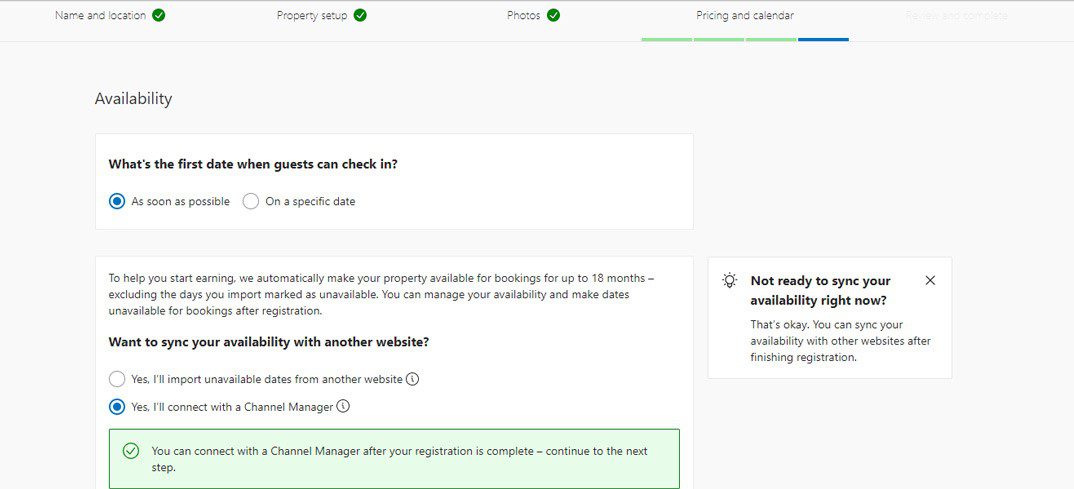 It is worth mentioning that Zeevou's revenue management partners, Beyond and PriceLabs, can lighten up the load and save you time and effort by providing pricing solutions. Their system helps property managers drive more enquiries and shoot up their revenue.
Furthermore, the bank account where you will have your money transferred shall be located in the same country as your property listing. In addition, the commission rate is charged depending on the country your property is located in, starting from 15%.
Step #5: Review and Complete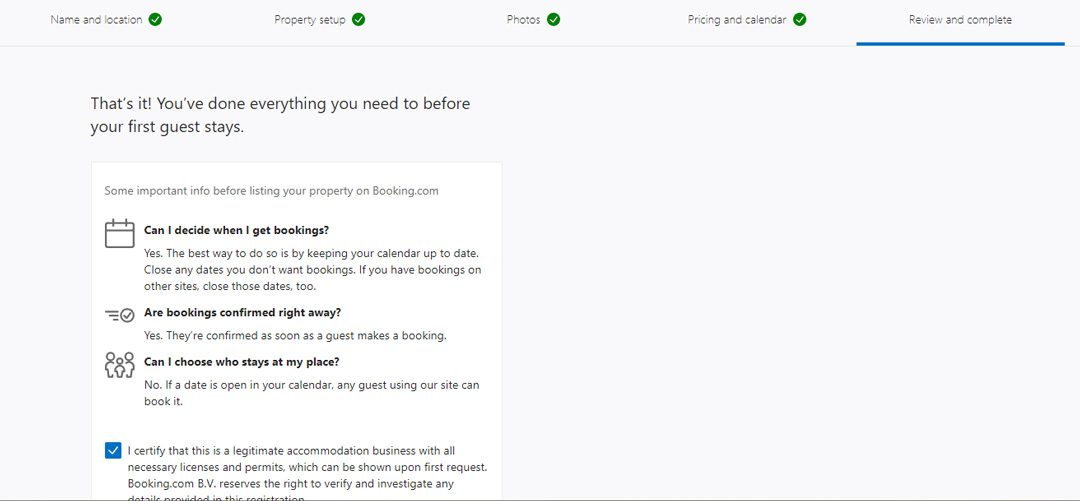 Now, click on the "open for bookings," and you're almost there! Verify Your Partner Account 
Now, you'll be redirected to admin.booking.com to continue the process of listing your property on Booking.com: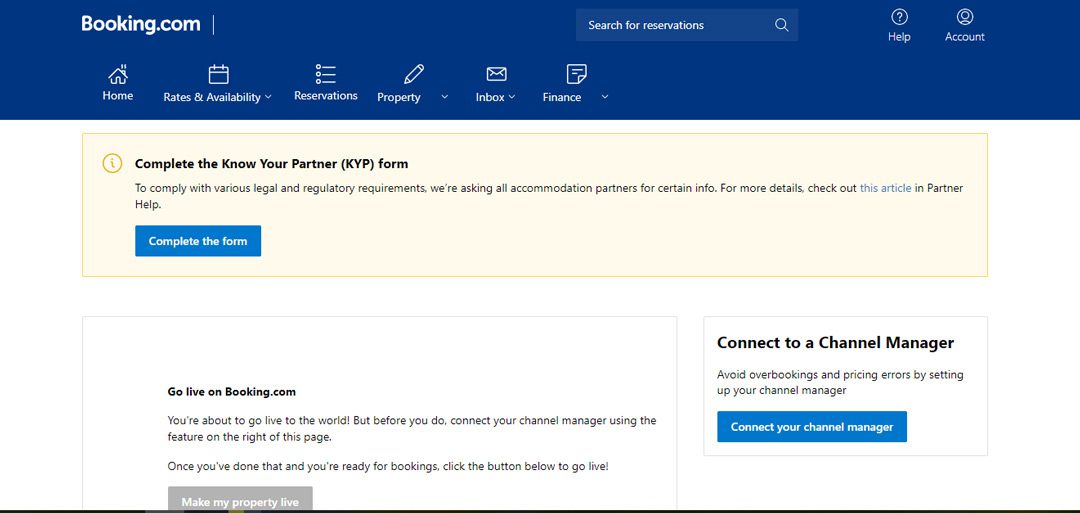 Once you've followed the steps to set up your property listing details, Booking.com will review your registration to make sure you have all the required information.
At this stage, you must fill out the above form, including property details, owner's details, and manager's details and your submission will be made available.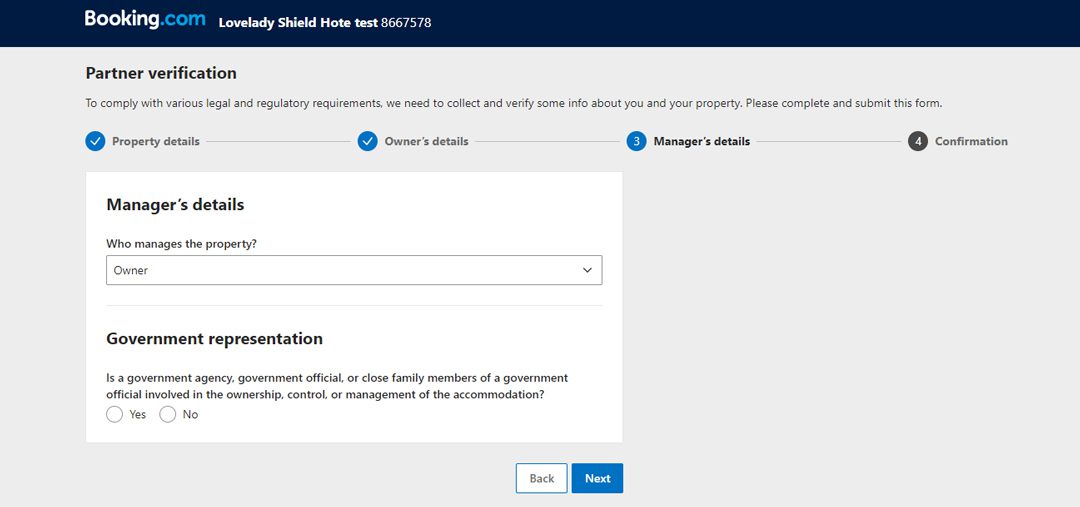 After receiving a confirmation email with a summary of your settings, you'll be able to access the Extranet and update your availability calendar; set your prices and adjust any other details of your listing. Also, you can add your bank account details; you can update your contact information, including email address and phone number; you are allowed to connect to a channel manager. Whenever you're ready, you can make your property live on Booking.com.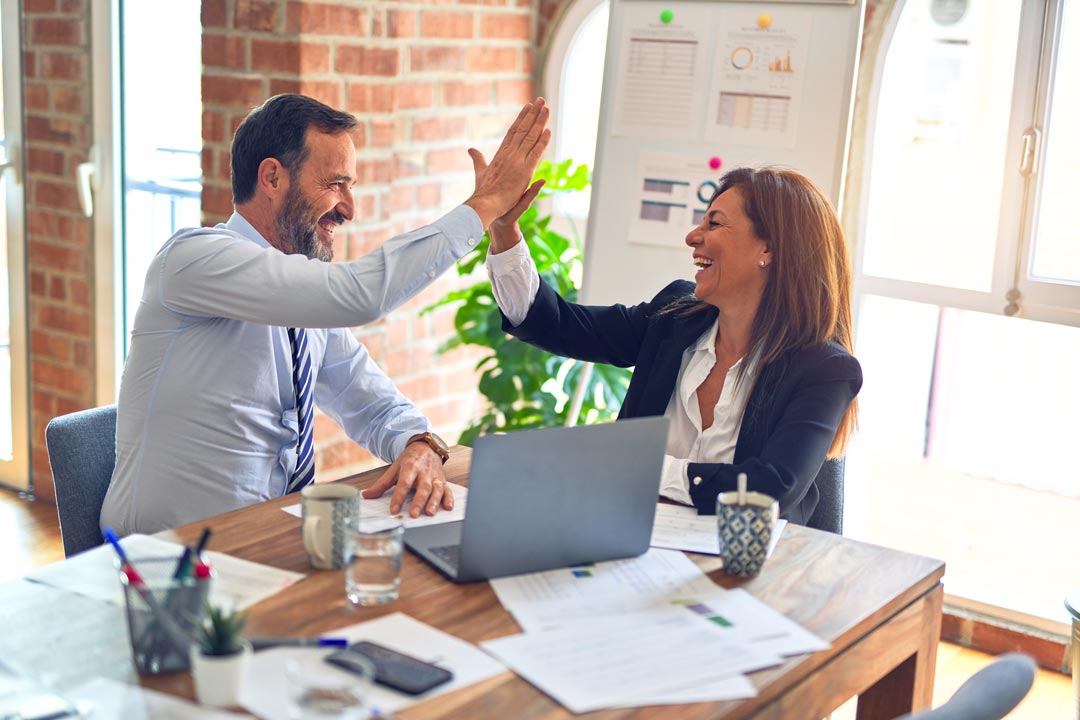 Downsides of Listing Properties on Booking.com
However, some property managers or short-term let owners have their heads in despair when it comes to listing on Booking.com since it has some drawbacks, as well. 
Operating the Loyalty Programme: This program encourages guests in every way to book exclusively with Booking.com. This programme grants guests three levels of "status" with Genius: Genius Level 1, Genius Level 2 and Genius Level 3 based on the number of bookings they've made on solely Booking.com. By completing each level, you'll be given out discounts and other special and free features. If you use the programme for more than 15 stays within two years, your benefits will be capped to the above at the Genius Level 3 tier. Thereby, there will be no room for other OTAs and direct booking websites to win such guests and drive bookings.

Not making the contact information available. It is worth mentioning that Booking.com does not give property owners access to guests' contact information, in the hope that property owners/channel managers cannot attract guests to their direct booking website. This way Booking.com will not give out any chance of stealing their guests and letting you grow your direct booking business. Therefore, Booking.com will gradually win the unswerving loyalty of any guests making reservations with them.
How to Terminate Your Contract with Booking.com
Besides asking yourself questions like, "How can I list my property on Booking.com?", there may come a day when you are looking to end your partnership with Booking.com and might be wondering how to terminate your listing contract with Booking.com. 
First things first, you need to know once the contract termination proceeds, it cannot get cancelled. Furthermore, you'll be required to honour outstanding reservations and settle outstanding payments. Otherwise, you will be obliged to cover the relocation cost for your guests.
After all, if you ever decide to close your property listing on Booking.com, under certain terms and conditions, you'll need to proceed as follows:
Go to the

Inbox

tab in the Extranet, and select

Booking.com Messages

.

Click on

Compose New Message

and select the

Account

topic.

Choose

Terminate Contract

and complete the process by answering all the questions.
Once you've followed the steps above, within 14 days and/or after honouring any pending reservations and settling any outstanding payments, your agreement with Booking.com will be terminated. Meanwhile, you will receive an official Termination Notification Letter from Booking.com.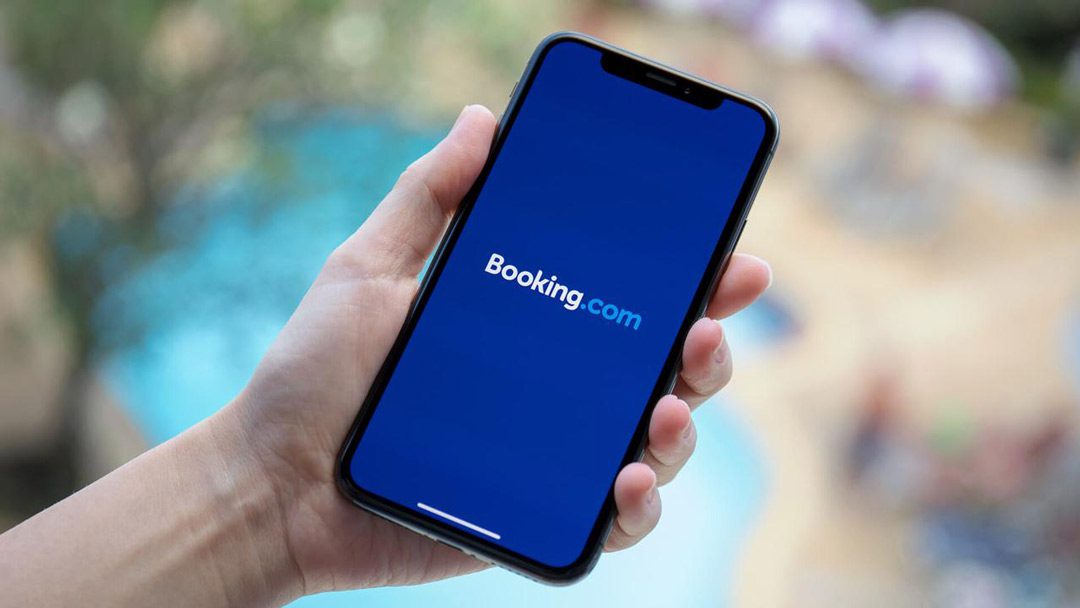 Concluding Remarks
Congratulations! You have now created a listing on Booking.com. All you need now is to keep your calendars synchronised across all your channels. We also recommend you dedicate sufficient time to research current listings on Booking.com to see where your property will be positioned in the market, what makes others memorable and to consider what you can offer guests that will help yours stand out. This way, you can ensure you've mastered listing your property on booking.com.