Most travellers use search engines to find their desired accommodation. The demand has increased over the past years. To respond to this need, Google has taken essential steps and developed Google Vacation Rentals. This one-stop shop provides great opportunities for property managers to increase their exposure and scale up their business.
Continue reading to explore various aspects and benefits of Google Vacation Rentals for your short-term rental business. 
What Is Google Vacation Rentals?
Google Vacation Rentals is a product of Google introduced in 2019. Apart from Google Hotel Ads and Google Flight, which show the rates and availability of hotels and facilitate the purchase of airline tickets respectively, Google Vacation Rentals boosts the search experience of customers. 
Google Vacation Rentals (Holiday Rentals) allows travellers to choose their destination, date, property type, number of bedrooms, bathrooms and other amenities, such as free Wi-Fi, pet-friendly or fireplace. They can also sort the results based on the lowest prices, highest ratings, or most reviewed. Furthermore, users can see images and read reviews. Ultimately, if they want to book the property, they must click on "Visit site" to land on your website to place their booking and finalise it. 

How Can Potential Guests Access Google Vacation Rentals? 
 Google Search
Travellers can access Google Vacation Rentals by typing, for instance, "vacation rentals in London" in the main search bar. Then, properties with their specific information pop up, and they can see the Google Vacation Rentals clickable map, including nightly rates. Remember that the exact location of rentals will be displayed only after guests finalise their reservation. 
Google Travel
Another way potential guests can access vacation rentals on Google is by using the Vacation Rentals tab on Google Travel. This Google product is a metasearch engine for flights, hotels, things to do, and vacation rentals. Google Travel allows travellers to browse vacation rentals and offers suggested accommodations based on location.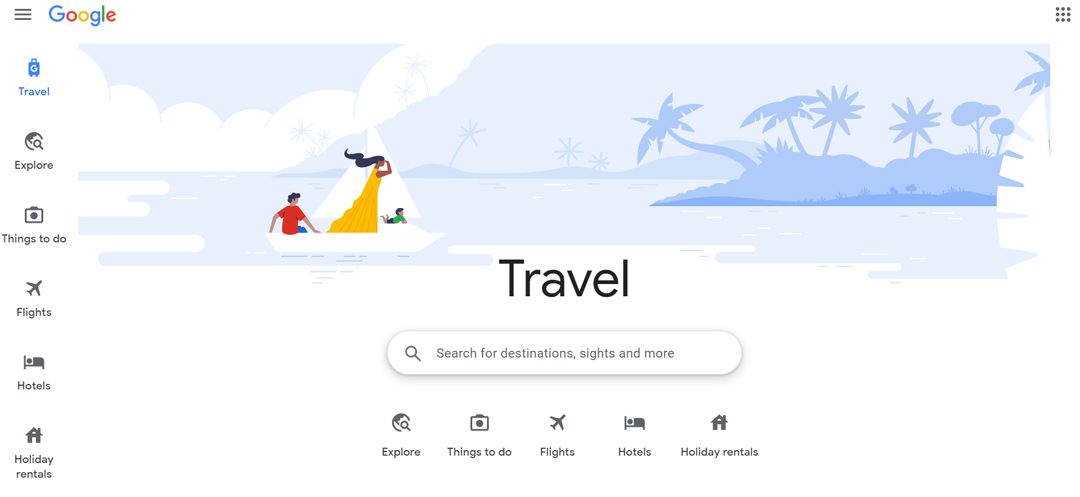 Google Hotels
The third way to access Google Vacation Rentals is by searching for Google Hotels. Potential guests must go to the Google Travel page and click on the Google Hotels tab. On this page, next to the "Hotels" tab, there is a Vacation Rentals (Holiday Rentals) tab which allows travellers to select their desired property. 
What Are the Advantages of Google Vacation Rentals for Property Managers?
Increasing Your Visibility
Although there are many ways to increase your visibility, such as using high-quality photos or partnering with local businesses, listing your rentals on Google is a big one. Google is one of the most popular search engines which millions of travellers use to find accommodation. So, your properties will be visible to large groups of customers, which could lead to more traffic and bookings. 
Building Trust
Establishing trust is a must for your business reputation. Indeed, your audience needs reassurance to book your rental. Google is one of the most credible and reliable search engines, listing on which will ensure  your rental has sufficient standards. 
Being Commission-Free
Listing your short-term rentals on large OTAs will need you to pay commission fees and ultimately pose a financial burden on you. However, Google doesn't charge you for listing on it or doesn't collect any commissions after redirecting visitors to your website and facilitating bookings. So, Google Vacation Rentals is a great opportunity to boost profits. 
How Can You List Your Properties on Google Vacation Rentals?
Currently, you cannot directly list your short-term rentals on Google. Alternatively, you can use below ways to display your listings on Google:
Listing Your Properties on OTAs Partnering with Google
If you listed your vacation rentals on third-party distribution channels which have connections with Google, including Expedia, Vrbo, Hotels.com, RedAwning, HolidayLettings, TripAdvisor, the Google crawler will pick them up and show them up on Google. 
Work with Google Vacation Rentals' Partners
Another way to integrate with Google Vacation Rentals is by working with Google's approved connectivity providers. This way, customers are redirected to your website with zero commission fee. 
Listing Directly on Google Vacation Rentals
If you have more than 5000 short-term rentals, you can directly list your properties on Google. 
Google Vacation Rentals vs Google My Business
Although both Google Vacation Rentals and Google My Business are products of Google, Google My Business is for all companies, and Google Vacation Rentals is specifically for the short-term rental industry. 
Based on Google's basic guidelines, businesses are qualified to have profiles which can make in-person contact during their mentioned hours. So, some companies are not eligible to create business profiles on Google, such as vacation homes, model homes, or vacant apartments (they are eligible for verification). But, it is important to note that some properties under the category of a property management company or vacation home rental agency can be verified by Google. 
Do You Need to Pay Fees for Receiving Bookings from Google Vacation Rentals?
Once travellers find your short-term rental through Google by clicking on the button "Visit site," they will be redirected to your direct booking website, and you will not be charged for this. However, you need to pay a commission fee to OTAs when a booking is made through them. 
It's worth mentioning that if you have over 5000 rentals and want to integrate with Google, you need to pay extra to complete the process.  
Concluding Remarks
Google Vacation Rentals is a great metasearch tool to advertise your short-term rental business. Building your direct booking website and connecting to a channel manager or working with Google's approved connectivity providers will allow you to list your properties on Google. By doing this, you can get your business in front of millions of travellers.