Millions of travellers use search engines to find and book accommodations. There is also a steady increase in searches conducted to reserve vacation rentals. Search engines like Google play an important role in influencing what travellers see, get inspired by, and ultimately book. To fulfil this mission, Google has created Google Hotels (Google Hotel Search) and Google Vacation Rentals to integrate short-term rentals into Google's travel search functionality.
Google provides travellers and potential guests with all the information they need. But, how does it affect you as a vacation rental manager? And more importantly, how can your vacation rentals appear on Google Hotels and Google Vacation Rentals? We will discuss all these questions in this article.
Benefits of Listing on Google Hotels and Google Vacation Rentals
Here are a few reasons why you should consider adding Google to your distribution strategy.
Broad Visibility
It increases your global reach as there will be millions of travellers searching on Google who can see your rentals. Additionally, the results of Google Hotel Search and Google Vacation Rentals are generally found before organic search results, which are usually dominated by powerful OTAs. Therefore, smaller vacation rentals have a real chance of ranking among or higher than the big online travel agencies.
Brand Awareness and Trust
This is an excellent way to advertise your independent vacation rental brand and reach out to new traffic sources. Moreover, due to Google's reputation as a credible search engine, travellers will view your rental in the same way. Thus, you can gain more trust among your target audience by listing on Google Hotels and Google Vacation Rentals.
Commission-Free Direct Bookings
You'll receive commission-free direct bookings as Google doesn't charge for sending travellers to your website.
Enhanced Guest Experience
Gaining direct bookings means you'll own the guest relationship from start to finish. So, you can streamline the customer journey from processing payments to communicating with guests.
Once Your Property Is on Google…
Your rentals can be searched and displayed in different ways on Google:
1. Searching on Google
When travellers search a query such as "vacation rentals/hotels in Cambridge," they will see a map and a vacation rentals snippet with rates. On the left and below each property listing, they can see its information (number of bedrooms, number of guests, and price). The clickable map on the right displays the nightly rates for rentals throughout the city.
With Google dominating the search results, the searchers are enticed to click on these without even searching for what OTAs offer.
Travellers can also click on the "View X rentals" or "View larger map" button to see more options. It directs travellers to the Google Travel page, where they can see both hotels and vacation rentals' prices.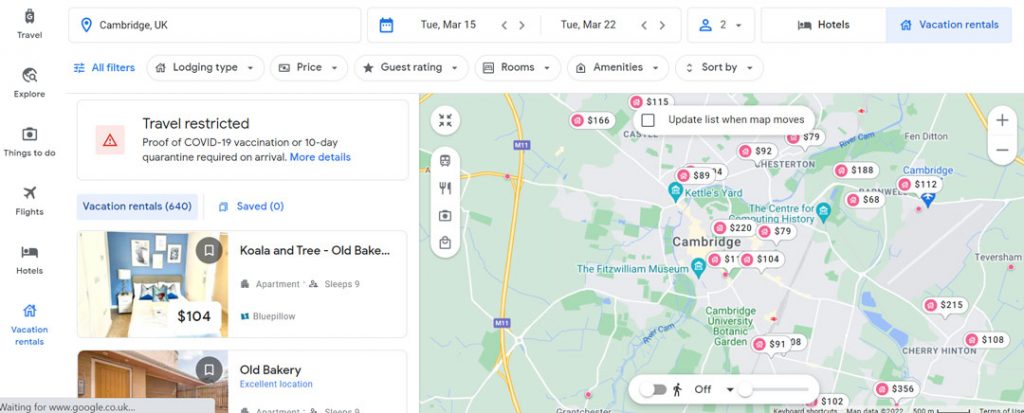 Here, the potential guests can further refine their search by selecting a price range and filtering according to amenities. There is also a filter to narrow the search according to the number of rooms and/or bathrooms. Besides, travellers can browse photos, read reviews, and check rates and availability of vacation rental properties. Using the toggle in the filters, they can easily switch between hotels and vacation rentals.
2. Searching via Google Travel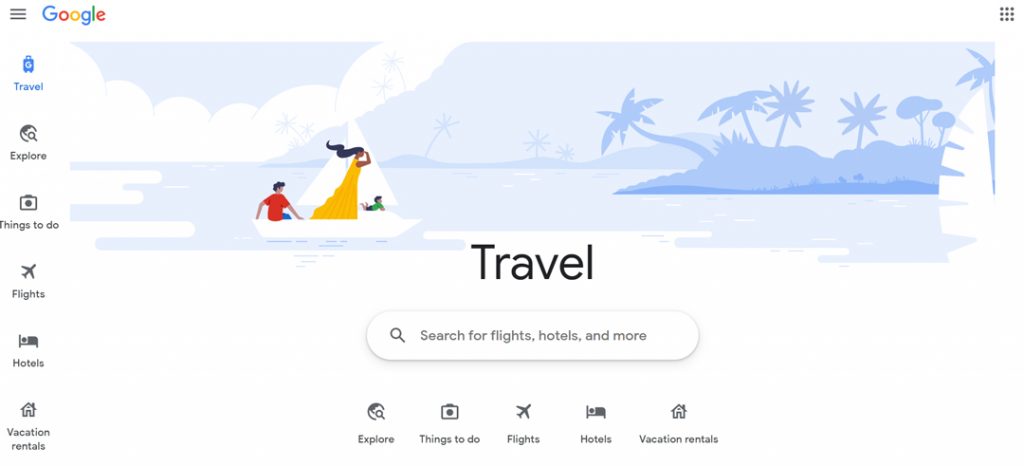 Users can also directly search vacation homes on the Google Travel Search page. Google Travel is Google's metasearch service for finding travel-related services, including flights, hotels, vacation rentals, and things to do.
On the Google Travel page, the searchers can browse either Hotels or Vacation Rentals (called Holiday Rentals in the UK) by clicking on the corresponding tab. When travellers enter the details of their trip, they'll see the same list of properties shown before (the listings on the left and the map on the right side).
3. Searching on Google Maps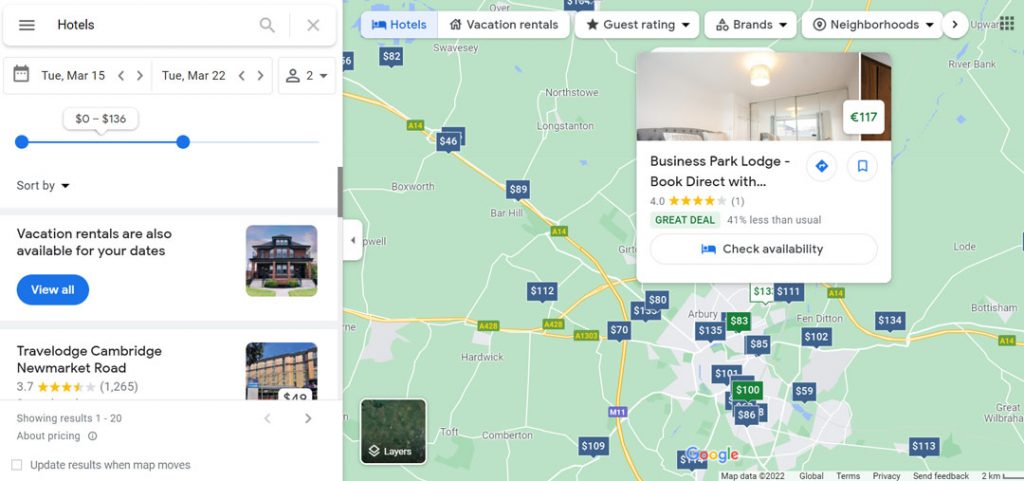 Some travellers find it more convenient to navigate directly on Google Maps to locate their favourite spots. Moreover, great deals appear in green on the Maps, which acts as a promotion for properties with discounts.
Vacation rentals appear on Google Maps, just like hotels. However, Google has made some key changes in response to the varying expectations of guests and owners of vacation rentals. As a result, switching between Hotels and Vacation Rentals may show different results.
By clicking on the "Check availability" button for each rental, travellers can see a long list of prices offered by various listing sites, as well as companies' direct booking websites.
Moreover, Google does not show the exact address of the property for privacy reasons. Rather, travellers are given an estimate of the property's location.
How to Get Listed on Google Hotels and Google Vacation Rentals
Businesses already participating in Hotel Prices API and Hotel Ads will be listed automatically. But, new travel companies need to create their Google My Business listing to have their rentals listed on Google Hotels.
Employing a channel manager like Zeevou that connects to Google can remarkably enhance your rentals distribution. It also allows you to promote your direct booking rates, which may appear as Great Deals on the search results. If you are a Zeevou user, you only need to activate "Allow Direct Booking" for any property you wish. Following that, the data will be transferred to Google for further evaluation. If the transferred information matches Google's data, travellers can see your rental price and direct booking website on Google as "Zeevou Direct."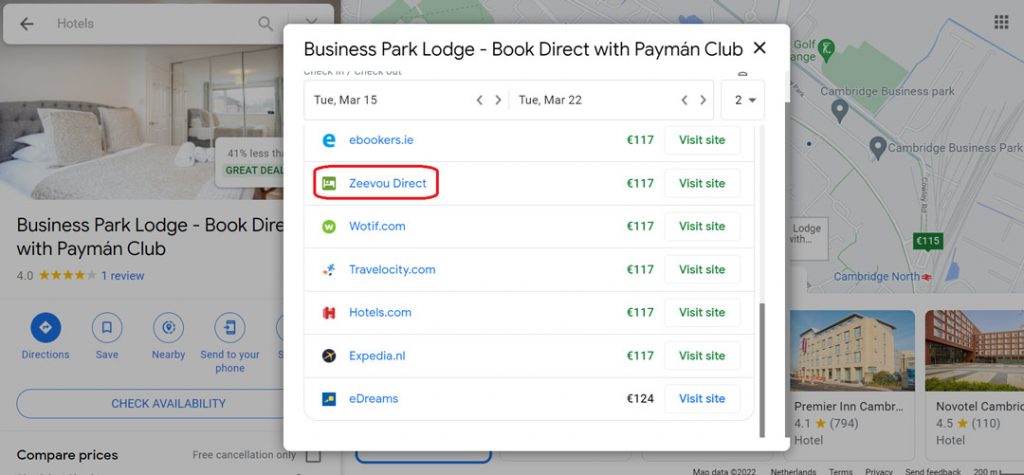 Currently, however, you cannot directly list your properties on Google Vacation Rentals. There are instead three options for property managers to get their rentals listed on Google Vacation Rentals:
1. Listing on OTAs partnered with Google. You can add your properties on listing sites that work with Google Vacation Rentals such as Tripadvisor, Hotels.com, BluePillow, etc. Since January 2022, listings from Airbnb, Vrbo, Booking.com and Expedia no longer appear in Google Vacation Rentals search results.
2. Using Google's approved connectivity providers. You can improve your rentals exposure by using a channel manager that integrates with Google Vacation Rentals.
3. Connecting Google with direct integration. If you operate a large portfolio of over 5,000 properties, you can directly integrate with Google Vacation Rentals. Otherwise, you need to use the other two options.
Thanks to Google Hotels and Goole Vacation Rentals, property managers can access a vast pool of potential guests. Accordingly, property owners will have this opportunity to send direct booking rates to Google using a channel manager like Zeevou.