This article examines Airbnb vs Vrbo by concentrating on the main features that an Online Travel Agency (OTA) should offer. The data has been collected from Airbnb's and Vrbo's websites and help articles.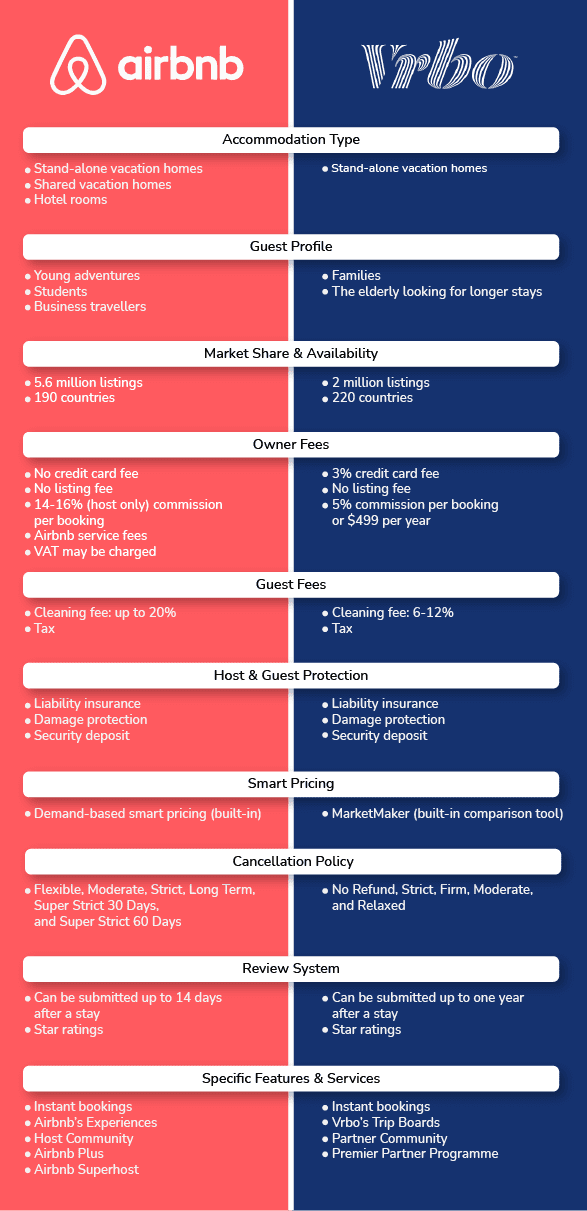 Owner fees:
Airbnb doesn't charge any credit card fees.
There are two types of fees charged by Airbnb: the split fee and the host-only Fee. Split Fees are divided between guests and hosts, usually between 14% and 16% for guests and around 3% for hosts. It costs around 15% of the booking rate for the host-only fee, while there is no charge for the guests. In most countries, including the UK, the host-only fee has become mandatory as of 2020.
Airbnb charges up to 20% of the booking value as a service fee for additional features like hosting experiences.
Guest fees:
Hosts on Airbnb can charge guests an extra fee for cleaning services. Guests are also encouraged to rate the cleanliness of their Airbnb accommodation after they check out.
Airbnb guests may not be aware of the cleaning fee until they check out. The cleaning fee depends on the nightly rate and length of stay.
Tax rules depend on local regulations and differ from city to city.
Owner fees:
Vrbo charges 3% if your guest pays with a credit card.
Vrbo has two pricing models. The annual subscription of $499 is worth it if you have an empty house and expect many reservations during the year. Paying 5% per booking fee suits you better if you invest in a short-term rental.
Guest fees:
Vrbo allows hosts to charge guests an additional cleaning fee in their total rates. They also encourage guests to rate the cleanliness of their place of stay after check-out.
Cleaning fees must be clearly stated on the first listing page of Vrbo.
Tax rules depend on local regulations and differ from city to city.
Liability insurance
Airbnb's Liability insurance is part of AirCover for Hosts. This insurance covers up to $1 million in case of injury or damage to guests or their belongings while staying at your home.
Co-hosts and cleaners are also included. Additionally, this insurance covers damage to common areas like lobbies and nearby properties caused by guests (or others).
Damage protection
If a guest damages your place or belongings during an Airbnb stay, AirCover for Hosts provides $1 million in coverage. Airbnb's Host Damage Protection covers damage caused by guests, co-hosts, or cleaners to your place or possessions. In addition, it protects against cancellations due to damage caused by guests (or others) and cleaning costs incurred as a result.
Security deposits
Guests may encounter two kinds of security deposits when booking an Airbnb. The first is Airbnb's $1,000 cap on security deposits that begin two days prior to the stay. Guests won't be charged, but an authorisation hold will be placed on their payment method. Airbnb will email the guest if it cannot authorise the hold, giving them 12 hours to provide an alternative payment method. Airbnb will release the hold 14 days after the check-out or before the next guest's arrival if there is no damage.
The other option is host-required security deposits. The amount will range between $100 and $5,000, which the host determines. There is no authorisation hold placed by Airbnb, so the host is responsible for this.
Liability insurance
Vrbo's Liability insurance provides protection for all reservations made through the HomeAway check-out process. It covers hosts up to $1 million if a traveller damages the property of a neighbour or the host is legally liable for guests' injury.
Damage protection
Vrbo's Property Damage Protection (PDP) is an optional insurance plan to protect guests from having to pay out of pocket for damaged property. The host can suggest an insurance plan level. Alternatively, guests can select a PDP level, whether as a refundable security deposit or a non-refundable amount.
Security deposits
With Vrbo, the damage deposit and amount are set upon the host's request. Following check-out, they keep the refundable damage deposit for seven or 14 days. In the event of loss, hosts have seven or 14 days to claim all or part of a refundable damage deposit. Otherwise, the deposit will automatically be released.
With Airbnb Smart Pricing, a property listing can be priced according to relevant data and factors. The system automatically adjusts the listing's price based on market demand, but only within a set range of minimum and maximum prices.
A number of factors are taken into account along with demand and season, including the rental location, size, amenities, and listing quality.
It will then calculate an "ideal" price based on the analysed information.
Vrbo offers its partners an online tool named MarketMaker™, which delivers detailed market data. It helps property managers set competitive vacation rental rates based on current supply and demand.
In addition to providing insights into market conditions, MarketMaker analyses real-time marketing data about your property, nearby properties, and traveller search behaviour.
MarketMaker analyses:
real-time supply and demand data;

competitive rates of booked vs unbooked properties;

local events affecting area travel;

forecasted occupancy data;

Average rates of similar properties;

booking lead times;

search data from this year and last;

historical listing performance.
Guest cancellation policy
There are six cancellation policies that you can offer your guests on Airbnb. These policies are called Flexible, Moderate, Strict, Long Term, Super Strict 30 Days, and Super Strict 60 Days.
With the Airbnb Flexible option, guests can get a full refund within 24 hours before check-in.
According to Airbnb cancellation policies, refunds do not include the rental service fee.
Host cancellation policy
You can cancel an Airbnb instant booking for free when:
The guest makes it clear they are likely to break one of the host's house rules, such as bringing a pet or smoking.

The listing doesn't fit the needs of the guests – for example, if it's not suitable for families or pets.

The guest has several unfavourable reviews or a lack of profile information that concerns the host.
It may be necessary for you to submit proof of cancellation in these situations. Only three cancellations per year will be allowed for Instant Book reservations. 
You can also cancel for free for unavoidable reasons, such as emergency repairs, serious illness, proofing the guest's intention to break house rules, epidemics, or government travel restrictions.
Suppose you failed to prove any of the above reasons or cancel a booking without any excuse. In that case, you will be charged a percentage of the booking price based on the cancellation time. There may also be other consequences, such as blocking the listing's calendar on the affected dates. In the worse scenario, you may lose your Superhost status and have your listings suspended or removed.
Guest cancellation policy
On Vrbo, five levels of cancellation policies are defined: No Refund, Strict, Firm, Moderate, and Relaxed.
Due to its rental types, Vrbo is stricter than Airbnb. Even the Relaxed option cannot provide a full refund since it only reimburses 50% if the cancellation occurs 14 days in advance.
According to Vrbo cancellation policies, refunds do not include the rental service fee.
Host cancellation policy
You can cancel an instant booking if guests do not comply with your house rules or Vrbo policies. To do so, it's best to ask the guest to submit a cancellation request, so your metrics won't be affected by the cancellation. If a guest meets all your house rules, the reservation should only be cancelled at the guest's request.
For cancellations caused by factors beyond a host's control, Vrbo offers "cancellation waivers". You might qualify for a cancellation waiver based on your reason for cancelling, such as natural disaster, property damage, house rules violation, and past due balance. According to Vrbo cancellation policy, a cancellation can negatively impact your ranking metrics if you don't receive a waiver.
At Vrbo, owners have the discretion to cancel a reservation. Thus, they can cancel a booking anytime, without worrying about bad reviews.
You need to specify:
the exact location of the property.

the number of guests you can accommodate.

how your property looks like by providing photos.
Pets are allowed with a fee, which might differ from listing to listing. Assistance dogs are allowed with no discrimination. 

Airbnb encourages its hosts to provide clean accommodation. "

Airbnb also encourages its hosts to add a cleaning fee in their total rate to cover the cost of hiring a cleaning service or buying cleaning supplies.

"
Pets are also allowed with a fee for Vrbo properties. 

Vrbo owners can ask their guests to keep the property minimally clean. "

This includes running the dishwasher, putting out the trash, or leaving all used linen in one area. The platform offers guidelines on how hosts can clean specific rooms in their properties.

"
Up to a limited extent, the Airbnb review system provides guests and hosts with insights about who they will be booking with. Both guests and hosts have 14 days to write a review.
The Airbnb review system appears as a five-star rating system with guests rating the accuracy of descriptions, cleanliness, communication, location, check-in, and value for money. In case of concerns about an Airbnb, guests can filter accommodations by reviews before booking.
Vrbo has a review option, but does not offer a thorough vetting or verification process. Guests or hosts can leave a review for up to a year after their stay. Nevertheless, once one of the parties submits a review, the other party has 14 days to share theirs.
Vrbo uses a five-star rating system, and hosts' responses to guest reviews appear in the review section.
Using its centralised payment process, Airbnb collects money from guests and pays hosts automatically 24 hours after check-in. You can choose how to receive payments when setting up their accounts, and the payout may take longer depending on the chosen payment gateway. Fees and deductions will always be included in the payment.
For guests who stay 28 days or more, you will get paid monthly instalments starting 24 hours after check-in.
Vrbo offers hosts a secure payment platform to get paid through. 
Following a guest's check-in, you will receive your payout within one business day. New partners whose first booking is within 30 days will receive the payout about 30 days after the guest makes payment.
The payout summary report displays payout amounts after commissions and fees are deducted.
Special Features & Services
Instant Bookings
Upon signing up for an Airbnb account, the Airbnb Instant Book feature turns on and automatically accepts reservations. You can, however, disable Instant Book and decline a reservation if a guest has unreasonable requests or a low rating. Users of Instant Book are rewarded with higher search rankings on Airbnb.
Airbnb's Experiences 
Airbnb offers Experiences – aggregated local activities that local people host. It presents a long list of experiences such as restaurants, adventures, and creative activities. This feature can help attract travellers looking for Airbnbs and Experiences in your area, thus increasing your occupancy level. 
Host Community
Airbnb's Host Community provides property managers with opportunities to share their experiences of listing their properties on Airbnb. 
Airbnb Plus
Airbnb Plus features some of the best quality Airbnb homes with hosts known for their great reviews. These vacation rentals are picked based on their elegant design, consistent amenities, and spotless maintenance.
Airbnb Superhost
Airbnb Superhost programme recognises and rewards its highest-rated and most experienced hosts. The benefits of being a Superhost include increased visibility, increased earnings potential, and premier rewards.
Instant Bookings
Vrbo allows you to turn on or off Instant Booking on your listings.
The Instant Booking feature can determine your rank and search position, as the property with Instant Booking will rank higher on Vrbo.
Vrbo's Trip Boards
Vrbo's Trip Boards make it easy to organise and compare travel destinations. For group trips, guests can invite friends to collaborate on the board and search for accommodations together.
Partner Community
Vrbo also provides the owners with a website called the Partner Community that allows property managers to share their Vrbo experiences.
Vrbo's Premier Partner Programme
It rewards owners and managers for providing excellent service to guests in a sustainable manner. Upon meeting the criteria, you will automatically be added to the programme, where you benefit from a Premier Host badge and filter, the Boost programme, as well as priority 24/7 support.
Airbnb vs Vrbo: Which One to Choose?
The process of listing your vacation rental on Airbnb and Vrbo is straightforward and can be done in a few easy steps. All you have to do is create a profile, enter your property details, and upload your property photos. But, choosing the right listing channel depends on the type of property you offer and the type of guest you intend to attract. 
If you have a strict cancellation policy, you'd be better off listing your full house on Vrbo instead of Airbnb. However, the advantages of Airbnb are that you can reach a wider audience and have more flexible cancellation policies.
Your property's location also affects whether you choose Airbnb or Vrbo. In some places, OTA listings are restricted by local regulations. In some areas of the world, Airbnb is more popular and offers more listings.
According to Airbnb Community hosts, reservation durations are longer, bookings are happening earlier, and guests are better with Vrbo. Moreover, there is usually a lower service fee on Vrbo, which makes Vrbo more affordable than Airbnb.
In some cases, owners believe Airbnb is a good starting point for their vacation rental business, and as their business grows, they may also choose Vrbo.
We are committed to ensuring that all our comparison articles are factually entirely correct and accurate. If you have spotted anything that you feel is wrong or misleading in this article, we'd appreciate hearing from you.