This article examines Xero vs QuickBooks by concentrating on the main features that accounting software should offer. The data has been collected from Xero's and QuickBooks's websites and help articles. We also checked their reviews at Capterra to find the aspects that the actual users are emphasising.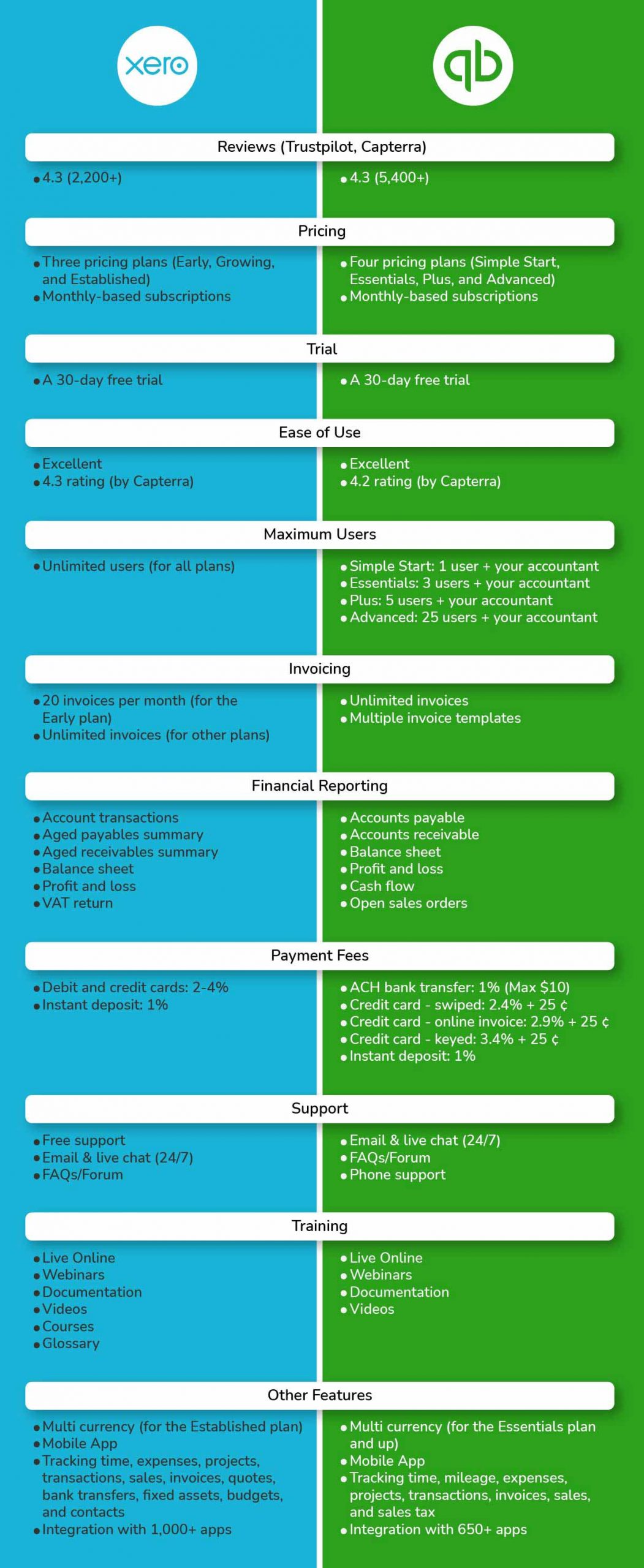 In Capterra, Xero has a rating of 4.3, with the highest score for Ease of Use. 
Trustpilot introduces Xero as a Great tool with a 4.2 TrustScore.
In Capterra, QuickBooks has a rating of 4.3, with the highest score for Ease of Use. 
Trustpilot introduces QuickBooks as an Excellent tool with a 4.6 TrustScore.
Banking 
Bank Connections: You can add your bank account to Xero, and your bank will update your account. 

Bank Reconciliation:

After connecting your bank account to Xero, the bank data will appear automatically in Xero on a daily basis. This data is also reconciled with bills, receipts, and invoices.
Automate Data Entry
With Xero, your employees can take photos of their expenses' receipts. You will get notifications of these activities in Xero. Xero does the data entry automatically. Using Hubdoc, Xero extracts data from photos, emails, and scanned documents, and you do not need to do the manual data entry. 
Xero subscribers of Early, Growing, and Established plans can use Hubdoc to capture the data described above.
Banking
You can connect QuickBooks to your bank accounts, credit cards, PayPal, Square, etc., and QuickBooks's bookkeeping software will automatically import your transactions.
Automate Data Entry
With QuickBooks, you'll be able to automate tasks such as entering transactions, performing calculations, and organising your data.
Live Bookkeepers
QuickBooks offers a certified bookkeeper with an extra fee (starting at 200$/month). The virtual bookkeeper will help you with your accounting by:
Updating your existing financials

Giving personalised insights on your profit and loss report and balance sheet

Categorising transactions

Reconciling accounts
Deposits for Vacation Rental Businesses
You need to create an invoice for the deposit and match it with the guest's payment in the bank. Whenever you need to refund the deposit, you can create a Credit Note in Xero and complete the payment box, which is located at the bottom of the same page.
Pay Now Button
You can ask your customers to pay the moment they receive the invoice by pressing the Pay Now button. You can accept different currencies with the payment. Xero charges you for payments through the Pay Now button on the invoices. 
Payment Options
Xero offers multiple payment options such as debit cards, credit cards, direct bank debit, and many more. You can take payments using Stripe, GoCardless, etc. Stripe is for payments by debit card, credit card, Apple Pay, and Google Pay, and GoCardless enables direct debit. 
Expense Claim
Whenever a staff member pays a bill or an expense, they can record it via the Expense Claim option.  
Deposit Speed
Depending on your payment processor and bank account, it takes 2-10 days to get the money via Xero in your bank account.
Recurring Payments
The due dates of the bills are visible through the system in Xero. You can also schedule payments and batch payments. 
By emailing the bills to your Xero inbox, you can store the bills in one place and access them online. 
Quotes & Estimates 
With Xero, you can create online quotes and estimates from the app and the software. You can also set an Accept button to enable your customer to accept or decline the quote you have made. You can also see if your customer has viewed the quote. If the quote is accepted, you can convert the quote into an invoice.
Multi-Currency Accounting
With the Xero Established plan, you can accept money and offer services in over 160 currencies. Xero uses up-to-date exchange rates for currency conversion. You can make reports in local currency.
Mobile Payment
GoPayment app

Mobile card reader
ACH and eChecks Payments
A secure connection between your bank and QuickBooks allows you to send ACH payments and eChecks electronically.
Fast Deposits
QuickBooks enables you to create a Payments account and receive eligible payments the next business day.

When eligible, QuickBooks allows you to move payments into your bank account instantly for an additional 1% charge.
QuickBooks Checking Business Bank Account
It is free to open.

Accounts are not subject to monthly fees or minimum balances.

Instant deposit is available without an additional fee, if eligible.

You can save for expenses with envelopes and earn 1.25% APY (Annual Percentage Yield).

Insights and projections regarding cash flow are available.

You can have seamless integration with QuickBooks Payments and QuickBooks Payroll.

You can use ACH transfers for no additional fee.

You can withdraw funds at over 19,000 AllPoint ATMs.

You can use QuickBooks to pay bills.

You can get a free premium debit card with your company name.

A maximum of $250,000 is insured by the FDIC.
Payment Links
You can request funds from multiple customers at once by sending payment links through text or email.
You can make a customised invoice layout with your logo on it. You can even make the invoice on your mobile. Xero also allows you to attach documents along with the invoice you send. Your customers can pay you by receiving your online invoice. You can accept payments through debit and credit cards and direct debit. Xero has also automated invoice reminders.
Heelan Associates says a minor negative point about Xero: "If you need to change the date in an invoice that already has a payment, you must delete it."  
Whenever you need to refund a certain amount of money to the guest, you should raise a Credit Note. On the Credit Note page, there is an optional section where you can allocate this Credit Note to the corresponding invoice.
Personalise Invoices
You can create custom templates and make tailored invoices by adding your logo and colours.
Add Billable Hours
Using QuickBooks Time and Google Calendar, you can automatically add billable hours to invoices.
Receive Real-Time Alerts
Using the mobile app, you can send invoices, know when they are viewed, and get notified when they are paid.
Xero enables you to create and customise reports online. You can make your favourite list of reports with your preferred layout and reuse them. It also allows adding formulas and details to the reports. The list of reports in Xero is as follows: 
Account transactions

Aged payables summary

Aged receivables summary

Balance sheet

Profit and loss

VAT return
To see how your business performs, you can add your detailed budget and get graphs and analyses. 
You can export reports into PDF files or spreadsheets. The reports produced will be read-only versions. 
Xero users with advisor roles can lock specific dates to stop bringing changes related to that period to reports. 
You can use tracking categories for making reports, such as rental income, cleaning, etc. 
To manage multiple properties, you can either use the tracking categories option or create a ledger for each property in the Xero chart of accounts. 
If you have a small number of properties, you can use tracking categories. By determining each property as one location, you can make income and expenses reports by location to send to the owner.  
You can also create a ledger for each property in the chart of accounts in Xero. After that, allocate cards to each property. If you want to record the costs related to the cleaners, manager, and owner, you should create contact cards for each.
Your QuickBooks dashboard gives you a holistic view of your business, including income statements and balance sheets. With a cash flow statement, you can see your income and expenses.
Your business goals can be met by creating a customised spending road map. You can also provide financial statements to investors in order to approve you for a loan.
This list of reports in QuickBooks is as follows:
Profit and loss summary

Balance sheet summary

Open sales orders

Pending sales

Aged payables summary

Aged receivables summary

Sales by customer summary

Sales by representative summary

Open purchase orders

Expenses by vendor summary

Outstanding checks report
Xero automatically creates sales tax reports. You can change the sales tax rates set up as 0% to default tax rates. You can change these rates again for a singular item. Xero calculates sales tax on different items of your invoice.
Xero sales tax reports equip you with the required information you need to submit tax forms.
QuickBooks handles sales tax calculations automatically when you add them to an invoice. They calculate the tax rate based on date, location, type of product, and customer.
According to the product category and location of sale you specify, QuickBooks will apply the correct rate to your transactions.
Tax categories are automatically sorted based on receipt photos.
The Sales Tax Liability Report lets you see your sales tax information at any time and keep you up-to-date on your taxable and nontaxable sales.
The inventory management tool of Xero is for keeping track of the inventory to check the availability of each item, the best-selling item of the stock, and making balance sheet reports. It is especially functional for retail stores. 
Vacation rental managers use an inventory checklist to check the availability of items to have an overview of what is needed.
QuickBooks's inventory management updates your quantities automatically and helps you make sure you're not under or overstocking.
It sends low-stock alerts to notify you when it's time to reorder inventory. To ensure paying the vendors on time, QuickBooks converts the purchase order (PO) into a bill.
With Xero, you can:
Review unpaid bills, expenses, and purchase orders.

See bills in different states: drafted, waiting for approval, or ready to be paid.

Pay suppliers with multiple bills in one simple transaction.

Organise your payments in advance to make sure they're all ready to go.

Keep your bills organised in folders.

Enter data while bills are displayed on the screen.
With QuickBooks:
You can see at a glance what you owe, when, and to who on the bills dashboard.

Your payments will be imported and matched to the invoices of your vendors once you connect your bank or business accounts (such as Apple Pay® or PayPal).

You can pay what you owe, and QuickBooks automatically tracks any remaining debt and when it's due.

Bills can be paid via bank transfer for free or via debit card (2.9% fee).
You can pay multiple vendors with a paper check or a direct deposit at once.

You can manage your expenses efficiently by scheduling payments in advance.
For keeping the record of pay runs and payroll, you can keep records of a few employees with Xero, and for large numbers, you need to integrate Xero with a payroll app.
There are three QuickBooks Payroll plans:
Core: You can easily pay your team and have payroll taxes taken care of.
Premium: Using powerful tools and services, you can manage your team and achieve the perfect payday.
Elite: On-demand experts simplify payday and protect your most important assets.
You can share valuable insights with your accountant by customising, running, printing, or exporting payroll reports.
The payroll reports include information about the following:
Multiple workplaces

Payroll deductions and contributions

Payroll tax liabilities

Payroll tax and wage summaries

Time activities

Vacation and sick leaves

Workers' compensation
Xero is cloud-based software, and providing mobile applications is essential for being cloud-based. It has five mobile apps: Xero Verify, Xero Accounting, Xero Projects, Xero Expenses, and Hubdoc.
Xero Verify is an authenticator app to log in to Xero using push notifications.
Xero Accounting allows you to view your bank account balances, profit and loss, cash flow, outstanding invoices, and bills to pay. You can manage bills, convert quotes to invoices, and reconcile your bank accounts. 
Xero Project is an app dedicated to the Xero Project feature of Xero. You can download it for free, but you need to pay extra depending on the number of active users. 
Xero Expenses is an app dedicated to managing employee expenses and mileage. 
Hubdoc is a mobile app to help you if you have a Hubdoc organisation. With Hubdoc, you can upload documents from your desktop, phone, scanner, etc., and this app extracts the data from them.
QuickBooks's Mobile App can be used to enter transactions, record expenses, invoice customers, and send reports from anywhere. Data is automatically backed up and synced between all your devices with QuickBooks.
All the features of QuickBooks's Simple Start plan are available through the Mobile App.
However, additional features offered in Essentials, Plus, and Advanced plans are only available on the web.
Xero has three pricing plans: Early, Growing, and Established. The monthly subscription fee is $12 for the Early plan, £34 for the Growing plan, and £65 for the Established plan. You can always cancel your subscription with a one month's notice.
The Early plan limits you to 20 invoices and five bills, but you can capture data with Hubdoc in all the pricing plans. Bulk reconciling transactions is doable by purchasing the Growing plan, but using multiple currencies is only available in the Established plan.
All the plans include 24/7 online support. 
QuickBooks has four pricing plans: Simple Start, Essentials, Plus, and Advanced. The monthly subscription fee is $15 for the Simple Start plan, $27.5 for the Essentials plan, $42.5 for the Plus plan, and $100 for the Advanced plan.
The Simple Start plan allows only one user and one accountant, but you can use tax deductions in all pricing plans. Bill management is available in the Essentials plan, and inventory management can only be accessed in the Plus and Advanced plans.
Xero vs QuickBooks: Which Accounting Software to Choose?
Xero is famous for its clean, bright, and minimal design. Xero users praise its user-friendly interface. However, Xero is one of the market's most expensive accounting software solutions. As Xero is cloud-based software, anyone you define in the system can log in from anywhere. Xero is popular with small to medium businesses in Europe and New Zealand and offers good support, but only via email. 
QuickBooks is a well-developed accounting tool that has dominated the US market. It offers a wide variety of reporting customisations and transaction tagging, which makes it an industry leader. Despite QuickBooks's limited number of users, all its plans support unlimited invoices. This tool helps businesses stay organised, set goals, and predict trends, which makes it an excellent option for owners who want to grow their operations.
We are committed to ensuring that all our comparison articles are factually entirely correct and accurate. If you have spotted anything that you feel is wrong or misleading in this article, we'd appreciate hearing from you.