Maximising profit is the ultimate goal of every vacation rental manager. Establishing specific pricing strategies helps you to reach your target audience and not leave money on the table. Yet, setting the right pricing strategies isn't just straightforward, and a well-informed revenue manager could lead to you the best one. 
Once the revenue management strategies have been made, the fundamental challenge is how to implement them. Running different reports to analyse the performance of your rental and make changes manually during a period is a time-consuming process and requires higher labour costs. Besides, manual changes increase the probability of human errors and pause revenue growth.
To overcome the challenge, Zeevou offers a unique solution called Rate Rules. Let's delve deeper into this feature.
What Is Zeevou's Rate Rules Feature?
Zeevou's Rate Rules solution allows you to define specific rules that apply automatically into your Rate Plans (Rate, Min Stay, Max Stay, and Availability). This feature enables you to set new rules with multiple conditions during a specific period, and the actions are applied based on the defined conditions. Also, the duration could be repeated annually in the coming years.
Moreover, Zeevou's Rate Rules feature distributes the price changes to your direct booking website and 200+ listing sites and OTAs. This tool helps you customise the rules based on your knowledge and experiences gained over time as a property manager. So, you can manage rates for various conditions to boost your rental occupancy and revenue.
What Are the Conditions of Zeevou's Rate Rules Solution?
You can set the conditions and customise them for specific days of the week, occupancy level, and lead time.
You can determine the maximum and minimum occupancy level for a certain period and apply it to a specific action such as length of stay, change price, stop check-in, and check-out. For instance, you can increase the price gradually once a certain occupancy level has been reached or decrease the nightly rate at a low occupancy level.
Besides that, the feature allows you to specify how long ahead of check-in the Rate Rules Actions can be implemented. You can drop the price for Early Bird Bookings that are reserved certain days before arrival or raise the booking fee for a Last-Minute Booking. So, you'll rest assured that the rate will be automatically increased or brought down based on the condition.
In addition, Cut-Off Time lets you close your property availability for a day or hours before the arrival date. If you also want to clean your rental after check-out, the Adjacent Nights option allows you to specify the nights the unit becomes unavailable.
Last but not least, you can change the minimum stay for those nights between two bookings which are shorter than the minimum stay. These nights are categorised as Orphan Nights, and if the minimum stay is two nights, you can alter it to 1 day and sell it at a lower price. This will help you fill the gaps and maximise your revenue.
What Actions Can You Apply to the Rates?
Zeevou's Rate Rules feature enables you to manage minimum or maximum stay for a specific duration. This will help you consider shorter stays during the low season and longer ones for holidays that increase your occupancy and profits.
The other cutting-edge option of this feature allows you to block check-in and check-out or booking on specific dates. Hence, you don't need to manually set Prevent Check-In, Prevent Check-Out, or Stop Booking, and defined Rate Rules are applied with no hassle.
Zeevou's Rate Rules offers an option to change rates based on the percentage of the base rate or fixed number. In this section, if you use several Rate Rules for a rate plan and want to change the price, you can define the overall cap using "but do not exceed." This option implies that if you set different rules to increase or decrease prices, the system will consider the rate based on the overall cap.

You can set several rate rules for a rate plan at the same time to manage complex conditions. In this situation, you should set the priority, and the system will take into account actions from the lowest number to the highest. For instance, if one of your rules is 10% increase with priority 10 and the other is 20% increase with priority 20, the price is first raised by 10%, and then it is hiked by 20%.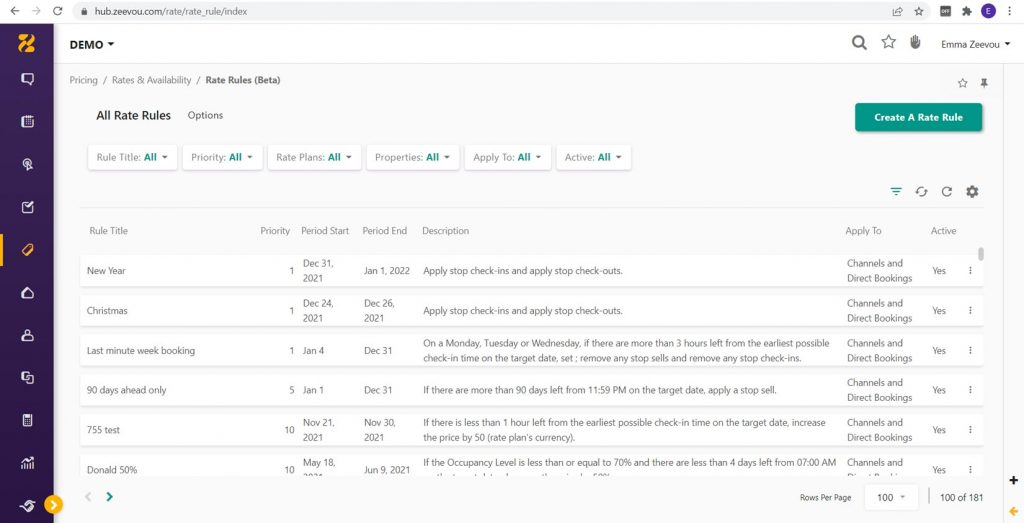 After setting all the conditions and actions, you should select a rate plan to apply all the changes for a particular period of time.
We will be pleased to hear about your experiences if you have worked with Zeevou's Rate Rules feature. Please share your thoughts and questions below. 
You can check out Zeevou's Rate Rules guide if you want to know how to use this feature.