There's a good chance you've heard the name of Facebook Marketplace since the opening of this big garage sale in 2016. However, you might think it is more about selling items and vehicles. After the addition of these two categories, Facebook has expanded the types of products that could be listed on its Marketplace by dedicating a special section to homes for sale and rent. Even though you might already be using Facebook for expanding your business and maybe successful in it, using Facebook Marketplace for your vacation rentals opens a whole new world of opportunities to you by exposing your short-term rentals to more and more potential guests.
There's a simple set of instructions to list your vacation rentals on Facebook Marketplace, all of which we will explain in this article. Moreover, there are some tips and tricks to enable you to get the most of this amazing free, easy-to-use social media tool. 
What Is Facebook Marketplace?
As the name suggests, Facebook Marketplace is an open exchange space where people and business owners can list their products, regardless of being new or pre-owned. People can simply type the name of the product(s) they need and choose their location to meet their area requirements. By adding filters, such as the price, or in case of houses, the number of bedrooms, searching is so streamlined that more and more people are inclined to use Facebook Marketplace daily. 
By listing your vacation rentals on Facebook Marketplace, with a few clicks, you put your properties in front of a bigger target audience, enhancing your chance to be seen by more people. However, being on Facebook Marketplace doesn't guarantee to get more direct bookings. There are certain points you should take into consideration, such as using high-quality photos. Otherwise, you'll just ruin your reputation if your listing isn't as qualified as it should be. 
How Can Facebook Marketplace Widen Your Reach?
If you've already invested a noticeable amount of your time and energy in advertising your business on Facebook, then you can skip this part. But, in case you haven't considered using Facebook for business purposes yet, or you make use of it rarely, and all you do are some chaotic and haphazard activities once in a while, then you should definitely take a look at these numbers:
1- Since 2018, the number of Facebook's active users has increased 8% each year, which resulted in the number 2.41 billion. Where else will you be able to find such reach? 2.41 billion people use Facebook each month. Of course, a considerable number of these people can fit into your target market, can't they?
2- Being present on Facebook, you actually have the chance to get seen on the world's 3rd most visited website. Like any other property manager, your dream might be to attract more visitors to your vacation rental's website. So, why do you want to miss the opportunity to put your short-term rentals on a platform that was outranked only by huge names like Google and YouTube?
3- 74% of the business owners with $75,000 income prefer Facebook! After YouTube, which owns a higher reach at 83%, Facebook is the most popular social network for high-income earners. 
4- Using many free tools, such as Facebook pages, groups, shops and Marketplace, 90 million of small businesses use Facebook actively. 
We could go on and on using more statistics so that you'll be convinced by not being on Facebook, you're missing out on a huge pool of potential guests. But for now, these are enough to make you imagine the enormous active community on Facebook, any member of which could be targeted by your marketing strategies. Now, let's take a look at a step-by-step guide on how to use Facebook Marketplace for listing your vacation rentals.
How to List Your Vacation Rentals on Facebook Marketplace
Anyone who owns a Facebook business account can sell or rent on Marketplace as long as Facebook Commerce Policies approve their listing. After reading this document, if you think you tick all the boxes, now it is time to see how to list your properties on Facebook Marketplace. 
1- If you have a Facebook account, log in to it. If not, simply create one for free.
2- From the menu on the left, pick the Marketplace icon.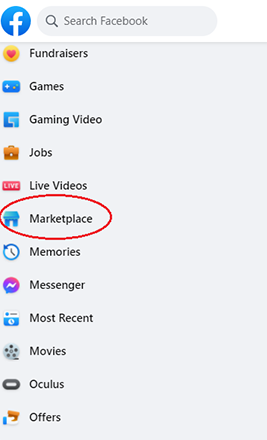 3- Then, you'll be directed to a new window where on the left, you'll find the picture below. Click on Create New Listing.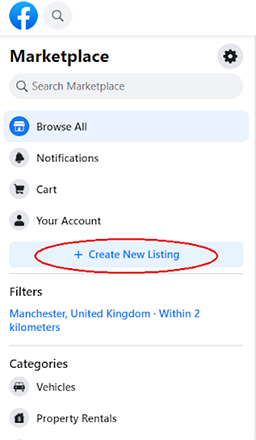 4- At the moment, you can set your listing under 4 categories, which you can see in this picture. Clearly, you should choose House for Rent or Sale in order to list your vacation rentals on Facebook Marketplace. 
5- The rest is as simple as the previous steps. First, you need to add photos. Then pick whether it is a property for sale or rent. Afterwards, you need to take care of some of the features of your rental. For instance, its type (House, Apartment, etc.), the number of bedrooms, bathrooms, price, address, description, and any parking available. 
6- For the final step, pick if you want the listing to be placed only on your newsfeed or on the Marketplace as well. What's the difference? Well, putting your vacation rental on the Marketplace makes it available for anyone looking for your service in your location. Still, your newsfeed is only visible to those allowed by you to see them, such as your Facebook friends or only friends of friends (it depends on the Facebook settings you have predefined). 
Tips on How to List Your Vacation Rentals on Facebook Marketplace
Facebook is an awesome place to get leads for your rentals. But there are some tiny mistakes some property managers make that does not only help their business but damages their brand's good name. 
– Some property managers or landlords use the images of the outside of your property as the main picture. On the other hand, some use the picture of a pool, or a well-lighted, modern kitchen as their main photo. Here's why the second group are more successful in getting bookings from Facebook Marketplace: they're showcasing their property's USP (Unique Selling Point). 
Yes, the number of people looking for rentals on Marketplace is increasing, but managers and landlords looking for tenants are getting more as well. You cannot stand out in the competition by simply presenting photos that are just like anybody else's. Put a picture of your property's front if only it is one of its main absorbing traits that you want to accentuate. 
Also, under no circumstances, provide your searchers with low-quality photos. Pictures have the power to repel people as much as they can attract them. 
– Even though people can directly send you a message in the Marketplace, the more contact details you offer, the better your chances are that they'll communicate with you. List a phone number, email address and even your website's URL. Moreover, respond to their messages as soon as you get one. 
Don't be afraid to add any additional features that'll impress your potential customers, including pet-friendliness, laundry, parking, any cooling or heating feature, private entrance, etc. 
– Be accurate. Whether you're writing the description or giving the address, you don't want to misinform your visitors. Nothing appeals to them like correct, exact information and fast responsiveness.  
Final Suggestion
Don't underestimate the power of social media as this is one of the biggest mistakes anyone can make these days. In addition to your direct booking website, there are many other tools you can make use of to get your guests to book direct with you, including Facebook Marketplace. 
Just make sure you've put the best images, have it priced right and written a good description. Now that you've comprehended how to advertise your vacation rentals on Facebook Marketplace, hopefully, you'll feel more confident listing them on Facebook.