Capturing more direct bookings will sooner or later require building a good direct booking website. One that stimulates the growth of your short term rental business by investing your time for your own profit instead of helping OTAs gain more fame and fortune.https://youtu.be/K_PJVwm0OfI
You have the opportunity to showcase your listings, its associated services and USPs (Unique Selling Points) on your website. Besides, it provides you with your own online space to build your business identity and brand awareness. It is essential nowadays to be recognised, and your branding adds to your credibility and reliability. Having a decent-looking book direct website with your own logo, pictures, tone of voice and stamped with your brand identity is undeniable.
Like many other vacation rental managers in quest of independence and bagging more direct bookings, you might already have your website set up, but be wondering how to attract travellers and lead them to book on your website.
This post is aimed at providing you with simple, yet effective hacks that will help you increase your website traffic and base your business around direct bookings. Optimise Your Direct Booking Website to attract more visitors and convert them into bookings.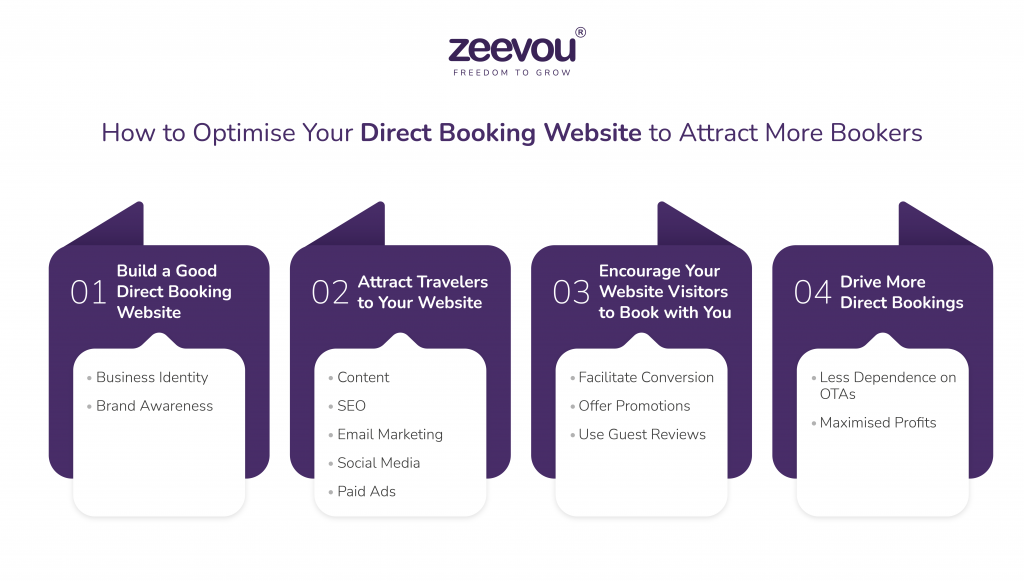 Build a Well Developed Direct Booking Website -Optimise Your Direct Booking Website
A direct booking website's main function is to make your business look more established and authentic. As a result, the first thing you need is an up-and-running branded website with a functional layout that can competently express your short-term rental business's character and brand image.
Primarily, every vacation rental direct booking website should meet the following 4 key requirements:
1. Ease-of-use
Your website is your virtual shop window for the people who are most likely to book your listing. If it's going to keep the users waiting for so long to load different pages or has too many bugs that can frustrate travellers searching for accommodation, it can never bring you the direct bookings and brand awareness you are looking for.
2. Mobile responsiveness
A great number of your guests use their mobile devices to search for accommodation online and make bookings. As a result, your website must be optimised for mobile phones to let your users access it anywhere and at any time and book with you on the go.
3. Bookability
Before attracting potential customers and landing them on your website, you have to make sure the booking process runs as smoothly and easily as possible. You need a functional and efficient booking engine that hooks potential bookers immediately; you don't want to lose hard-earned direct bookings lost because of a website lacking updated rates and availability.
4. Secure Payment Possibility
Your website must be able to accept payments upon booking via secure online payment gateways using debit or credit cards with just a few clicks. Your guests need to ensure your website provides them with a high level of security before they leave their card details with your site.
How to Build a Direct Booking Website
To build a vacation rental direct booking website, you can either create a self-hosted site with WordPress or simply use an all-in-one PMS like Zeevou that offers you a free vacation rental direct booking website. In addition, you can get help from vacation rental website builders like Boostly to take charge of your whole website building process and provide you with a user-friendly and attractive website without the slightest hassle.
DIY site-building requires technical skills and great deals of time and patience or hiring a proficient web development team. You have to take the hassle and the costs out of building and designing your website, integrating with a booking engine and payment gateway, and also taking care of your site's maintenance and upgrades.
If you want to know all the details about the first steps of direct booking, you should write our blog post about Getting Started with Direct Booking to find all the tips and tricks.
How Zeevou Helps You Build an SEO-friendly Direct Booking Website
Either sign up to Zeevou or subscribe to Zeevou's Evangelist Plan, and you'll get access to a free user-friendly direct booking website automatically generated by Zeevou. Alternatively, you can also just use it as a booking engine and link it up to your existing site.
The website is dynamically updated to display the latest content entered on Zeevou. It is useful to view property and unit details, rates and availability, photos and descriptions, amenities and a selection of reviews. In a few words, it offers all the features a free booking website must include.
The website is SEO friendly and can rank highly for search engines. As it enables a user to search and book instantly across your whole portfolio, a Zeevou direct booking website is perfect for multi-location serviced apartment providers or vacation rental management companies. The websites generated have a sleek modern design based around your logo and brand colour specifications.
Zeevou's Booking Engine allows guests to book directly through your website with live rates and availability. It aims to maximise the conversion rate of your guests. How? By allowing bookings to be made in as few clicks as possible.
How Zeevou+Boostly Streamlines Operations of Your Direct Booking Website
Zeevou has taken a further step towards making a reality of The Direct Booking Revolution and providing its users with professional websites. Zeevou's integration with Boostly helps you build multi-property WordPress websites for your vacation rental business; fully branded websites that address all your branding needs, help you stand out from the crowd and automatically pull your inventory, rates, and availability from Zeevou.
Once the API key is entered the listings automatically import to Zeevou with content, rates and availability. Users who register and log in to your website can easily make bookings, and cancel them. The bookings are also synced with Zeevou via API.
Boostly's expert team takes charge of building your top of the range direct booking website while a wide range of Zeevou features like Booking Confirmation Process, guest CRM, automated messaging, unified inbox, housekeeping app and real-time reporting automate your operations and make vacation rental management a breeze.
How to Drive Guests to Your Direct Booking Website – Optimise Your Direct Booking Website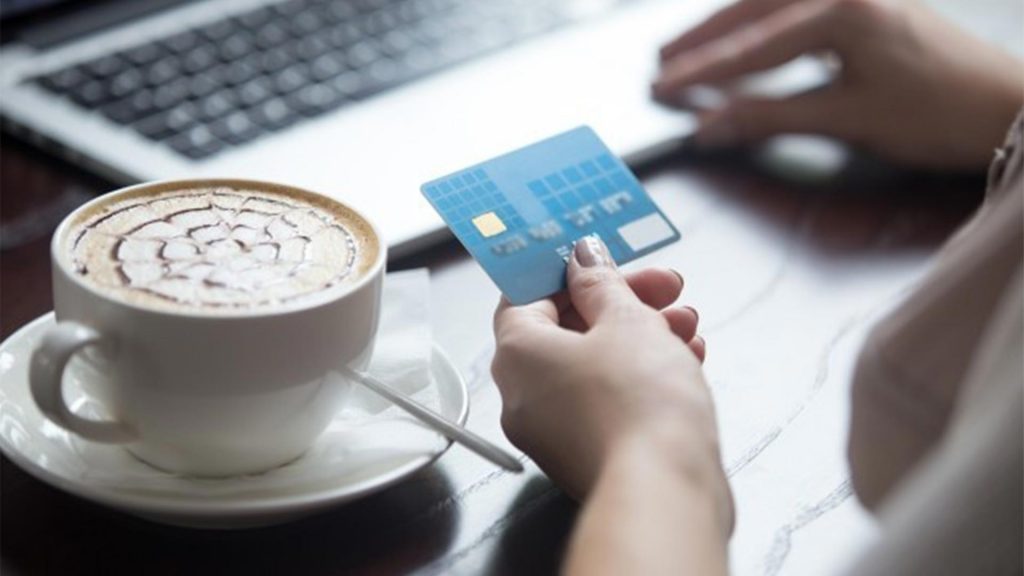 Having your branded online space and driving commission-free bookings can bring numerous benefits to your rental business. However, the path to commission-free bookings isn't a paved one and has its own challenges, one of which is attracting potential guests to your site. Here are 8 ultimate tips for you to attract more bookers to your direct booking platform.
1. Produce Content
The quality of the content you publish on your direct booking website is extremely important. You have to include enough information about your services. You need clear, appealing photos showcasing your listings. This is the most impactful way of communicating with potential customers, so do not hesitate to hire a professional photographer for best results.
Prepare a generously explained FAQ section based on the questions your team have been asked. If you are new to hosting, use your imagination or look at other sites to come up with a list of FAQs. This section should include all the questions people might encounter before, during, and after placing a booking.
Companies from different niches develop different content Strategy for their blogs based on their target audience. Write blog posts about engaging topics especially to the people travelling to your city. As a local person, you are in the best position to describe your city's attractions and eye-catching corners.
Write about the best places to eat or drink in different categories such as the cheapest places or the most elegant options. Make a list of itineraries of different lengths that they could take during their stay to land the searchers into your direct booking website. Make links to the websites of other businesses in your niche to increase your PageRank score.
2. Employ the Magic of SEO to Optimize Your Direct Booking Website
While providing content, you should include specific terms which are commonly searched by your target audience. You need to optimise your content SEO-wise.
Keywords are super important because they are used by people who are searching about your business and listings in search engines. You need to include the words which are close enough to commonly searched topics of your industry. Get help from Ubersuggest in keyword research for your vacation rental for free. However, Google Keyword Planner is always the best choice as it comes free of charge and offers the most accurate database of keywords and statistics.
Meta Description is a description limited to about 150 characters which shows a summary of a page's content, and it is crucial to include keywords in it to be featured in search engines and generate click-throughs. Take a look at Yoast to learn more about meta descriptions.
Rich Snippets include structured data compared with snippets. Google shows snippets as a search result. By adding structured data in your site by adding a piece of code, search engines show more relevant data as search results. Read here to better understand what rich snippets are.
Open Graph Tags for social media sharing: When you provide content, you will most probably share it on social media channels such as Facebook or Twitter. In order to have control over how the content travels from your direct booking website to social media platforms, you need Open Graph Meta tags in thepart of the website's code. According to Neil Patel, "Adding Open Graph tags to your website won't directly affect your on-page SEO, but it will influence the performance of your links on social media, so that means it's worth looking into."

By optimizing your direct booking website using SEO techniques like incorporating relevant keywords, crafting compelling meta descriptions, implementing structured data for rich snippets, and utilizing Open Graph tags for social media sharing, you can significantly enhance your website's visibility, attract more organic traffic, and improve the overall performance of your online presence.
3. Facilitate Conversion
Conversion rate simply means conversion of visits to your website to a desired goal, which is direct booking in your case. Display clear call-to-action buttons (Book Direct, for example), show the booking dashboard clearly, decorate your website with your branding and pay attention to graphic designs. A tedious design drives bookers away!
Make your site as user-friendly as you can. Place the 'Book now' button somewhere on the page that can be easily seen and provide your visitors with super clear instructions on what steps they need to take to make a booking.
4. Offer Promotions
Respecting rate parity is part of the rules of accommodation providers in many countries. With voucher codes and promotions, you can offer the best rates in real time while respecting rate parity clauses that OTAs impose. You can increase the value of direct booking with amenities like free breakfast or parking space.
On your website, demonstrate your unique services. Show people the differences between booking with OTAs and booking on your direct channel. Offer promotions for direct bookers. Including slogans like "Book Direct and Save up to 10%" make a difference to a potential booker.
Returning guests can be gifted with discounts and special packages for special occasions. This is for sure a great way to earn guest loyalty, hence repeat bookers.
5. Consolidate Email Marketing
Email has always been a cost-effective yet impactful tool to help your website appear higher in search engine rankings and encourage your prospective guests to book directly with you. Running email marketing campaigns correctly and consistently helps you reach your website traffic goals and also reinforce repeat business.
Sending tailor-made marketing messages to an email list interested in what you offer can bear incredible results. Include content that your target guests like to read. Know your audience and use creative captivating subject lines to make them open your emails.Write your messages in a way that encourages visiting your website.
Be consistent and send out emails around the same time every week or month to prove your trust and reliability to your audience.Send newsletters and promotional emails highlighting special offers and local events in your area. Have a landing page on your website in sync with your email campaign to convey more information about the offer highlighted in the email.
6. Harness the Power of Social Media
If you have added a listing or have made a renovation, use social media to get more direct bookings. Share links of your website featuring those parts. Encourage people to visit your direct booking website by creating engaging content in social media posts. You can hold contests or share your promotions in social media posts as well.
Know your target audience first and enhance their engagement by creating the most converting posts. Just having a presence on some social platforms, and sharing some pictures of your vacation rental once in a while, will not get you anywhere. What you truly need is a meticulously-set social media marketing strategy to grab travellers' attention and stand out from the competition.
7. Make the Best Use of Guest Reviews
Display positive reviews and the testimonials of the travellers who have at least once stayed with you to improve your website ranking in SERP. You can have testimonials on your website in written or video format. However, videos are more influential as visitors can hear and see real people telling their experience of your service and can build emotional connections.
Guests' positive reviews and testimonials can remarkably reinforce your business's authenticity and provide social proof for your visitors to book with you. Your current satisfied guests are the best choices to sell to your potential customers and humanise your brand.
Sharing your guests' opinions and experiences with your website visitors can enhance your user engagement and considerably increase the average time users spend on your website. As a result, you will convert more leads and receive more traffic from the search engines to your website.
As reviews and testimonials are considered original content by Google, it will give your website more credit and increase your search engine ranking.
8. Consider Paid Ads
Implied all the above tactics and yet not getting the website traffic you wish for? Then you need to pay for more reach by running paid advertising campaigns like Google Ads, or social media ads on platforms like Instagram, Facebook, LinkedIn and Twitter.
Improve your business's online performance by running PPC ads. Paid Per Click advertising campaigns are a form of paid digital advertising where you pay for every click your ad receives. This is a great type of advertisement for all short-term rental managers with every budget to reach the target visitors that search for accommodation in their area. You can easily keep track of the money you have spent on these ads and their yielding results to measure their success.
Promoting your website on Facebook or Instagram, can provide you with desirable traffic and conversions as they target extremely specific groups, segmented by demographics like gender, age, interests and buying habits.