Many Airbnb hosts, especially the recently joined ones, strive to become an Airbnb Superhost and get this red and orange badge
on their listings and profile pages.
Airbnb says you must meet some standards and reach a few milestones that show them you are a host committed to 'providing outstanding hospitality' for your guests, and they will reward you with the Superhost title. You can receive more bookings and generate more revenue from your Airbnb Superhost status then.
Having a little peek at the Superhosts terms and conditions will tell you it's not as difficult as it sounds to become a Superhost.
Being a Superhost sounds pretty cool. It gives you a sense of pride and proves that you're an awesome host with a worth-booking property.
Many hosts believe that an Airbnb Superhost has so much to say and gain, yet the others who have held this status for a long time will say they see no difference, as many guests don't even have the slightest clue of the Superhost designation.
Besides, they believe it is hard to hang on for a long time. It is a lot of pressure to keep the standard you reached and makes you go above and beyond your guests' expectations while all the hard work doesn't pay off in the end.
What is Airbnb Superhost, indeed? Is becoming an Airbnb Superhost really worth it?
What Is Airbnb Superhost?
Airbnb defines Superhosts as 'experienced hosts who provide a shining example for other hosts and extraordinary experiences for their guests.' Airbnb first launched this program in 2009 to recognise its top-rated and most experienced hosts and set a high standard for hosting. It has updated the program since then to provide its users with a high level of guest experience.
How to Become an Airbnb Superhost
Every host can become a Superhost. They don't even need to apply for the program. Airbnb will take care of the whole process by automatically checking Superhosts' activity every three months to make sure that the hosts meet the Superhost requirements and performance standards.
Superhost assessment is done four times a year on the 1st days of January, April, July, and October and evaluates a host's performance during the past 12 months. The hosts don't need to have hosted for the full 12 months, so even the listing owners who have recently joined Airbnb can qualify.
The hosts will be notified by email whether they have gained, recollected, or lost the Superhost status. The Superhost badge will show up on their profile and listings' pages after a week.
Hosts can check their progress for each of the program's requirements from their host dashboard under 'Performance.'
Airbnb Superhost Requirements
The Airbnb Superhost program judges the hosts based on the four core elements of hospitality, including communication, commitment, guest satisfaction, and experience that all the great hosts must have in common. A host must meet the following performance standards over the past year to qualify as a Superhost:
Communication: At Least 90% Response Rate
The guest experience starts when the potential guests contact a host or book their property. The response rate is the pace and consistency with which the hosts accept or decline reservation requests or respond to their guests' enquiries. It is crucial to return to the enquiries or reservation requests within 24 hours of receiving them.
Commitment: 1% Cancellation Rate or Lower (1 Cancellation per 100 Reservations)
The cancellations, which fall under the Airbnb Extenuating Circumstances policy, are not considered against a host's Superhost entitlement. They just need to make sure to contact Airbnb and file a claim supported by documentation within 14 days after their cancellation or before their next guest's arrival.
If hosts have to cancel a reservation for any reason, they must make sure it is covered in extenuating circumstances; otherwise, they can't gain or retain the Airbnb Superhost position.
Guest Satisfaction: At Least 80% of 5-Star Reviews
Guests determine whether a host should be granted the Airbnb Superhost title by rating the hosts based on the firsthand guest experience they receive from each vacation rental manager on Airbnb. To earn the Superhost status, a host must gain 4.8 ratings or above over the past year. The more Airbnb reviews the hosts receive, the greater are their chances of achieving the badge.
Experience: Hosted a Minimum of 10 Trips or Completed 3 Reservations That Total at Least 100 Nights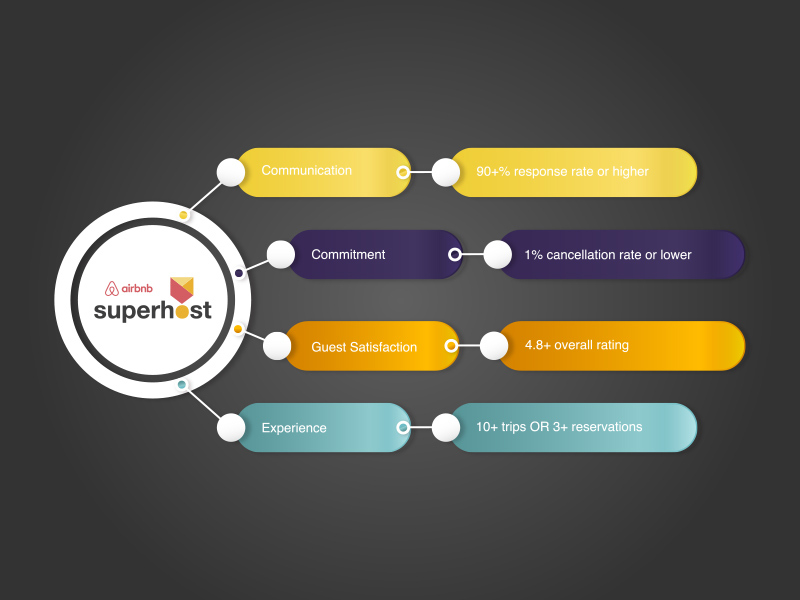 Does Airbnb Superhost Stay with You?
The position will be with a host until the next quarterly assessment. Airbnb monitors hosts' response and cancellation rates, their overall rating and the number of reservations to extend or invalidate their Superhost designation.
This way, the hosts can't fall below the Superhost's standards while having the badge. Once they have achieved it, they need to do whatever they can to maintain it.
The Airbnb Superhost Program's Benefits to Hosts
1. The hosts will receive the Superhost badge on their listing and profile pages. As a result, they gain more trust from potential bookers, possibly getting more enquiries and bookings.
2. After a year of keeping hold of the Superhost status, the hosts will be rewarded a $100 travel coupon on Airbnb.
3. The hosts will benefit from Airbnb product previews. Airbnb will invite them to preview upcoming updates and events.
4. Airbnb features Superhost properties in marketing materials like its newsletter.
5. Superhosts are the priority on the Airbnb customer support list. In case they have any issues or need some help, Airbnb provides them with premium support. The hosts can benefit from quick priority support whenever they call the exclusive Airbnb Superhost phone number or tweet @AirbnbHelp.
6. The Airbnb Superhost search filter enables the guests to search for accommodation only among Superhost listings. Therefore, the hosts will gain more visibility and can drive more bookings.
7. The hosts will get an extra 20% bonus on the Airbnb referral program by introducing new hosts.
The Airbnb Superhost Program's Benefits to Guests
1. The Airbnb Superhost status makes guests trust the verified hosts with peace of mind.
2. The program is a comprehensive quality measurement standard that considers the core elements of hospitality and a host's whole portfolio.
Airbnb Superhost Disadvantages
Many hosts complain that…
1. the Airbnb Superhost title is somewhat easy to achieve yet challenging to keep. A single cancellation or a poor review is enough to ruin a year's work.
2. the hosts who rent out their homes part-time and have lower occupancy rates don't meet the 10+ minimum stays, so they may feel a lot of pressure to compensate for their lack of visibility.
3. the program best suits single-listing Airbnbers. Hosts with multiple listings and a significant number of bookings find it inevitable to cancel bookings. No matter how many listings or guests they have, just one cancellation destroys their chance of becoming a Superhost.
4. the Superhost badge does little to increase the reservations as most guests don't know what a Superhost is and don't care about it when booking a listing.
5. Superhosts charge less per night compared to their non-Superhost peers and earn more revenue per booking.
6. the Airbnb Superhost position raises guest expectations and attracts very picky people with unrealistically high standards. People choose Superhosts to have an extraordinary experience and easily get disappointed if their expectations are not met.
All That Glitters Is Not Gold
The Airbnb Superhost is a glamorous status, but it is not as rewarding as it seems.
Airbnb founded the program to reward the hosts who provide 'extraordinary experiences for their guests.' However, the program's criteria are to the hosts' detriment, in the long run, leading to fewer direct bookings and more dependency on Airbnb.
Once you receive the Airbnb Superhost status, you have to maintain it. You must make a lot of effort to over-deliver, not cancel a single reservation, and raise your occupancy. It is a burden and puts you under too much pressure; however, you do almost anything to keep it. It seems like you get caught in a trap you don't want to cut loose from.
Once you reach the status, you see there aren't many perks of being a Superhost, and your guests might never make any notice of it, yet you put all of your energy into meeting the requirements, and as a result, you ignore what matters the most: direct bookings.
Becoming a Superhost might help you earn more visibility, more bookings and more revenue, but it can't maximise your profit margins. You lose percentages of your booking fees as commission to Airbnb, while you can benefit from deals with no third parties between you and your guests through direct bookings.
Online booking websites like Airbnb help hosts get seen, access a great number of their target guests, and fill occupancy calendars. The hosts must still beware not to get too dependent on these platforms and overlook their own direct booking website.
Smart top-performing hosts don't waste their time chasing the Airbnb Superhost status and badge. Instead, they focus on the key factors that make a successful, profitable host. Once they ignore the Superhost title, the pressure would go away, and tones of time will be spared to focus on building their robust guest CRM, promoting their direct booking website, and taking control of their own branding and marketing campaigns.