Airbnb pricing tools such as Beyond Pricing and PriceLabs are what you need to have more information about rates in the markets where you have vacation rentals and serviced apartments. They can also give you a better vision of how to boost your income based on different seasons, occasions, and days. Let's take a look at Airbnb pricing tools, Beyond Pricing vs PriceLabs, to have a side by side comparison of their features, to see which one is a better property management system revenue tool. 
The greatest insight of classical economics was maybe the belief that the price of a good at any time is not based on any intrinsic value, but rather an interplay of supply and demand. In 1985, American Airlines used optimisation algorithms and yield management systems in order to compete with PeopleExpress. This revenue management capability was an important success for American Airlines. 
Hotels and serviced apartments have similar characteristics to Airlines. Rooms are limited and immediately perishable, and customers book ahead of time. After the successful experience of American Airlines, other industries such as hospitality started to adopt revenue management to maximize their profits. For most companies, better management of pricing is the fastest and most cost-effective way to increase profits.
The following table shows the result of a study (A. T. Kearney (2000)) on the average impact of a 1% improvement in different variables on operating profit:
| | |
| --- | --- |
| Variable | Improvement of operating profit  |
| Price management  | 8.2% |
| Variable cost | 5.1% |
| Sales volume | 3.0% |
| Fixed costs | 2.0% |
Therefore, it is worthwhile to consider using Airbnb pricing tools for your serviced apartment, vacation rental, or hotel business.
Property revenue management strategies can be applied manually or assisted with the use of automated technology. When the number of unit types (in terms of property types, bedding, occupancy, etc.) increases, applying revenue management strategies manually can become very time-consuming and the probability of making a mistake increases. However, an automated revenue management process still requires human intervention to optimise the process.
In this article, we will be comparing two important players of Airbnb pricing tools: Beyond Pricing vs PriceLabs. Hopefully, this will help you choose the one that meets your needs the most.
We will compare these two Airbnb pricing tools from the following aspects:
Price recommendation
Market intelligence
Key performance indicators (KPI) reports
Automation & Customisation
Cost
Price Recommendation
Among Airbnb pricing tools, PriceLabs price recommendation method can be simplified with the following formula:

Last-minute discounts, orphan day discounts, far-out premiums can also be included by the revenue management tool PriceLabs. Base Price is the average rate that your listing has been booked at or its Average Daily Rate (ADR). A minimum and maximum price can also be set for the price recommendation. This is highly recommended to set these two values as well since very low and high prices will have a bad effect on customers, and thus revenue.
PriceLabs allows you to use date-specific override and other customisation methods to override the automatic price recommendations by PriceLabs whenever you need to. Demand is estimated based on the occupancy of the nearby Airbnb listings. When the occupancy of nearby listings starts to increase, PriceLabs increases your price accordingly since this indicates an event has triggered an increase in the demand.
It is worth mentioning that PriceLabs does not calculate the price by comparing it to a competitive set. This should be done by the user manually.
Occupancy and ADR go hand in hand to make a revenue for us. Therefore, ADR or price recommendation cannot be done without taking into account the occupancy rate. PriceLabs has devised a very useful tool for this matter which is called Occupancy Based Adjustment.
As an Airbnb pricing tool, PriceLabs can calculate the occupancy rate for both single-unit and multi-unit listings. Furthermore, it has a Portfolio Occupancy Adjustment tool which can be applied to a group of listings.
In the world of Airbnb pricing tools, Beyond Pricing has a similar approach to generate prices. The basis of the price recommendation is "Base Price". Seasonality, day of the week, and local events are applied on top of the Base Price to calculate the recommended price.

Beyond Pricing can also consider last-minute and orphan day discounts. This Airbnb pricing tool does not offer a feature to automatically change the prices according to the occupancy. Instead, the user should check the health score of the listing which is based on the occupancy of the listing and the market, and change the prices accordingly. As an Airbnb pricing tool, Beyond Pricing offers date override features similar to PriceLabs. Date specific override is also possible with Beyond Pricing.
Winner: Tie
Market Intelligence
PriceLabs
Market intelligence plays a crucial role in price optimization. Comparing Airbnb pricing tools PriceLabs vs Beyond Pricing, PriceLabs market intelligence can be found under its "Base Price Help". Data can be categorised based on the property type: Studio, 1BR, 2BR and 3+BR. You can find the following information on PriceLabs:
The most useful parts are the Price and Occupancy trends:
For considering a good Airbnb pricing tool, interpretation of the data is very important; otherwise, they can be misleading sometimes. For instance, Airbnb blocked the calendar of the UK listings until the end of May 2020 due to travel restrictions in the UK. However, PriceLabs, as shown above, reported 100% occupancy since the dates in the calendars were blocked.
Beyond (Beyond Pricing)
Beyond Pricing is more resourceful at market data among Airbnb pricing tools. In the Market Data section, it shows the following data:
Beyond Pricing can show the historical occupancy which is very useful to predict the future occupancy (not during the pandemic!). In this case, Beyond Pricing did not interpret the blocked calendars as fully booked listings.
For the neighbourhood pricing, it monitors Airbnb and Homeaway which is better than PriceLabs only monitoring Airbnb. Although Airbnb is popular enough, more data never harms since you can turn the Homeaway graph off if you do not need it.
The other extra piece of information that Beyond Pricing provides as an Airbnb pricing tool is hotel pricing. Since hotels usually have more resources than serviced apartments, they can identify and react to events much faster. Therefore, monitoring their pricings can be helpful to identify local events. As you have already noticed, the Airbnb pricing tool Beyond Pricing does not classify prices into percentiles, which is a disadvantage.
Furthermore, you only have access to the market data related to your listing type. PriceLabs, on the other hand, gives you access to market data of the rest of the listing types which can be helpful if you are considering scaling and investing in a new property type.
Comparing Airbnb pricing tools PriceLabs vs Beyond Pricing, the latter has another feature that PriceLabs lacks, which is Nearby Listings.
You can find out about your competitors' pricing and health score (an index which is a function of the occupancy of the listing). Similar to Market data, you have access to Homeaway listings as well. 
An important point about the price data on both Airbnb pricing tools, PriceLabs and Beyond Pricing is that both of them neglect the promotions that the competitors are applying such as length of stay discounts. They just show the calendar prices. Therefore, for finding an Airbnb pricing tools, it is always recommended to do your own research directly and do not rely solely on what the software is reporting to you. 
Winner: Beyond Pricing
KPI reports
PriceLabs
The only KPI which PriceLabs reports is the occupancy of the listing. At the time of writing this article, listing health does calculate the occupancy of multi-unit listings now.. 
Beyond Pricing
As mentioned above, Beyond Pricing reports the health of the listing based on its occupancy in addition to the market occupancy. However, this Airbnb pricing tool cannot correctly calculate the occupancy rate of multi-unit listings similar to PriceLabs listing's health.
Beyond Pricing provides more KPI reports in the STATS section. You can review your recent bookings, which is useful to monitor your booking pace. 
By using in Airbnb pricing tool, you can also compare your current occupancy rate with last year's, although in this example, Beyond Pricing calculated the occupancy incorrectly (occupancy is above 100%). Once again this example shows that you should be cautious while interpreting the software's reports.
Beyond Pricing also reports Average Daily Rate, revenue by stay date, maximum daily rate, revenue per available night, revenue by booking date, average stay length, average booking lead time, bookings by booking date and bookings by check-in date. Except for occupancy, all reports were accurate while Beyond Pricing was being evaluated for the purpose of this article.
This revenue management tool also has historical data for the market occupancy and performance indicators of your listing. 
Winner: Beyond Pricing
Which Revenue Management Tool Costs less?
PriceLabs
PriceLabs follows a flat pricing strategy among Airbnb pricing tools. Based on the number of listings, they charge you a fixed amount per month. 
Beyond Pricing
On the other hand, Beyond Pricing charges around 1% of the total revenue, including fees and excluding tax based on the booking date. Also, annual plans require an annual commitment.
Winner: PriceLabs
Automation and Customisation
PriceLabs
PriceLabs is very powerful in managing minimum stays which is an important Airbnb pricing tool. You can specify weekday and weekend minimum stays. In addition, the tool automatically updates minimum stay for far-out bookings and super far out bookings. Price adjustment for the day of the weeks or apply minimum, maximum, or percentage change of specific dates.
PriceLabs can automatically manage minimum stay for orphan days and last-minute discounts. This Airbnb pricing tool also features minimum weekend pricing and overrides which can be applied on account, group or listing level.
Custom Seasonal Profile is a PriceLabs feature which overrides the seasonality trend calculated by the software and gives you even more customisation and control.
Another useful feature that PriceLabs have is that you can define mapping the listings. Similar listings such as two unit types in a hotel can be mapped, and the prices and customisations of the parent listing will be automatically copied to the child listings.
Occupancy based adjustment and Portfolio Occupancy based Adjustment can save a lot of time since the prices can be changed automatically based on the occupancy of the listing or a portfolio.
Beyond Pricing
As an Airbnb pricing tool, Beyond Pricing is not as powerful as PriceLabs in terms of automation and customisation. It lacks the grouping feature which is very useful when you need to manage numerous listings. It also does not support the differentiation of minimum length of stay for weekdays and weekends, and it does not support automatic updating of a minimum length of stay for far-out bookings either. However, minimum stay can be automatically adjusted for last-minute bookings and orphan days by Beyond Pricing.
Winner: PriceLabs
Where Do PriceLabs and Beyond Pricing Get Their Data from?
Beyond pricing pulls market data from Airbnb and Vrbo (Homeaway is the other name of Vrbo). Pricelabs gets the market data from Airbnb only. 
You can take a look at the below infographic to get information about these two dynamic pricing tools and where they get their data from.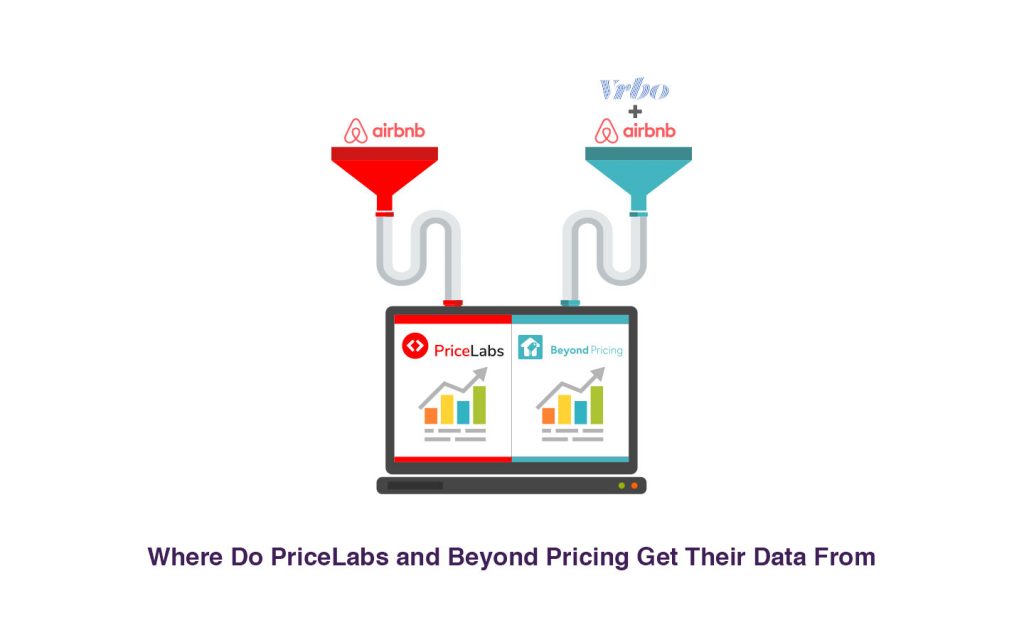 Summary and Verdict
Comparing Airbnb pricing tools Beyond Pricing and PriceLabs are smart property management system revenue tools and can help you optimise your revenue. Beyond Pricing has more tools for Airbnb pricing management and for monitoring the performance of your listings. On the other hand, PriceLabs is more competent at customisation, listing management and automation, which is very important especially when you have to manage numerous listings. Their price recommendation capabilities are not very different, and you need to do much experimentation to reach a final decision. It is worth mentioning no matter how smart they are, they both need your regular monitoring and customisation anyway. In terms of cost, Beyond Pricing is the more expensive option especially if you are managing a large portfolio.
Note: If you use the code (TMkEWR) while signing up to PriceLabs, you get $10 Credits.
| | |
| --- | --- |
| Aspect | Winner |
| Price recommendation | Tie |
| Market intelligence | Beyond Pricing |
| Key performance indicators (KPI) reports | Beyond Pricing |
| Automation & Customisation | PriceLabs |
| Cost | PriceLabs |