With 86.62% of the search engine market shares in the United States of America and 93.2% of the market shares in Europe, Google is by far the most popular search engine compared to its competitors.
But why is Google so popular? The answer is easy. It always gives its users what they want and tries to provide them with the best user experience.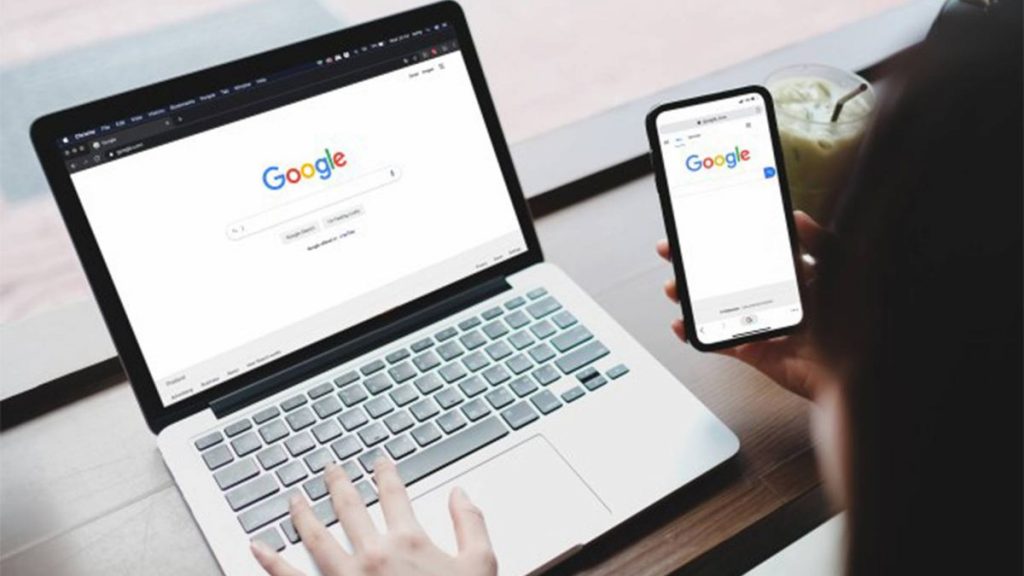 Google is not just a search engine anymore. It has grown way afar a search engine and turned into a trustworthy platform to find, view and buy almost everything its users might need.
It also provides businesses of all sizes with a great variety of marketing options and free exposure to millions of users to reach their local and global target customers. They can make their products searchable, seen and sold through a variety of Google programs and marketing campaigns, paid and unpaid.
On March 9, 2021, Google made a big announcement and revealed its most recent program, which will shake up the hotel search and booking space and open up a new, free gate to drive more-than-ever direct bookings.
Google has announced that they are granting an excellent opportunity to travel companies to get their hotels listed in the hotel booking module along with Hotel Ads at no cost through their new program Google's free booking links.
Why Is Google's Free Booking Links so Valuable?
More Choices and the Best Rates for Vacationers
The long-lasting success and approval of Google plus the popularity of direct bookings is the golden formula to get all the hotel managers on board and offer the travellers the best deals.
This means a lot to both accommodation providers and seekers. Vacationers will benefit from a wider variety of choices to book, and hoteliers will gain more visibility for their rooms.
Vacationers have a secure booking site offering them the best rates among numerous options, and hoteliers will benefit from their free listings and enhanced direct bookings.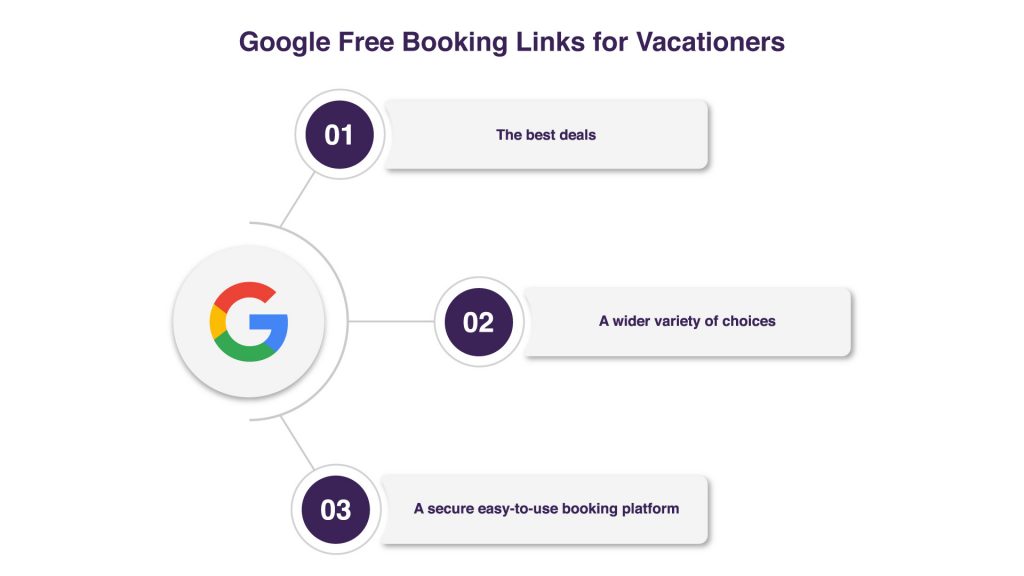 More Visibility, Independency, Revenue and Guest Data for Hoteliers
Visibility
Google's free booking links ranking is organic and based on the criteria like consumer preference, landing page experience, the value offered to the users and historical accuracy of the prices provided to Google.
Neither the commercial relationship of businesses nor the participation in Google Hotel Ads has an impact on the ranking.
As a result, no one can buy a higher ranking by paying money, and all hoteliers have the same opportunity to get seen.
Google's free booking links is the free version of Google Hotel Ads, which helps hoteliers drive more free direct traffic to their websites.
Independency
Huge online booking websites like Airbnb and Expedia have been dominating the lodging market for so long. The small hotel managers could never gain the visibility they required without the intermediacy of OTAs.
As a result, the accommodation providers gave away more of their direct bookings, market shares, control and independence in the long run.
On the other hand, these booking platforms gained ever-increasing power to the point that competing with them became next to impossible.
Google, however, has changed the game rules and made it possible for small lodging businesses to be listed alongside multi-billion dollar OTAs and even overtake their rankings by offering rates better than theirs.
Besides, hotels will step out of these large corporates' shadows and gain the opportunity to promote their brands and implement their own marketing strategies.
Revenue
With Google's free booking links, hoteliers not only gain a valuable source of potential guests but also no longer lose a percentage of their income as OTA commission fees. They will reap the benefits of more direct bookings and maximise their profit margins without the slightest hassle and expenses of other types of advertising.
Guest Data
OTAs share little data with hotel managers by masking guest emails and concealing their real personal information.
They keep the guests to themselves and never give them away to direct bookings. This makes it almost impossible for property owners to develop long-term relationships with their past guests and turn them into repeat customers.
Google's free booking links, however, allows guests to book directly from hotels direct booking websites, and hoteliers can access their users' contact details to build lasting relationships with their guests and personalise their customer retention campaigns.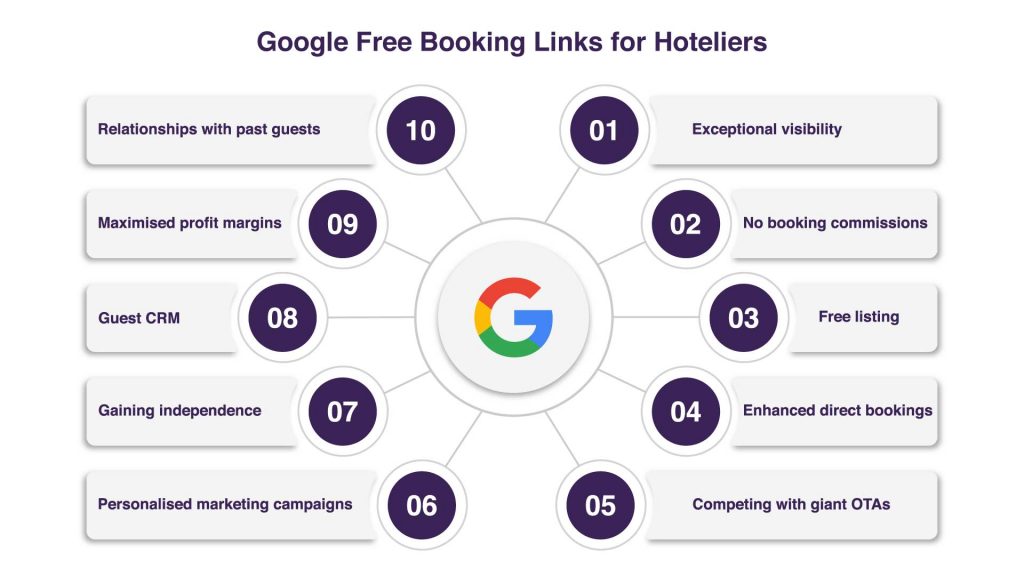 How Does Google's Free Booking Links Work?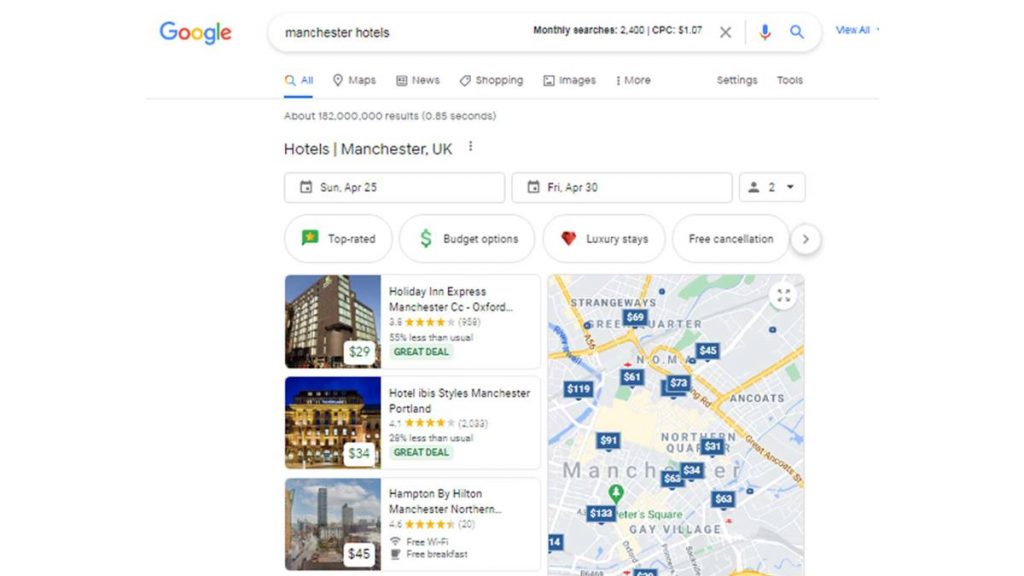 If a user googles 'hotel+destination,' a list of the hotel ads will appear on the search results page. Under the hotel listings marked with 'Ads', they can see a box including a map and a short list of hotels with hotel photos, ratings, and prices. By clicking on the 'View [number] hotels' button, Google will take the users to the Google Hotels immersive view.
Here is where hotel managers can get connected to their prospective guests and take visitors to their direct booking website to receive commission-free bookings.
Want to know how to list your hotel website here? Follow our lead.
Requirements
Your property must have the following conditions to be eligible for the Google Hotel listings:
1. Rooms in which paying guests can stay
2. A physical presence and fixed location that is open to the public
3. Fixed walls and plumbing
4. A minimum stay requirement of no greater than 7 days
Besides all the above requirements, having a unique URL to redirect your visitors from Google to your hotel direct booking website is a must.
You must have at least one optimised landing page that loads in less than 10 seconds or less and is bookable by having a direct booking engine. Your website should be user-friendly and provide its users with accurate prices and availability.
How to List Your Hotels on Google's Free Booking Links
Businesses already participating in Hotel Prices API and Hotel Ads will be automatically listed on free booking links and do not need to take any further action.
But hotels and travel companies new to Google must create their Google My Business account, verify and update it with their hotel information, and begin connecting inventories to Google and starting their organic listings. To do so, these new partners have two ways:
– Direct Integration using Google Hotel Prices API
– Getting help from Google Integration Partners to configure and set their rates to display on Google
Once they have created their Google My Business account, the hotel owners can add other users like the owner, editor, or viewers to their accounts. Their listings will be automatically shown as free booking links to millions of vacationers looking for accommodation on Google every day.
Hotel managers can also check their performance and track their clicks from their Google My Business profiles under the Reports.
Integration with Zeevou
Zeevou will soon release an integration with Google's free booking links.
Our Partner Hosts will be able to push their real-time 'book direct' rates and availability from Zeevou Direct for their listing on Google Search and Google Maps and make their hotel business visible to millions of users all around the world.
Their potential guests will reach their listing pages on Zeevou Direct, our commission-free booking platform, and book directly with them.
It is entirely free and hassle-free to advertise your listings on Google now and benefit from its precious advantages.
Hotels can integrate their availability and rates with free booking links and enjoy placing their properties alongside paid listings and the direct bookings flowing in.