As a vacation rental manager or an operator of serviced apartments, your ultimate aim is to increase your occupancy rates as much as possible. To make the best income out of your property management, you need to reach out to travellers by getting into the vast, at times infinite, network of the hospitality industry. OTAs and booking platforms are among the most immediate tools to increase the occupancy level.
Not surprisingly, in return for advertising your listings, they charge large amounts of commissions from you as vacation rental hosts. Airbnb and Vrbo are two of the most popular vacation rental marketplaces and property listing sites that make up one of the most extensive and diverse networks worldwide. Keep reading Airbnb vs Vrbo to learn more about these popular platforms.
Airbnb vs Vrb: Starting Points
Airbnb
Airbnb was launched in 2008 from a single room of someone who could earn some extra pocket money and was known as Air Bed and Air Breakfast. Nowadays, Airbnb has become a $38 billion company with 150 million users and more than 7 million listings in over 220 countries.
Airbnb users can experience unique and sometimes bizarre accommodations such as a Lego house and Donald Trump's childhood home!
From Airbnb owners' point of view, you need to respect the laws of renting out in your city or neighbourhood. As a host, you have 24 hours to accept or decline reservation requests. You can communicate directly with guests to accept or decline. Guest reviews also facilitate the process of getting higher Airbnb rankings, thus more bookings and revenue.
Vrbo
Vrbo started out quite differently. In 1995, with somewhat a similar idea, Vrbo – Vacation Rental by Owner back then – was established. The Expedia Group now owns Vrbo. Today, there are over 2 million listings on Vrbo in more than 190 countries. HomeAway acquired Vrbo in 2006, and they both currently belong to The Expedia Group. So, by listing your short-term rentals on Vrbo, you will automatically get listed on HomeAway, too.
Airbnb and Vrbo are both desirable and vital booking platforms for both hosts and guests. However, when listing your property as a vacation rental manager, you need to know the differences as we all seek to make our vacation rental business the most profitable. Selecting either of these depends on many factors such as the property, its location, size, pricing models, and many other considerations.
Here at Zeevou, we have made a list of six key factors you should consider before making up your mind when it comes to Airbnb vs Vrbo!
Airbnb vs Vrbo: Which One Is Better?
1. Types of Rentals | Airbnb vs Vrbo
This is a key difference between Airbnb and Vrbo. Airbnb allows an extensive and varied range of hosts and many unique home experiences. You can rent out a shared room, a private room, or an entire property with Airbnb.
Conversely, Vrbo lets you list mostly full houses, which means you can hardly get any booking for shared spaces, HMOs, and hotel rooms on Vrbo. It means that you can sell your hostel or a hotel room on Airbnb but not on Vrbo. That is why Vrbo has a more limited number of listings than Airbnb.
What Is Vrbo's Policy Regarding Shared Space Rentals?
According to the Vrbo's website:
"We are committed to offering a private experience for guests. As such, our platform does not support shared space short term rentals. A shared space, or hosted listing, is a listing where the guest might share areas inside the property with the host or other guests not in their group. For example, we do not support dormitories or homestays. Please contact us if you are unsure whether your listing is suitable for display on our platform."
How Does It Affect the Types of Guests?
This defining distinction between the two affects the types of guests who choose to stay in your properties based on the travel giants' marketing strategies. For example, Vrbo promotes private spaces for rent and encourages potential bookers to "have privacy and feel like your own home. Do not share and keep the whole place to yourself."
Unlike Vrbo, Airbnb encourages travelling, including sharing, social experiences, spending less money, and adventure. Consequently, Vrbo attracts families and the elderly who travel and book longer stays.
On the other hand, Airbnb attracts younger adventurers, students, business people, or those seeking new experiences or having short trips with little money.
Barbara Zito finds Airbnb a better choice for owners with properties in cities and metropolitan areas while Vrbo is best for owners with properties in vacation destinations.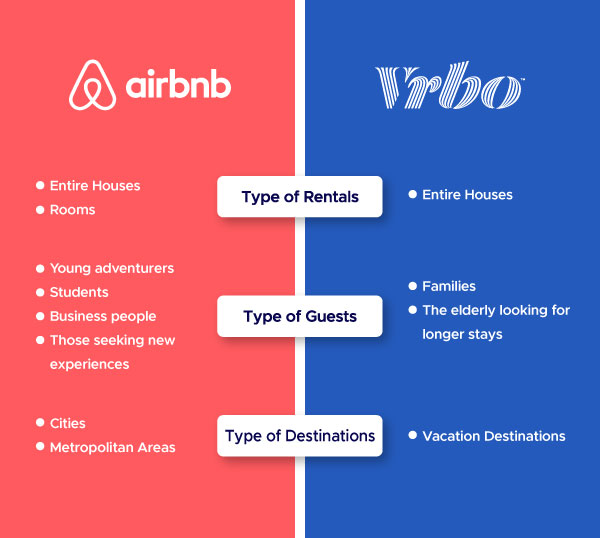 2. Owner Fees | Airbnb vs Vrbo
Listing Fees
It is free to list your vacation rentals on both Airbnb and Vrbo.
But what about booking commissions?
Booking Fees
On Airbnb, as a host, you will be charged about 3% of the subtotal commission fee per booking. For some additional features like hosting experiences on Airbnb, you will have to pay 20% of the booking value as a service fee. For more details about this, check out "What are Airbnb service fees?"
Vrbo has two pricing models. If you have an empty house or apartment and expect many bookings during the year, it makes sense to pay the annual subscription, which is $499 per year. If you invest in a short-term rental, paying 5% per booking fee suits you better. Here you can find more information about Vrbo pricing models.
Credit Card Fees
While Airbnb does not charge any kind of credit card fees, Vrbo charges you 3% as credit card fees if your guest pays with a credit card.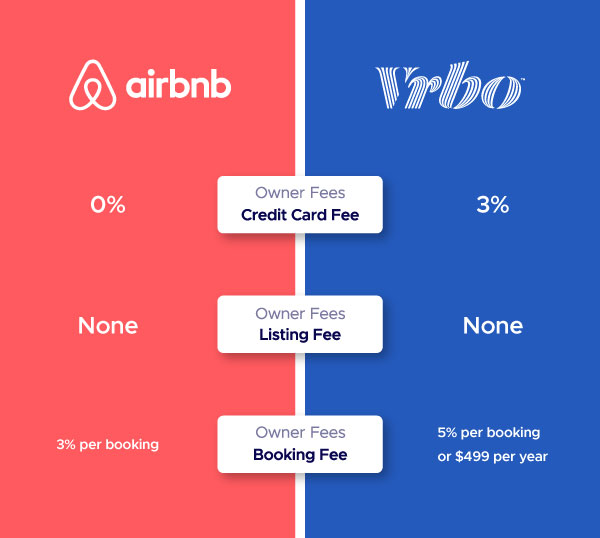 3. Guest Fees | Airbnb vs Vrbo
Guest fees affect how many guests you get as the lower your rates are, the more occupancy you will probably achieve. However, low prices are not the best, and more is involved in your rankings and revenue-making. So, it makes sense to use a dynamic pricing tool to push the rates that fit your rentals. As Airbnb states:
"Most guests pay a service fee that is under 14.2% of the booking subtotal (the nightly rate plus cleaning fee and additional guest fee, if applicable, but excluding Airbnb fees and taxes). The fee varies based on a variety of booking factors and is displayed to guests, including during checkout before they book a reservation."
Cleaning Fees
Both booking platforms allow hosts to charge guests an extra cleaning fee in their total rates and encourage guests to rate the cleanliness of their place of stay after check-out. Adding cleaning fees helps hosts to use a cleaning service or buy cleaning supplies.
There is a slight difference in policies, though; Vrbo requires you to clarify the cleaning fee on the first listing page as an additional charge, but on Airbnb, guests might not know about the cleaning fee up until their check-out. The cleaning fee depends on the nightly rate and length of the guests' stay.
Jay Whiteley's comparison at Evolve shows that Airbnb and Vrbo/HomeAway charge the lowest guest fees after Booking.com, which does not charge guests anything.
Taxes
Tax rules depend on local regulations on both booking platforms and differ from city to city.
4. Cancellation | Airbnb vs Vrbo
To protect you as a vacation rental manager against the common problem of cancellations, Airbnb and Vrbo have both set various levels of restrictions as cancellation policies.
Airbnb has six cancellation policies that you can offer to your guests, which are called Flexible, Moderate, Strict, Long Term, Super Strict 30 Days, and Super Strict 60 Days, all explained in detail here.
Similarly, on Vrbo, five levels of cancellation policies are defined as No Refund, Strict, Firm, Moderate, and Relaxed. More info here.
Due to its rental types, Vrbo is more strict than Airbnb and a full refund is impossible even for the Relaxed option, which returns only 50 percent of the money only if the booking cancellation happens 14 days in advance. The Airbnb Flexible option enables guests to get a full refund within 24 hours before check-in.
According to both Airbnb and Vrbo cancellation policies, refunds do not include the rental service fee.
5. Special Features | Airbnb vs Vrbo
While looking for information regarding the comparative topic of Airbnb vs Vrbo, we also found features on both websites which allow vacation rental managers to get more bookings.
Experiences
Airbnb offers Experiences – aggregated local activities which local people host. It presents a long list of experiences such as restaurants, adventures, and creative activities. This feature plays a vital role in encouraging travellers to use Airbnb, which might eventually increase your occupancy level if you are appealing enough to attract all people looking for Airbnbs and Experiences in your area.
Vrbo and Airbnb Reviews
Airbnb review system allows guests and hosts to know who they are going to book with, but of course up to some extent. Airbnb Superhosts are the hosts with "a shining example for other hosts, and extraordinary experiences for their guests." Vrbo has a review option, but the verification/vetting process on Vrbo is less thorough, according to Fortune Builders.
Owners' Community
The host community of Airbnb allows hosts to share their experiences of listing their properties on Airbnb. Vrbo also provides the owners with a website called the Partner Community.
6. Rules | Airbnb vs Vrbo
Airbnb Rules for Listing Your Property
You need to specify:
the exact location of the property;
the number of guests you can accommodate;
and how your property looks like by providing photos.
Pets are allowed with a fee, and it might be discriminated from listing to listing. Assistance dog are allowed with no discrimination.
Airbnb encourages its hosts to provide clean accommodation. "Airbnb also encourages its host to add a cleaning fee in their total rate to cover the cost of hiring a cleaning service or buying cleaning supplies."
Vrbo Rules for Listing Your Property
Pets are also allowed with a fee for Vrbo properties.
Vrbo owners can ask their guests to give back the property clean minimally. "This includes running the dishwasher, putting out the trash, or leaving all used linen in one area. The platform offers guidelines on how hosts can clean specific rooms in their properties."
Airbnb vs Vrbo: Which One to Choose?
If you want to list a full house with a strict cancellation policy on Airbnb, it makes more sense to put it on Vrbo. People searching on Vrbo might be more suitable as potential customers for you in this scenario. However, Airbnb may give you a wider range of audience and more flexible policies in privacy levels, favoured more by travellers.
Choosing between Airbnb and Vrbo also depends on the region your properties are located. There are local regulations in some places that restrict listing on OTAs. Sometimes, the power of each platform varies from one region to another. In some areas in the world, Airbnb is better known and offers many more listings. Your properties get more exposure and coverage, although offered in a more competitive market.
Regarding owners booking fees, you might have a preference for Vrbo's yearly subscription or Airbnb's commission per booking model.
Hosts at Airbnb Community have found Vrbo reservations longer, booked earlier, and with better guests.
Some owners believe that Airbnb is a good opportunity for beginning your vacation rental business and as your business grows, also list them on Vrbo.
How About Listing on Both Airbnb and Vrbo?
It is possible to list your property on both platforms as increasing your exposure is always recommended. However, by listing your properties in different places, you need to make sure that no overbookings would happen. To prevent overbookings or double bookings, you should use a channel manager. An all-in-one property management software helps you synchronise the calendars to avoid such risks.
How About Having a Direct Booking Website Instead?
Imagine you paid no commissions to OTAs and could add to your bottom line, track your traffic through top analytic tools, and use your income to expand your vacation rental business, wouldn't you immediately act? All of these are possible if you get a direct booking website and invest in what belongs to you!