New generations of smartphones have transferred most of the options that previously computers used to provide for us to our pockets. Nowadays, apart from exploring the Internet, smartphone users spend almost 85 percent of their time on their phones, using the mobile apps they have installed. Due to the increasing tendency toward using smartphones for managing tasks, having a vacation rental mobile app for a Property Management System seems to be inevitable for vacation rental managers. The benefits of mobile apps for vacation rental management are just many and may be beyond the scope of a single article.
As a vacation rental manager, your main reason for using a mobile app is quick access to your business information, save time and also optimise communications with your staff and guests. Mobile apps are more beneficial if they are developed under a proper algorithm. A well-developed vacation rental software must have its staff mobile app first, and then the app for the manager of the rental business, and ultimately the mobile app for guests. But, what are the benefits of developing all these mobile apps for a vacation rental business?
What Are 5 Benefits of Vacation Rental Mobile Apps for Managers?
1. Mobile Apps Offer Better Personalisation
When the users of your system opt for mobile apps to check their allocated tasks or essential information about your vacation rental business, they could get personalised information. For example, you can provide access to information about a specific region based on their location. Data could also be shown based on their preferences or the pattern of their usage of the system. This will offer a better guest experience for your guests and ease of work for your staff.
2. Ease of Sending Notifications
It does not matter if it is your guests or your staff who use vacation rental mobile apps; as long as they use mobile apps, you can take advantage of the Push Notification option to send appropriate messages easily and quickly. For example, it can be used to remind the time for monthly payments or alert the time to check one of the properties. The Push Notification service is one of the services of smartphones' operating systems that a good mobile app can take advantage of as a quick way to communicate with the users.  
3. Ability to Work Offline
One of the major differences between mobile apps and websites is that mobile apps can have a local database stored in the smartphone which is used in the offline mode. Consider a guest who has just entered into the country of destination without a SIM Card and Internet access. To arrive at their vacation rental, a mobile app is sufficient even without the Internet. They can check their reservation information, and with selecting the location, they can easily find their way to the rental.
4. Apps Can Work Faster than Websites
While using vacation rental mobile apps, UIs and images are not loaded every single time you run the application. It is because those are stored on your mobile device, and it does not use the Internet every time, which in turn, will give you a higher speed because of not being dependent on the Internet. For example, if the user has logged in their profile once, checking the information of the place of residence, this information is stored on the phone, and the speed is higher next time.
5. Better Control and Monitoring
When your staff use mobile apps, you can alter their assigned tasks anytime, and they can also make any request about any of the properties in a few seconds. By using mobile apps, maintenance tasks are not forgotten as it looks like having the desk inside the pocket! You can immediately control if the tasks are done correctly and on time. So, if there is any problem doing the tasks, you have enough time to revise it and make a better decision. All these will make for a better guest experience.
Four Different Types of Mobile Apps for Vacation Rentals
1. Housekeepers App
Running a vacation rental and keeping it clean like a home is hard even when you have a single property to manage as a vacation rental manager. Housekeeping apps have been developed to facilitate all these tasks for hosts and housekeeping employees or companies. A housekeeping app is among the first priorities you must check if you want to select a PMS. A housekeeping app for vacation rental management should include the options to:
automate cleaning schedules;
make customised housekeeping tasks;
provide simple communications with housekeepers;
have quality control;
enable housekeepers to report maintenance issues;
let housekeepers report completion of tasks by photos and videos.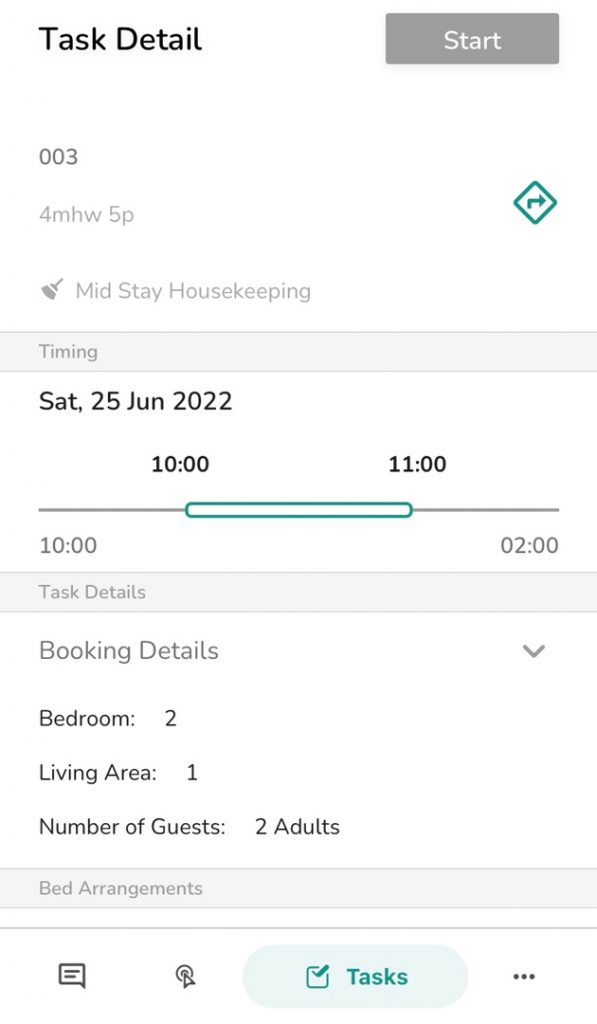 2. Staff App
Using our mobile devices to do our tasks on the go is our habit nowadays. Your staff are no exceptions to this widespread trend. Apart from checking reservations and the calendar, prices, and checking guests' messages, maintenance staff should be given a part in this story. Your maintenance staff must get access to their tasks, their schedule and required information to know how to access the property.
3. Investor App
If you manage a bunch of properties on behalf of their property owners, you might find it quite time-consuming to prepare the reports they need about revenue and accounting. Transparency will become more realistic by giving access to the property owners, letting them check all these and see real-time reports.
4. Guest App
The last priority among the mobile apps for vacation rentals which can contribute to a better guest experience, though, is a guest app. Guest apps should include all the essential information your guest must know from the moment they book their rental until they check out.
Welcome books, welcome packs, check-in times and check-out information, a map of the city and nearby attractions, and a messaging section are also other parts of a guest app for your vacation rental.
Which Mobile App Benefits Your Vacation Rental Business the Most?
The four types of mobiles apps provide any serviced apartment operator and vacation rental manager a full coverage of what they need to handle. However, they are not always offered by property management systems. It is not always cost-effective to have them all if the providers charge you separately based on your demand. So, you might be recommended to reflect on the expectations of your vacation rental business and choose the best combination of mobile apps which help you the most. Based on the growth level of your vacation rental business and your requirements, you may find only the housekeeping app sufficient or you could opt for all of them.