Promotions are powerful tools for marketing and optimising revenue in the short-term rental industry. In particular, when the inventory is fixed (it is not easy and fast to increase the number of hotel rooms or serviced apartment units), markdown and promotions can be utilised to increase the revenue.
Promotions help segment the vacation rental market and provide a simple method by which property managers can profit from price discrimination and adjustments.
For instance, you can only offer long-stay discounts to the guests who want to stay longer than a certain period or offer last-minute deals to the guests who are willing to book a few hours before check-in. In this article, we will review different types of Booking.com promotions.
The Partner Hub of Booking.com summarises the promotions as follows:
Free Nights Deal:
You can offer guests one or more free nights when they book a specific number of nights. You can choose how many paid nights a guest needs to book in order to receive the free night(s). This Booking.com promotion helps you appeal to more potential guests and increase the length of stays for your rental property.
Last-Minute Deal:
This promotion gives last-minute bookers an attractive discount. It helps you attract late-booking traveLlers throughout the season and can also give you a quick occupancy boost when you need it. We recommend setting up Last-Minute Deals with a maximum booking window of seven days before check-in.
Early Booker Deal:
Booking.com Early Booker Deal helps you to attract travellers who book far in advance. It's a great way to get ahead by securing bookings well before a busier season.
Booking.com Basic Deal Promotion:
These exclusive deals are only visible to people who have Booking.com accounts or subscribe to their newsletter. Booking.com uses a "Secret Deal" badge to help travellers identify these promotions on their booking platform. You have the option of setting up the Basic, Early Booker, and Last-Minute Deals as Secret Deals.
Travel Offer:
These are seasonal promotions designed to attract guests using strategic discounts, which receive high visibility on multiple marketing platforms. Booking.com launches different campaigns available at different times of the year, like the Black Friday Sale and Early 2021 Deal. Minimum discounts vary depending on the country or region.
Limited-Time Deal:
This is an easy way to temporarily improve your visibility and quickly increase occupancy when you need to. You can activate the Limited-Time Deal if you have a guest review score of 7 or higher. When you do so, Booking.com will boost your ranking so you appear at the top of search results for your area.
All of the above promotions have one thing in common: They improve the visibility of your listing, which is an important selling factor.
One of the key points before applying Booking.com promotions or any other discounts and promotions on any OTAs is to understand the stacking rules of that OTA.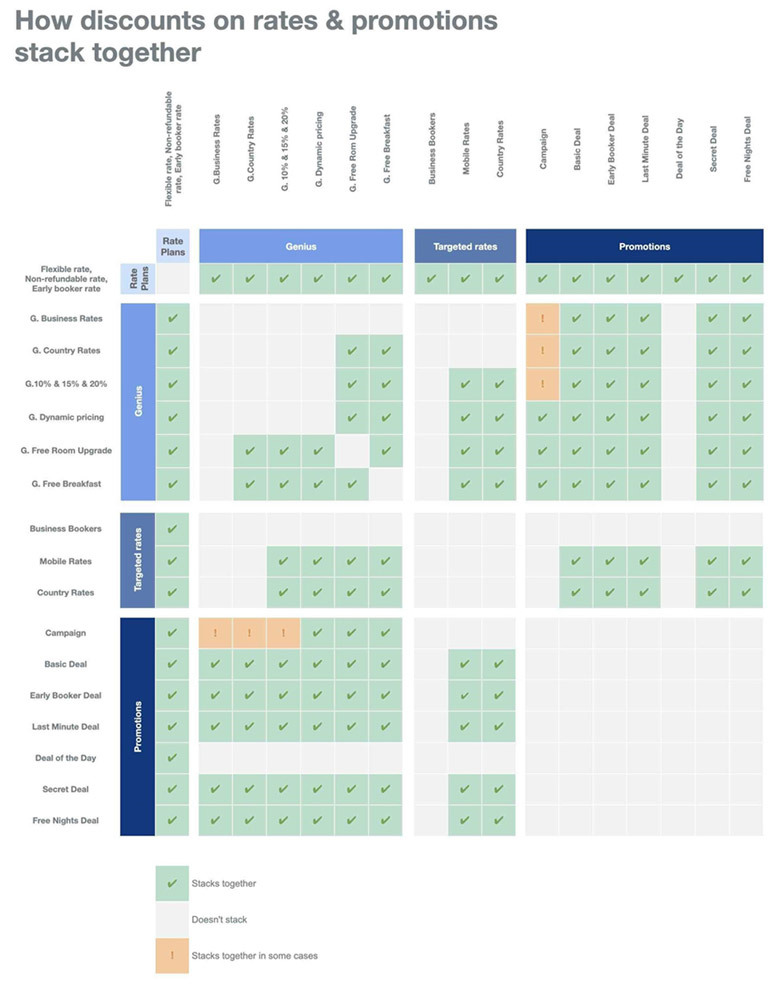 As it is illustrated in the overview above, Booking.com promotions do not stack together. If you have multiple active promotions, and a guest is eligible for more than one of them, the promotion with the highest discount will be offered. However, promotions do stack with mobile rates, business rates, and Genius discounts, so you should be cautious not to end up with lower than expected prices if you are offering special rates together with promotions.
If you want to offer a discount for guests who want to stay for 7 nights or longer, you can use the basic deal with the settings shown below:
It is worth mentioning that Booking.com has recently added Weekly and Monthly rate plans. Rate plans are permanent and visible to all guests so they are weaker in terms of market segmentation. Also, Booking.com does not use strikethrough prices to attract the attention of potential guests when weekly and monthly rate plans are used.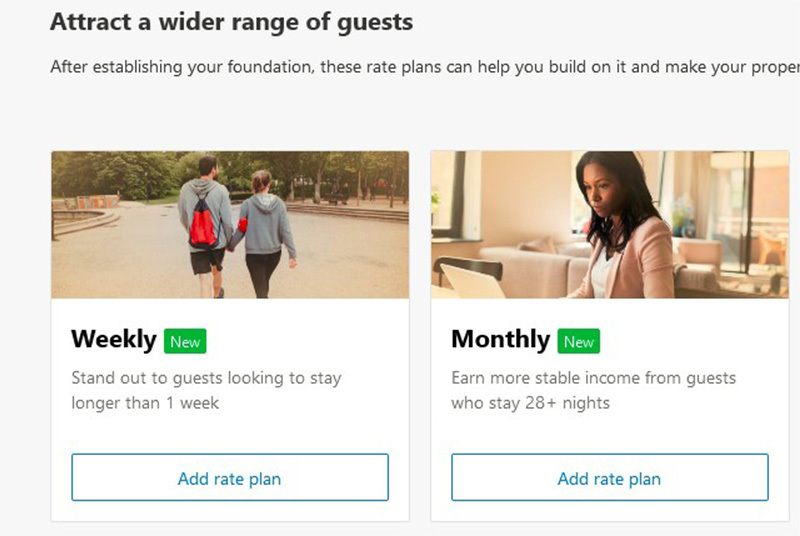 It is highly recommended to use the monthly rate plan because there is currently a high demand for longer stays in the market and long-stay guests are more price-sensitive. Furthermore, you can not set a special discount for the guests who want to stay for 28 nights or more (currently reservation longer than 30 nights are not possible on Booking.com) because as you can see in the screenshot below, there is no option to select stays longer than 7 nights in the settings of Basic deals.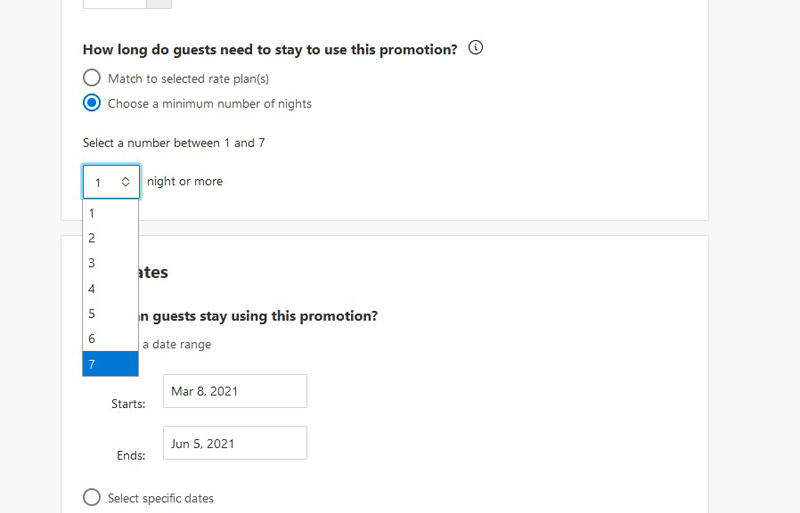 Therefore, using a monthly rate plan is the right tool if you want to attract long-term guests. On the other hand, promotions can be used instead of the weekly rate plan to attract guests who want to stay between 7 to 27 nights, and they give you more options such as stay days and bookable periods.
Unfortunately, similar to Booking.com promotions, weekly rate plans override the minimum length of stay restriction on Booking.com. In other words, when weekly rate plans are added, guests can always book your listing for a stay with the length of 7 nights or longer even if you have set a minimum length of stay of longer than 7 nights.