Automation software and a good Property Management System (PMS) reduce practically all property managers' obligations to a bare minimum. However, the landlords must stay in the loop to be informed of their business's performance, and analysing property management reports is the best way to do so.
Thanks to digital reporting tools, companies can quickly review operational and financial information by accessing and evaluating monthly reports and real-time data with the click of a button.
Before exploring the benefits of property management reports, let's have a quick look at the most common types of reports used in the hospitality industry.
Types of Property Management Reports for Vacation Rentals
Rental property management reports can be generated periodically or shared instantly. In this regard, there are two types of reports defined below: 
Property Management Monthly Report
Vacation rental reports are sometimes provided in a specific time period, usually weekly or monthly. These reports, also called static reports, hold historical data that showcase performance outcomes for a set of criteria over a specific duration of time. The historical data presented in the monthly report aids the property manager to understand performance by telling a cohesive and strategically essential story.
Property Management Real-Time Reporting
To better evaluate their assets, property owners need to check the status of their vacation rental business at a moment's notice. Real-time reports are one of the best business intelligence showing data on a regular basis. They provide instant, accurate, and up-to-date information to increase managers' confidence in their decisions.
7 Benefits of Property Management Reports
1. Enhance Organisational Transparency and Trust
Openness and transparency among staff guarantee that everyone is in alignment. The property management report, especially real-time reporting, create a shared and collaborative experience that improves the workflow's effectiveness as all members access accurate data.
Transparency can also help to decrease the chances of fraud. Accessing real-time data and operational reports, the manager and any team member can detect altered information faster.
2. Review Your Business' Performance with Precision
Property management monthly reports work with historical data to see how the processes have evolved and where the company's main focus must be directed. Managers and employees will be able to get a snapshot of their performance in these reports, allowing them to plan ahead and develop a long-term strategy.
Since static reports have a short shelf-life, dynamic reports like real-time reporting are also required. They provide deeper insights and allow users to interact with the data to evaluate the business' current health. Using both reports gives a comprehensive picture of your vacation rental performance to devise efficient short-term and long-term plans.
3. Optimise Company's Goals
Access to trustworthy data helps create attainable goals that will lead you to your final purpose. Property management reports provide the knowledge required to determine your current situation and the best path forward.
You can modify your goals whenever necessary and focus on a forward-thinking strategy by receiving reports periodically and having a real-time reporting system.
4. Make Decisions at the Pace of Your Company
As the speed of your business increases, you need to access relevant data immediately and make faster decisions. Even moderate businesses should have quick access to the information when trading on a global scale to defeat the competitors.
With real-time reporting, you'll have the most up-to-date information at your disposal to support your decisions any time needed.
5. Detect and Settle Operational Problems Quickly
For every business that wishes fast growth, it is necessary to uncover weak points and put efforts into resolving operational gaps. One of the functionalities of property management reports is to bring operational weaknesses to light. Thus, you can better focus on demolishing your business flaws and ultimately speed up your progress.
It's also critical to respond fast when confronted with challenges. Real-time reporting allows you to take immediate actions when facing issues and prevent small problems from getting serious.
6. Recognise and Respond to Market Changes
The vacation rental industry is very susceptible to market fluctuations. Therefore, property managers and short-term rental owners should always keep track of market demands and effectively respond to possible changes. Historical data used in monthly reports usually predict market trends and give an estimated perspective.
However, the best way to evaluate the market's current situation is to analyse real-time data regularly. In addition, having a real-time report of your business performance will show if your company is meeting the market demand. This way, you can also take care of overlooked sections according to current market needs.
7. Share Information between Departments Easily
If you manage a large portfolio, you're well aware that transferring various operational information between different sectors is hard to handle. Emails and notifications can easily get lost or ignored. As your teams get more focused, you need to provide specific reports for each segment which is time-consuming and challenging.
With property management real-time reporting, you can ensure all staff and each group access the auto-updated information they need whenever they want. Since the information you see is customisable, each department can access relevant data and stay focused.
َAccess Customisable Data with Zeevou's Real-Time Reporting
Property owners and managers always need accurate and up-to-date data to make impeccable strategic decisions. Property Management Systems (PMS) can be a good data source as they process and store a significant amount of information every day.
As an advanced PMS, Zeevou offers its Real-Time Reporting feature allowing users to search for particular data at any given time.
In Zeevou Hub, you can easily access operational reports regarding Upcoming Arrivals, Pending Check-outs, Housekeeping List, Occupancy, and so on.
For all reports, you can choose what column to see and customise them even more by applying specific options available for each report category.
Each customised view can be saved and accessed easily anytime later. You can get reports at any level in CSV and XLSX formats through the Export Grid.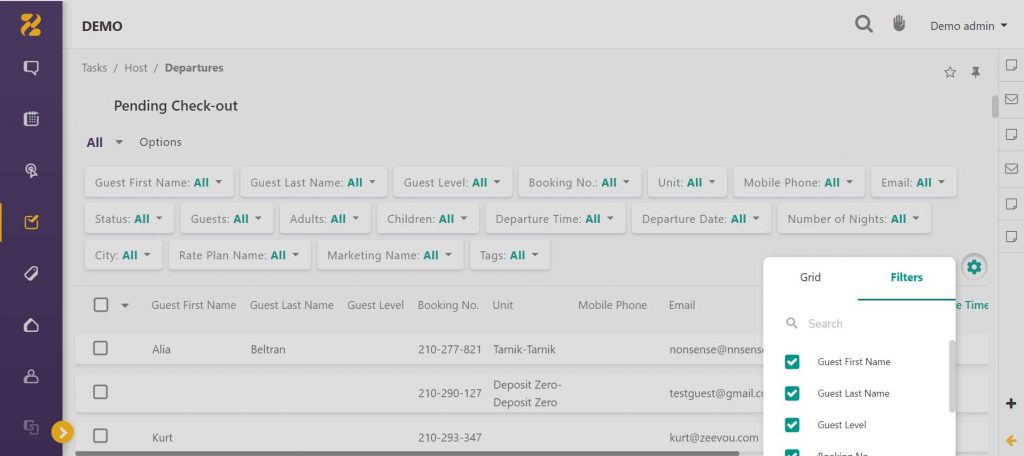 Our PMS also presents various real-time financial reports that include the records of incomes and expenses.
In this regard, Zeevou offers automated profit summaries for both hosts and investors, which can be separated based on the particular contract and deal template.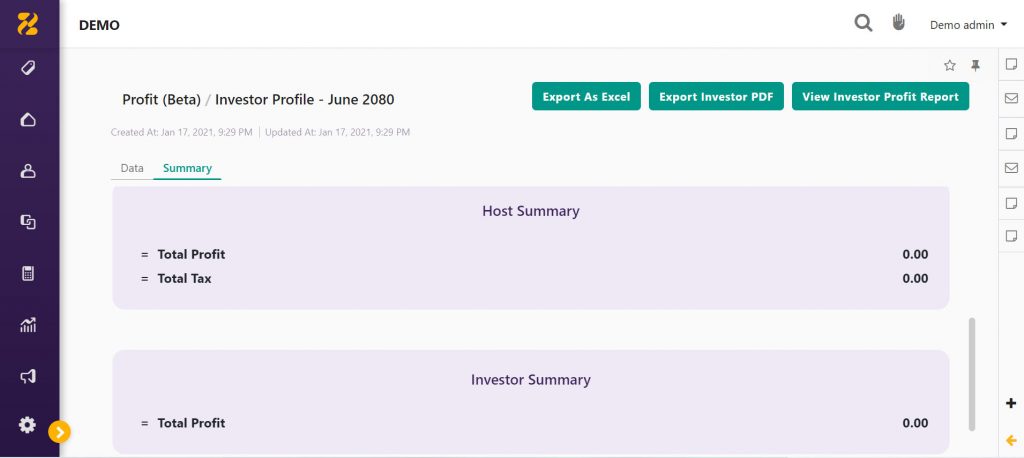 Property management reports, including real-time reporting, enable data access without delay. Because such data is updated regularly, businesses can verify their performance status by viewing the most recent results. Accordingly, a PMS can be a good information database that facilitates accessing accurate data anytime needed.