Just like the other sections of the hospitality industry, vacation rentals have been hit by the recent pandemic and the big rebound hasn't occurred yet. Impacts of COVID-19 on vacation rentals caused many business owners to spiral toward bankruptcy. However, the hospitality industry has always been able to regrow after each breakdown, and this time is not an exception.
We've done some research and realised that demand for longer-term stays is growing; that's why many short term rental providers are refining their marketing strategies in a way to target travellers looking for accommodation for longer stays.
Increasing Tendency for Longer-term Stays
Airbnb claims that there has been a significant increase in bookings for monthly stays since the pandemic has started. The main reason for this newly growing interest might be the trends like "work-from-anywhere" and "workcation" as remote working policies have still remained in effect.
Another proof to this change in the market is Airbnb's shift towards a longer-term strategy. What motivated this pivot was a 20% rise in extended-stay bookings on Airbnb's platform compared to the exact same period in 2019.
Up to 80% of Airbnb hosts accept long-term stays and even offer discounts for extended stays. An interesting statistic by Airbnb shows that 1 in 7 nights booked in 2019 was for a mid- to long-term stay.
Moreover, Booking.com now permits its hosts to provide weekly and monthly rates as the demand for longer-term stays are increasing.
Who are the travellers looking for long-term stays?
A big part of the recent boost in demand for extended stays is because of people who are eager to find a place to call home and stay there for the period of their engagement, whether it's a week or a month. Super commuters, infrastructure builders, project-based workers and even value-conscious leisure travellers are some examples of this target market.
Impact of COVID-19 on Vacation Rentals Based on a Research by Kalibri Labs
Research by Kalibri Labs shows accommodation providers who offered mid- to long-term stays have been affected less by the impacts of COVID-19 on vacation rentals.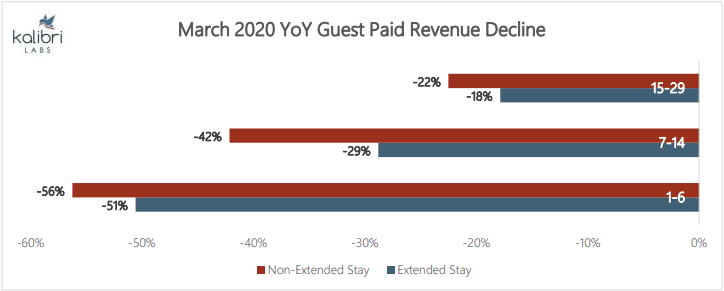 According to the data from March 2020 above, the demand for longer stays was not as severely impacted as that of shorter shorter stays.
Zeevou's Response to the COVID-19 Impacts on Vacation Rentals
At Zeevou, it's our top priority to provide our Partner Hosts and property managers worldwide with the tools and knowledge necessary to succeed with their rentals. With all the above-mentioned information, you're now sure that many guests are currently looking for longer stays. That's why we want to dedicate our next webinar to short- to mid-term impacts of the COVID-19 pandemic on the hospitality industry with experts in the field. Here's the link to the webinar. Don't miss this opportunity as our valued panelists will be sharing their expertise and their success stories with every short stay operator out there, who wish to consider including mid-term rentals in their business. Below there's a list of the names of the panelists and a short description of their business:
Pablo del Valle is the Head of Product at Minty Stay, which is a provider of fully furnished apartments ideal for corporate travellers, ex-pats, or any other monthly rental.
Matt Hughes is the Operational Leader at Wheelhouse, a data-driven pricing software which is meant for vacation rental hosts, property managers and owners.
Karolina SaviovaKarolina is the Chief Operations Officer & Co-Founder of AltoVita. They work with property management companies and hospitality professionals to offer hand-selected properties.
Jaime de la Torre de Ysasi-Ysasmendi is the VP of Homes at Badi. They provide a platform that connects users and gives them the tools to rent or list a room.
How Are You Going to Manage Longer-term Stays?
You might find many aspects of running longer-term stays the same as short-term ones, and you're not wrong. However, there are many points you should consider; if the PMS or channel manager you use fail to meet your needs, it'll cost you a lot of hassle.
This is where Zeevou's new feature, Extended Stays, comes to your rescue. When Zeevou started its services, we developed a PMS, Channel Manager and Booking Engine that was perfect for supporting nightly bookings for vacation rental companies and serviced accommodation providers with different scales.
But now, with the advent of the increasing demand for longer-term stays, we needed to adjust to the market's new target and work on also accommodating medium and long term rentals.
The recent changes in our system and the addition of Zeevou's Extended Stay features provides hosts with the chance to set weekly and monthly rates, assuring them that monthly invoicing for extended stays do not vary from month to month.
Multiple rate plans can be applied to the same unit type simultaneously. This means managers are able to combine short term, medium-term, and long term rentals in harmony with the constant changes in the market. Therefore, they can easily reduce the risk of empty holidays and take the most out of the opportunities in the industry as they rise.