If you are in the vacation rental business, you know it's crucial to utilise the listing platforms available to help rent out your rooms. And while it may come as no surprise, receiving several bookings from various sources makes it hard to stay organised and efficient. In response to this, a multi-unit calendar for property managers can greatly help. Using this, hosts and crew can keep track of and access booking information from one place.
This article will show you how accessing bookings-related data could be a breeze with a professional multi-unit calendar.
Vacation Rental Managers Have Faced at Least One of These Challenges
Having trouble tracking bookings across different platforms? Would you like a place to view all your booking details at once? Well, you're not alone. All property managers face these challenges once they start expanding their vacation rental business:
Tracking All the Rental Reservations
Let's say you have your property listed on Airbnb, Booking.com, and other listing platforms. When you do this, you will be able to track each booking made through those sites using their built-in calendar. There is, however, no comprehensive overview of all bookings available. It still requires you to switch between platforms and manually check every listing site when a reservation is made.
Gathering Booking Information
To be a successful short-term rental manager, you need to have every booking at your fingertips. This means you must access all the necessary data at a glance to have a clear picture of current reservations. However, to do so, you need to obtain various pieces of data, such as the booking's payment status and unit availability, from separate sections. Imagine you get a call from a guest asking for a last-minute booking or editing an existing reservation. In that case, you will find it difficult to address your guests' needs instantly without having an overview of occupancy and reservation details.
Keeping the Staff Updated
Regular data updates are vital to a vacation rental business, especially when people work remotely. As a host, your responsibility is to ensure that all your employees are connected, no matter where they are. But, does this mean notifying your staff about every single reservation? If so, it will take you a lot of time and effort to update your employees. In other words, you won't have any time left to optimise the operational strategies and scale your business.
Your Bookings' Control Tower: Zeevou's Multi-Unit Calendars for Property Managers
The above obstacles call for an all-in-one solution: multi-unit calendars for property managers. Having a multi- or multi-unit calendar is a great way of keeping track of all reservations at the same time. Here's how Zeevou's multi-unit calendars can help hosts overcome challenges and manage their bookings efficiently.
Tracking All Reservations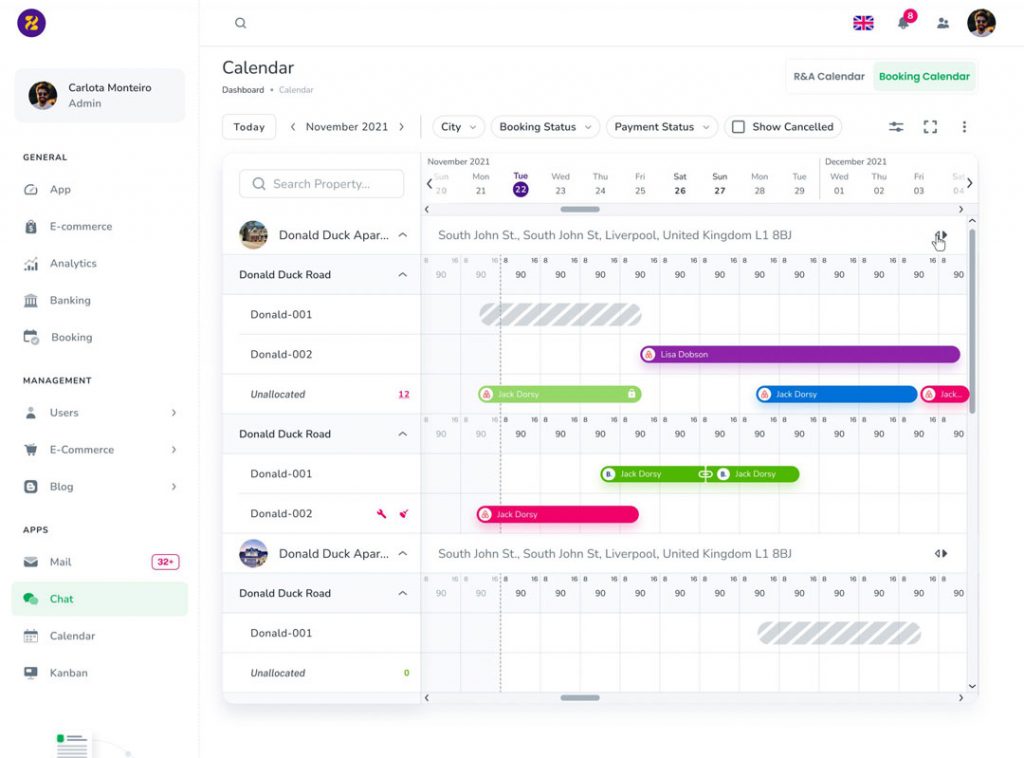 Wide View
Zeevou's multi-unit calendars display booking information from third-party listing sites and your direct booking website simultaneously. With this multi-unit calendar for property management, you will never be out of the loop when a reservation is made.
Platform-Labelled Bookings
All bookings are labelled with the logo of their corresponding OTA (Online Travel Agency). So, a glance is all it takes to see where the reservation has come from.
Infinite Scroll
Besides the option of switching the entire page between Rate & Availability and Booking view, the multi-unit calendar is now enterprise-friendly. With the Booking and Rates & Availability Calendars combined, you can toggle between the two with just one click on the infinite scroll. Thus, the view will change only for the corresponding property, while other properties will remain on the previous view.
Accessing Booking Information at Once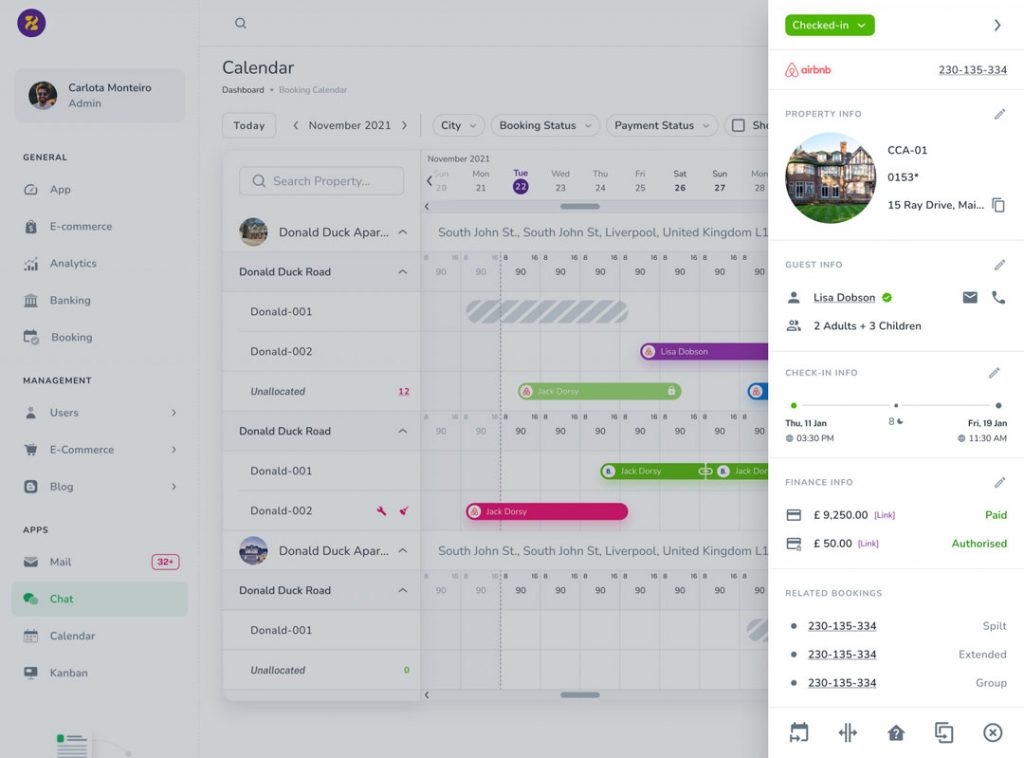 Bookings Summary
Looking for a quick way to review specific booking information? Zeevou's intelligent multi-unit calendars provide property managers with a summary of important booking data. Each reservation includes the lead guest's name, number of guests, number of nights, price, and booking and payment statuses. Hovering the mouse cursor over each booking will display this info.
Bookings Details
Clicking a reservation will open a sidebar window and provide you with more details, including the address and deposit status. Here you can apply advanced modifications and extend, split, deallocate, clone, and cancel bookings directly from the calendar. Being able to access important information at a glance, hosts have no trouble finding the needed details. And undoubtedly, this allows them to spend more time on business operations.
Keeping Your Team Updated
Colour-Coded Bookings
Zeevou's multi-unit calendars will provide your team with a clear overview of the entire booking schedule. While showing the availability and nightly rates, the calendar displays each booking with a colour defining its state. Therefore, an instant look at the calendar is enough to tell when and which property is available when your staff get a guest asking for a room.
In addition, they will be able to block a date or create new reservations right away from the calendar. This way, the guests' requests can be addressed as soon as possible and a seamless booking process can be ensured.
Quick Search
If you're working with many properties, Zeevou also offers filters to specify which properties appear on the calendar. Using the new search panel, your staff can find the required unit in seconds by typing the property nickname or address. They can also select the city and narrow the search results by property, unit type, unit, and rate plan.
Dirty-Booking Alert
It is also possible to check if a room needs cleaning through Zeevou's Booking Calendar. A tag will display in front of each unit that requires cleaning. So, your crew can easily get informed of dirty rooms and change the status to "Housekeeping Completed" when it's done.
Bottom Line
When managing a successful property, you receive reservations from OTAs, as well as your own website. Each channel will display upcoming stays booked on that platform. However, things will get messy without centralised and multi-unit calendars for property managers where all bookings are visible.
In this regard, Zeevou's multi-unit calendars provide an efficient way to view all your reservations and related specifics. Incorporating all booking information into one easy-to-use spot will reduce the hassle associated with getting bookings from multiple sources.