Online booking websites like Airbnb help you get seen and access your global target customers; they fill your calendar and bring you the number of bookings you need, but don't diminish the need to have your direct booking website.
Many vacation rental managers are fed up with losing 15-25% of their revenue as OTA commissions and wish to stand on their own feet, getting the hold of their vacation rental business. However, they don't see themselves strong enough to compete with the giants of the travel industry and rank higher than OTAs.
Apparently, short-term rental owners fall short of beating up the enormous corporations of the hospitality industry utterly. Still, chances are they steal some market shares away from them and drive traffic to their own direct booking websites by employing the power of technology.
People looking for rentable lodgings rarely book directly through vacation rental and serviced apartments' websites; so in order to win the struggle on direct bookings, the hosts need to arm themselves with some solutions which can help them gain visibility and expand their reach to their target customers to market their rentals.
Vacation rental Facebook ads are one of the technological solutions they can employ to connect to their prospective guests.
Being the most popular social networking site with more than 2 billion active users, who check their accounts several times a day, Facebook is an undeniably ideal digital marketing alternative for businesses to showcase or advertise their products and services and reach buyers.
Facebook is a perfect platform to promote vacation rentals and drive direct bookings. It has all the required tools and features to put a rental in front of the eyes of the people who are most likely to book it.
Before you decide to promote your listing through vacation rental Facebook ads, you must define your marketing goals. If you are using Facebook just as an alternative for social media marketing and raising Facebook fans, there is no need to spend money on Facebook paid ads.
Instead, you must spend some time to focus on your Facebook content and improving your organic interaction with your guests. You must consider putting Facebook Marketplace or paid ads into practice in case you are determined to drive more traffic to your direct booking website and receive more direct bookings.
Facebook Marketplace
Facebook Marketplace is an attractive feature within the main Facebook app or on the Facebook website, which is a place to browse and purchase products in local communities. With 800 million active users in 70 different countries and millions of transactions every month, it can help your business access its right customers.
Listing your items on the Marketplace is pretty simple, takes no time and has no listing fees. You just need to write a description for your vacation rental, set the rent price, choose a category, determine your location, and identify who you want to see your ad. As consumers see the products and services relevant and close to them, there is a good chance that they convert.
Paid Ads on Facebook
There are over 2 billion active users on Facebook, and it is on every wise vacation rental manager to harness Facebook's audience's power to stand out from the competition.
Today you can't just count on the organic search, but rather you need to allocate some budget for targeted advertising. Vacation rental Facebook ads are an inexpensive, convenient tool to broaden your audience and ensure that your property gets seen by the right vacationers. Here are five reasons why vacation rental Facebook ads are worth it.
1. Extremely Affordable
Vacation rental Facebook ads are a budget-friendly driver of conversions and direct bookings. The cost of promoting on Facebook is as much as your budget is. You can even purchase an ad by $5 a week and run your ads as long as you can afford them.
2. Highly Visible
The more eyes your listing can be in front of, the better. As Facebook is linked to Instagram, Messenger and the Audience Network, it can bring you more exposure to your potential guests. Besides, ads in Marketplace will also show in News Feed, so when someone likes a page or a post of yours, their friends will notice it, and it can be seen by other people that you did not intend to target on other apps and websites.
3. Exceptionally Customisable
You can easily reach to the specific type of users you want and narrowly target your ads at the leads who are most likely to convert. Highly valuable information like demographic data, interests, purchase behaviour and previous interactions provided by Facebook can help you create your targeted ads to attract the users you aim to. You can also find lookalike Audiences with interests similar to those of your preferred customers.
4. Highly Measurable
Additionally, you can also explore the Ads Library on Facebook to get insights into your competitors' ad strategies and learn from their successful campaigns. To measure actions taken on your ads, Facebook Ads Manager provides you with useful analytics data and enables you to measure and optimise your campaigns' performance. You can edit and optimise the ads that are not working well or even stop them. 
5. Easily Creatable
Advertising on Facebook doesn't need any special expertise and can be done in no time. You can create and run advertising campaigns via Facebook Ads Manager in 5 quick steps.
1. Pick Campaign Objectives
The first step in the Ads Manager is to select an objective for the ad you are going to create. Whether it is an individual ad or one from an advertising campaign. You can choose one of the following options as what you want to achieve: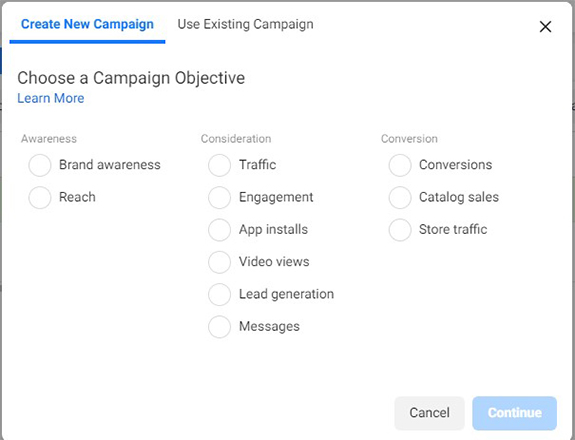 Note that as a vacation rental or serviced apartment manager, you must have your own direct booking website to drive traffic to it and receive direct bookings; otherwise, the other options might fit you better.
2. Choose Your Audience
The next step is to define your audience. Here you can create your custom audiences either from your sources like Website, Customer List, App or Offline Channels Activity, or those of Facebook and specify them more by setting their preferred location, age, gender, languages, interest, connections and behaviours like prior purchases.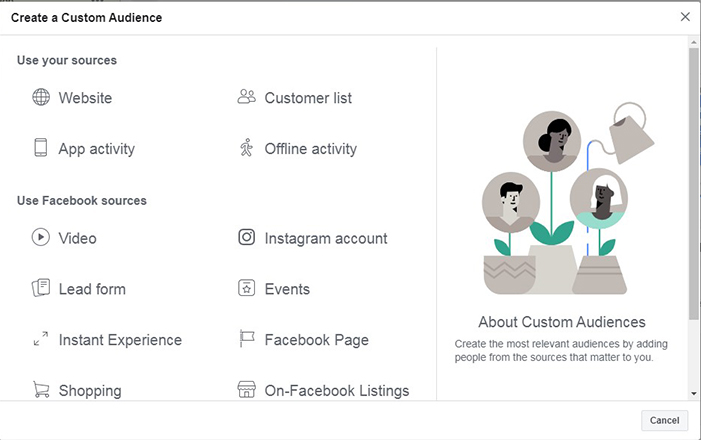 3. Decide Your Ad's Placement
You can run your ad on Facebook or its connected apps and services such as Instagram, Messenger, Audience Network, or on all of them. There are two options for setting where to run your ad in the Ads Manager: Manual and Automatic Placement.
If you use the Automatic Placement option, Facebook can check out all available placement opportunities and choose the most economical option for your ad. Your vacation rental Facebook ad can appear on the following placements:
Facebook News Feed
Instagram Feed
Facebook Marketplace
Facebook Video Feeds
Facebook Right Column
Instagram Explore
Messenger Inbox
Facebook Stories
Instagram Stories
Messenger Stories
Facebook In-Stream Videos
Facebook Search Results
Messenger Sponsored Messages
Facebook Instant Articles
Audience Network Native, Banner and Interstitial
Audience Network Rewarded Videos
4. Allocate a Budget
Facebook doesn't provide you with a price list, but it's you that tells Facebook how much you would like to spend on ads. Set a budget that works for you by entering the dollars, you can pay per day, and the period you want to run your ads. Your vacation rental Facebook ads will never exceed your budget.
5. Choose an Ads Format
Find the ads format that can best showcase your vacation rental and its unique selling points, and recount your property's story. You can choose from these formats:
Photo
Video
Stories
Messenger
Carousel
Slideshow
Collection
Playables
The final step is to click on the Publish button, which means that you agree with Facebook terms and advertising guidelines. Now your ad would be up and running, yet the ads manager can help measure your advertising campaigns' performance by providing you with the relevant analytics to see what is working for you and what needs to be improved. You can monitor and optimise your ads here.
Learn more about creating ads on Facebook with Facebook for Business or Facebook Blueprint.
OTAs help you sell your room nights by providing you with a great deal of visibility, but they can't promote your brand or build relationships with your guests. This is why you still need to keep working on your own direct booking website and booking engine and get your seasonal offers, special deals, vouchers, and promotions seen by your potential guests.
Facebook Marketplace or vacation rental Facebook ads can help you enormously with direct bookings and more.