Vacation rental management entails a lot of text switching before, after and during a guests' stay at your vacation rental. The more guests you host, the more communication you have to manage; and the more vacation listings mean, the more tasks to organise.
Listing across multiple booking platforms and channels will give you increased visibility and bookings, but it also equals multiple inboxes to check and logging into multiple accounts. What a headache!
Here's exactly where a unified inbox comes to save the vacation rental managers and take the hassle out of the whole VR team routine communications.
From replying to guest inquiries and sending them the check-in instructions to management and staff coordination messages, a unified inbox helps you manage all your communications efficiently.
It enables you to foster more efficient communication with guests and work and collaborate seamlessly with team members.
A unified inbox helps you browse conversations and reply to all of your messages from all platforms in an all-in-one dashboard.
It makes you needless of switching accounts and using multiple devices.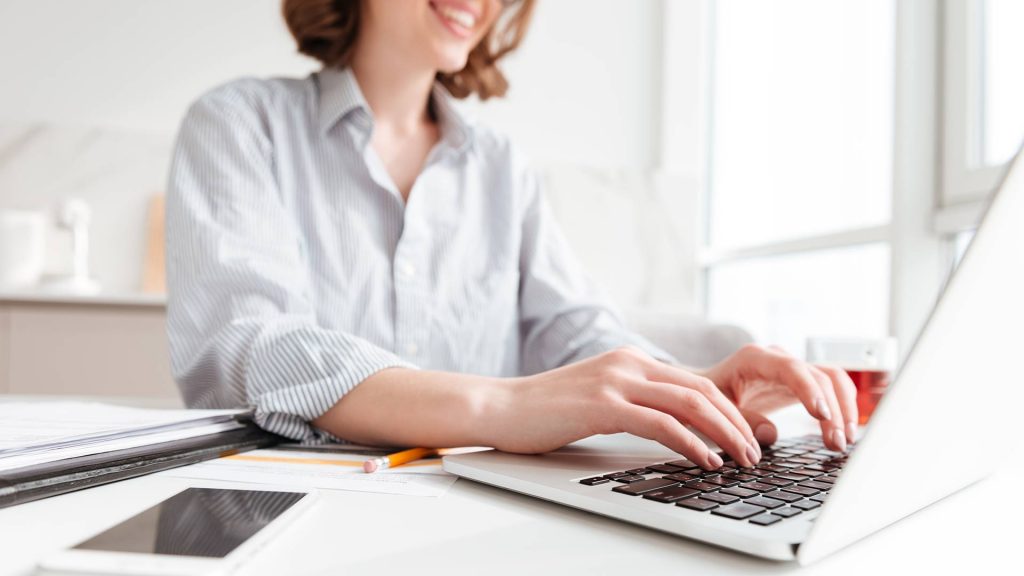 It's All About Communication
Communications management occupies a central place in each and every stage of managing a vacation rental.
In the first instance, you need to communicate what the guests need to book with you in no time.
Then you must coordinate your operations crew to make the place ready for the guests and provide them with a seamless check in process.
Lastly, you need to ensure that your guests have a remarkable experience at your property and will return soon after.
A unified inbox's job is to simplify communications in all the mentioned areas.
Manage the Booking Process
A unified inbox enables you to communicate the right messages at the right time to your guests and considerably reduce your response time.
Manually tracking the communications with your guests while you have to access their booking details from a different platform is a real hassle. With a unified inbox, you can view and make changes to essential reservation details and messages related to each booking next to conversations.
Automated Messaging
Email is a rapid, low-cost means of communication that can bring magical results to your business. Read our blog post, How to Run a Perfect Email Marketing Campaign for Your Vacation Rental, to learn how to utilise this unmediated marketing medium to build a good relationship with your guests and enhance bookings.
Besides an easy flow of one-on-one communications with your guests, a unified inbox lets you automate a great deal of your guest communications by using saved templates.
Create a seamless booking and check-in process for the guests and boost the guest experience by sending them customised email templates with beautiful HTML designs.
Send all sorts of emails, including booking confirmations, check-in instructions, thank you letters, referral emails, and special offers to your guests with only a couple of mouse clicks. Attach a house manual, a check-in guide, house rules or the guest's invoice via your unified inbox and don't leave up any space for confusion or miscommunications.
You can either use the ready-made samples or design your own templates. All email templates pull brand logos and contact information.
In addition, you can set a custom trigger rule for each template and command them to land into a user's inbox when a particular action is completed. For instance, certain sensitive information like an access password can't be sent out unless all the necessary booking steps are checked and the payments are entirely made.
The vacation rental managers can also notify their guests of any urgent updates via SMS in case the guests do not have access to their emails.
Facilitate Operations Management
With the help of a unified inbox, managing your vacation rental operations is as swift as the wind. Assign tasks to your housekeeping, maintenance and front desk staff and give them access to different conversations. You can assign conversations to team members and exchange internal messages to your crew.
To top it off, you will be able to centralise all your operations in a one-stop hub.
You can keep track of all your communications in one convenient place and search for specific messages only using a keyword.
Quick composition features let you send short notes to your team members and inform them of recent updates.
Manage Staff workflows
Improve staff collaboration through smarter workflows and simplify processes with so much easier communications through a unified inbox. Minimise confusion and misconceptions by providing a single, accessible information network for everyone.
Your staff have quick access to the bookings related to each conversation and can send internal notes to each other.
Tips to Use Zeevou's Unified Inbox Efficiently and Effectively
Zeevou's user-friendly Unified Inbox will centralise all your communications, regardless of the channel they come from.
It makes you needless of switching between platforms and devices, provides you with all the features a unified inbox must have and enables you to manage your vacation rental like a pro.
Here are some functionalities of Zeevou's unified inbox.
The General Look of the Unified Inbox
Messages have four folders: Inbox, Sent, All Conversations, and Trash. All interactions, including automatic emails generated by the system, archived messages, and incoming/outgoing messages are listed under All Conversations.
You can look for a contact of your conversation or a sender's name in your Inbox.
View your guests' messages by the name of the properties they are staying in. This is advantageous when you have multiple properties, and you can take faster actions when facing an issue.
There are three options of Mark as Unread, Archive, and Move to Trash which you can apply for each conversation.
If you wish to transfer an archived message to the Inbox, use the Move to Inbox option. You can also Restore messages that are in Trash. When you get a new message replied to a current discussion, it will be immediately placed in your Inbox.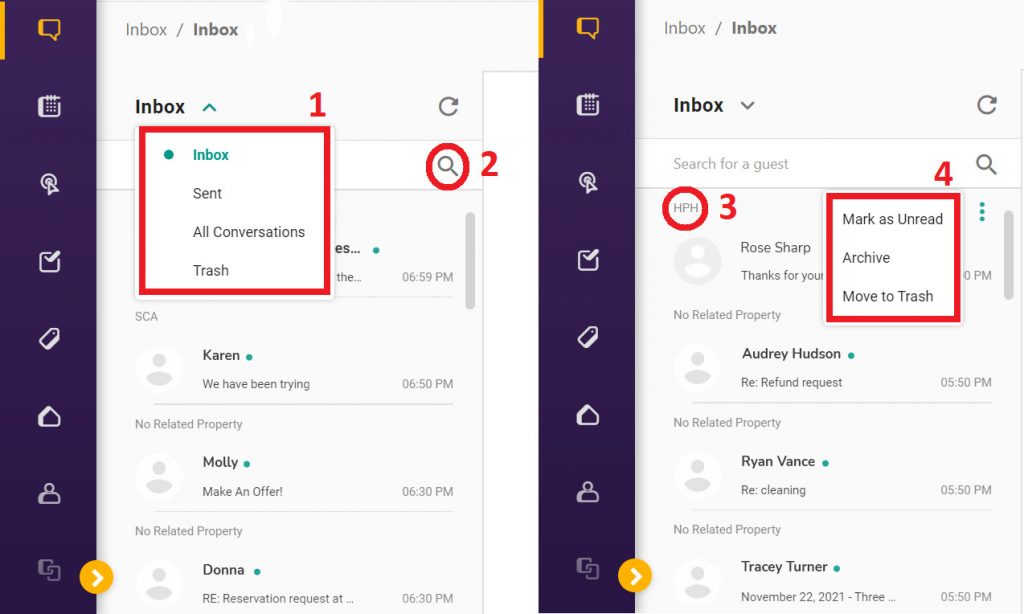 Contacting Guests
The Unified Inbox, which is currently in beta, allows users to access various routes of conversations from one single hub.
Communicate with guests in several ways through emails, SMS, Airbnb, and Booking.com messages, and any other channels that support API messages.
Send booking-related messages based on your access level from your personal, team or brand email addresses. To do so, you need to apply settings to receive all personal, team, and brand emails in the Unified Inbox.
Click on the phone icon and make a call with your guest through your device.
Send text messages (SMS) to your guests instantly from the same unified inbox using Zeevou's integration with ClickSend.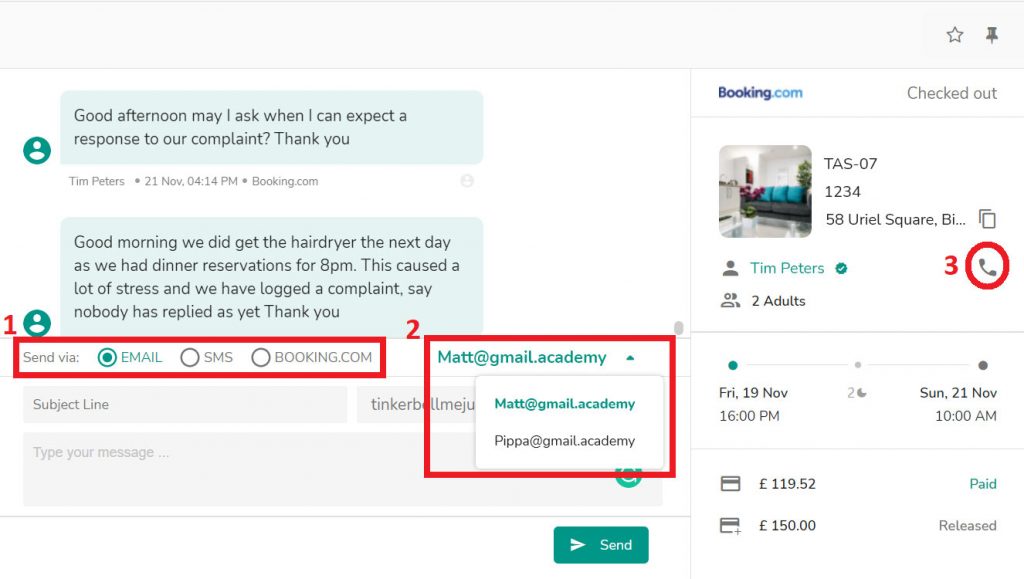 Booking Details
If you click on a chat with a guest who has made a booking with you, the reservation details will appear on the right-hand side. In this part, you can see:
The name of the channel through which the reservation has been made
The status of their reservation (Booked, Checked out, etc.)
Unit name
Access code
Property address (you can copy the address by clicking on the copy icon)
The Guest's name and the number of guests
Number of nights and check-in/check-out date and time
Guests' payment and security deposit statuses
You can also view previous messages related to the booking on the same page.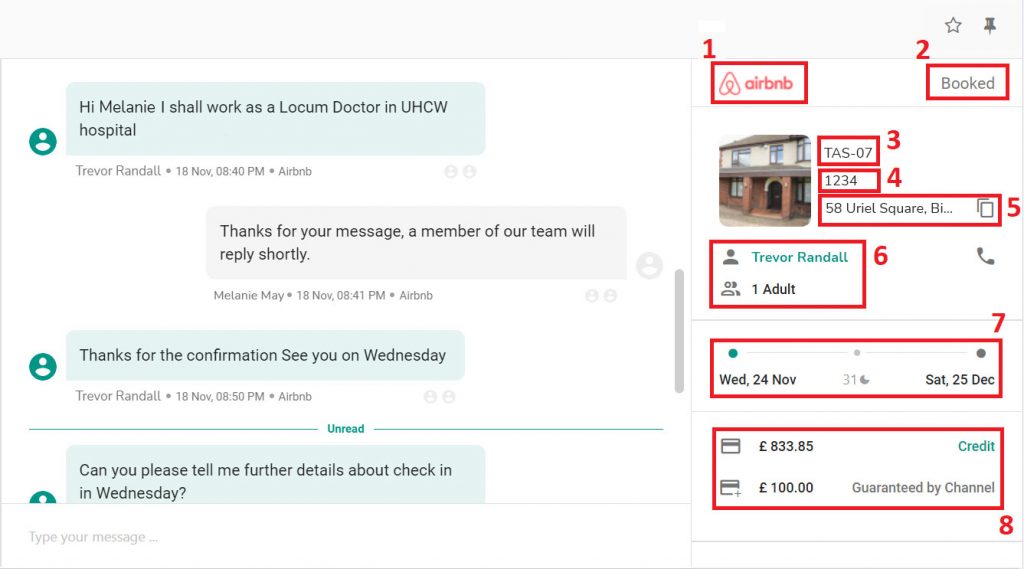 Communicating with Staff
When a message is received to the system, the users (host/office staff/team) can view the conversations based on their access level.
You'll be able to send texts to your staff and track who's seen your messages.
Your staff will have quick access to the bookings related to each conversation.
You can also access the Unified Inbox through Zeevou's mobile app and keep messaging wherever you are.