Effective communication with your guests is key to boosting your vacation rental business. Airbnb message inbox makes this easy for you. The feature enables you to simply connect with your guests before, during, and after their stay. Additionally, the inbox not only allows you to manage and automate your messages, but it also safeguards your Airbnb rental and minimises the risk of online fraud. You can access your Airbnb inbox via mobile app or on any desktop or mobile browser.
Here's an overview of Airbnb inbox features.
How to Access Your Messages on Your Airbnb Inbox (Using the Mobile App)
1- Open your Airbnb App.
2- Once you're logged into your account, click on the Profile icon at the bottom right corner of the menu and switch to Hosting.
3- Below the inbox header, you can see the unread messages shown in bold.
4- The magnifying glass (at the upper right corner) allows you to search message threads based on guest name or confirmation code.
5- Each message thread includes all the received and sent messages between you and your guest, and you can scroll through and see the entire conversation.
6- You can view guest information and reservation details via the Details section. This part is a blue link at the upper right-hand corner of each message thread. It displays check-in and check-out dates, as well as the total payout amount.
7- Once you're done with conservation, you can move your messages to the Archive folder using a single swipe left. This motion will mark your message as Archive and move it to the Archive folder. Archived messages will be moved to All messages when they become active. 
8- You can classify your inbox using a filter icon. This feature enables you to filter Starred messages that you marked as most important and the Unread ones. In addition, you can filter via listing and stage of the trip (enquiries or requests, pre-trip, check-in, on trip, check-out, post-trip, and review needed).
9- You can report suspicious messages using the flag icon in the message.
How to Access Your Messages on Your Airbnb Inbox (Using Internet Browser)
1- Sign in to your Airbnb account.
2- When you're logged into your account, choose the Messages icon at the top of the page.
3- Select the Hosting tab to access your inbox.
Airbnb inbox on both the mobile app and the browser has the same features, just arranged differently.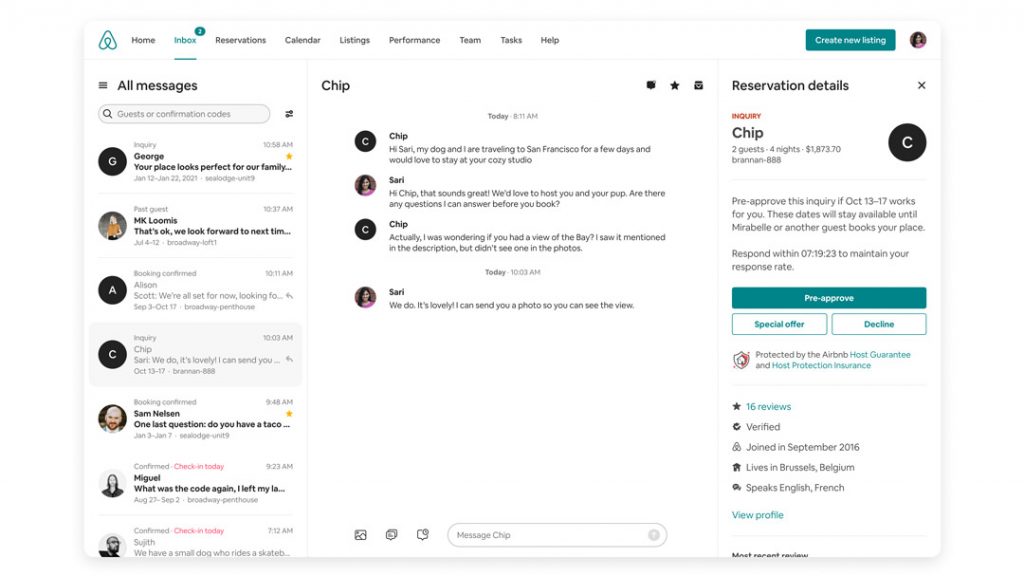 The Search bar is located under All messages. Also, you can find the Star and Archive icons at the top right of each conversation.
How to Create Scheduled Messages
Drafting the same messages and sending them repeatedly is a tedious process. But Airbnb scheduled messages enable you to set notes and automatically dispatch them after specific actions, such as booking confirmed, check-in, or check-out. This feature not only saves your time, but it also helps you to be an attentive host and get more glowing reviews.
You can create scheduled messages from your hosting inbox. This tool lets you create templates and personalise them using unique tags called Shortcodes. These tags collect information from your guest's reservation and your listings to fill in the blanks. You can also set a time to send the message; the time could be before or after the booking is confirmed, check-in, or check-out.
In addition, you can edit the content of a particular message without changing the template, remove a scheduled message from a listing or delete it for all listings.
The common cases to send a scheduled message are:
Shortly After Booking
This quick thank-you message is a response to a confirmed reservation. This is an excellent opportunity to make a first impression and express your delight that they will stay at your rental. Provide your house rules and quick information about the neighbourhood. Let them know that you will send the check-in details a couple of days before their arrival:
Dear [guest first name],
Thanks for choosing my property!
I'm delighted to host you at [listing name] on [check-in date].
Here is some info about the neighbourhood: [neighbourhood].
I will share the check-in information a couple of days before arrival.
Please feel free to contact me if you need further information concerning your stay.
Kind regards,
[your name]
Few Days Before Check-In
This message allows you to communicate with your guest one more time before check-in. You can remind them of the check-in time and share the essential information they need to access your rental, such as the address and directions:
Dear [guest first name],
Please remember that you're welcome to arrive any time after [check-in time] on [check-in date].
My property is at [address] and here is the directions: [direction].
Kind regards,
[your name]
Day of Check-In
In this message, you can provide all the essential information guests need for their stay, including the property address, directions, as well as Wi-Fi name, password and passcode for your lockbox or smart lock:
Dear [guest first name],
I'm excited to have you at [listing name].
Here is the [check-in instruction] and [house rule].
You can access Wi-Fi called [ Wi-Fi name], and the password is [Wi-Fi] password.
Please let me know if you need anything.
Thanks!
[your name]
First Day of Stay
It's a wonderful opportunity to greet your guests and send a quick hello to check everything is in the correct order.
Hello [guest first name],
I hope you have a perfect time and are relishing your trip so far.
Please notify me if there is anything I can do to make your stay more smooth.
Thanks!
[your name]
The Day Before Check-Out
This message is a quick reminder for your guests that tomorrow is the check-out time. Also, you can mention some check-out instructions, such as how to handle trash, where to put dirty linens and dirty dishes, and where to place the keys.
Hello [guest first name],
It was my pleasure to host you, and I hope you had a really great time.
Kindly note that check-out is tomorrow. Please do the following before the check-out.
1- [insert your item]]
2- [insert your item]
3- [insert your item]
Thanks
[your name]
Post-Check-Out
The check-out message isn't the last touch base email. Your communication should trigger 5-star reviews. Send a message after check-out and thank them for staying at your rental and leaving your property without damaging the furniture. This message shows you are a considerate host and will increase the probability of getting stellar reviews.
Dear [guest first name],
Thanks for staying at my rental!
Did you enjoy your stay? If you liked your trip, I'd appreciate it if you left a review.
Please feel free to let me know if there was anything that made you unhappy.
Thanks again!
[your name]
Conclusion
Utilising Airbnb message inbox helps you organise and automate your communications with your guests. This will not only save your time, but it also prevents fraud and other security issues. Additionally, sending out and replying to emails automatically will improve your guest's experience and help you get more positive reviews.