There are multiple third-party platforms to list your properties, yet more reliance on them could slow down your business growth. Be careful not to put all your eggs in one basket. But, what can you do to be more independent and scale up your vacation rental business?
The definite answer: build your direct booking website. Creating your vacation rental website provides excellent opportunities to tell your brand story and get more direct bookings. You can apply different direct booking strategies to increase your revenue and build a sustainable future for your business.
Let's delve deeper into the importance of direct booking websites for your vacation rental business in 2023.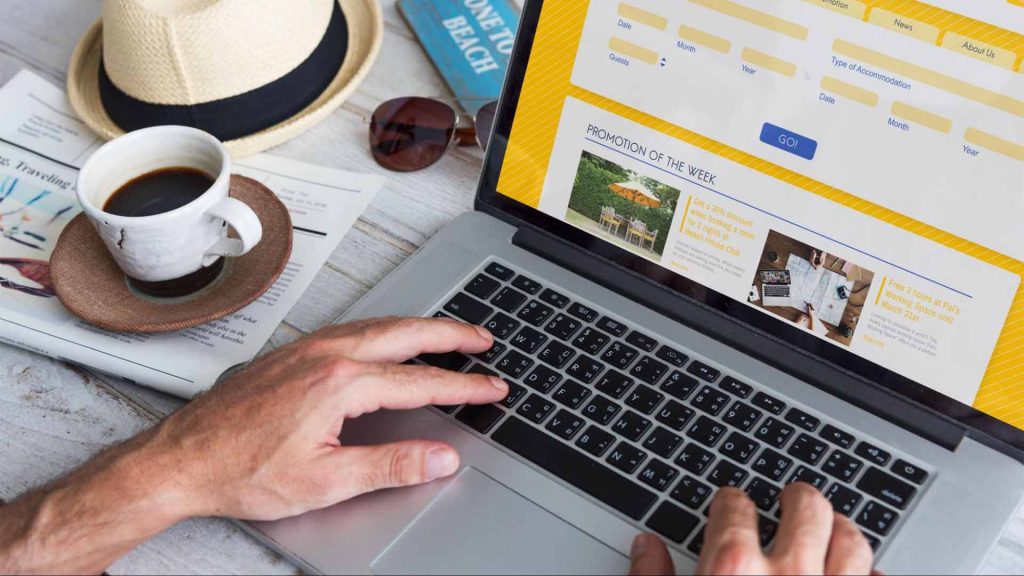 Stop Paying OTAs Commissions and Maximise Your Profits
First and foremost, when you list your properties on OTAs, according to Skift, you should pay a high commission rate (15-30%) per booking. This poses a substantial financial burden on you and forces you to follow their policies.
Your own well-structured and user-friendly website, however, enables you to reduce the involvement of middlemen, get rid of commission fees and attract direct bookings. It helps you to save your money, and by optimising your direct booking website, you can entice more guests to book. Hence, this will increase your revenue and profit margin.
Bring Better Guest Experience
Invest the saved money from commissions on your vacation rental's renovation and improvement. You can provide more amenities for your properties such as board games, a smart TV, modern kitchen appliances, smart lighting, a barbecue, etc. All these, in turn, will lead to a better guest experience and improve conversion rate.
Enjoy Direct Communication with Your Guests
OTAs don't share some travellers' personal information such as their email addresses. As a result, you cannot build your guest database to develop effective communication or marketing campaigns. But, launching a direct booking website allows you to communicate directly with your guests, give recommendations, and make long-term relationships without third-party interference. For instance, you can add a pop-up box to your website and ask the visitors to sign up for your blog or newsletter. This will enable you to collect their email addresses and send them special offers. In addition, you can add a live chat tool to address their challenges or send pre-arrival emails to make their stays memorable. This is a first-hand interaction with your customers.
Have Full Control and Independence in Your Business
Third-party platforms impose restrictive terms and conditions such as cancellation policies or limiting the length of your property's description and amenities on their portals. While with a direct booking website, you have the freedom to make your own rules and manage your booking process. For instance, you can set more flexible booking and cancellation plans or a quick refunding process to drive more bookings. So, this is a wonderful opportunity to be more independent and have total control, which is not the case with listing sites.
Build a Strong Brand
If you want to establish a strong presence in the market and retain your guests, you need to develop a unique brand. Your website is the best place to showcase your identity, story, mission, values, and style. Your direct booking website will allow you to control your brand consistency and increase your credibility. Creating a stunning and well-designed vacation rental website lets you stand out from the crowd.
Gain More Visibility by Creating Quality Content
The blog and comparison sections on your website help you drive more traffic. These two parts are valuable resources for visitors to learn more about the area and compare the prices of other properties or multiple OTAs and also make the visitors spend more time on your website. In addition, these sections provide an excellent chance to start conversations with the audience and build trust via sharing their thoughts. As a result, appealing blog post ideas with quality content can turn the lookers into bookers. 
Offer Special Incentives
You can offer unique services and perks on your website to encourage visitors to book directly. For instance, providing free breakfast or free parking space can enhance the value of direct booking. Also, offering discounts for repeat guests leads to customer loyalty and repeat bookers.
Work on Upselling
Your direct booking website is not just a platform for getting a booking. You can also offer other services such as renting sports equipment, airport transfer, concert tickets, or boat trips. Providing these extra services at a discounted price generates additional revenue and makes the trip easier for your guests, and also boosts their experience.
Final Words
As a property manager, you must own a direct booking website for your vacation rental business in 2023. It's a perfect way to cut the OTAs' commission, communicate directly with your guests, boost your brand's awareness, get more bookings and ultimately maximise your revenue.