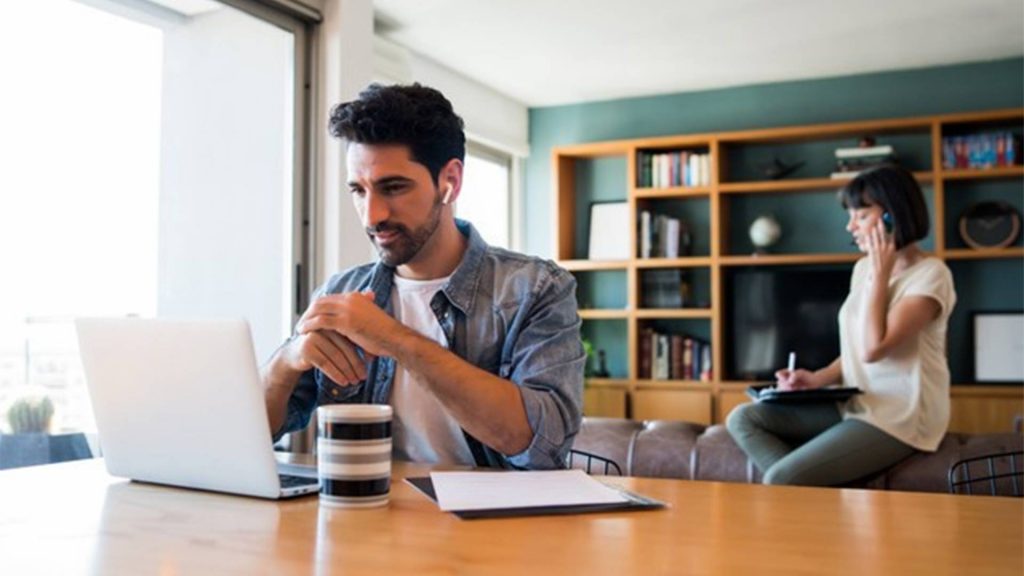 Airbnb's Extended Stay Feature has been highly appreciated by people working remotely, travellers with work or study purposes and safe accommodation and self-isolation seekers like front-line medical workers.
Airbnb long-term rental, which enables guests to rent rentals on Airbnb for twenty-eight days or more is no new development. It existed long ago. Nevertheless, travel restrictions during the COVID-19 pandemic and the newly rising demand for staycations shed more light on Airbnb's monthly rentals option as a more stable strategy; a strategy that promises easy money and peace of mind for the hosts, and in return,cosy accommodation for their guests. 
Airbnb long-term rental is a great solution for the hosts to guarantee a reliable revenue stream, keep their rental business afloat during quieter months, and be able to tackle their mortgages and arbitrage leases. They can attract more bookings by offering monthly discounts to their prospective guests, and increase their occupancy rates.
Long-Term Rental Versus Short-Term Rental
When guests search for accommodations for twenty-eight days or more, Airbnb will automatically show them the monthly rates rather than the nightly tariffs. So the listings are available to book both for short-term and long-term stays, and it is just on the hosts to decide whether or not to accept the guests who want to stay for a longer period of time. Airbnb long-term rental helps property managers earn the income they expect, with a single guest rather than having to manage several short-term rentals and dealing with guests of different types; however, both methods have their own benefits, as well as downsides. Let's look at Airbnb long-term rental's pros and cons.
What Are the Perks:
Steady Income Stream
All the property managers want to receive as many bookings as they can to enhance their revenue; nevertheless, Airbnb long-term rental will provide hosts with more predictable and reliable but lower income during quieter months. As the guests who book a property for a month or more are supposed to make a downpayment for the first month (then they will pay monthly), the property managers will receive their income on a monthly basis.
Reduced Workload
Dealing with one single guest means a lower turnover rate and fewer operational tasks like housekeeping, guest communications, check-ins, and check-outs. Although vacation rental owners or managers must stay highly responsive during their guests' stay, they will have more freedom to unwind and take vacations.
Increased Occupancy Rates
When a host decides to rent their vacation home for more extended periods and offers a discount, they will get seen by the guests looking for long-term accommodation. As a result, they double their chances of getting booked.
Having their properties rented for a month or more, the hosts no longer have to search anywhere they can for new bookings, and be concerned about filling their calendars during quieter months. They can boost occupancy and generate consistent rental income with Airbnb long-term rental.
Drawbacks:
Lower Profit Potential
As there is a monthly discount for this type of stay, the vacation rental managers can't earn maximised profits from long-term renters; Moreover, the hosts will receive a fixed monthly fee which provides them with a stable income. However, they can't earn more during the peak seasons.
Fewer Guest Reviews
You can earn more reviews from short-term bookers. This is especially of considerable significance for the hosts who have just joined the platform and need to boost the search ranking of their Airbnb listing.
Increased Expenses
Short-term rental bookers are usually vacationers who are staying at your property for business or leisure purposes. They come to explore the city and enjoy themselves. In most cases, these types of travellers usually spend fewer hours at home and just make use of the basic amenities, so don't make a big mess unless you run into the party-type guests.
In contrast, long-term renters spend more time in your home, cook their own meals and do their laundry on site. As a result, they may cause more wear and tear, make more maintenance and repair requirements, and raise your utility bills and expenses.
Why Airbnb?
Renting out with Airbnb for short-term stays is quite commonplace in over 220 countries and 100K cities all around the world, but why do people prefer Airbnb to traditional real estate agencies for renting long-term accommodation?
Airbnb long-term rental attracts guests seeking stays that are somewhere in between short and long-term rentals but don't want to get locked into year-long leases and deal with tedious paperwork.
Airbnb is a global website with an intensive database of rentals and accommodation options around the world. It offers guests a wide range of listings to choose from with meticulous photos, lists of amenities and house rules, as well as discounted prices.
Plus, travellers can find full furnished units with a kitchen, already-connected internet and the amenities they need to live comfortably for a month or longer. Moreover, as the rent on Airbnb listings is all-inclusive, the guests don't need to worry about handling utilities and bills.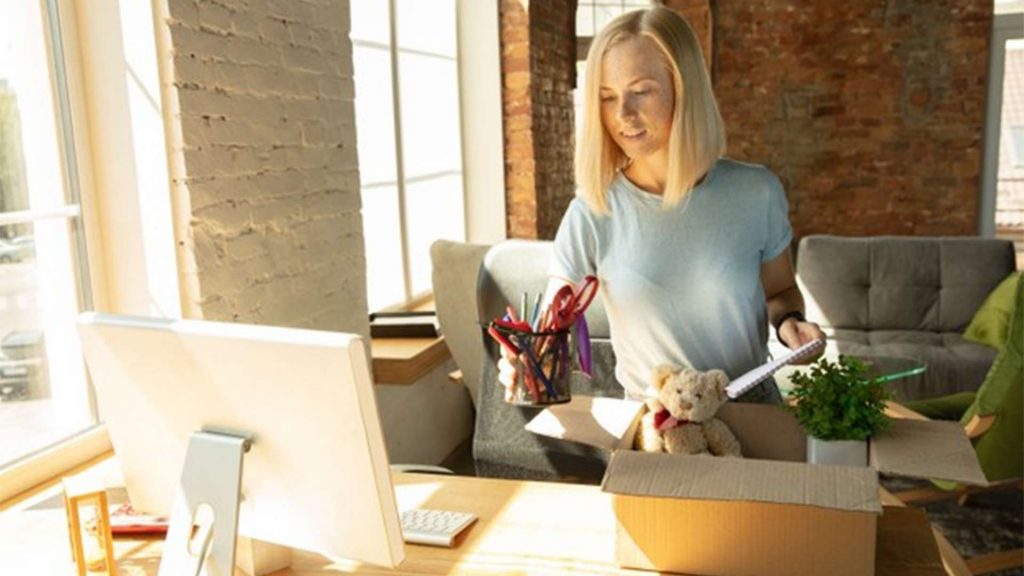 How to Gear Your Listings Up for Airbnb Long-term Rentals
There is basically no difference regarding the online listing of your property. Here are some instructions every vacation rental or serviced apartment manager should take into consideration to optimise their listing(s) for Airbnb long-term rentals.
1. Learn about Your State Laws and Local Regulations
Before you rent out long term, review the laws of the state and the local government of your property, and make sure you are not violating them. Airbnb long-term rental is prohibited or restricted to some regulations in several countries for protecting the local property business or other reasons. You can't just rely on Airbnb; it's all on you to take care of local Airbnb regulations and tax rules for long-term rentals in your community.
eviction laws/Rent control laws
2. Set Long-Stay Discounts
Set a reasonable weekly or monthly discount to attract guests who are seeking long-term rentals. Guests who search for long term accommodation also look for more affordable listings with monthly discounts appearing next to their total price. Some guests may even take a further step and contact you to bargain their ideal price and ask for more reduction.
3. Add Long-Term Stays Cancellation Policy to Your Listing
Airbnb has a specific cancellation policy that is automatically activated for bookings of twenty-eight nights and more. Under this policy, long-term reservations are refundable 48 hours after the booking confirmation in case it is cancelled at least twenty-eight days before check-in. More than 48 hours after the booking confirmation, the booking will still be refundable except for the first month of the stay. Adding this strict cancellation policy to a listing can firmly protect hosts from the loss of bookings that might happen as a result of blocking the dates by a long-term guest.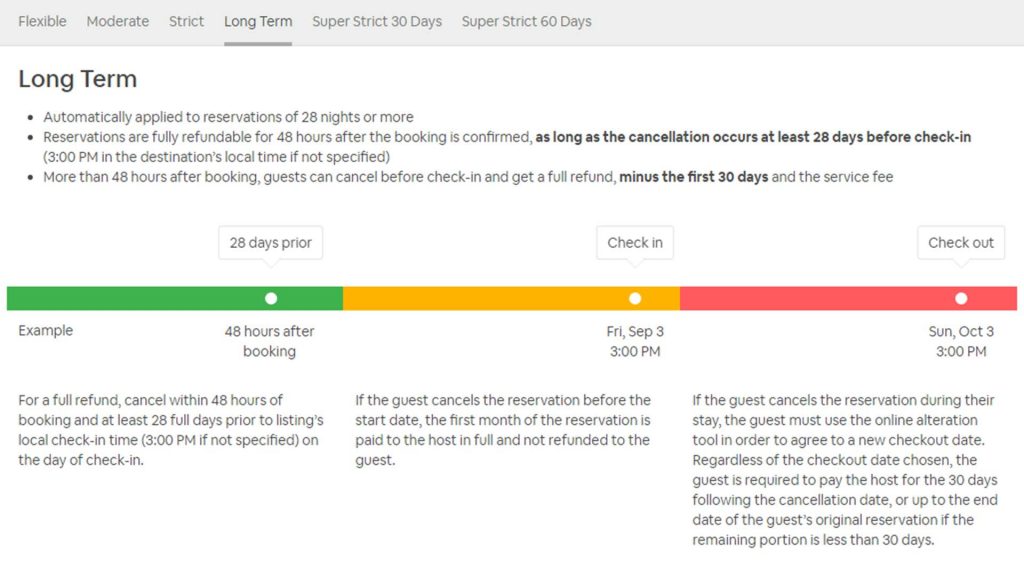 4. Screen Your Guests Carefully
Airbnb background checks will not be helpful with long-term guests. So you need to evaluate your potential guests and try to sift out the troublemakers who might damage your rental and its reputation. As your guests are going to stay in your property for a longer period of time, it's at your own expense to find out the likelihood they will meet your rental's terms and conditions and decide to accept, reject or agree to deal with them under particular conditions. (Read our blog post 'All You Need to Know About Tenant Screening' to learn more about guest screening methods.)
5. Don't Forget to Sign a Rental Agreement
As there are no tenant leases for Airbnb long-term rentals, require your prospective guests to sign rental agreements before confirming a booking. You can ask your guests to sign the agreement on their arrival or send them a digital copy of your contract in your regular communications through the Airbnb extranet and get it signed via some signing software. Think about all the things that are likely to go wrong and consider their possible outcomes. Specify the rules regarding overstays and evictions.
6. Make Sure You Have the Essential Amenities for Longer Stays
Put yourself in the shoes of people who are most likely to book your property for a long-term stay. Figure out who they might be, and what facilities they may need. Some of the most popular amenities among long-term rental seekers are a fully equipped kitchen, laundry equipment, parking spaces, cleaning supplies and high-speed Wi-Fi.
Your guests who rent for longer might look for work-friendly and pet-friendly spaces. They will be in search of comfort and fundamental amenities rather than elegant facilities and luxuries.
7. Write a Thorough House Manual for Your Property
Your long-term guests will surely need a detailed house manual that can provide them with instructions and recommendations for their day-to-day living at your property. Make sure that your house rules include the instructions for cleaning. As the guests staying for a longer time are usually in charge of doing the laundry, taking out the garbage and buying cleaning supplies, you must be specific about the cleanliness orders and their responsibilities during their stay.
Final Tips for Airbnb Long-Term Rental Enthusiasts
You must decide whether to rent out your property for highly profitable short-term stays or for longer terms at discounted rates depending on where your property is located, the local demand, and your rental's amenities.
In case you are new to Airbnb, start hosting with short-term bookings until you get the hang of dealing with Airbnb and guests, and then go for long-term rentals.
Although long-term renting is not as profitable as short-term ones, renting your property on Airbnb for a month or more is a reliable alternative for stable income in travel slack periods when the demand for short-term rentals has dropped.