If you're following our blog posts at least once in a while, you might know how important it is to have a direct booking website, as getting direct bookings without one seems like a mission impossible.
Imagine you have got a website up and running, put your properties with appealing pictures, including their unique selling points with complete, enticing descriptions. However, you're not getting the result you want, and the number of clicks is not as much as you expected.
We're going to talk about what may not be the only reason for this lack of conversions and clicks, but plays a major role when it comes to getting more traffic to your website.
Do you publish blog posts at all? If so, how often do you do that? Have you found the right keywords for your vacation rentals? Do you have a thorough content strategy?
Take your time to answer these questions. You might have had the intention to put all the above-mentioned efforts as part of your marketing strategy, but never knew the best way to do them.
Producing the right content at the right time is not difficult but needs time and research. Moreover, it is a vast domain that can't be covered in one blog post.
So, we've decided to talk only about choosing the best keywords for vacation rentals as it is the first and foremost box you have to tick to have a converting marketing strategy.
Keep reading this article to the end as we hope it'll help you in choosing your ultimate SEO keywords.
Types of Keywords You Can Write About
Before we introduce the many tools you can benefit from in your keyword research, it is better to know the different kinds of keywords you can use in your blog writing strategies.
In general, we have two types of keywords; long-tail keywords that are more specific mostly with less search volume but easier to win the competition, and short-tail keywords that are more general, have higher search volume yet at the same time more websites with probably high domain authority have already written about them.
Besides this category, there are two more categories mentioned in this article. You can use a mixture of these keywords when coming up with your blog posts' schedule and properties' descriptions.
General Keywords for Your Vacation Rentals
Remember, as a property manager, your audience are travellers, both travelling for business and leisure in mind. So, the examples below have been chosen based on this assumption.
The first group are the general keywords that any vacation rental owner or serviced apartment operator can use in their content creation schedule. The list starts with short-tail keywords and then introduces more longer-tail ones.
Some of these keywords are:
– Serviced apartments
– Travel
– Travellers
– Luxury serviced accommodation
– Serviced apartments near m
– How to travel safe
– How to travel with children
– Tips to travel safe
As you can see, any property manager or vacation rental owner who boasts a direct booking website can create and publish blog posts on these general topics based on their target market.
Specific Keywords for Your Vacation Rentals
There are other keywords you can use to attract more traffic to your vacation rentals' website, which are more related to your properties' location and its other unique features.
For instance, if you have a property in London, these are some of the options you may go with:
– Travel to London
– London travel guide
– London travel map zones
– Luxury short-term rentals in London
– London summer festivals 2021
– London Christmas market
– Cultural attractions in London
– London attractions for kids
There are many more keywords you can add to this list. For instance, if your house has a fantastic pool, you can choose "rent pool house for a day" or "house with pool to rent in London" as your keywords.
Moreover, there are many points you should take into consideration while using the latter type. For instance, you need to pay attention to all the aspects of the location of your short-term rentals, including attractions, local festivals, traditions, and so on and do encompassing research based on all of them.
Tools to Choose the Best Keywords for Vacation Rentals
Now that you know what types of keywords you want to use in your marketing plans, it is time to get to know some of the tools that'll facilitate the process of choosing the best keywords.
1- Ubersuggest
Sometimes, having a final list of keywords is very easy, but some other times it's not. Here's when tools like Ubersuggest come to your rescue.
Take the keyword "travel." It is too general, and the audience is too broad that your chance of getting seen is too low. Ubersuggest helps you to find more keywords based on the location of your target market. For instance, if you type "travel" in the search box and choose the United States as the location, you'll be provided with some keywords and further information, including their SEO and paid difficulty in addition to their search volume.
An ideal keyword is one with noticeable search volume but not high SEO difficulty because you can get ahead of the competition, rank for such a keyword, and be found by more potential guests as a lot of people look for it.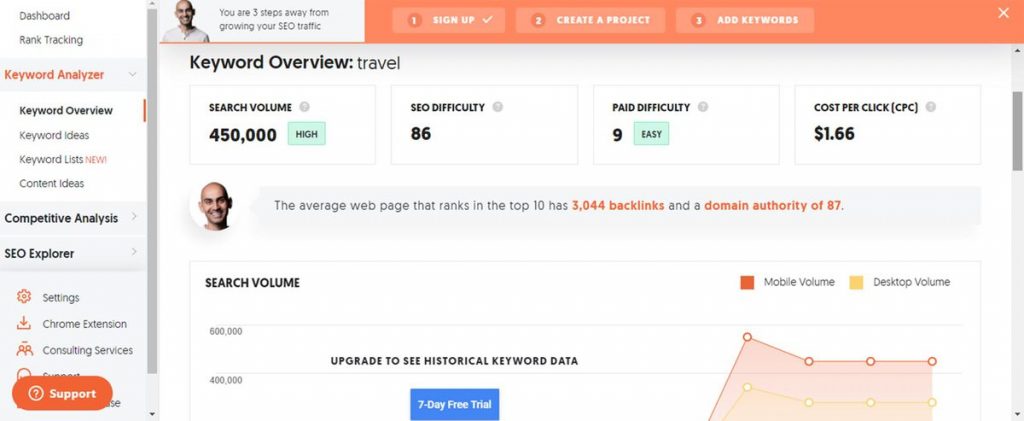 After checking the search volume, SEO and Paid difficulty, it is time to take a look at other suggested keywords, compare them with the one you chose in the first place and pick the ones that best fit your strategy.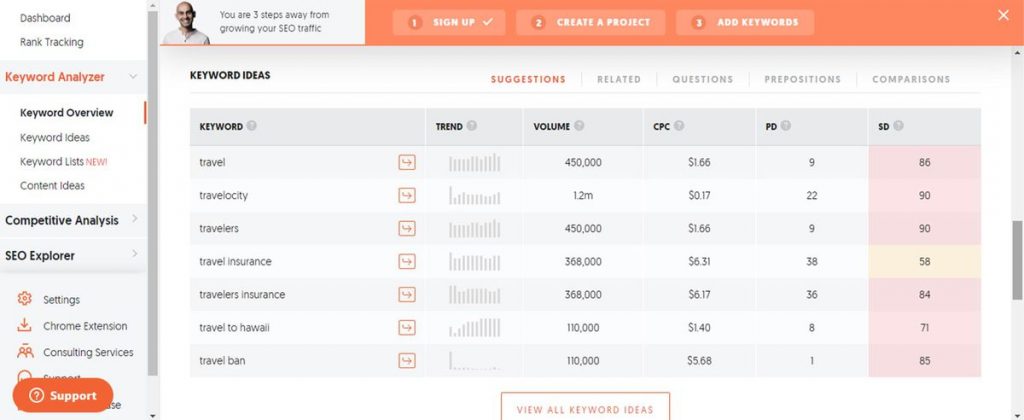 2- Google Is Your Best Friend in Finding Keywords
In general, not many people come to the bottom of a Search Engine Results Page on Google and take a brief look at the suggestions Google itself makes.
Google the term "serviced apartments London," and then come down to the bottom of the page.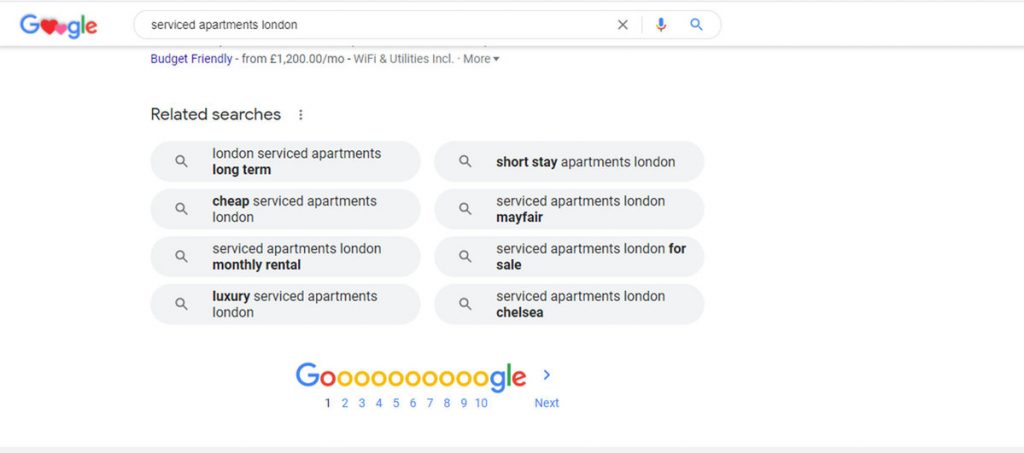 In this section, Google suggests the keywords related to the one you have in mind that other people have also searched. So, why don't you take these keywords, type them on Ubersuggest and see which one works better for you?
3- Google Keyword Planner
Even though Ubersuggest is only free for a particular amount of keywords on a daily basis, Google search is all free, and you can gain deeper insight into keywords using Google all the time.
However, Google has another tool that is very helpful, but not free. But if you're serious about your direct booking's website up and running, this money is worth paying.
Google Keyword Planner enables you to run campaigns and ads and gives you a better understanding of the useful keywords for vacation rentals based on your target market's location.
Choose Tools & Settings from the top menu, and then in the Planning section click on Keyword Planner.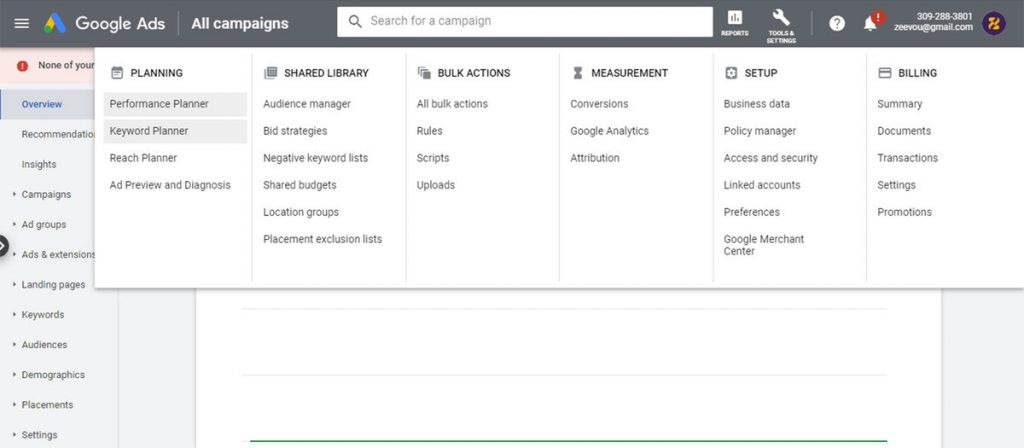 After clicking on the Discover New Keywords button, you will be directed to another page to enter your keyword and the location in which you want the search volume and competition to be analysed.
You can see the search volume, competition, and other data related to the keyword "travel London," besides more suggestions as shown in the picture below.

Other Tools to Use When Choosing the Best Keywords for Vacation Rentals
These were some of the most popular tools among business owners and blog writers who are willing to get higher traffic.
Of course, there are other websites that'll enable you to get better heading or ideas about the latest trends. For instance, Google Trends is a free platform that shows you whether the keyword you have in mind is a trend now, or it was before when the exact time was.
Also, you can compare different keywords regarding this aspect as well.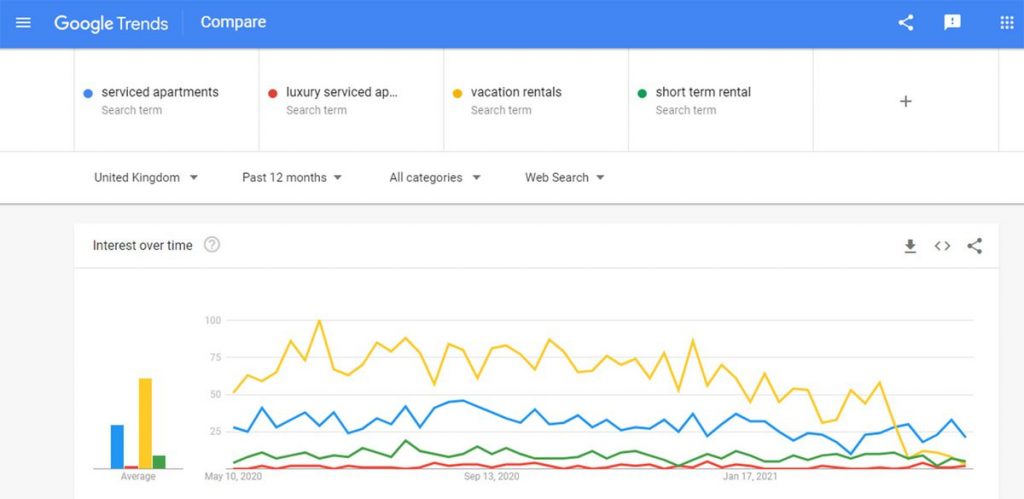 The picture above includes a clear chart of 4 different keywords: serviced apartments, luxury serviced apartments, vacation rentals, short term rental. The location is the UK. As you can see, the search trend for all of them has decreased.
However, serviced apartments still boast a higher search volume at the moment, while overall vacation rentals have been more of a trend during the last year.
Moz also offers a free extension that comes in very handy when you want to take a look at the competition after you've chosen your keyword. Here you can log in or sign up and turn on this extension whenever needed.
Once it's on, just Google your search term and check out the page and domain authority of the websites that have ranked for it.
Now take a look at yours. Do those websites have a much higher authority than yours? If yes, you have only two choices. Forget about the keyword, or compose complete, well-written, SEO-friendly, and informative content. Otherwise, to be frank, you won't stand a chance.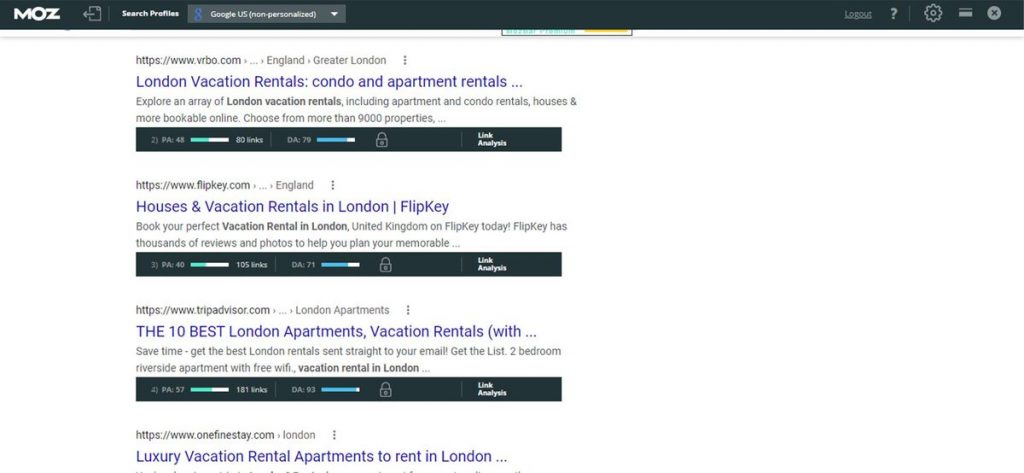 What you see in the picture above is a SERP (Search Engine Results Page) after Googling the term "vacation rentals in London." If you want to write a post with this keyword as its main one, these are the competitors you have to get ahead of in case you want to rank on the first page.
Do you have the authority to compete with them? If not, do you have the ability to write an all-encompassing blog post that has the potential to rank high on Google?
A Few Words of Wisdom
Based on the content strategy you use that determines how often you blog, you have a mixture of different keywords and use them in your regular content creation process.
However, you should be aware, whether you decide to blog once a month, or three times a week, it'd be better to stick to the plan as this enables you to analyse your website's performance regularly and recognise your mistakes and strengths.
Also, try to choose keywords that can be linked together so that you can make a good internal linking between your blog posts.
Finally, blogging or content creation is not that difficult as you think. If you're a perfectionist, you should ignore this side of yours and start at some point. Doing research and gaining more knowledge is necessary, but not effective at all if not accompanied by practice.
Other Blog Posts You Might Find Interesting
8 Ultimate SEO Tips for Vacation Rental Websites
How Zeevou's New Features Help with Property Management SEO
Hidden SEO Mistakes that Could be Losing You Money and What to Do About It