To many vacation rental managers, listing their property on Airbnb boils down to easy money. In contrast, the others prefer to take sides with direct bookings in the debate over OTAs vs direct bookings. These direct booking advocates see Airbnb and other OTAs as the market giants that steal their market shares away and harm their small short-term rental business.
Of course, today, Airbnb has an indisputable presence in the hospitality industry. More than 800 million Airbnb guest arrivals all-time (as of Sept 2020) is good proof that this online travel platform is highly in demand among vacationers who like to compare accommodation options, prices and the services offered by different hosts. Therefore, listing on Airbnb can bring about a range of benefits.
On the other hand, hosting on websites like Airbnb doesn't come without its complications and drawbacks. As a result, vacation rental managers mustn't overlook weighing up the pros and cons of listing on Airbnb before joining this huge short-term rental community.
Why Should I List on Airbnb?
The Pros of Listing on Airbnb
Enhanced Exposure
The prime perk of listing on Airbnb is providing your property with the amount of global visibility it requires and, consequently, boosting your occupancy rate.
Airbnb displays your short-term rental's unique features and amenities in multiple languages to potential guests in more than 220 countries and regions around the world. It can highly expand your property's reach to remote corners of the earth.
Besides, as Airbnb has spent big budgets on marketing and significantly established itself in the hospitality market, you can attain the exposure you need, reach your target guests and save up your marketing dollars simply by listing your property on Airbnb.
Steady Income
Hosts are able to set their own prices and choose their availability on Airbnb. It is up to the listing owners to become a full-time host or do it like a part-time job and generate some additional revenue. Either way, they can earn a sturdy income by receiving the number of bookings they require.
Better Guest Experience
Airbnb's user-friendly website can be reached through all smart devices enabling travellers to book anytime, anywhere. The vacationers can also benefit from the Android and iOS Airbnb mobile application, and explore options to stay for their next getaway, share spots with friends, write reviews and book accommodations on the go.
The website is fast and frequently updated by many professionals, so it provides a seamless booking process much easier in contrast to making reservations on hotels and vacation rentals direct booking websites.
Handy Tools
Airbnb website offers an appealing interface and a wide range of tools and integrations that make it easy for travellers to find the accommodation they are looking for among 5.6 million active listings worldwide. It also helps hosts to rent their properties out like a breeze. The guests can book a bedroom or an entire home and seamlessly pay for their reservation using secure online payment gateways.
Airbnb's free Smart Pricing Tool provides the hosts with dynamic pricing, which changes based on the market demand, type and location of the property, season, day of the week, and other factors. It also integrates with a variety of dynamic pricing solutions like Beyond Pricing, PriceLabs and Wheelhouse.
Protection for Hosts
Airbnb's Host Guarantee Program protects the properties from damage by providing up to USD 1,000,000 in property damage protection if a guest damages a host's home or belongings during an Airbnb stay.
Airbnb also pre authorises and releases or captures security deposits to protect its listings from damages and breakages.
After a guest's stay, the hosts can rate their guests or write them reviews. This feedback system will not only stop the guests from damaging a rental or its belongings but also help the hosts screen their guests before accepting their bookings.
Customisable Search
The users can find any sort of information they need about the rentals they seek and compare many lodgings using Airbnb's robust search tool. They can search the Airbnb listings by filtering date, location, price, type, and amenities. They can also use their own keywords to narrow down their search results.
Trusted by Travellers
Airbnb's long-term reputation has addressed many of the security concerns of travellers. Sometimes, it even acts as a billboard for small hotels and vacation rentals. People are more likely to search and book a property through its direct booking website when they find it on Airbnb.
The hosts' ratings and reviews also give new vacationers the assurance to book a rental.
Multiple Cancellation & Refund Policies
Airbnb offers six different cancellation policies: Flexible, Moderate, Strict, Long term, Super strict 30 days and Super Strict 60 days. Each of these policies has its own rules, fees, penalties, and guest/host protection degree. The hosts can pick the policy that best suits their circumstances and risk thresholds.
The Downsides of Listing on Airbnb
Losing Direct Bookings
Basically, each booking coming through Airbnb can fill your occupancy calendar, but can't compensate for your lost direct bookings, maximise your profit margin or make up for the personalised marketing efforts you could have run.
No Guest CRM
Under what Airbnb claims as security measures, guests and hosts communicate through some alias email addresses like @guest.airbnb.com on this platform. These emails will be invalidated a short time after a guest's check-out. This way, Airbnb shares as little guest data as possible with hosts, works as an intermediary between the hosts and their guests and stops them from developing long-term relationships with their past guests.
By masking guests' real personal details, the hosts become too dependent on Airbnb and lose their own control over their branding and marketing strategy. They will not be able to run loyalty programs to obtain their past guests by offering promotional packages and deals or increase their brand visibility. Airbnb marketing efforts are all spent on promoting their own brand.
Read our blog post What Is Behind OTAs' Anonymous Email Addresses?
Commission Fees
It's free to list your home on Airbnb, but the hosts must pay 14% to 16% of each booking as Airbnb service fees. However, they can benefit from deals with no third parties between them and their guests and retain a more considerable profit margin through receiving direct bookings.
Managing Expectations
Listing on Airbnb with high-quality photos and a well-written description of your properties potentials is a must to maximise the number of bookings you receive. However, if the guests find your rental not as appealing as the listing pictured it, you will receive overwhelmingly bad reviews, which can ruin your long time's efforts.
You need to make a lot of sweat to over-deliver to your guests not to receive poor reviews and ruin your reputation. It is a burden on your shoulders and puts you under too much pressure and stress.
Not Legal Everywhere
Airbnb is not legal in all countries and cities of the world. In some regions, you need to obtain special permits or licenses from the government or register your property in particular systems.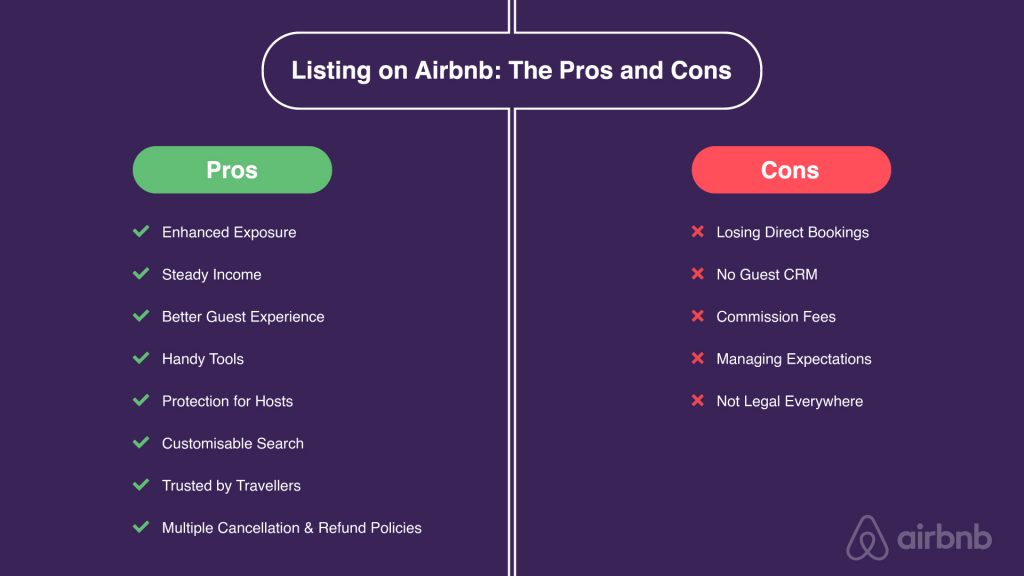 All in all, there are more advantages to listing on Airbnb than not doing so. As a result, vacation rental owners must list their properties on Airbnb to be on the safe side, but they still need to take some vital measures to counteract its drawbacks.
Hedge your bets by perusing a multi-channel marketing strategy and finding the right balance between direct and OTA bookings. Listing on Airbnb might generate as many bookings as you need but can't replace your direct booking website. You must have your own direct booking website with a robust booking engine as your property's one-stop-shop. Spend time and effort to make your website stand out and make it as SEO-friendly as possible. Then, establish your whole marketing efforts on your website to drive more traffic, generate more direct bookings and maximise your profits.
Don't forget to use a robust PMS or channel manager to manage your occupancy calendar across multiple OTAs, your own website and front desk to avoid double-bookings and restricted availability.
Besides, bear in mind that Airbnb and other OTAs are not the only way to expose your short-term rental to its target market. Many other novel solutions can provide you with the same visibility and service level but cost lowers commission rates and market share. Google Hotel Ads is one of these solutions, which is offered by the world's most popular search engine. To learn more, read our article Which 7 Sites Bring the Most Bookings?