While searching for the right PMS and/or channel manager for your vacation rentals or serviced apartments, chances are your options will be narrowed down to Zeevou and Tokeet, two famous property management systems and channel managers. Tokeet is an established brand in the industry and benefits from a large clientele. Zeevou is a younger solution, known for its long list of automation tools and diverse features, as well as the promotion and implementation of direct booking through the toolbox it has innovated.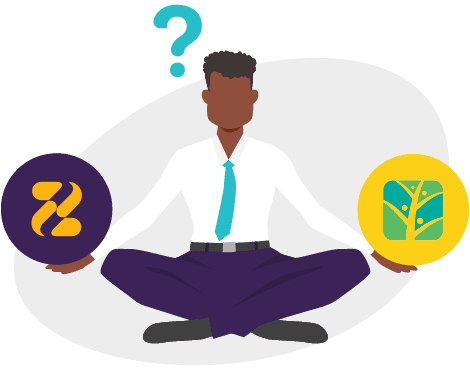 Comparing two multi-faceted systems is difficult and time-consuming. After going through the reviews of both Zeevou and Tokeet, we tried to capture as much information as possible to present an analysis of the most important aspects in each. To collect reviews and first-hand stories, Zeevou asked some of its current customers (Partner Hosts) who used Tokeet as a PMS in the past. We have also checked Capterra reviews. We aimed to find some hidden inadequacies that may never come to surface in marketing hustle and bustle to help you make the right choice based on your needs.
Lack of Dedicated Support
Comparing PMS and channel manager solutions, you may hardly recognise some major and subtle aspects which are normally quite impactful to the efficient performance of your vacation rental, serviced apartment, aparthotel, or hotel business.
Property Management Systems are multi-faceted platforms which help you manage the operation of several aspects of your hospitality business. The diversity and variety make them look complicated and the right choice challenging. If you are moving from a PMS to a new one, the process of transition might become exhausting. Training is also a necessity, and a process which requires constant communication until you can run the software smoothly and confidently.
An unresponsive support team is among the hidden facts that show up right after you subscribe to a PMS and/or a channel manager. Late and unhelpful responses to technical issues would cause a huge loss because a corporate traveller or a family booking an accommodation for their vacation cannot wait for the host to settle an issue with their PMS support team.
In this article, you will find a brief description of Zeevou, as well as of Tokeet. Then, you will be provided with some reviews from credible sites such as Capterra and Softwareadvice , followed by a detailed study of Zeevou vs Tokeet.
Tokeet: Property Management System
Tokeet defines its mission as an effort to develop software solutions that make short-term rental management easy and fun. Tokeet is a web application that helps in the management of vacation rental properties.
The founder of Tokeet started establishing online solutions after realising that there is no simple solution to help him manage his vacation rentals.
Tokeet has created in-application contextual help to present all the key features of its system. There are also video tutorials available to learn more about the features, both for sake of marketing and as a training database. And if these come to no avail, and you have not received your answer, you can contact the Tokeet support team within the application. Tokeet sees its support system as its strongest point and sales pitch. According to Tokeet, "Customer Support Is Our Killer Feature."
Tokeet's low price is amongst its top advantages. Tokeet initially provides you with some basic functionalities found in most PMSes. However, to get your hands on more advanced features, you should pay for its supplementary schemes like Automata.
What Does Zeevou Do as a PMS?
Zeevou automates all aspects of hospitality management in one unified hub. Zeevou was also born because of Na'ím Anís Paymán's seeing the inadequacies of property management systems and channel managers available in the market. As a serviced apartment operator with properties across the UK and Europe, he had to wrestle with day-to-day operations of his business while no PMS, channel manager, and booking engine was able to meet his needs and expectations.
Zeevou promises a platform to help bring about The Direct Booking Revolution! Zeevou Direct , a commission-free direct booking platform, is the real life reflection of the slogan. It is directly integrated with Zeevou and is updated in real-time every time a slightest change is made in the backend. Zeevou Direct is intended to help vacation rental owners and serviced apartment operators to get rid of the huge amounts they have to pay to OTAs and property listing sites in the form of commissions.
Zeevou has a dedicated support team (Partner Success Team) and offers onboarding and training sessions , which are all free and for lifetime. Zeevou has different ways of support, including "Raise a Hand" in Zeevou Hub, Whatsapp, Chat, Help Centre, etc.
Some of the unique features of Zeevou are listed below:


Zeevou's channel manager offers 2-way API integrations with over two hundred (200+) external channels, ranging from OTAs to property listing sites. Using Zeevou, the rates and
availability you set will be pushed to different platforms with the two-way connection feature. Zeevou's channel manager is also integrated with Signable for online payments.
You can also list your properties on Zeevou Direct and get direct bookings without paying any commissions!
Read More »
Tokeet has two types of connection for channels: API ( Airbnb, Booking.com and Expedia) and iCal.
N.B changes in availability are instantly sent into your
connected channels. However, rates always need to be pushed by using the push rate option.
Also, note that Tokeet will not import manual blocks from your API channels. In order to account for them, you will need to create Hold Events on your Tokeet's calendar.
Read More »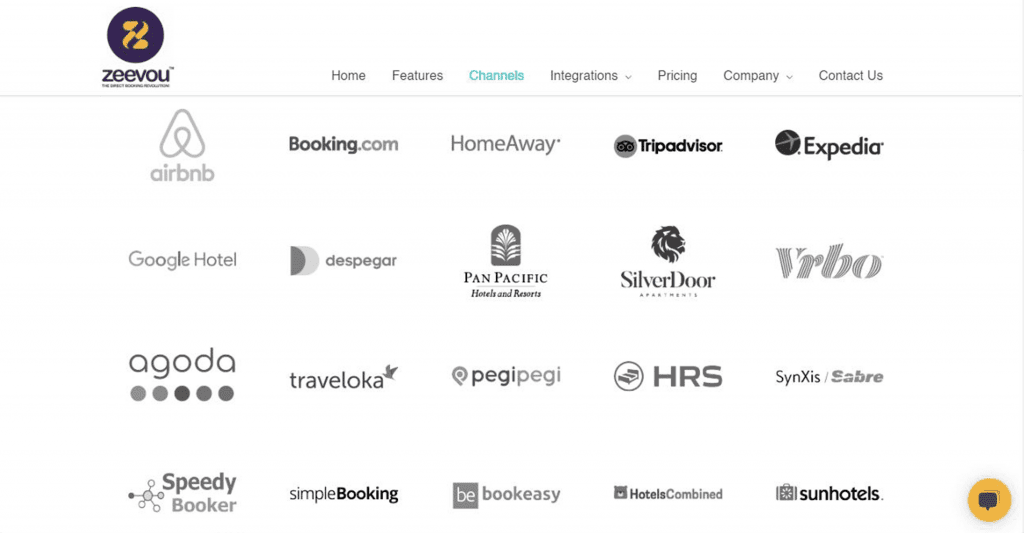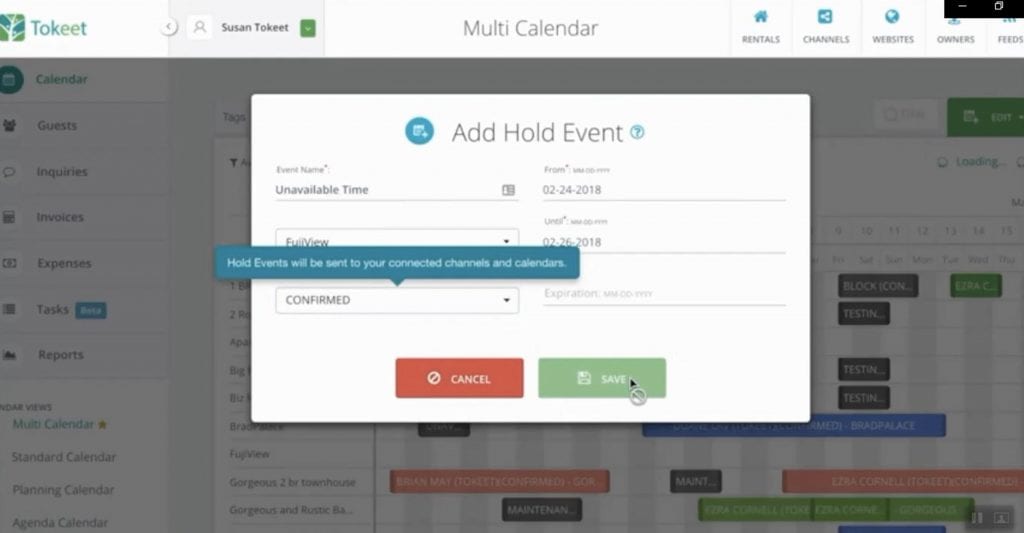 Two ways of creating rentals in Zeevou:
1. API connections which allow you to import listings from Airbnb and others
2. Manually typing data
Property Management System:
Zeevou is one of the few systems out there which allows you to manage a chain of hospitality locations or from one location across multiple cities and multiple countries, and there you can have different currencies with your properties. In Zeevou Hut, you can specify:
1. Countries
2. Cities
3. Areas
4. Properties
5. Unit Types
6. Units
The property itself can have Building and Floors sub-categories, including Units by Unit Types. Properties are physical locations. It could be a holiday home, and in that case it has one Unit Type and one Unit. But it can also be a hotel with several floors, units, and unit types.
At the Property level, you can assign office staff, check-in staff, and housekeepers (a person, a team, or a company) who have limited access to the system. You can import via iCal, if you import an iCal calendar, and it will block the units in the property calendar.
Once you go to edit the property, you can see all the information.
1. Check-in instructions
2. Details on parking spots
3. Keysafe code
Storage code
4. Pedestrian entrance code
5. A brief description and a full description
6. Images
7. Zeevou Direct and Here to Help Options
8. Maintenance person in charge,
9. Wi-Fi information
10. Key Safe Profile
11. How frequently you do housekeeping
12. Google Listing and TripAdvisor URLs
13. Security deposit related information
14. Check-in and Check-out time, Check-in Types
15. Integration with YourWelcome,
16. Option of multi-brand management
17. Amenities
Read More »
Each rental in Tokeet corresponds with a listing in channels. You can have different channels connected to the same rental in Tokeet to ensure that your calendar gets synchronised everywhere.
There are two different ways of creating rentals in Tokeet: 1. Connect with Airbnb and import listings, or 2. Manually type property data.
1. Creating data by connecting to Airbnb:
By selecting Airbnb API in the list of channels, you can import rentals to Tokeet. It will import events from your Airbnb account to your Tokeet calendar.
2. Manually typing data:
Navigate to rentals, rental setting, and click add. Enter a name for your rental. The system will generate a unique email for that address based on the rental name. You can enter the address, the city, and the country, and a phone number for your rental. By clicking on the listing, you can further customise it . Detailed information include bedrooms, the number of people it can accommodate and amenities, all of which are displayed on your Tokeet website or guest portal. Image gallery, which also appears on your Tokeet website, rental instructions including check-in and check-out time, time zone, check-in and check-out instructions and others appear on your Tokeet guest portal and can be automatically inserted into a Tokeet message template.
Read More »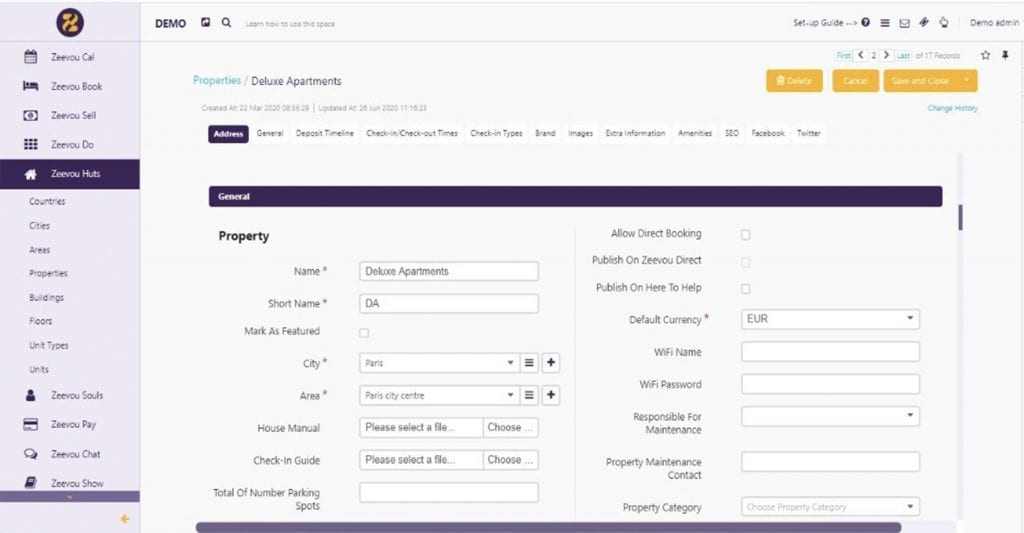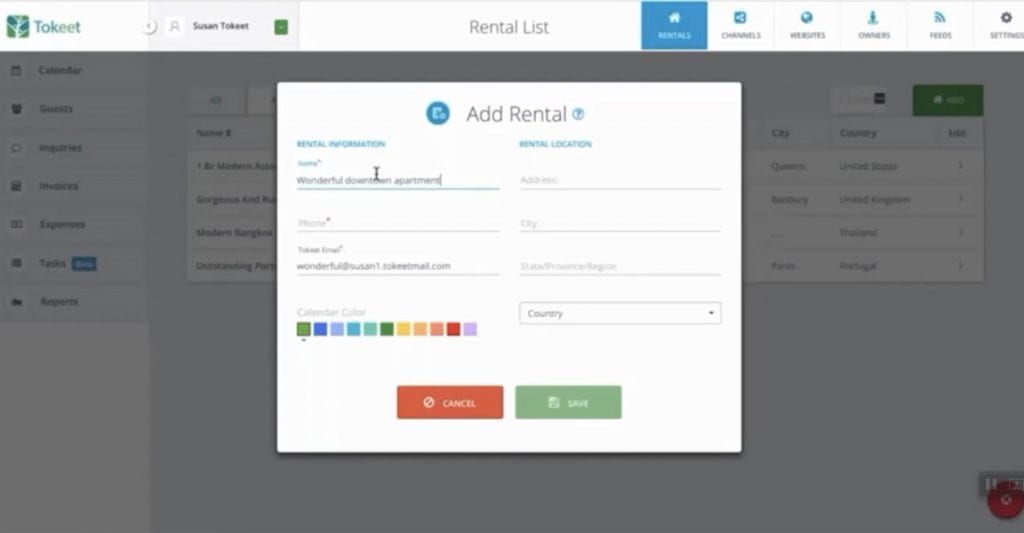 Zeevou has developed
two different calendars
.
1. Zeevou Occupancy Calendar


Zeevou Cal is the module in which you can find the

Zeevou Occupancy Calendar

. It shows:


•

All the

reservations

of different units.


•

The

dirty and clean status

of the units in the same calendar


• Unallocated bookings

in black color. (The advantage of unallocated bookings, which is exclusive to Zeevou, is that

it resolves overbooking issues

.)


2. Rates & Availability Calendar


The other calendar is

Rates & Availability Calendar of Zeevou Sell module

. This calendar


•

Shows the

minimum night stay

and the

rates

. You can either set the rates yourself or apply dynamic pricing tools, and the rates will be adjusted in this calendar.


•

Enables you to

set rates for a group of similar units

. So, in setting the rates, Zeevou makes the work much easier.


•

By

clicking on each booking in the calendar

, information about the booking details appears.




From now on bookings can be

dragged and dropped between units and unit types.
Read More »
There are different calendar views in Tokeet, beginning with
Multi-Calendar
.
The multi calendar allows you to see all of your rentals on the same screen that add events simply
by clicking on the calendar. (Booking or Events) A Hold Event is a blocked calendar event in Tokeet. (A hod event status as confirmed means it will automatically be sent to all the channels.)
Filters at the top of the calendar allow you to narrow down the data by month, rentals, and channels.
In the
Multi Calendar
, you can adjust how many rentals are shown at once by clicking on the number under calendar.
The
Standard Calendar
lets you see a monthly view. (The standard calendar is about the bookings, which means that it does not show if a room needs cleaning or maintenance, etc.)
Planning Calendar
shows you the entire year at a glance, and lets you see where your bookings are concentrated.
Agenda Calendar
lets you see what's happening this week. This calendar is especially used for your cleaning staff to be able to see the check-ins and check-outs.
In the Agenda Calendar, you cannot add anything or edit anything as you can in the Standard Calendar.
Read More »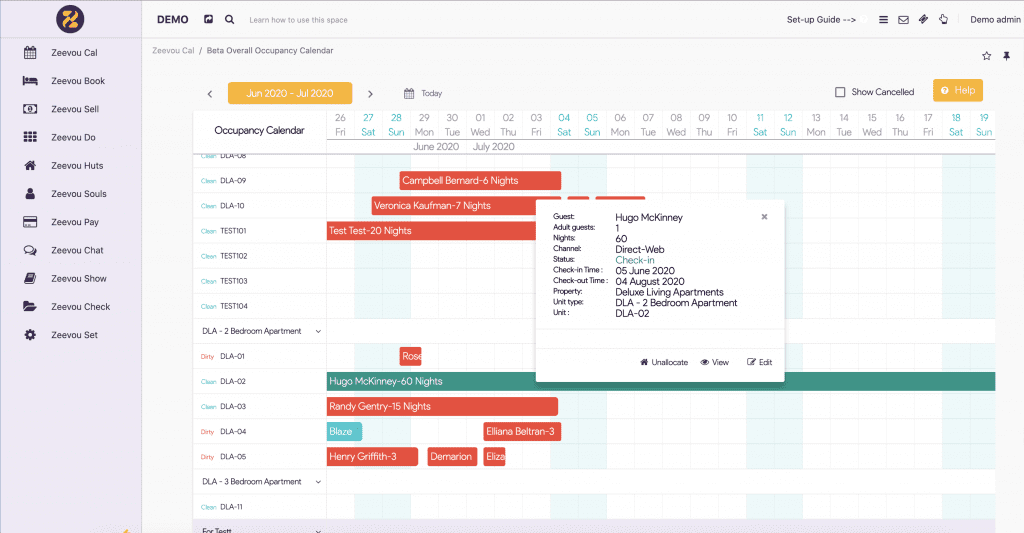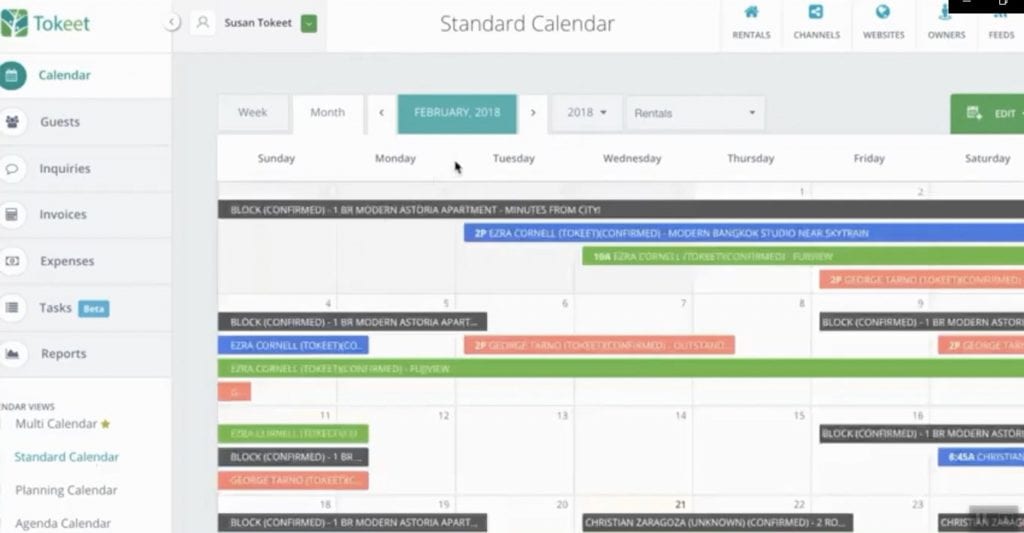 Zeevou operates the booking process by its one-of-a-kind 5-Step Booking Confirmation Process smoothly. All bookings made via Zeevou go through a 5-step confirmation journey.
An email is automatically sent out by the system at the point of booking, initiating the process. To learn more, read
Zeevou Book
. Zeevou has been recently updated to be more user-friendly.
The status of booking is shown perfectly, and the host can see the stage the booking is at the moment they look at the page.
Read More »
Automata in Tokeet has been developed to provide a certain amount of automation. It automates activities from Check-in to Check-out. You get a workflow of tasks organised by Automata to provide a list of all the services needed for a reservation received. Check Automata
here
.
Read More »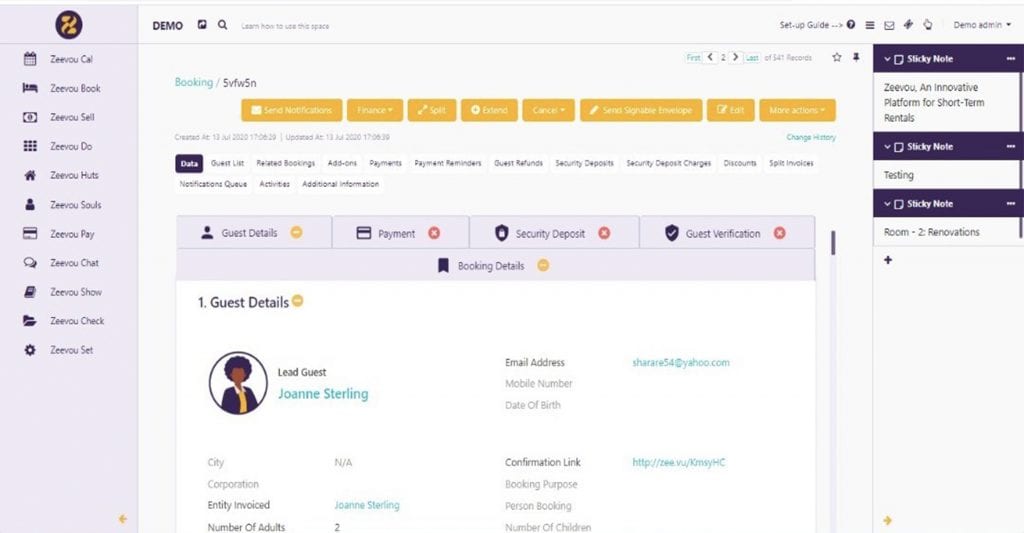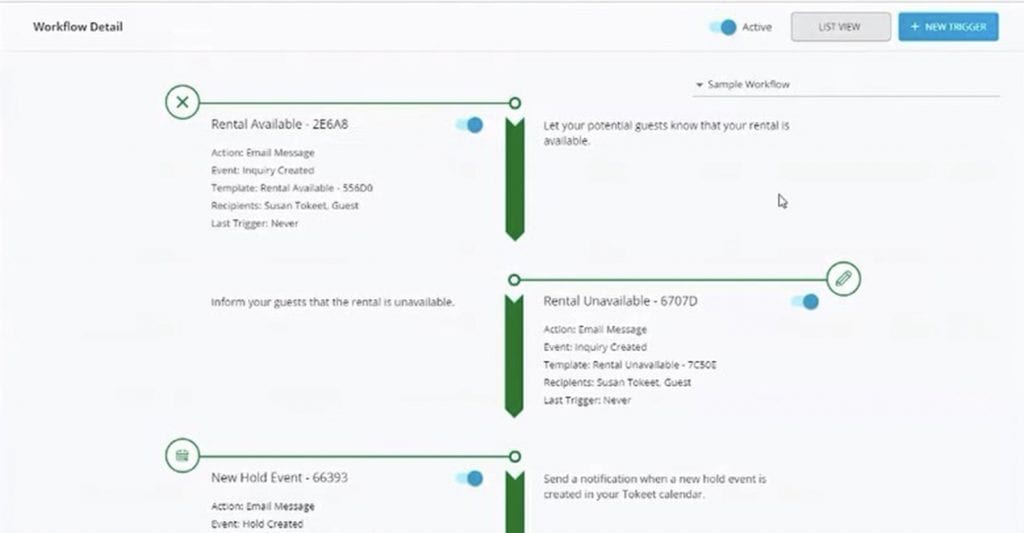 Zeevou enables you to set different aspects related to the price of your listings.
1. Dynamic pricing Tools: Should you wish to automate market monitoring and rate setting
through a smart pricing tool similar to what Airbnb or VRBO offer, you can sign up with one of our dynamic pricing integration partners such as Beyond Pricing or PriceLabs. This allows you to automate thesetting of your rates, and have those pushed through to Zeevou. Zeevou then distributes these rates to your own website for direct bookings, as well as to any channels that you have integrated Zeevou to using our 2-way API integrations.
2. Rate Plans: The system has the option to set multiple rate plans. By doing that you can select a property and unit type and select weather or not it will be applied to the channels and booking engine. The rate plan allows you to associate add-on to a normal rate. However you cannot send add-ons to channel managers.
3. Promotions: Zeevou also allows you to sell add-ons for extra products and services, as well as to create promotions with or without voucher codes for use for direct bookings.
4. Minimum and maximum night stay: Pricing can be specified by day of the week for a given period, and minimum and maximum stays can also be set to reduce rate for orphan days.
5. Setting Bulk Rates: In Zeevou, rates can be set in bulk for multiple unit types in one go if you adopt the same pricing strategy across properties. Moreover, Zeevou's bulk rate setting functionality allows you to hide the prices for all the properties in a given city for peak dates, to buy you time to think more carefully about the rates that you wish to sell each unit type for on those peak dates.
6. Rates & Availability Calendar: All rates that are set can be viewed as a list, or in the multi-unit Rates & Availability Calendar.
Read More »
There are 4 different rate types in Tokeet:
1. Base Rate, which is required for each rental, when there is no promotion available.
2. Standard Rate, which is a long term ongoing rate that describes the price of your rental over a period of time.
3. Dynamic Rate, which adjusts from low to high based on your occupancy percentage.
4. Promotional Rate, which override your standard rates for a specific period of time.
You can set the rental currency and also the amount of tax or VAT you need to add to each invoice of this listing with some action buttons. In addition to adding rates, you can copy rates from an existing rental. Weekly & monthly rates are specific to Tokeet. Day Specific Pricing allows you to set specific rates for specific days of the week.
You can duplicate a standard rate and edit it.
Read More »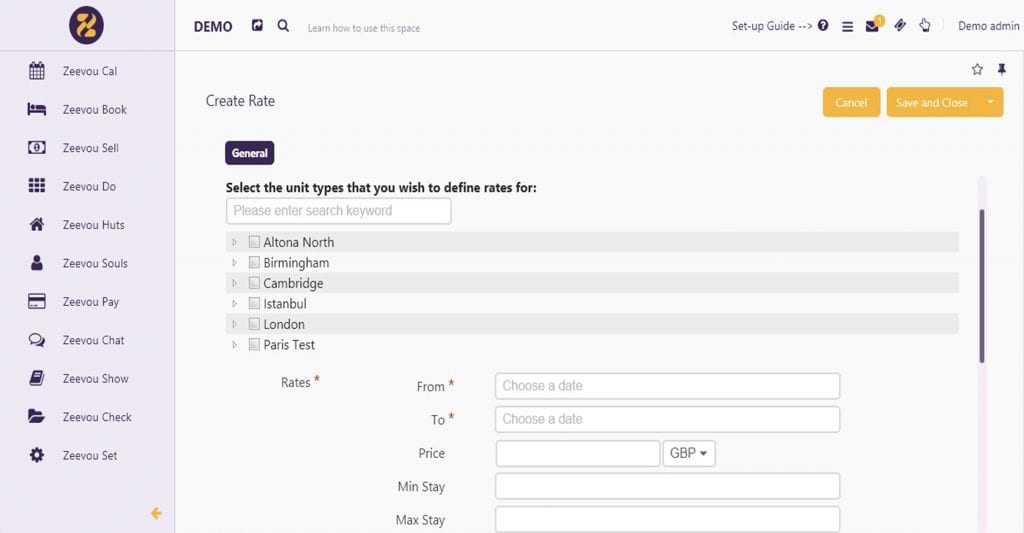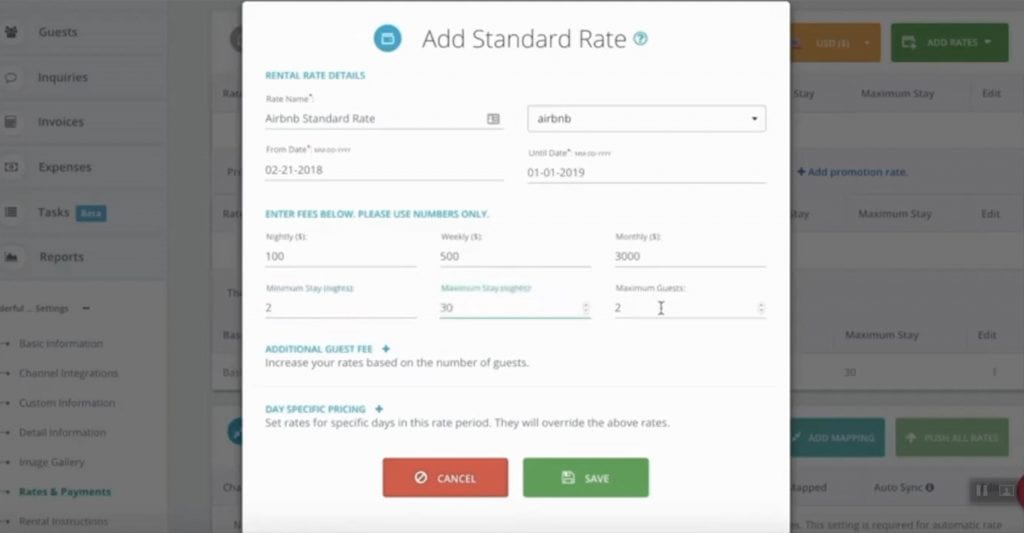 Trigger Rules for Automated Emails
: In Zeevou, you can set trigger rules to send automated emails using templates that are made ready for you. You can also modify the templates
or create your own email templates.
Automated Arrival Instruction: Closer to arrival, you can automate the sending of check-in instructions according to a custom timeline, including the ability to attach a check-in guide for each property.
Automated SMSs: Zeevou also integrates with Clicksend that lets you send automated SMSs based on set trigger rules.
Read More »
Message templates
in Tokeet enable you to create multiple message templates for communications you routinely have with your guests and prospective guests.
When creating a template you can insert special placeholders from the Tokeet data dictionary which will be replaced with Guest, Inquiry, Rental, or Contract data.
If you want to do it a bit Advanced you need to pay for
"Automata"
. With Automata you can also use automated SMS while with Tokeet you cannot send SMS. you can create Trigger through the Workflow tab either by editing a sample trigger or by making a trigger from scratch.
Read More »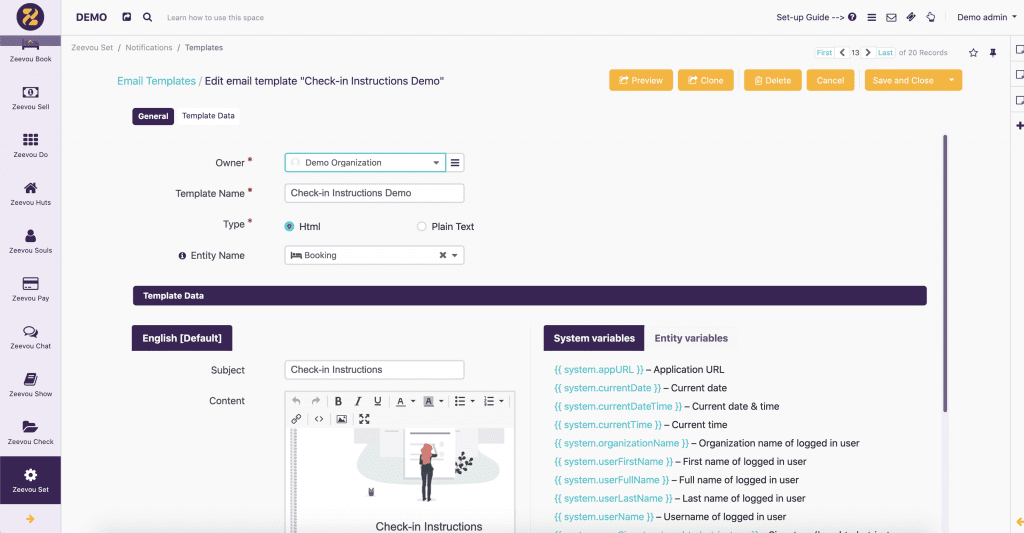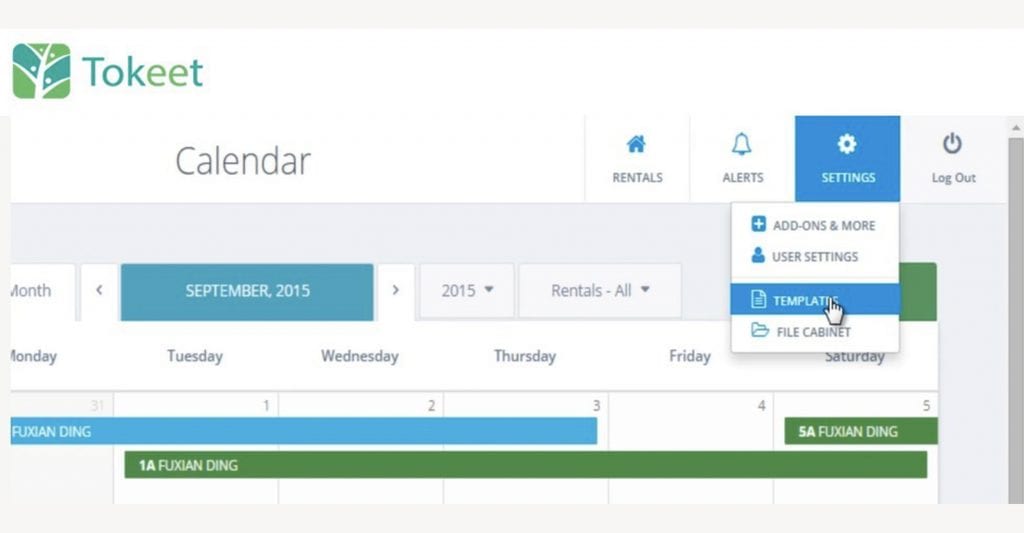 Zeevou provides different customised reports like Booking Incomes Report, Sales Reports in different intervals, Monthly Profit Report, Occupancy Percentage, Bills Reports, Refunds Reports.
Read More »
Record of Guests' Email addresses
To boost direct bookings, Zeevou builds up a database of real email addresses for all of your guests. Real email addresses are automatically collected when the guest confirms
their booking on Zeevou after it has come through an OTA or a property listing site. Zeevou has even provided GDPR-ready features that will cut down the hassle of dealing with guest data from the EU. The database can be used as an email marketing list. Additionally, guests are reminded throughout their interactions in email footers and on invoices that they can get a better deal by booking directly. The invaluable database of GDPR-compliant contacts can also be used to send promotions and discounts for returning guests by a specific voucher code to encourage direct bookings.
Read More »
Setup, Training, and Support
Zeevou does not charge any money for setup (onboarding), data migration, training and support. Zeevou is committed to offering online support forever and for free. Zeevou also imports your
existing future bookings from Airbnb and Booking.com among many other channels at the point of connecting.
Zeevou live chat is available 24/7 for general questions. To report an issue, you can use the built-in "Raise a Hand" feature once you have logged in to your account. Help Centre and FAQs are also other additional supports Zeevou provides.
Read More »
Set Up: Tokeet will assign you a technical consultant who'll set up your Tokeet account. Depending on the number of your rentals and the complexity of setup, Tokeet can also waive all implementation fees.
Support: You can contact the Tokeet support team any time at support@tokeet.com, or use the chat widget in the Tokeet platform. Tokeet training is held daily.
Read More »
Among the services Zeevou offers are:
• Record of Holiday and Sick Leaves
• Creating Groups of Staff Members
• Detailed Housekeeping Schedule
• Mid-stay Housekeeping Task Generation
• Housekeeping Pro Mobile App
Housekeepers are asked to upload photos of each room/unit they clean. And as the number of toilets, bathrooms and rooms are specified previously in Zeevou Huts, the system knows how many photos to request from the housekeeper.The cleaners can also report maintenance issues.
The owners are given a separate Investor Login information so they can check the quality of the works done here.
Read More »
Zeevou is integrated with PriceLabs and Beyond Pricing.These tools generate variable price ranges for different days of the year, and you can push rates to different channels from
Zeevou. You need to pay for the dynamic pricing tools' subscriptions separately.
Read More »
Rategenie is a dynamic pricing application in which, according to Tokeet website, its algorithm takes the guesswork out of getting the most revenue for your rentals. You can use
a free 15-day trial of Rategenie to check its functionality. The integration price for one rental is $ 9.99 per rental / per month, and you will pay less if you have more rentals.
Read More »
Mobile App (For Guests and Staff)
Mobile app for housekeepers is live. However, staff and investors can log in on a mobile responsive web app for the time being.
Read More »
With Tokeet Mobile App, your housekeeping staff can check in at any rental assignment and see notes and instructions about what needs to get done. You can check your messages and respond to guests, manage your rates, and review your calendar.
Read More »
Zeevou has a new pricing strategy. Under the new strategy, you will pay less per unit or rooms as the number of your units/rentals increases. Zeevou's pricing packages differ
based on unit types. In addition, you can save a remarkable amount of money by signing a subscription contract for a year. You can get Monthly packages before deciding to subscribe to Zeevou's annual packages.
Read More »
Tokeet pricing depends on the number of rentals. For 1 rental you need to pay USD9.99 per rental / per month. The more rentals you have, the less you will pay to Tokeet.
You can contact Tokeet to ask for their pricing strategy for special services like Automata.
*Automata: if you are paying 20.99 for Tokeet, you need to pay another 20.99 for Automata.
Read More »
In Zeevou, we offer a full website with custom pages and a built-in blog section.The customisable website generated for you is heavily SEO-friendly. You have all the SEO meta fields
as well as Open Tag Graphs for Facebook and Twitter. This website is supplemented by Google Analytics and Google Tag Manager to help you better track your direct booking website's performance and conversion.
Zeevou is also integrated with Wordpress and iFrame should you be already using such websites. (The Wordpress plugin is available on the Plugin marketplace.)
In Zeevou Show, you have different options to set up your vacation rental website. You will have full control over your website by accessing the fields and buttons such as Pages, Blog, Frontend Menu, Reviews, Contact Us, Contact Config, URL Redirects.
To get more direct bookings, you can also list all your properties for free on Zeevou Direct when you sign up to Zeevou even if you choose to go with the free plan.
Read More »
Tokeet website builder makes a mobile responsive website.
To create a new website navigate to Website, and select Rental Website, on the subsequent
website builder page you can define if you want to receive online bookings in your website, you can customise font and colors of your website, tagline, and description of your website. With the preview option you can see the changes in real time. You can add additional pages to your website, simply by creating a new page. You can link additional pages of your website to other destinations, like connecting the staff login page to your application.
Tokeet allows you to add:
• google analytics
• Mix panel
• Facebook tracking code
• your social media network to be displayed in your website
• custom CSS, HTML, and JavaScript code on your site
Read More »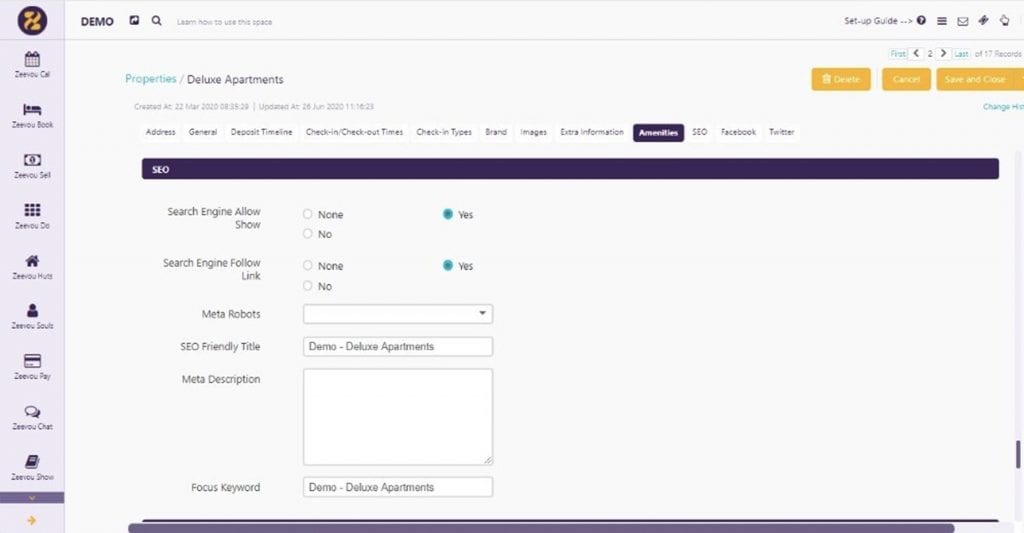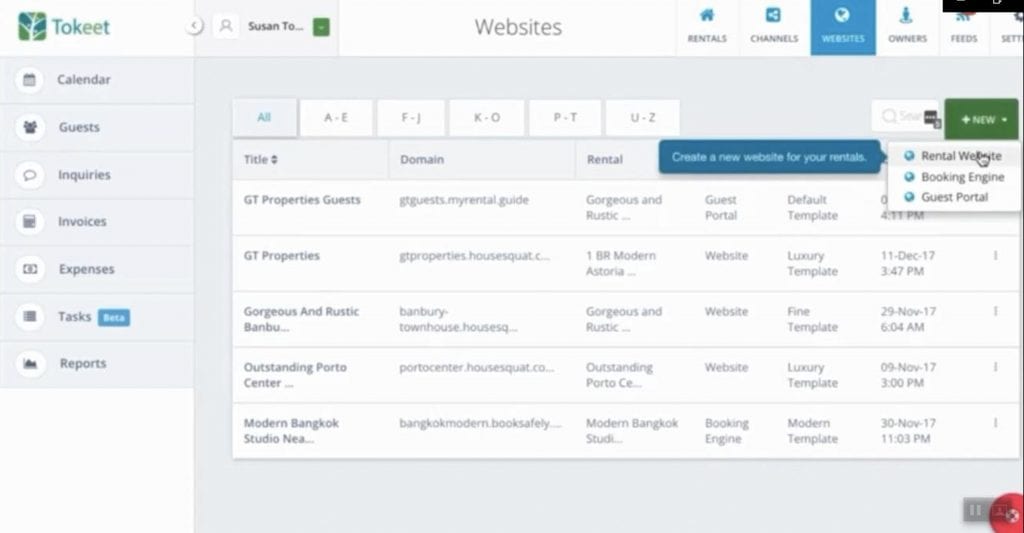 You can import all your emails with Zeevou Chat, whether they come from an OTA and relate to a booking, or they are general enquiries about your services from an owner.
You can also check the conversation thread with a guest as each booking contains a log of communications.
Your entire team can access all the messages and emails from one central location in a unified inbox as for every member of staff inboxes are created.
Read More »
You are going to receive inquiries, bookings and cancellations which are shown up in Tokeet Inquiry Inbox. You can filter the inquiries by rentals, by source (which includes all the
different channels), status, and arrival month. You can also import your previous inquiries to Tokeet which is useful for migrating to Tokeet.
You can also bill your guests by creating an invoice. You can also add fees like cleaning fees to your invoice. And you can send the invoice to your guest by an email.
Read More »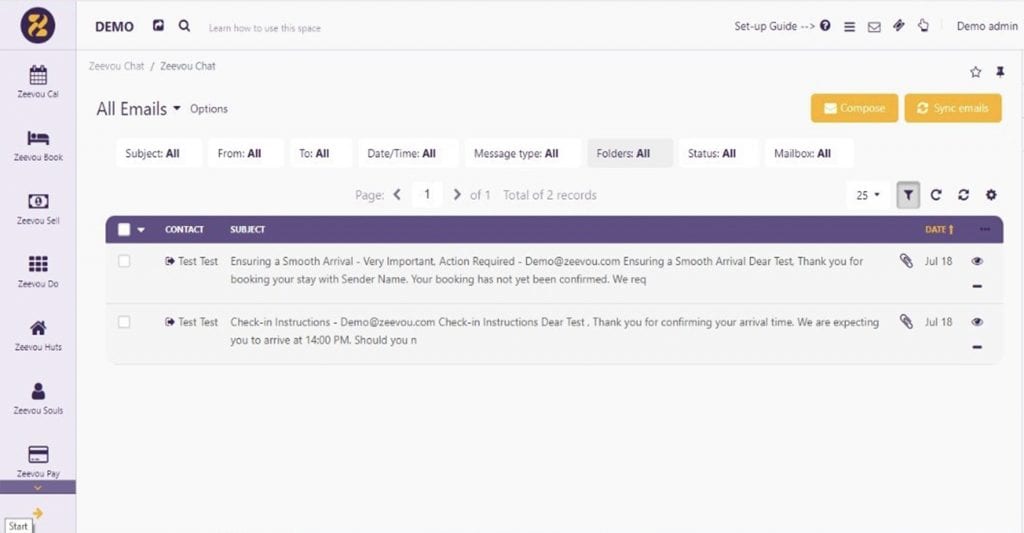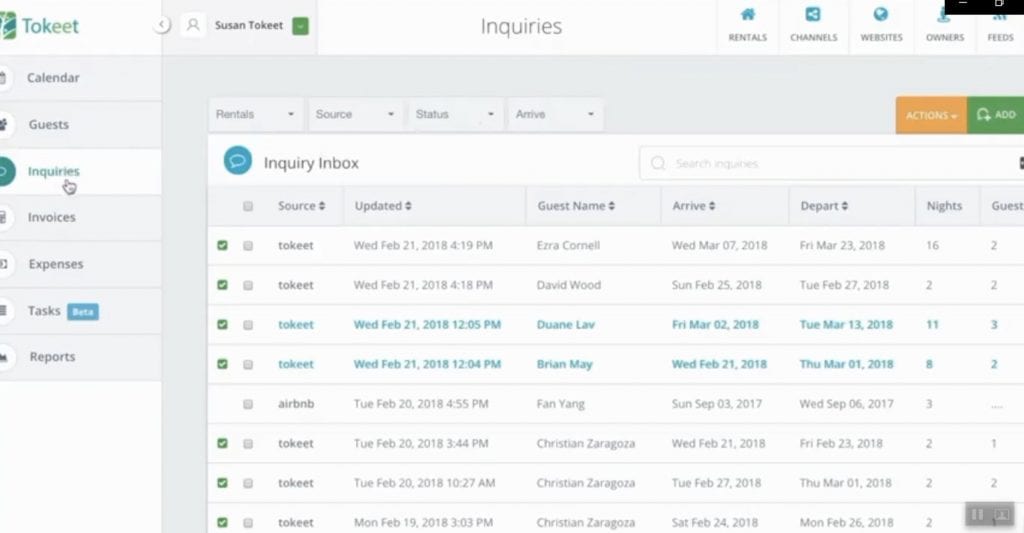 In Zeevou, the options are unlimited with the fully customisable trigger rules and variable-based templates.
Read More »
Triggers can be used to notify you and your guests via email or SMS when a new booking is received. Before creating a trigger you need to build a message template.
Read More »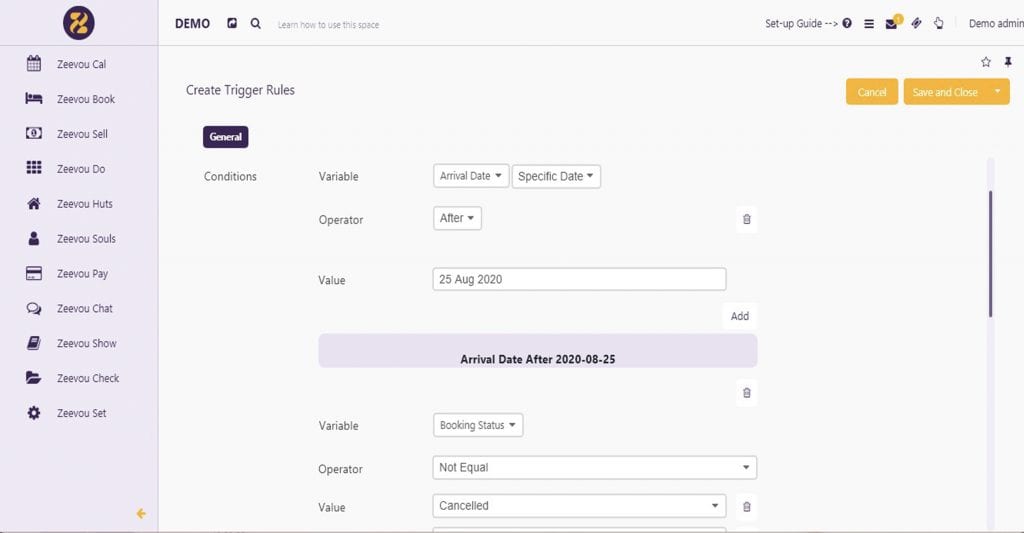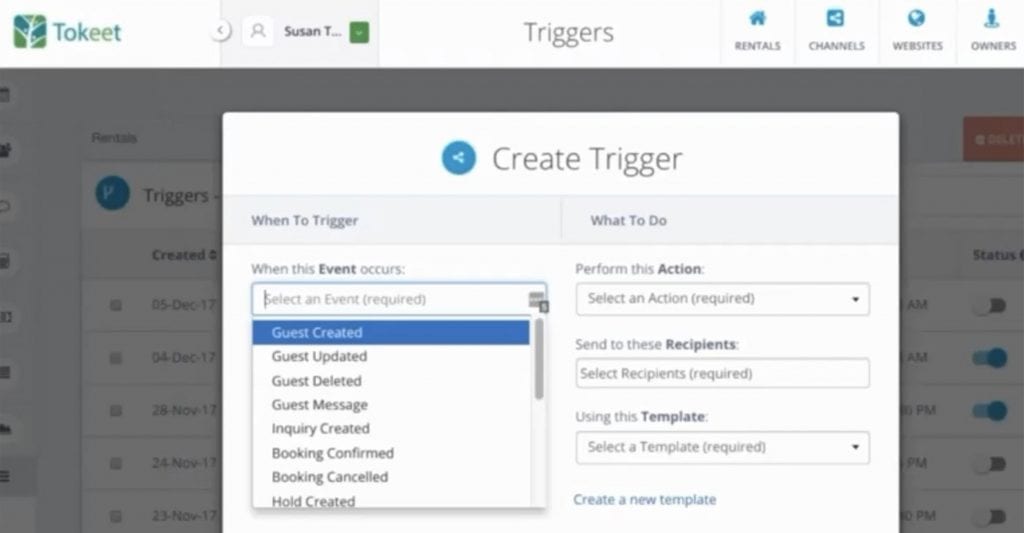 Tokeet is a Vacation Rental Management Software offering tools for channel management, rental automation, owner management, and more. If you are looking for a cheaper option, then Tokeet is the right one for you. However, you should always bear in mind that most of the time you need to compensate for the cheap price you pay. Unresponsive support and weak technical help are pressing issues to seriously think about. Tokeet is cheap, and it charges its subscribers more for letting them use more advanced features.
Zeevou has developed several functionalities which make you geared for growth. Zeevou believes that all the features released so far function smoothly and properly. Zeevou also cares about your benefits and has developed direct booking tools. So by paying Zeevou, you are armed to grow, pay less to OTAs and scale your business. For example, Zeevou offers essential tools to gather guests' real email addresses for email marketing. Zeevou's unique features stimulate direct bookings. Zeevou offers unlimited and free support forever. It does not charge you for setup and training either. You pay once, and Zeevou is committed to providing you with all the features it develops and enhances over time . Moreover, there are several aspects that Zeevou is more advanced in comparison with Tokeet:
Security deposits
Direct booking website
Profit breakdowns
Cleaning app
Maintenance tracking
Promotions with voucher codes
Booking confirmation process
Centralised templates with property variables
3D secure links for payments
More channels
Zeevou Direct