iGMS is a vacation software company that automates everything that a host needs regarding managing listings on Airbnb and Vrbo's OTA families. It can help you manage your housekeeping and guest communication related to the bookings received only from OTAs. 
iGMS, formerly AirGMS, was founded by Ivan Levchenko and Igor Kostin in 2015. This vacation rental software enables users to operate Airbnb, Booking.com, HomeAway & Vrbo accounts via a single interface and taking advantage of its mobile app. iGMS users like automated guest messaging due to several message templates the software offers. 
You may use iGMS free of charge for up to 4 properties, but most features will work only for Airbnb listings in the free plan. iGMS charges only for active properties which are vacation rentals that have been booked at least once during the billing cycle. These two make iGMS an economical choice if you have started your vacation rental business lately, and you are not sure about the amount of revenue you're going to generate.
Does Your PMS Push Rates?
It is important that the software you use enables you to easily push your rates, minimum, and maximum stay to all the channels you are linked to in real-time. 
If you are focused on boosting direct bookings, you should be able to easily define rates for more extended stays- weekly and monthly- as well as your default nightly rate and generate revenue! 
In addition, Pushing rates and changing the prices manually on different platforms is a  time-consuming and confusing process, especially when you decide to scale your business. 
Automated Booking Processing
iGMS' booking processing is effortless and straightforward. Every booking that hits your properties from OTAs has a reservation card in which the guest's contact information is listed.
iGMS automates your payment processing, and you can also refund the guests quickly. You can use the pre-set email templates for each property or create ones manually and easily use them for communication. Your check-in instructions will also be sent out in one of the emails. 
You can also alter the bookings and change the number of guests, dates, or extend the stay.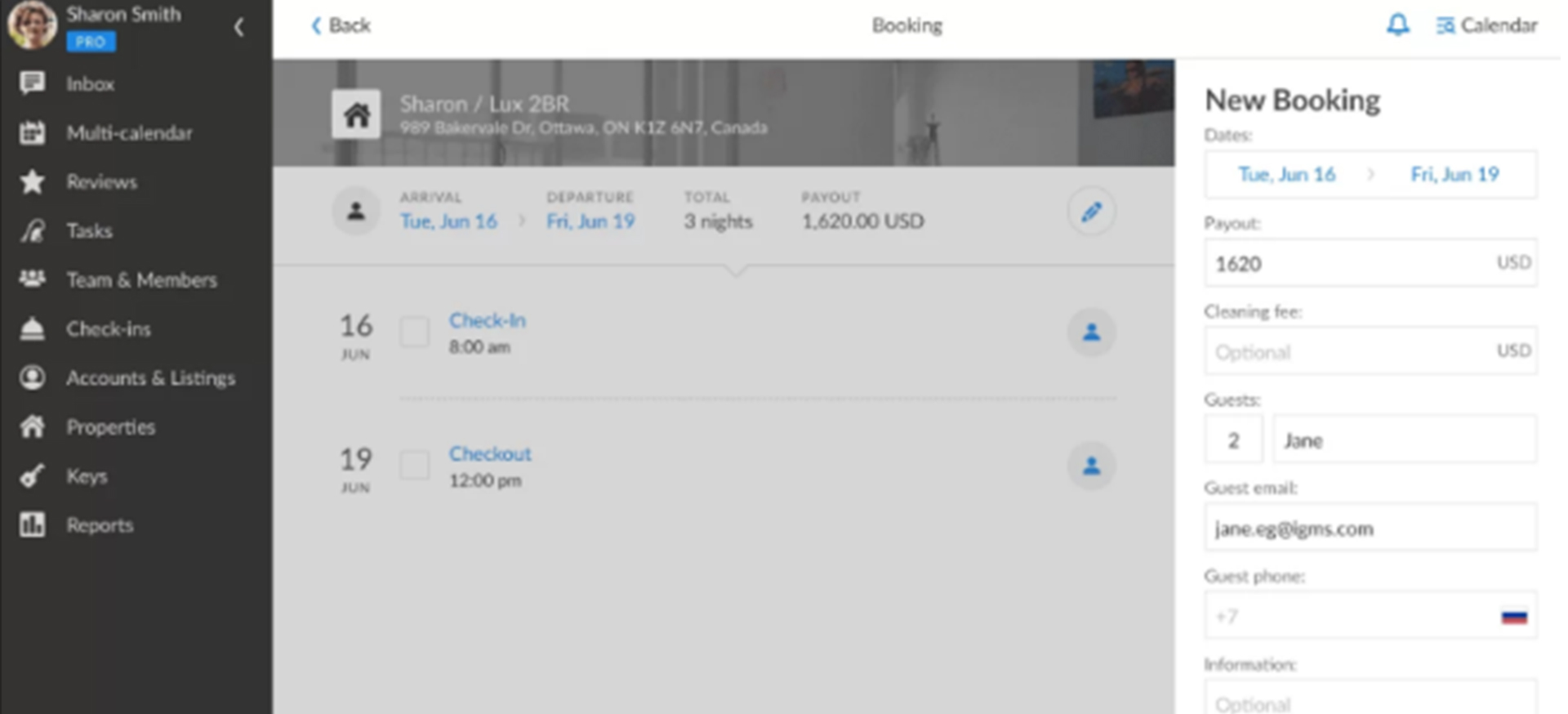 iGMS provides integrations with Airbnb, Booking.com, Vrbo, HomeAway, Abritel, Stayz, FeWo-Direkt, Homelidays, VacationRentals, Alugue Temporada, and OwnersDirect. The critical point is that the 2-way API connection is only available for Airbnb family and HomeAway family OTAs. It means that if you want to connect your properties to third-parties like Booking.com and/or Expedia, you need to use iCal sync.
Getting connected to Airbnb, HomeAway, and Vrbo, you can sync your availability, occupancy, pricing, and messaging with your iGMS account and manage them from your multi-calendar within the system.  Regarding the rest of the channels, you can only import/export your tasks and availability when using iCal connection which requires your supervision as it takes some time for it to get updated each time a change is made.
iGMS generates mid-stay housekeeping and check-out housekeeping tasks automatically from the system upon every entry/check-out. Your iGMS multi-calendar will provide you with three types of functions differentiated with three different colours: 
Red tasks — assigned cleaning visits are indicated by a © in the multi-calendar, and unassigned ones have a silhouette of a person. Cleaning visits are automatically created upon check-out of each reservation. It is not possible to have more than one cleaning visit per day.

Purple tasks — short visits, inspections or handyman appointments. The number of tasks per day is not limited.

Green tasks with a check mark — completed cleaning visits and tasks.
The iGMS account holder can set up Access and Permissions in each team member's account in the Team & Members section.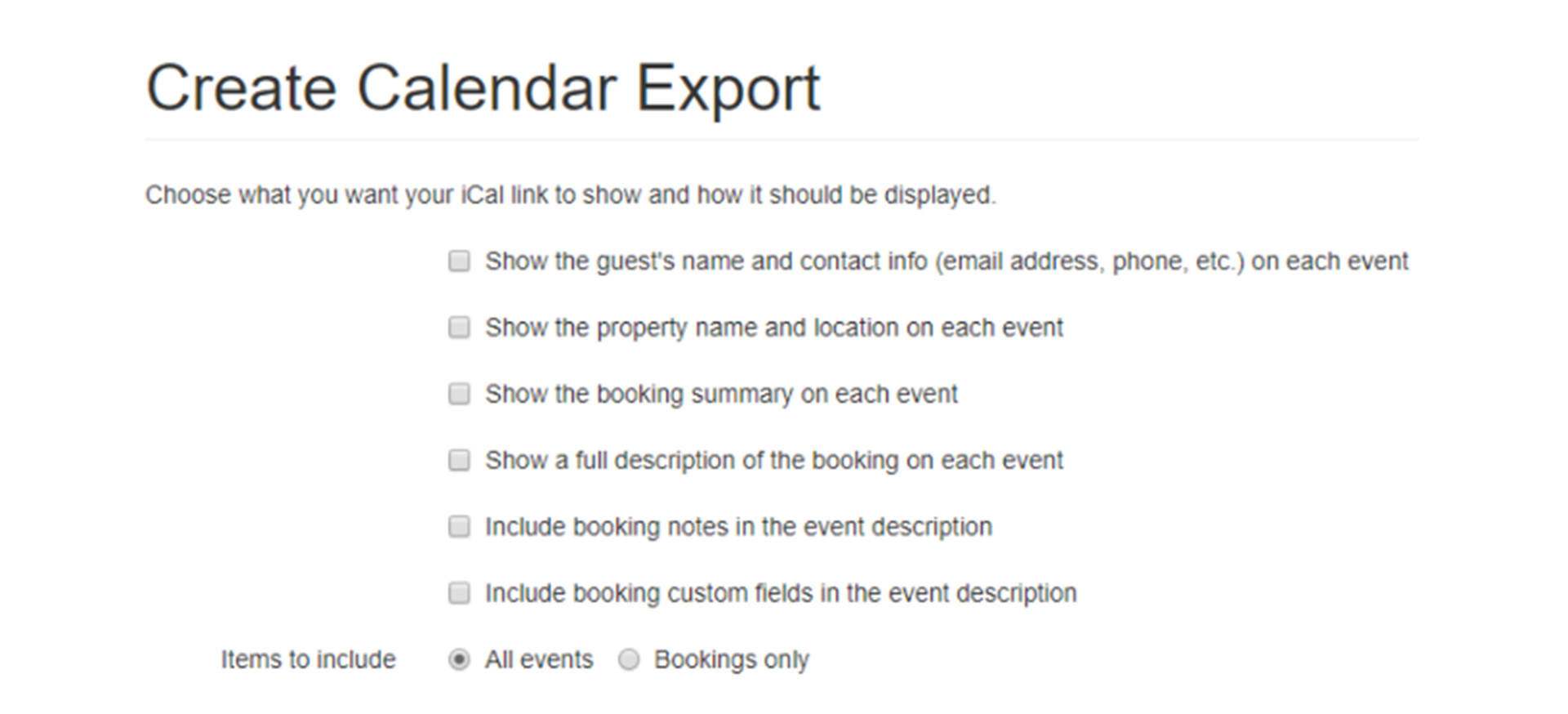 iGMS sends check-in instructions to guests via a set of ready-made email templates for each property. You can also create new templates for each booking, message them from the unified inbox, welcome them, and provide them with the necessary information for each check-in.
The guest app provides them with information about the rental, access, address, Wi-Fi details, and recommendations about what to do in the area. (You can select the sensitive info like access code will only be sent if the payment has been completed). 

Once the guests check out, they will be no longer able to access the app.  

Automatic and manual SMS reminders can be sent.

If you want to link into software for automatic self check-in, you should use Zapier.
1. iGMS does not have a booking engine yet, but It is on their roadmap. 
2. There is no way to connect your website to your iGMS account. However, you can create each direct-booking manually in iGMS platform and automate your communication and housekeeping afterwards.
The SEO-friendly website created by Lodgify: 
is customisable, allowing you to create custom pages. 

allows you to add Google Analytics. 

can be integrated with WordPress, Wix, Drupal, Joomla, Weebly, and Squarespace.
iGMS offers a tool when a guest wants to stay longer in your properties which is editing the booking without going to your Airbnb account to edit the booking details. The property, the price, the number of guests, and the dates and the number of nights can be altered from inside the reservation card.
This is a convenient feature as it is not possible to change the price on Airbnb directly once the booking is confirmed. 
The calculator will automatically update your payout, excluding Airbnb service and cleaning fees. Also, it will display the total cost for the guest. However, this tool can only be used for your Airbnb listings.
iGMS' hosts and their teams can view structured information about the booking in reservation cards such as the property, dates, guests, and the reservation cost.

You can set up how the check-in will take place. A concierge can be assigned, or you can also select self-check-in for the task.
Hosts can also add instructions and assign tasks to the team member related to cleaning or check-out.

There are specific pre-set email templates about check-in instructions for each property and sent out automatically to your guests from Airbnb, HomeAway, and Vrbo.
3.Kigo provides a ready-to-use template for your automated guest messaging system.
iGMS allows you to view the guest profile on the platform. The guest profile contains information about the guest, such as reservation code, contact details, their profile on Airbnb, government ID, work email, social accounts, selfies and more. 
You can easily navigate to the reviews and recommendations that the guest has received. If you click on the guest's photo, you will have the guest's Airbnb verification information displayed. This allows Airbnb hosts to screen guests instantly right via the software. 
From the reservation card, hosts will also go to messaging with guests or open the itinerary.
You can easily navigate to the reviews and recommendations that the guest has received. If you click on the guest's photo, you will have the guest's Airbnb verification information displayed. This allows Airbnb hosts to screen guests instantly right via the software. 
From the reservation card, hosts will also go to messaging with guests or open the itinerary.
iGMS:
allows recording maintenance issues.

enables you to create a task for your fixer from the platform with the address, date, description of the issue, and approximate duration. You can also add notes to your staff about each task.
allow the fixers and the cleaners to turn the task's status to complete when done and track them in real-time.

sends the fixers notifications on their mobile phones via text message when the task is created automatically from the system or manually by another user of iGMS. They will also receive another message as a reminder the evening before.

creates a daily schedule for each staff of yours for the following day in order to avoid missing things. 
set your expectations by attaching photos and have a place to receive photos in real time from cleaners

automate all communications through the system by email and SMS.
iGMS has a mobile app and an Ipod/Ipad app that allows you to manage your properties fully from the app as it can be done using a web version.
iGMS enables you to manage different Airbnb accounts from one central system.
iGMS can automate your communication with the guests, your housekeepers, and maintenance staff fully. 
Communication: pre-set email templates to be sent out to your Airbnb and Vrbo family guests automatically. 

Housekeeping: iGMS automatically generates check-out housekeeping tasks after each check-out.

The software

provides your housekeepers with a daily schedule to be followed using the staff portal. 
Maintenance: iGMS allows you to create profiles and tasks for the maintenance staff.
iGMS allows you to define different roles to your management system.
Each property can have only one property owner.
Owners can: 
check property availability calendars.

book an owner stay, or guest-of-owner stay

download their owner statement
iGMS allows you to collect payments from your direct bookings, website, and hotel collections using Stripe payment gateway.

After connecting your Stripe account with iGMS system, upon every direct booking, the system will generate an invoice with the necessary information mentioned in the reservation card which is editable.
You can easily log payment and deposit if it is a hotel collect as well. 

You can also refund the guest from the system.
iGMS' reports include total revenue, cleaning and management fees, the number of cleaning tasks performed per month, taxes and service fees, payouts, and itinerary information.
iGMS does not let the hosts push pricing to any OTA as it is not a PMS. It uses Airbnb smart pricing tool for your Airbnb listing.
iGMS provides Help Desk, Email Support, and Website Chat Support, for Pro plan, Flexible plan, and trial accounts. However, iGMS customer support working hours differ for each plan.
The Pro plan users can receive support Monday to Friday 24 hours and 9:00 to 17:00 on the weekends.
iGMS system generates invoices, and the guests can go through the payment using Stripe 3D Secure Link. 
The user could adjust iGMS reports, including payouts, reservations, monthly revenue, and tasks to give to other team members.
You can generate invoices to employees. 

You can keep track of the expenses.

The system allows you to create accounting statements. The statements will be updated automatically based on received and sent payments.

The amounts on the payments are not automatically updated. 

There is no bank account for the owner; the split proportions of income on each booking are for reporting purposes.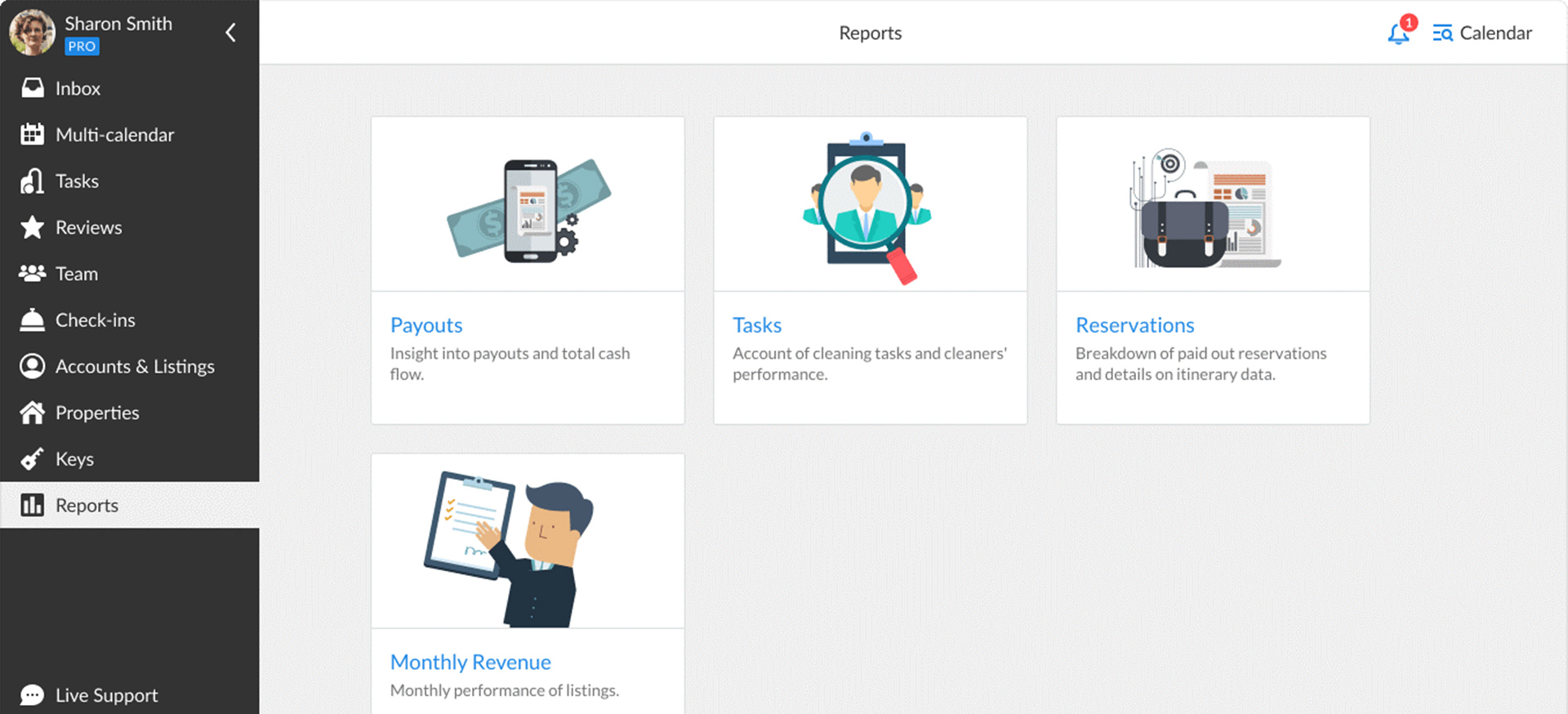 iGMS unified inbox only works for Airbnb, Booking.com, and HomeAway at the moment.
iGMS allows you to respond to all the guest enquiries from Airbnb and HomeAway with ready-made email templates within the system. Messages received from Booking.com requires you to search the name of the guest in iGMS messenger.
iGMS unified inbox enables you to see the booking and guest details, pin, mark, answer the messages, write notes on a To-Do list, and alter reservations if needed.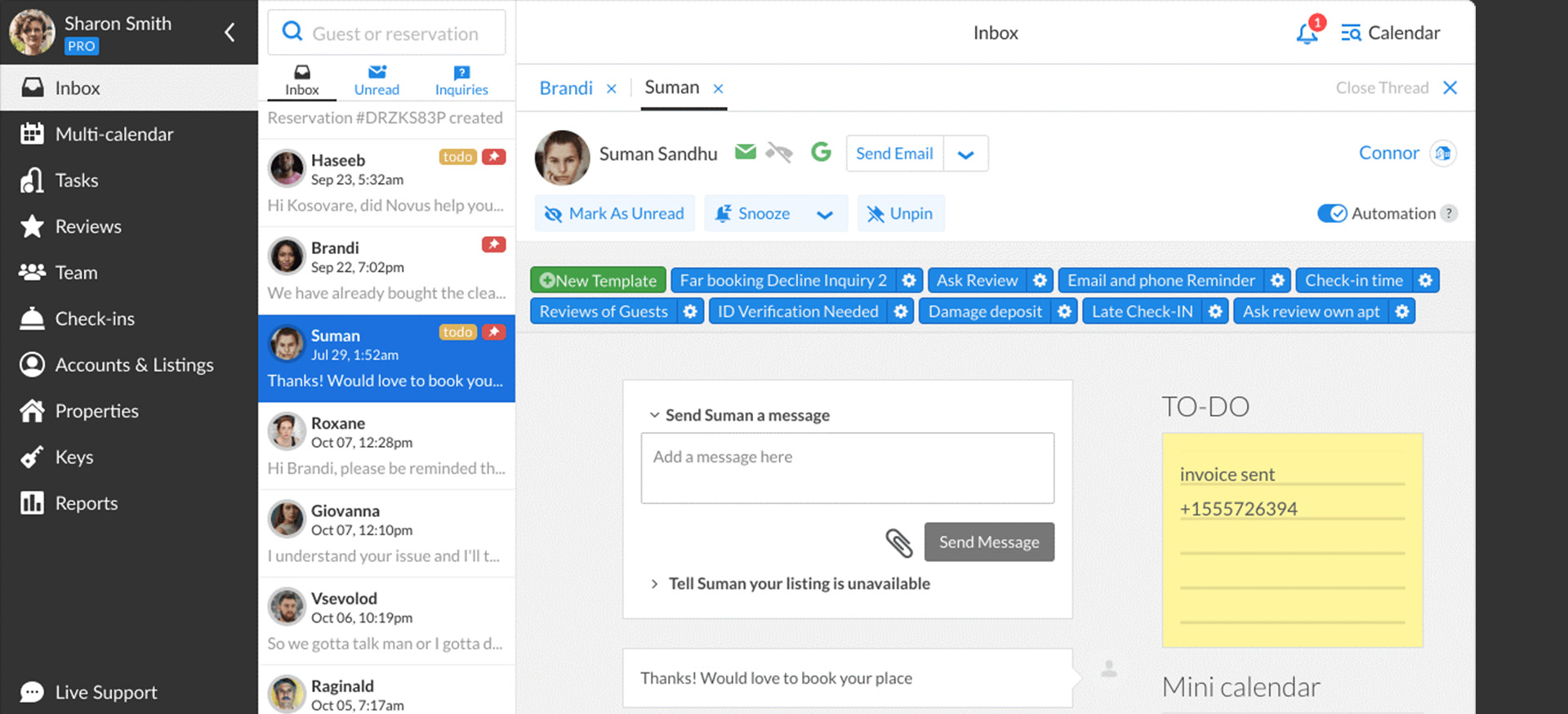 iGMS offers two different plans, Flexible and PRO. The Flexible plan has limited features activated but allows you to use full functionality for Airbnb listings using which you need to pay $1 per night if you have reservations. If you decide to use a PRO plan, you can choose between a monthly or annual commitment. At the beginning of each month, you will receive an invoice from the company that counts the number of your active properties – properties that have got at least one booking – during the month, and you will be charged for plus the amount you choose as your billing cycle. Each property's price under the annual plan is $20, and it is $27 on a monthly plan. 
Regarding the cancellation of your subscription, they have specific policies that are good to be known upfront. iGMS also offers a 14-day trial in the beginning, which is an excellent opportunity for you to decide whether it is the right solution for you or not.
iGMS: A Property Management System to Choose?
To find the best PMS, you need to focus on your needs and expectations. Suppose you need a system that links you to some OTAs like Airbnb, Booking.com, and the Vrbo family of OTAs. In that case, iGMS helps you keep your diary updated, manage your operations, and automate your communications.
We are committed to ensuring that all our analytical articles are factually entirely correct and accurate. If you have spotted anything that you feel is wrong or misleading in this article, we'd appreciate hearing from you.