Guesty is a well known Property Management System and Channel Manager. Guesty was established in 2013, initially as a guest communication service for Airbnb hosts.
Guesty was founded in 2013 by twin brothers Amiad & Koby Soto, evolving from the startup accelerator, Y Combinator. Guesty has expanded its features after that time to help vacation rental managers operate their businesses, and it has eight offices worldwide.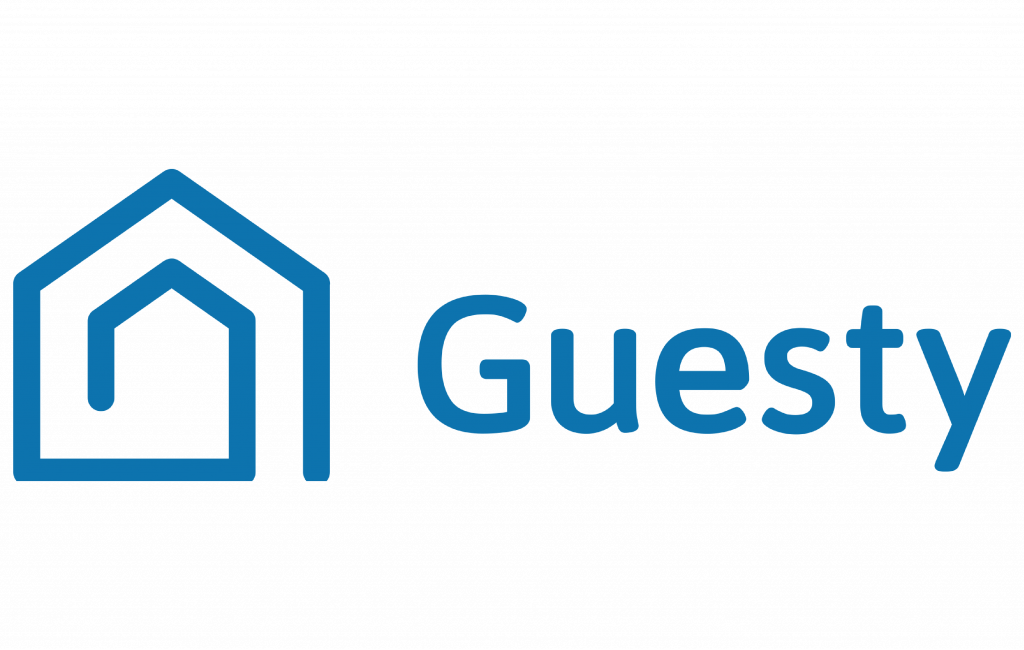 Channel Manager, Unified Inbox, and Automation Tools are three of the most important features of Guesty, which are included in the overall price for Guesty's services.
For studying Guesty, we collected as much information as possible from Guesty's online resources, and people who have used Guesty in our network. You might not find this article sufficient for decision-making. Still, it will help you ask PMS providers about the features you will need to operate, automate, and grow your short-rental business. Although we do not trust all reviews fully, we also looked at Capterra to check the aspects users praise or complain about.
Why Not Use Built-in Maintenance & Cleaning Services?
Operating a vacation rental property includes cleaning the rooms and keeping the property in good condition. Cleaning is not limited to cleanings before and after short stays at your vacation rental property. This operation also applies to mid-stay cleaning tasks. You might need to keep a list of cleaning companies in your area to have another choice in case a last-minute cancellation by a cleaner happens. If you market your rental as a quality place of stay as convenient as staying at home, it is not tolerable to have broken door knobs or pipes at your properties. To keep your properties in a healthy and proper condition, you also need to have a list of the maintenance team at hand. To automate these operations, having a built-in cleaning and maintenance module in your Property Management System is a must!
Automated Booking Processing
Guesty automates collecting guest information and verifying reservation details, Check-in Forms, rental agreements that explain your terms and conditions and collecting the guests e-signatures. 
Guesty's integration with CheKin allows automatic collection of necessary documentation from guests, directs relevant information to the authorities and allows guests to check-in online ahead of time.
Guesty provides integrations with 60 different marketing platforms or channels. Almost every single channel uses a 2-way API connection instead of an iCal connection.
Guesty has direct integrations with six online booking platforms, including Airbnb, Booking.com, Agoda, TripAdvisor, HomeAway and Misterb&b.
By using Guesty: 
You will access an auto-pricing tool which automatically adjusts prices across all booking platforms according to your specifications. 

You can use the official, step-by-step, Guesty-guided connection process for integrating with various Ota's.

For Airbnb Integration, if you already have an Airbnb account, the integration takes about 5 minutes, and within 24 hours all of your data from your Airbnb account or multiple accounts are pulled into Guesty.
Guesty does not offer built-in cleaning features and suggests outsourcing cleaning services.
set your expectations by attaching photos and have a place to receive photos in real-time from cleaners

automate all communications through the system by email and SMS.
Guesty's auto messaging enables you to send check-in instructions only if the Check-in Form has been completed. You can also use the filters to send your guests reminders to fill the Check-in Form.
1. Guesty offers its website builder to its users free of charge. However, Guesty charges 3% commission of the income as its subscription fee. 
2. Guesty's website reflects all reservations made through your website in your central calendar.
3. Guesty allows you to sync your existing website with Guesty's booking platform through Guesty's Open API.
The website created by Guesty: 
enables you to create customisable coupons to offer discounts to your customers. The user can set the minimum number of nights required, valid reservation dates, expiration of the coupon, and the number of times the coupon can be used

allows customisation in a sense that features the listing of your choice on the homepage.

can be integrated with Google Analytics to keep track of your marketing efforts. 

allows you to set up a Facebook Pixel to capture abandoned bookings directly through Facebook Ads.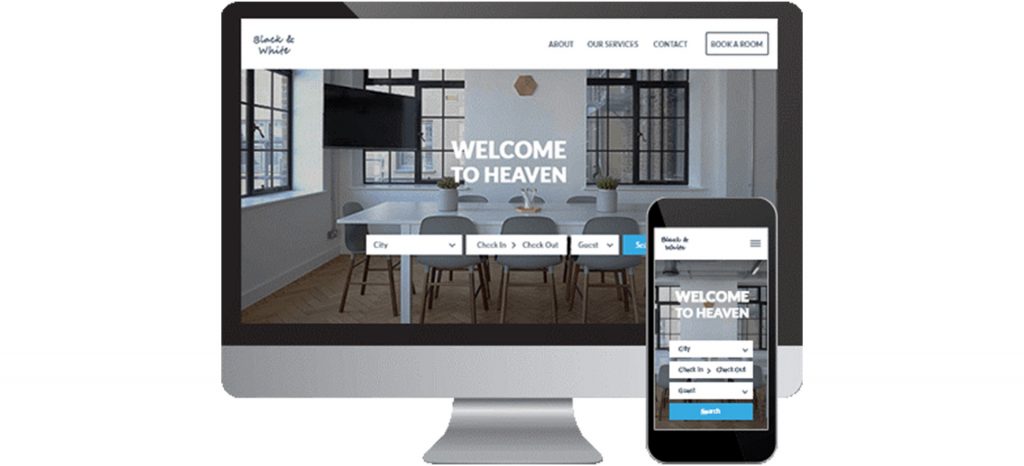 Guesty allows you to:
incorporate mid-term stays into your rental company's business model.

apply custom rate strategies to your listings, and Guesty will

automatically adjust your prices

and minimum night rules accordingly. 

add your longer-term listings to Airbnb's Monthly Stay program along with other leading mid-term booking channels.

filter reports by the length of stay to tag extended stays within the Guesty admin to automate customised communication.
apply custom rate strategies to your listings, and Guesty will

automatically adjust your prices

and minimum night rules accordingly. 

add your longer-term listings to Airbnb's Monthly Stay program along with other leading mid-term booking channels.
Guesty's 24/7 Guest Communication Services: 
respond to your guests'  enquiries based on the urgency of incoming messages.

answer to incoming enquiries  during your team's off-hours. 

can adjust bookings at your multi-calendar based on availability, price and location.

prioritise your reviews, escalating the most urgent ones to your attention.
Throughout filled detailed questionnaires and brief onboarding phases, Guesty users hand their guest communications to Guesty's team of experts.
set your expectations by attaching photos and have a place to receive photos in real time from cleaners

automate all communications through the system by email and SMS.
Guesty has its native mobile app, which enables its users to manage their business on-the-go.
Unified Inbox

Multi-Calendar 

Task Management tools
Employees will be notified through the access they have to the Task Management feature of your native mobile app. The employee's task management software is included in the main app with a limited portion of  accessible information.
Guesty's Multi-Unit feature allows you to group similar listings together . In this way you can group your multi-units and single units to create a hotel complex and connect with SiteMinder and Booking.com. It also streamlines tasks and increases occupancy.
Guesty enables task management by: 
creating tasks after specific triggering events such as check-ins, check-outs, planned arrivals or departures and reservation confirmations. Triggers might be related to property availability such as first availability in a row or end of rentals.
After completion of certain tasks, other actions are activated automatically similar to the domino effect.    
creating manual tasks and notifying the assignee. 

using the Task Management feature of Guesty mobile app.
Guesty's Owner Portal brings transparency for the owners and is compatible with 15+ different languages. 
It provides reports that detail each property's yearly and monthly revenues, compare their performances to one another and highlight notable trends.
Guesty's Owner Portal allows the owners to reserve a stay at their properties directly from the portal.
Guesty's online payment processor accumulates guests' charges under their reservation, facilitates payments, and sends receipts to guests. 
The auto-payments feature allows Guesty to charge guests according to your specified policies. 
The auto-payments feature allows collecting each payment at the stage of your choice. However, one person has mentioned the deficiency of this feature and Guesty's inability to split payment at Capterra. 
Guesty's payment processing feature collects all payment-related information, adding them automatically to the data on your dashboard, which is useful for charging repeat guests.
Guesty Reporting Tools create reports on specific aspects of your business from over 65 parameters, including check-in time, addresses, revenue and much more.
Guesty's Yield Management feature sets custom rate strategies to adjust rates and minimum night stay rules and offers rate plans.
Kigo Platinum Support costs Monthly subscription of $500
Guesty is integrated with Quickbooks and Xero for facilitating trust accounting. 
Sage Intacct is another integration you need to have if your vacation rental business is considered an enterprise-size company. 
Guesty does not include a built-in accounting module.
Guesty Unified Inbox lets you receive emails and enquiries through booking channels and SMSes.  
Archiving and filtering capabilities, and also Saved Views are useful. The most effective Saved Views suggested by Guesty are: 
Potential guests

Guests checking in that day 

Assignee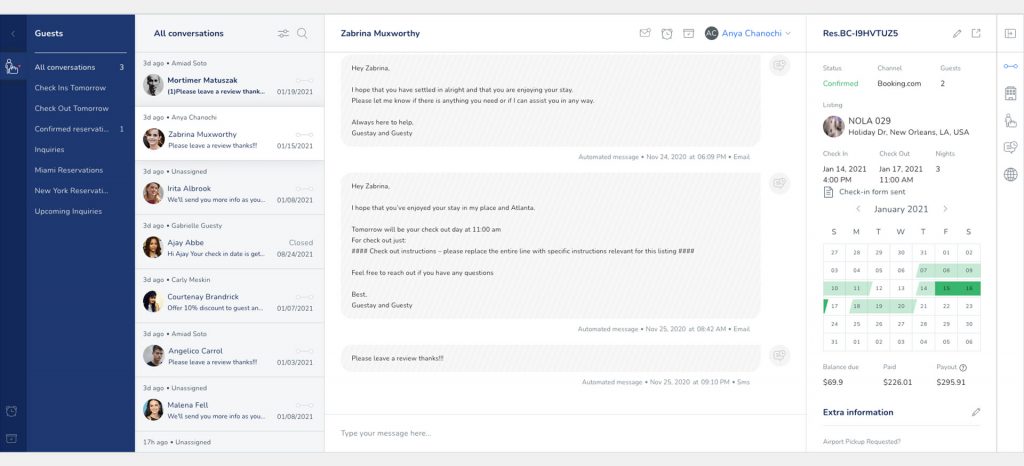 Guesty: A Property Management System to Choose?
Guesty is one of the most popular PMS providers in the vacation rental industry. It is an established brand with many branches all around the world. Guesty has a different pricing strategy compared to most of its competitors. The pricing model is commission-based, which means you will be charged on the bookings made through the software. This naturally increases the amount of commission you have to pay to Guesty while managing and scaling your short-term rental business. There are also other charges such as the initial set-up fee. 
While Guesty lacks built-in Trust Accounting, cleaning management, and maintenance management, it is famous for having one of the most user-friendly platforms in the industry.
We are committed to ensuring that all our analytical articles are factually entirely correct and accurate. If you have spotted anything that you feel is wrong or misleading in this article, we'd appreciate hearing from you.