OwnerRez is a US-based property management system established in 2012. It is user-friendly software with lots of details and full descriptions in the company's support centre. OwneraRez also has lots of integrations with other platforms such as QuickBooks, Whishbox, etc. 
If you are looking for a property management system with high functionalities, you must have heard about both OwnerRez. OwnerRez is created by people who have their vacation rentals. It integrates with channels like Vrbo, Airbnb, and Booking.com to seamlessly synchronise availability, rates, rules and listing content while taking online bookings, managing enquiries, and communicating with guests. OwnerRez offers modern fast websites, guest check-out with e-sign renter agreements, and can process payments directly, including auto-scheduled future payments.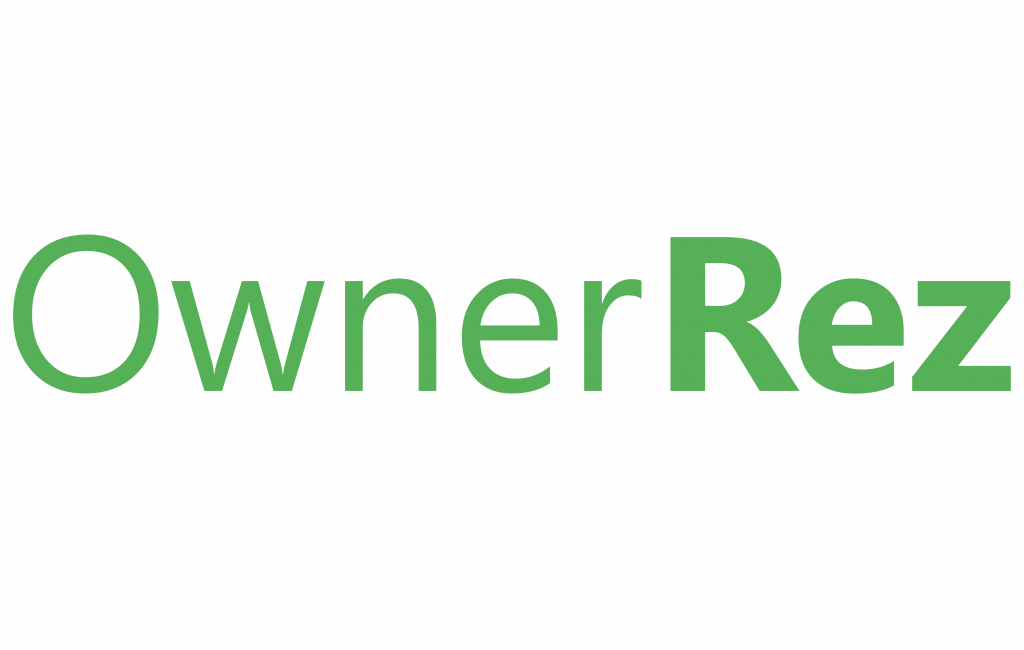 All the PMSs offer solutions to have an all-in-one system for managing properties. However, different people end up not liking them but instead probably trying other solutions and sticking with one. A PMS succeeds only if its customers stay with it as the one solution for the time being.
Facts About Your Business That Affect the PMS You Select
There are two points about your business that you need to know before choosing a PMS:
The number of direct bookings you receive

The OTAs you work with 
If you get many direct bookings on your website, on the phone, or from loyal previous guests, you will need to take advantage of an automated booking confirmation process. Managing all the steps of creating a booking manually is very time-consuming. The steps include creating the booking, the payment link and invoice, the transaction link for the security deposit, asking for a photo ID, signing terms and conditions, etc. 
Every short-term rental has its unique challenges. You will not face many difficulties with many PMSes out there in the market if listing and managing your rentals on Vrbo, Booking.com, TripAdvisor, and Airbnb is all you need. However, suppose you need to connect to more channels. In that case, you need to look for a PMS that provides a two-way API connection with many channels and OTAs simply because iCal synchronisation can put your company at the risk of receiving double bookings.
Automated Booking Processing
While working with OwnerRez, you do not need to worry about the bookings that come from OTAs to which you have API connection as everything will automatically be visible in your account.
However, you may face some difficulties if your booking is direct. Then, everything should be done manually. Here are the steps:
create the booking and enter guest details;

activate payment collection and enter their card information;

schedule the security deposit;

reach out to guests for further information such as photo ID, and signing of the terms and conditions. 
After taking these steps, the booking will be created, and it will resemble one created automatically.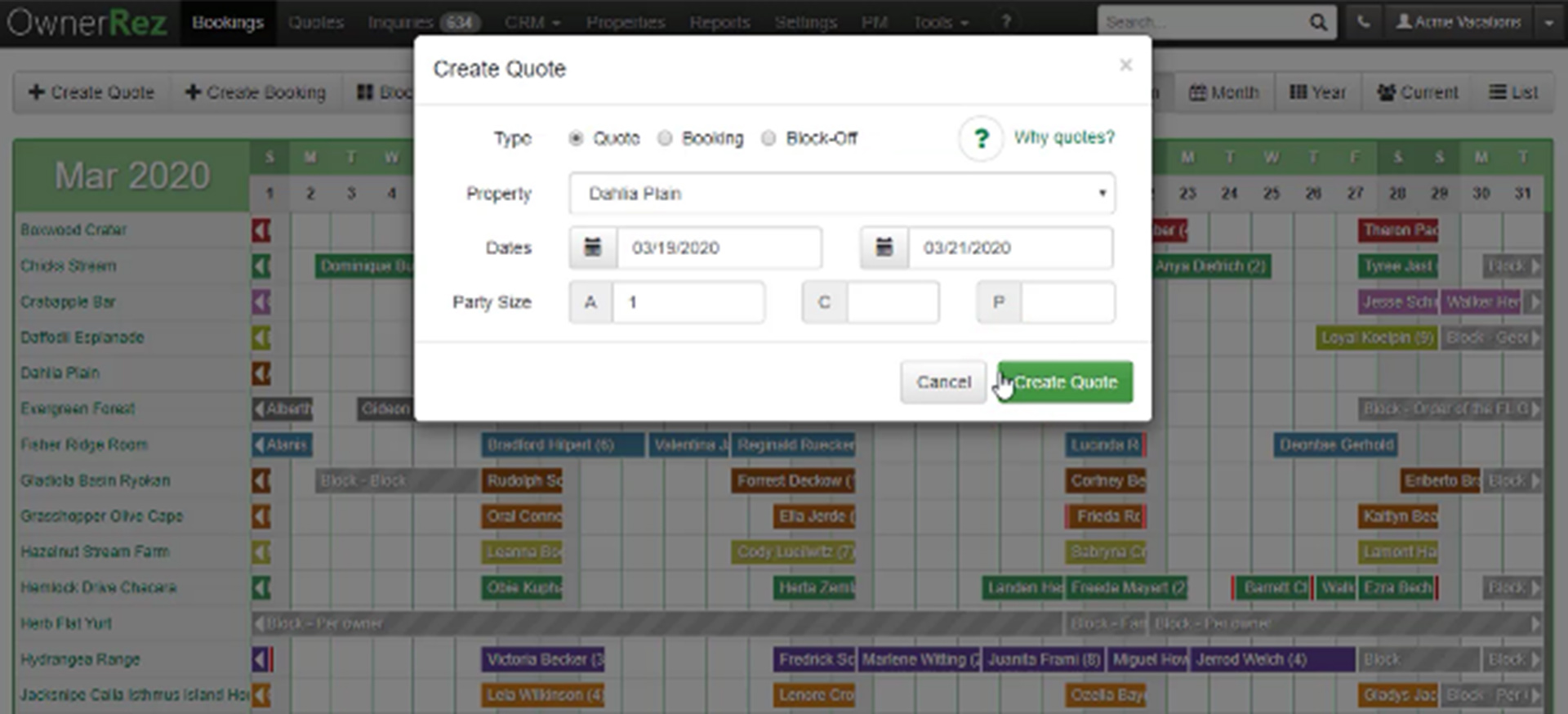 OwnerRez has direct channel integration with Airbnb, Booking.com, Canada Stays, Florida Rentals, Houfy, TripAdvisor, VRBO, FindRentals, and Hometogo.
When you open the window for each channel synchronisation, you can see the list of your listings with Sync Status, Listing Status, the last time a booking occurred for each property, and the last time the information has changed or synced again.
Getting connected to Airbnb, HomeAway, and Vrbo, you can sync your availability, occupancy, pricing, and messaging with your iGMS account and manage them from your multi-calendar within the system.  Regarding the rest of the channels, you can only import/export your tasks and availability when using iCal connection which requires your supervision as it takes some time for it to get updated each time a change is made.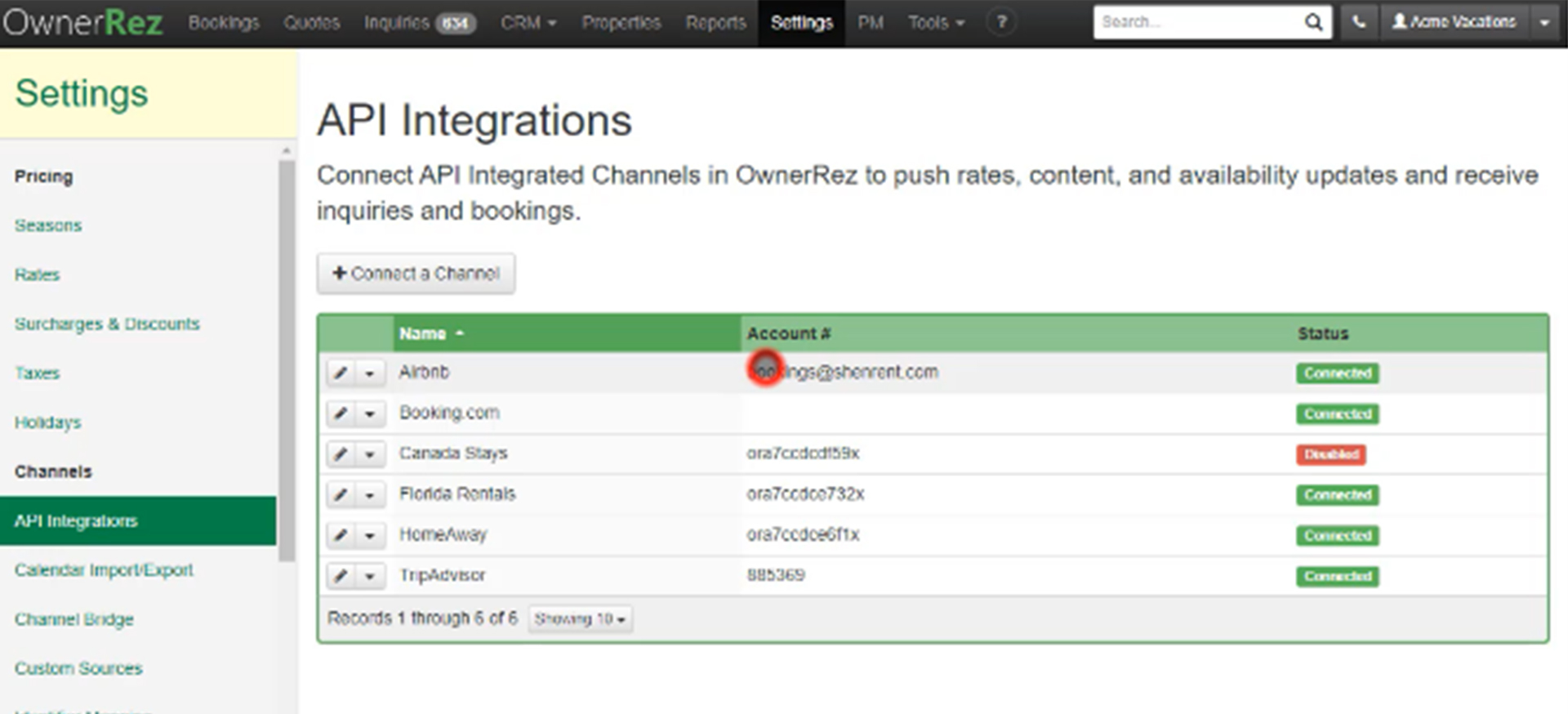 OwnerRez offers several ways to keep the cleaners posted about the latest housekeeping tasks:
Using iCal integration, you can create a custom calendar for your property, export all your bookings in there, and share the link with your cleaners.
With login details, your cleaners can access your calendar, some notes and guest details based on the levels of access you define.
(This feature is available only if you use the Property Management Premium Feature.)
You can create a trigger email in OwnerRez to be sent out after each departure so that the cleaner know about the latest check-outs.
If you turn on the Third Party Alerts tab for each property and put in the cleaner's name/email address, the system will email the assignee automatically each time a booking hits, gets cancelled, and changed.
Stay report shows you who is arriving, departing, and staging. This report can be printed and sent to your cleaners as a schedule.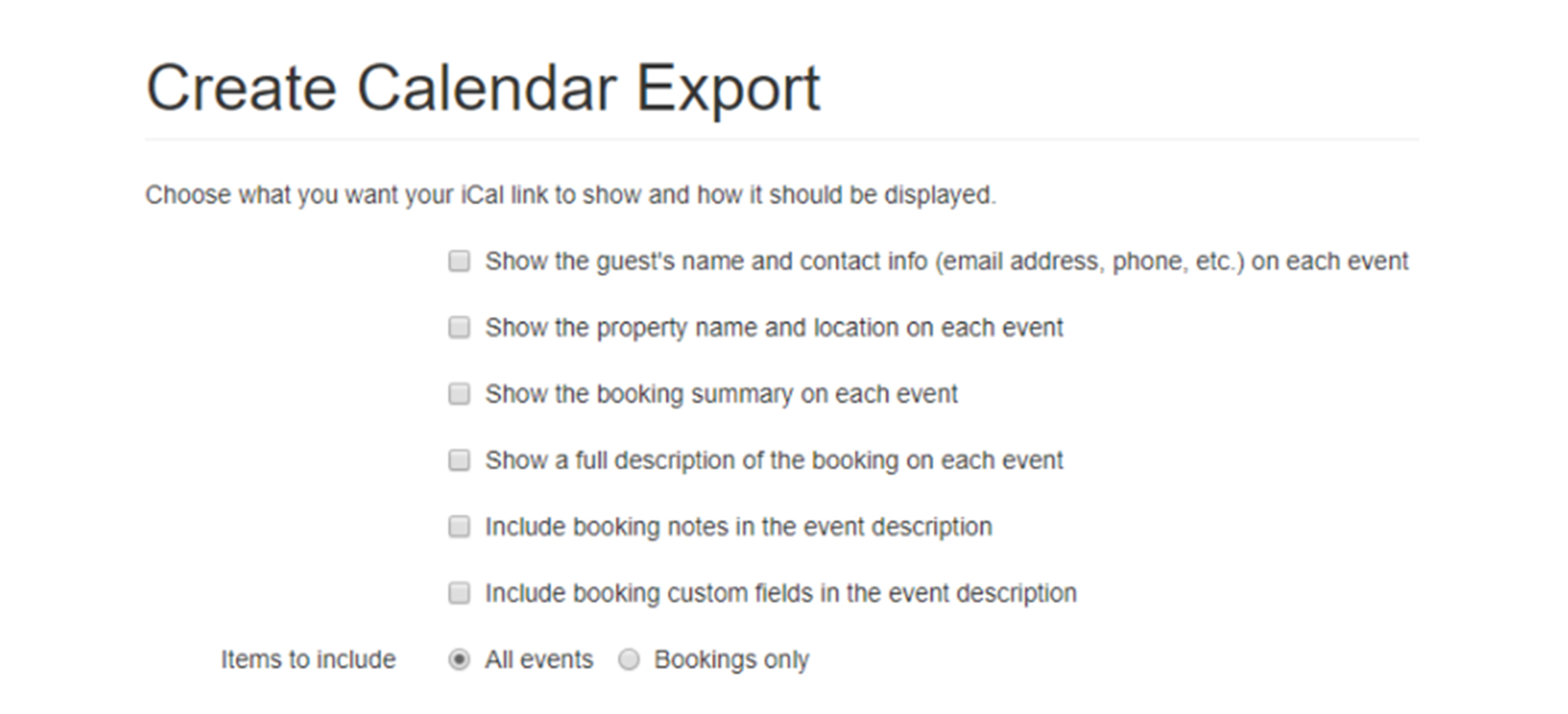 OwnerRez is integrated with eRentalLock and a couple of other door lock companies for self-check-ins. It can automatically generate codes for your many different types of door locks, including numeric sequence locks and WiFi locks. Each time a booking is created. However, you still need to inform the guest about the code. For that, you can create an email template within the system with your preferred trigger rule. Therefore, OwnerRez will automatically send the email to your guests to enter the property without your presence.
The guest app provides them with information about the rental, access, address, Wi-Fi details, and recommendations about what to do in the area. (You can select the sensitive info like access code will only be sent if the payment has been completed). 

Once the guests check out, they will be no longer able to access the app.  

Automatic and manual SMS reminders can be sent.

If you want to link into software for automatic self check-in, you should use Zapier.
OwnerRez offers hosted websites for its customers for an extra charge. 
If you have one property, the fee for having a hosted website would be $10.00 per month, and it may differ based on the number of your listings.
The website includes: 
a page per property

a booking engine 

an availability calendar

your different rate plans for the season

reviews

amenities

property location
The SEO-friendly website created by Lodgify: 
is customisable, allowing you to create custom pages. 

allows you to add Google Analytics. 

can be integrated with WordPress, Wix, Drupal, Joomla, Weebly, and Squarespace.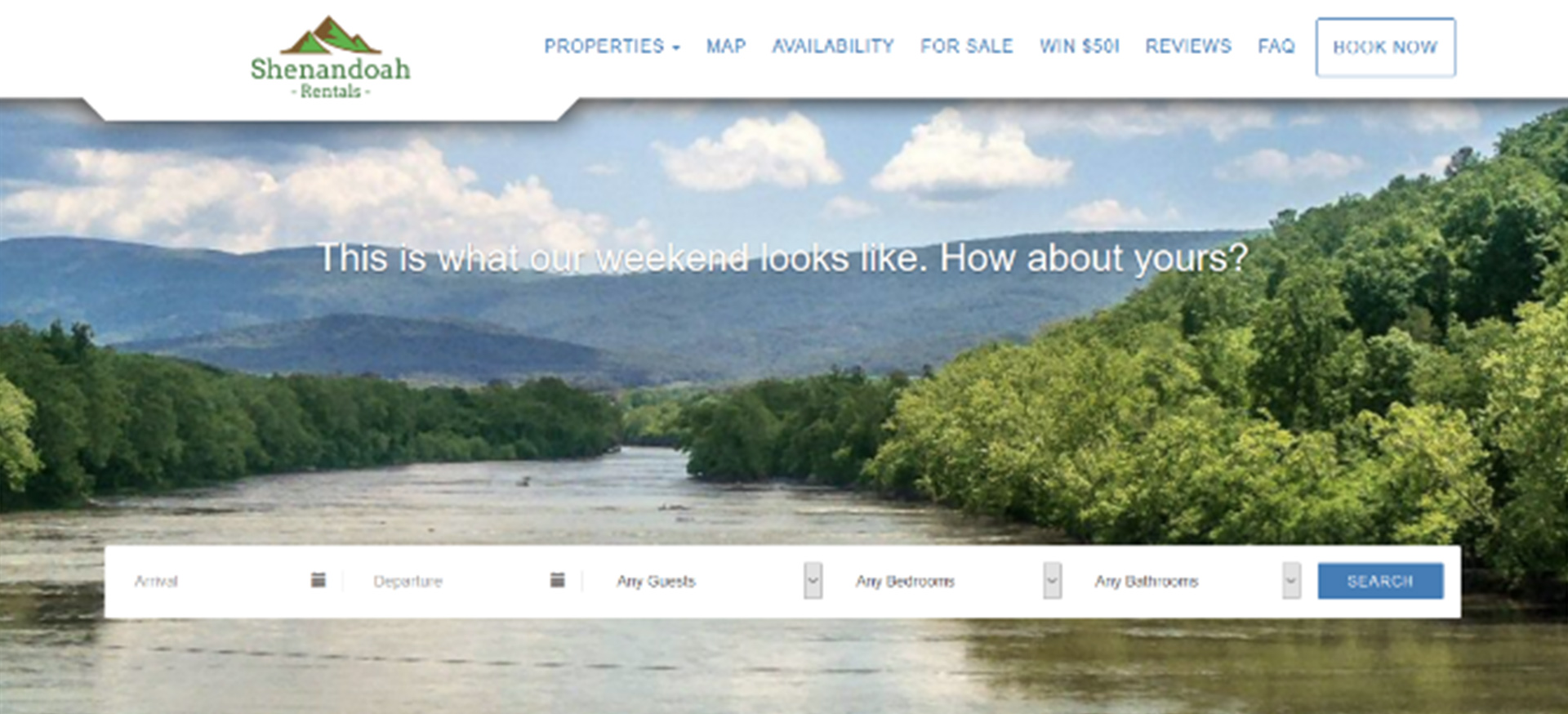 OwnerRez does not include extended Stays option. It means you cannot define different monthly and/or weekly rates.
What can be done is extending your guest stay for your direct bookings via changing the dates, the charges, and payment collection which can be done manually.
If a booking is coming from an OTA and the guests end up staying longer in your properties, the change should be made on the OTA webpage directly even if you are using an API integration.
OwnerRez has an option called renter agreement in their check-out process. This agreement can also be followed by a signing link, highly recommended for bookings that come from different OTAs.
There is a suggested renter agreement, but you can create as many agreements as you want and customise them as a host.
After the signature link is used, you can ask your guests or a particular group of them to verify their contact information for you. This way, you will restore your guests' details even when the booking is coming from a listing site.
3.Kigo provides a ready-to-use template for your automated guest messaging system.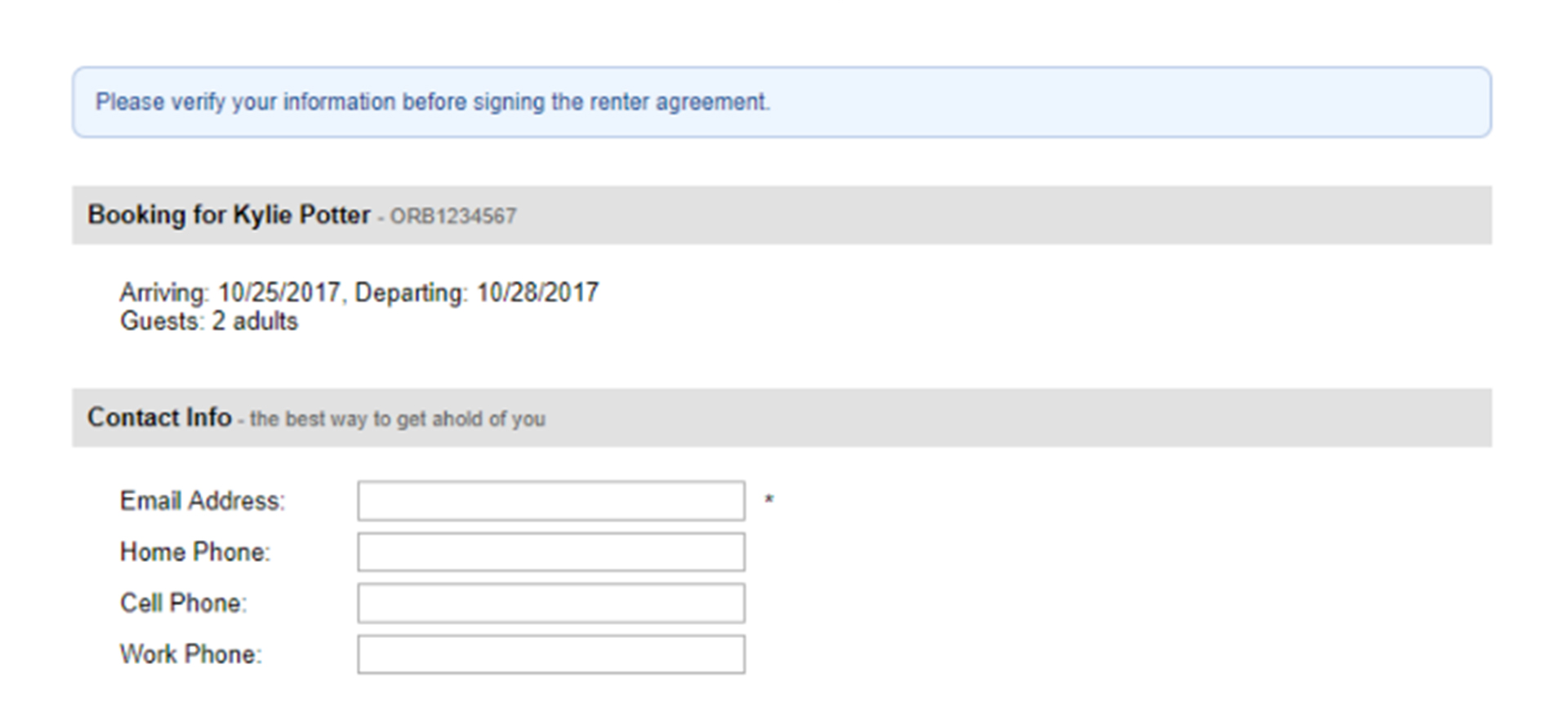 OwnerRez creates a profile for each of your guests regardless of the sources or channels they come from.
To have a classified CRM, you have the option to merge your contacts or team them up.
OwnerRez guest CRM shows you the guests' history, including the number of their previous bookings with a summary, payments, their contact information, and some tags.
Creating different tasks, you can highlight some characteristics or ideas about the guests such as, great, never again, breakfast, extra bed, and rental boats. The reason for having tags on CRM level and booking level is to help the owner. The owner will keep in mind key points that may seem minor but have a considerable impact on their hosting quality to turn the guests into loyall ones or prevent an annoying person from coming back to the property again.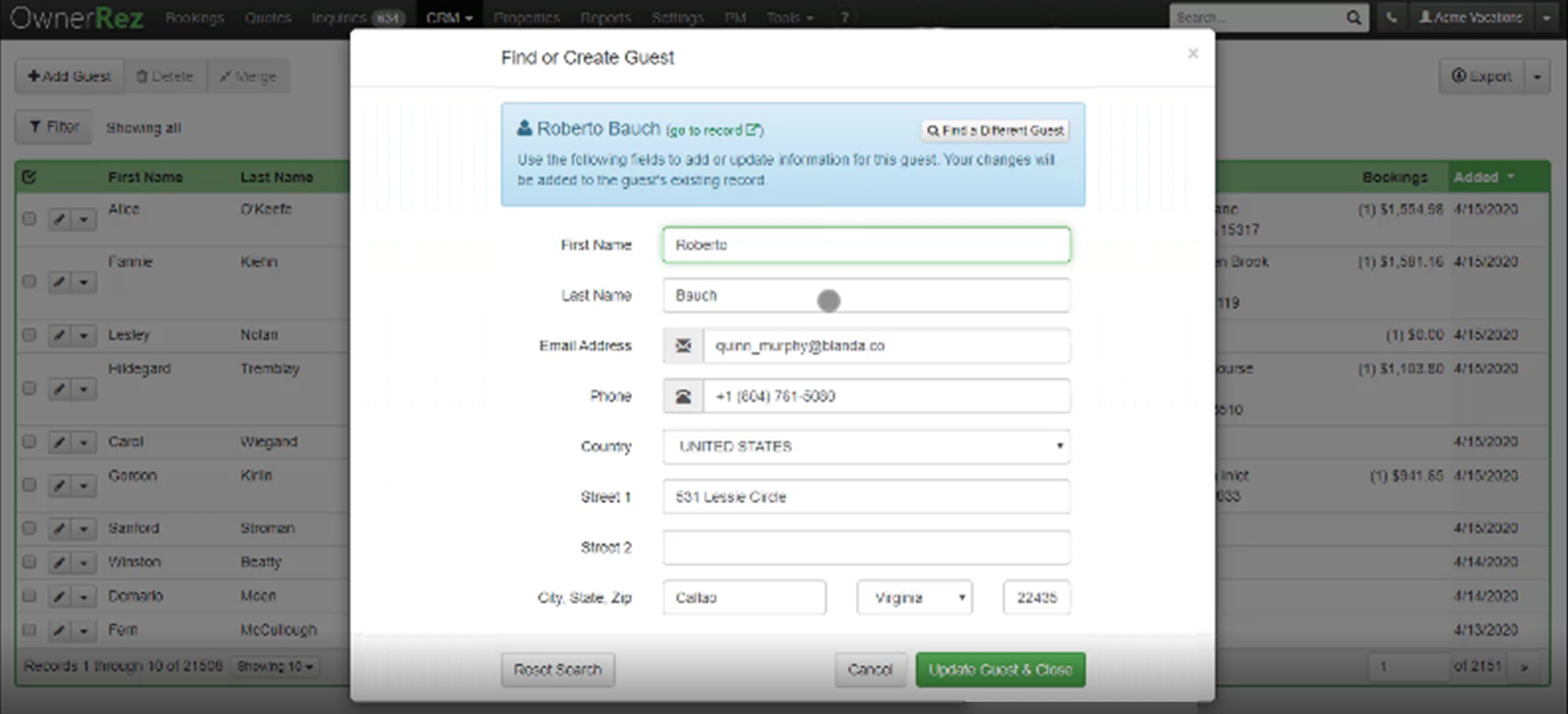 OwnerRez does not seem to have a particular feature dedicated to your handyman or maintenance issues. You can create manual tasks if needed, though.
allow the fixers and the cleaners to turn the task's status to complete when done and track them in real-time.

sends the fixers notifications on their mobile phones via text message when the task is created automatically from the system or manually by another user of iGMS. They will also receive another message as a reminder the evening before.

creates a daily schedule for each staff of yours for the following day in order to avoid missing things. 
set your expectations by attaching photos and have a place to receive photos in real time from cleaners

automate all communications through the system by email and SMS.
OwnerRez supports mobile phones and tablets. Their web-version is mobile responsive to the devices meaning that you can work with the system the same way as you work with it  from your PCs. It can also be installed as an app on your mobile devices.
You can use OwnerRez internationally, they allow for multiple currencies which can be set per property. You can have multiple different credit card processors to accept different currencies as well.
OwnerRez can help you manage your housekeeping at some point, but it needs manual interference, and it also needs supervision. (It will not be done automatically.)
However, it is clear that some more extensive operations with more complex scheduling involved, including housekeeping, maintenance, and other support staff need a solution.  To meet this need, OwnerRez has partnered with ResortCleaning and VRScheduler.
Maintenance: iGMS allows you to create profiles and tasks for the maintenance staff.
OwnerRez's PM (Property Management) area gives you a wide variety of options provided that you use the Premium plan. You can configure owners, assign the properties that you manage for those owners including some settings like your commission.
You can grant portal access to owners to see your calendar. You can also generate monthly owner statements so that owners can see their booking earnings and the expenses that you have charged them. In addition, your grand total of the month will be calculated.
Owners can: 
check property availability calendars.

book an owner stay, or guest-of-owner stay

download their owner statement
Using OwnerRez, 
you can directly collect payments.You can configure payment methods in the financial setting whether to accept credit cards, checks, or Paypal;

you have integration with Quickbooks for your accounting. All the invoices will get generated automatically using Quickbooks' integration with all the data needed, such as taxes, add-ons, etc.
you can generate partial payment links which means that the system generates two invoices for you. It is also possible to set reminders for the guests, which will be sent to them via email;

regarding security deposits, OwnerRez offers its Damage Protection program with an insurer called RentalGuardian, which is optional. The other possible ways are either to hold a security deposit or to have a Refundable Damage Deposit or "RDD." These can be created manually in the system; 

They offer API integrations with Payeezy, Authorize.net, Bambora, Lynnbrook, Stripe, and more payment processors for payment collection. You can check them out on their website.
With OwnerRez:
the booking summary report helps you compare your booking percentage during different periods. You can also compare property by property; 

you can also apply other filters like Airbnb or channel bookings only;

you can also have a line Item Pivot report that allows you to have all your bookings lined with all the information that you may want to know about.
Using OwnerRez, you can define seasonal rates and spot rates. You can have the rates applied to only random days on a month, certain days repeatedly, or the full month. The rate plans from one property can also be batch copied to a destination property. 
Under rate rules, you can create last-minute discounts.
OwnerRez also offers integration with Beyond Pricing, and PriceLabsfor dynamic pricing.
OwnerRez has a Concierge Setup apart from support documents and asking for help.
The OwnerRez team will go through your account's onboarding process entirely by themselves based on the information you provide for them. At some points, like the part for website setup, your presence will be needed.
There would be charge for this service based on the number of your properties. This service will only be available for your existing listings, not the ones you add later on. It is also good to know that Concierge Setup is not an express service, and it might take 3 to 6 weeks to complete.
OwnerRez offers a Line Item Pivot where you have the list of all your bookings on a list with all the information you may want to check. You can see your booking data, rent price, cleaning, surcharges and discounts, taxes, host fees, charge totals, transaction totals, and PM totals. You can export them to Excel as well.
Keep in mind that this information will be generated for each booking, not your organisation like the monthly profit report in total.
However, OwnerRez can generate monthly owner statements so that owners can see their booking earnings and the expenses you have charged them. In addition, the total of the month would be calculated.
OwnerRez integrates with Quickbooks for your bookkeeping services.
Having PM services (calculating commissions, generating owner statements and recording expenses) and the integration with QuickBooks require an extra fee to be paid to OwnerRez on your base plan.
You can generate invoices to employees. 

You can keep track of the expenses.

The system allows you to create accounting statements. The statements will be updated automatically based on received and sent payments.

The amounts on the payments are not automatically updated. 

There is no bank account for the owner; the split proportions of income on each booking are for reporting purposes.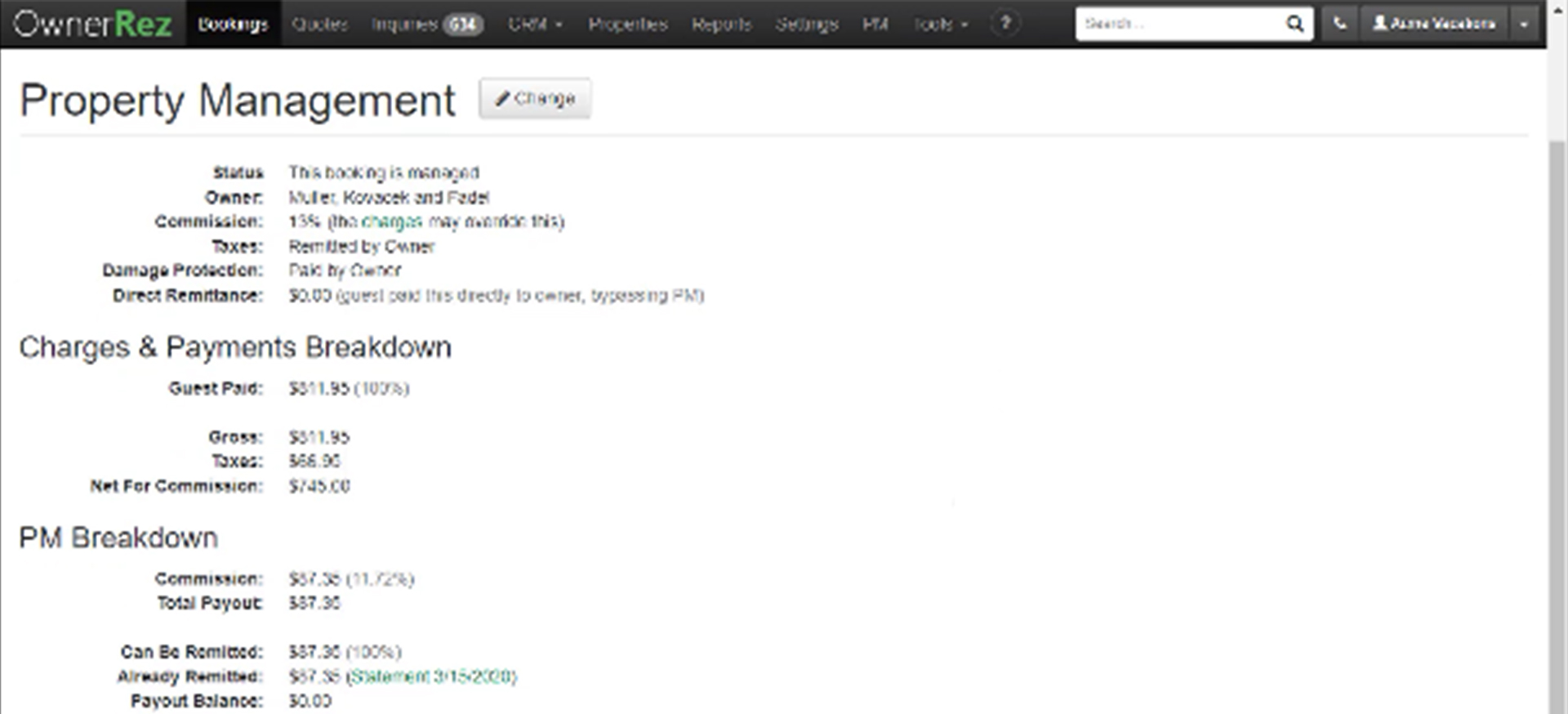 OwnerRez does not have a Unified Inbox beyond the Airbnb messaging. However, you can have your Airbnb messages sent to OwnerRez automatically, and you can answer back to them from your OwnerRez account directly.
You can have your enquiries forwarded into OwnerRez from Vrbo or TripAdvisor at some point, but your answer will be sent out as a traditional email to the guest.
Some pre-set email templates can be sent out to guests automatically using the triggers. They can get turned off for the bookings that you may choose out of your list. You can also create your email templates based on your needs.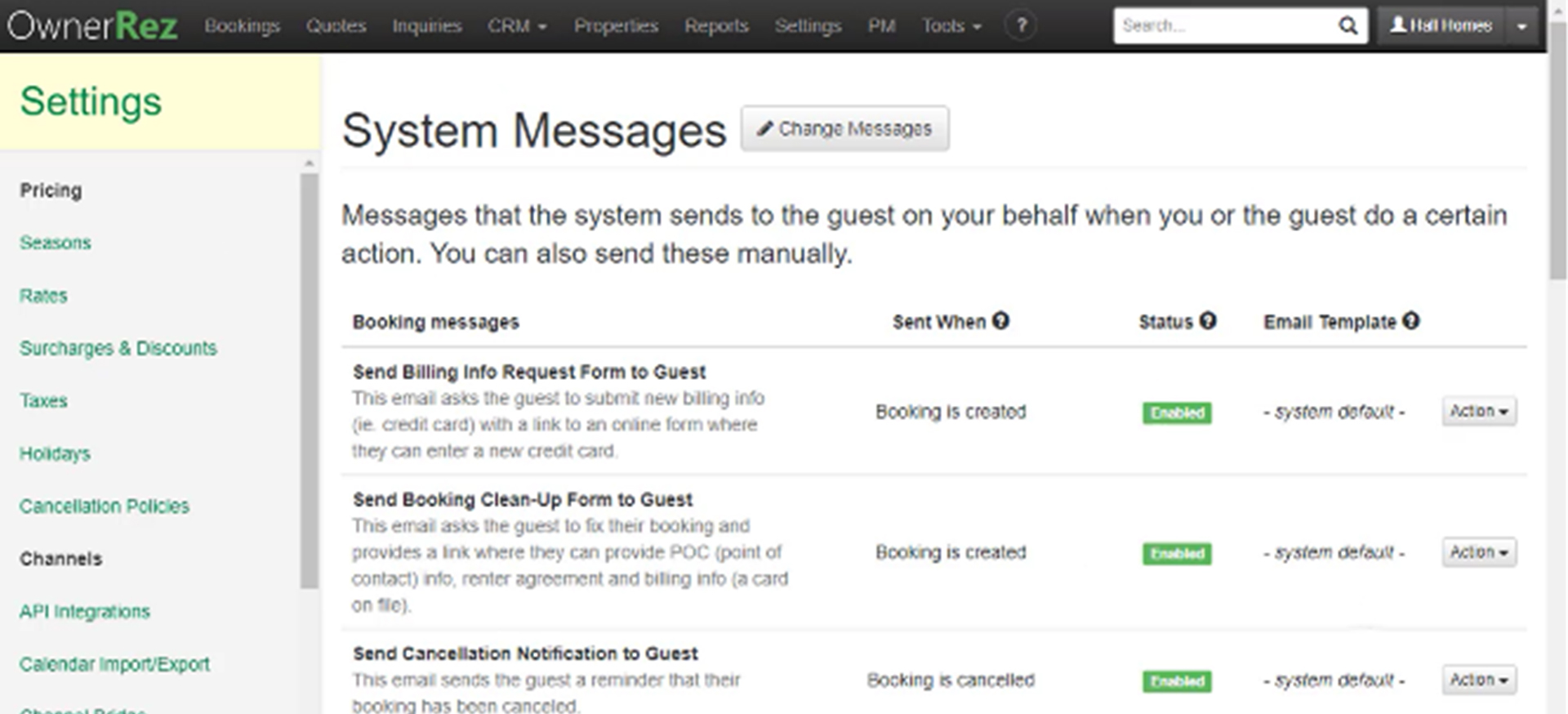 OwnerRez Pricing starts from $35.00 (25.30 GBP) per month. The more properties you have, the less you will pay. However, the default plan only includes channel management and digital signature. If you would like to have property management (to calculate commission, generate owner statements, and record expenses), QuickBooks integration, Hosted Website, and SMS messaging, you need to include them in your base plan and pay extra for each. OwnerRez does not have a free version, but they offer a 14-day free trial.
Which Property Management System to Choose?
OwnerRez will help you a lot in managing your properties as there are lots of features available for each aspect of managing a short-rental business. There are also so many integrations that can be used. However, you need to keep in mind that to have some of the features, you need to pay an extra amount per property to have them activated. OwnerRez can be a great solution for small and large multi-location companies and those who work with Vrbo, Booking.com, Airbnb only as the integration would be an API one.
We are committed to ensuring that all our analytical articles are factually entirely correct and accurate. If you have spotted anything that you feel is wrong or misleading in this article, we'd appreciate hearing from you.