Smoobu is a vacation rental management system and channel manager founded by Philipp Reuter. The official launch of this Berlin-based company was in 2014. Smoobu offers an easy-to-use solution that connects all booking portals, provides a website, and manages guest communication.
If you are looking for a good piece of software that suits your vacation rental business, you might find this article helpful. It gives you an overview of the essential features, and the added values a property management system must offer.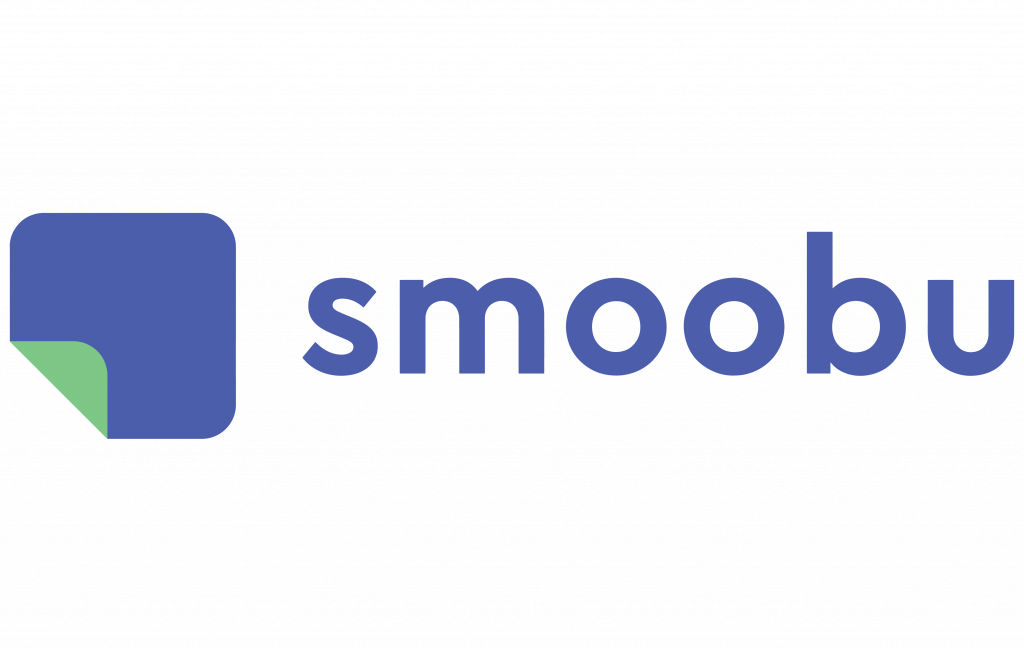 Smoobu ensures that all the reservations are synced across all the channels, and equips its users with a website, reservation system (Smoobu PMS), automated templates, and online check-in tools. Smoobu's guest guide application is a competitive feature that offers all the relevant information the guests require for their stays. The visual statistics are easy to check, and the user can give access to the partners and define their permissions. The system is easy to set up and is minimal and clean in terms of UI/UX.
Does Your PMS Automate All Aspects of Your Business?
No matter how big or small your short-term rental business is, the management of the processes involved must be as efficient as possible; otherwise, your mere investment in distribution and channel management would be a waste. Acquiring a good PMS helps handle the workload and takes care of the operational management, cleaning and maintenance, cash flow, income and expense analyses. Reducing the operational headaches enables you to sharpen your focus on strategies that help expand your business. At first glance, a PMS featured with such level of automation may seem expensive, but in the long-term, it saves you time, money, and energy, allowing you to run your business more smoothly and efficiently. 
Automated Booking Processing
create the booking and enter guest details;

activate payment collection and enter their card information;

schedule the security deposit;

reach out to guests for further information such as photo ID, and signing of the terms and conditions. 
After taking these steps, the booking will be created, and it will resemble one created automatically.
Smoobu's channel manager synchronises all the bookings, calendar blocks, cancellations, and rates. For VRBO/ Homeaway, there is iCal synchronisation. 
Smoobu has integration with more than 100 channels; it has an API integration with 15 channels.
Price synchronisation is available for Booking.com, Expedia and Agoda. You can add a mark-up in percentage to the base rate. It applies for the minimum stay and the price according to the days of a week.
Prices can be exported/ imported from one channel into another.
Getting connected to Airbnb, HomeAway, and Vrbo, you can sync your availability, occupancy, pricing, and messaging with your iGMS account and manage them from your multi-calendar within the system.  Regarding the rest of the channels, you can only import/export your tasks and availability when using iCal connection which requires your supervision as it takes some time for it to get updated each time a change is made.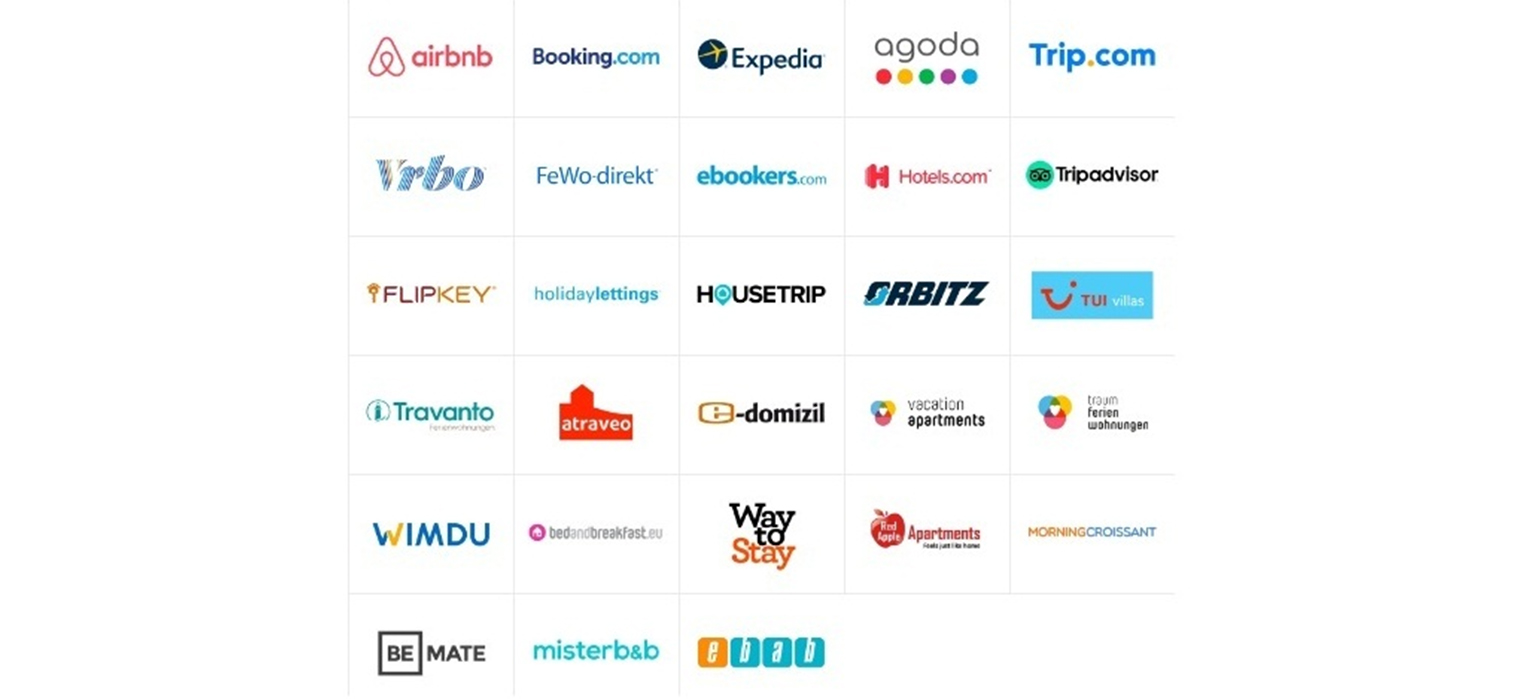 Smoobu offers integration with cleaning software such as Properly, TurnoverBnB, and VRScheduler.
With login details, your cleaners can access your calendar, some notes and guest details based on the levels of access you define.
(This feature is available only if you use the Property Management Premium Feature.)
You can create a trigger email in OwnerRez to be sent out after each departure so that the cleaner know about the latest check-outs.
If you turn on the Third Party Alerts tab for each property and put in the cleaner's name/email address, the system will email the assignee automatically each time a booking hits, gets cancelled, and changed.
Stay report shows you who is arriving, departing, and staging. This report can be printed and sent to your cleaners as a schedule. 
Smoobu's "native online check-in tool" helps you to collect information that you need for the local laws or the information you need for your safety as a host. 
Some yields are customisable, and you can deactivate some of them such as name, gender, nationality, and ID card.
You can ask the guests to sign or attach files. 
Smoobu's integration partners for online check-ins are: Checkin, Wishbox, Mymaison, Vikey, Avs, and Check-in Scan
Smoobu's integration partners for smart locks are KeyNest, NUKI, igloohome, Keysoft Claud, SCLAK, TheKeys, Operto.  
The guest app provides them with information about the rental, access, address, Wi-Fi details, and recommendations about what to do in the area. (You can select the sensitive info like access code will only be sent if the payment has been completed). 

Once the guests check out, they will be no longer able to access the app.  

Automatic and manual SMS reminders can be sent.

If you want to link into software for automatic self check-in, you should use Zapier.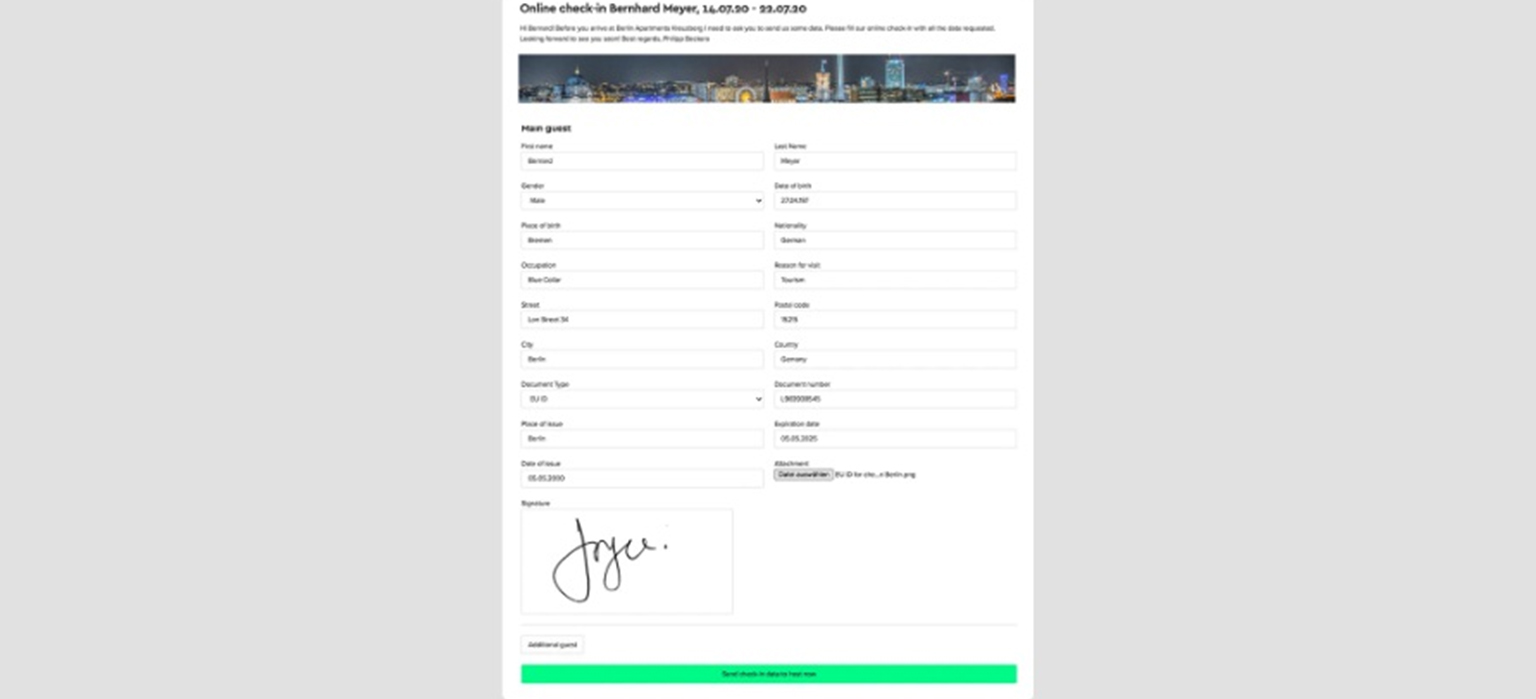 1. Smoobu provides you with a direct booking website that is commission-free. You can add pictures, location, description, logo, google maps, policies, and allows payment collection through Stripe/ PayPal accounts. 
2. You can use it with your domain. Smoobu's booking engine iFrame can be integrated with your current website. 
3. You can translate the website into over 25 languages. 
4. The website covers 50 currencies. 
5. "You can add custom Javascript."
6. For the website, you can specify rates per person, per night, per booking, and define minimum stays. The availability calendar can be embedded on the website, and the guests can see it.
7. The website is responsive for all the devices.
8. For the website, you can set "min days between booking and arrival, arrival and departure days, long stay discount, and discount code. 
9. The website can be integrated with content management systems such as WordPress, Wix, Weebly, Strato, Typ03, Drupal, Joomla, GoogleSite, Jimdo, and Squarespace. 
10. Smoobu integrates with Google Analytics. 
11. You can make restrictions regarding check-in and check-out days for your website.
12. You can embed Instagram, Facebook, Twitter, WhatsApp, Youtube, and LinkedIn on your website.
The webpages are NOT generated for different locations.
The SEO-friendly website created by Lodgify: 
is customisable, allowing you to create custom pages. 

allows you to add Google Analytics. 

can be integrated with WordPress, Wix, Drupal, Joomla, Weebly, and Squarespace.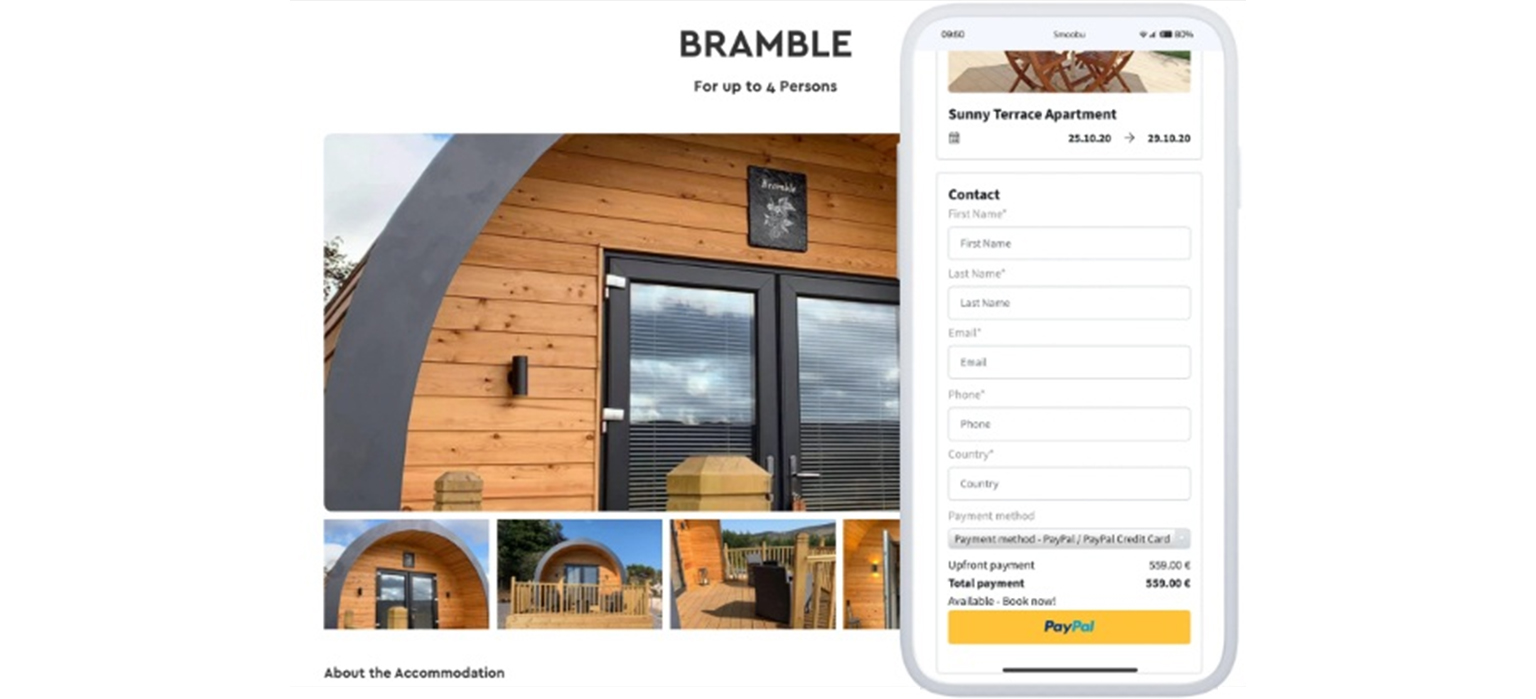 You can define long stay discounts with "dynamic minimum length" for your website. For example, after 20 nights, your guests get a discount.
What can be done is extending your guest stay for your direct bookings via changing the dates, the charges, and payment collection which can be done manually.
If a booking is coming from an OTA and the guests end up staying longer in your properties, the change should be made on the OTA webpage directly even if you are using an API integration.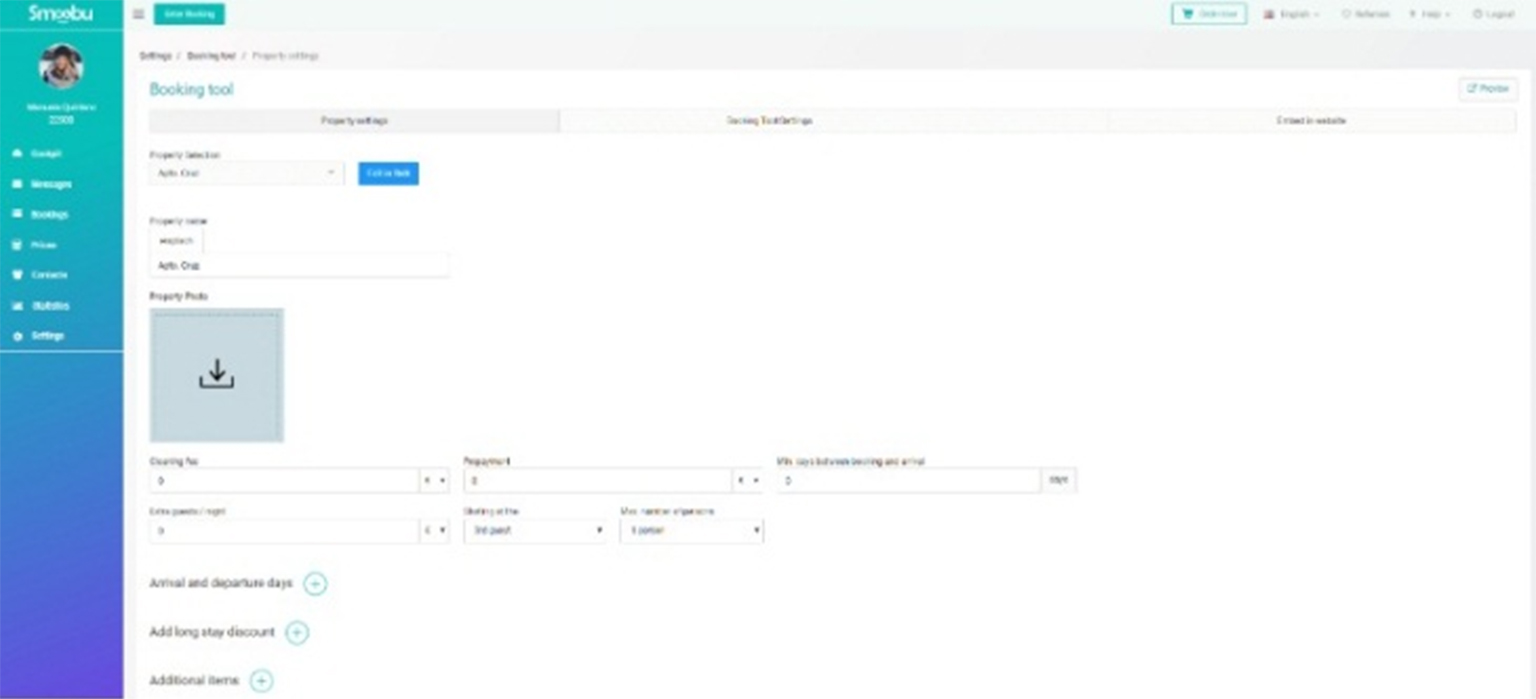 Smoobu automates your communication with:
the guests by creating message templates like "thank you messages" and setting trigger events. The templates are customisable according to the guest name, check-in, and check-out times.  

Smoobu's "Dynamic Guest Guide," a guest app generated for each booking that provides your guests with all the necessary information in 40 languages until they check out.
Smoobu has full integration with Booking.com & Airbnb messaging APIs.
3.Kigo provides a ready-to-use template for your automated guest messaging system.
Smoobu's CRM tool collects all guest contacts from all the connected portals on one page. 
You can edit the data and export the list and send SMS and emails through third parties.
To be in touch with your guests, you can download the mobile app.
allow the fixers and the cleaners to turn the task's status to complete when done and track them in real-time.

sends the fixers notifications on their mobile phones via text message when the task is created automatically from the system or manually by another user of iGMS. They will also receive another message as a reminder the evening before.

creates a daily schedule for each staff of yours for the following day in order to avoid missing things. 
set your expectations by attaching photos and have a place to receive photos in real time from cleaners

automate all communications through the system by email and SMS.
Smoobu's mobile app shows you the unified inbox. 
There is a mobile app for the guests by which they can check Wi-Fi credentials, maps, tours, weather, etc. It is integrated with Smoobu's tools, and you can cross-sell extra services during their stays.
Smoobu app also helps you collect reviews. 
N/A
Smoobu's "central operations cockpit" shows you the key performance indicators such as occupancy and distribution rates, current bookings, and a list of next guests.
You can add a booking on this page.
Maintenance: iGMS allows you to create profiles and tasks for the maintenance staff.
You can share your Smoobu's account with your partners and cleaning teams, allowing them access to general account setting, guest data, properties, messages, and prices.
You can grant portal access to owners to see your calendar. You can also generate monthly owner statements so that owners can see their booking earnings and the expenses that you have charged them. In addition, your grand total of the month will be calculated.
Owners can: 
check property availability calendars.

book an owner stay, or guest-of-owner stay

download their owner statement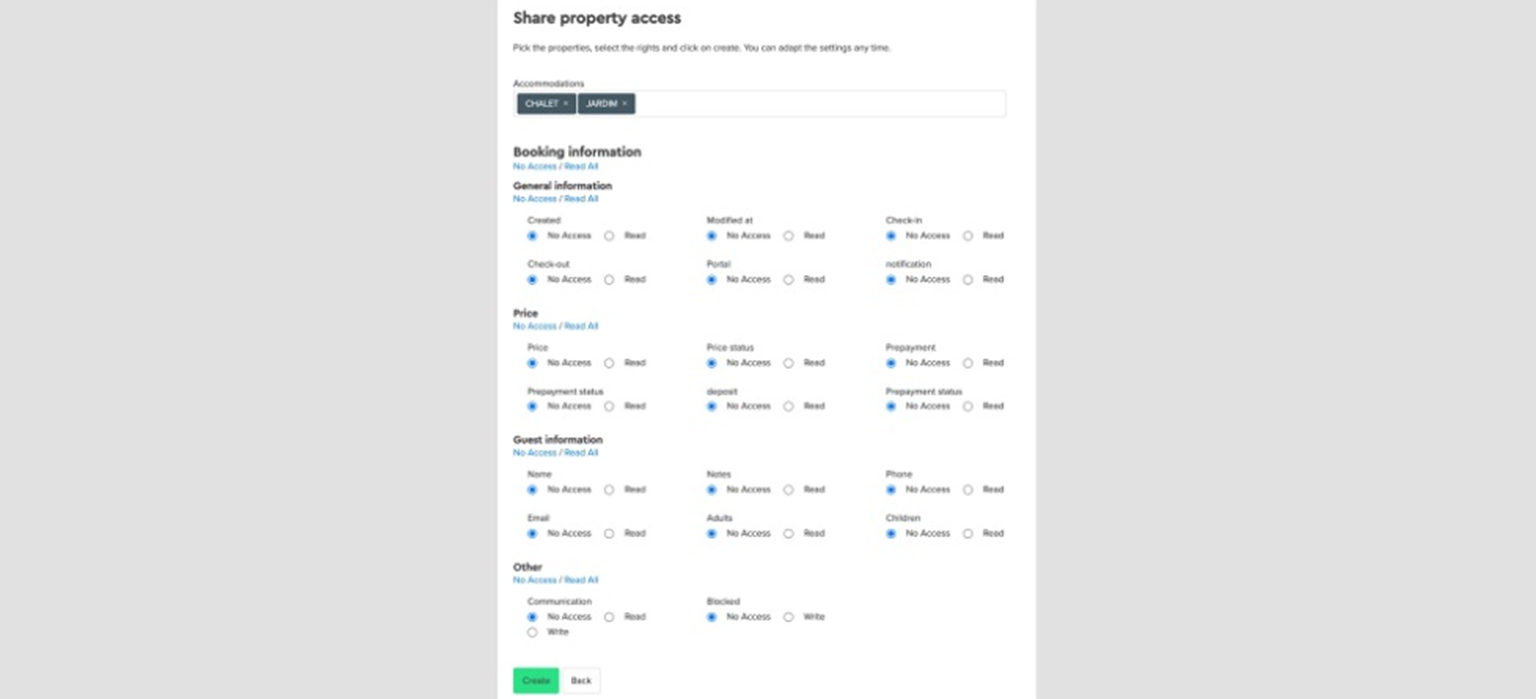 Smoobu creates custom invoice templates. Cross-selling items from the bookings will be shown in the invoice. You can insert PayPal links automatically to the invoice. 
Smoobu has integration with Stripe, PayPal, Sumup, and Swikly.  The payment integration is just for the booking engine. 
Smoobu charges card details.
You can choose how you want to receive payment on your website (Bank transfer, Stripe, Patpay, Payment on Arrival, and iDEAL for Dutch users).
Smoobu's "Statistics" enables you to break down the reports by "revenue, bookings, cancellations, occupancy rate, dates, properties, and nights."
You can download the list of reservations in an Excel, PDF or CSV file.
On the "Cockpit Page," you can check the occupancy rate and channel distribution.
Smoobu's dynamic pricing integration partners are Beyond Pricing and PriceLabs.
The link of help articles and instructions are uploaded on the platform, and you can check them while you set your system up. 
You can schedule a call to ask your questions.
Upon logging into the system, you can be in touch with a representative through email.
There would be charge for this service based on the number of your properties. This service will only be available for your existing listings, not the ones you add later on. It is also good to know that Concierge Setup is not an express service, and it might take 3 to 6 weeks to complete.
Keep in mind that this information will be generated for each booking, not your organisation like the monthly profit report in total.
However, OwnerRez can generate monthly owner statements so that owners can see their booking earnings and the expenses you have charged them. In addition, the total of the month would be calculated.
OwnerRez integrates with Quickbooks for your bookkeeping services.
Having PM services (calculating commissions, generating owner statements and recording expenses) and the integration with QuickBooks require an extra fee to be paid to OwnerRez on your base plan.
You can generate invoices to employees. 

You can keep track of the expenses.

The system allows you to create accounting statements. The statements will be updated automatically based on received and sent payments.

The amounts on the payments are not automatically updated. 

There is no bank account for the owner; the split proportions of income on each booking are for reporting purposes.
The messages from various booking platforms will be allocated to the bookings, and you can chat and see the conversation history online or via mobile app.
Some pre-set email templates can be sent out to guests automatically using the triggers. They can get turned off for the bookings that you may choose out of your list. You can also create your email templates based on your needs.
Smoobu offers two packages. One is free and covers the Reservation System. The other package has two plans; the monthly plan starts from £19 per month, and as the number of units goes up, £5 will be added to the price for each unit. The yearly plan starts from £15.20, and £4 will be added for each unit. For more than 20 units, Smoobu offers an price offline.
Smoobu: A Property Management System to Choose?
Smoobu is the right choice if you want to get an affordable, easy-to-use system that includes a PMS, channel manager, website builder, guest communication, and payment. Through Smoobu's guest application, you can provide your guest with a happy and pleasant experience. Furthermore, by accessing a contact list, you can directly connect with your guests or use the list for your email marketing. Since Smoobu does not offer cleaning, maintenance, and operational management, you should be mindful of other expenses that you should pay for buying other software or hiring staff members.

We are committed to ensuring that all our analytical articles are factually entirely correct and accurate. If you have spotted anything that you feel is wrong or misleading in this article, we'd appreciate hearing from you.