Why I cannot save my preferred timing for Booking Config?
In Zeevou Set-> Organisation Configuration, under Booking Config, you need to make sure the time you enter in the fields follow bellow order:
earliest possible <earliest free <latest free  <latest possible
Please note that time 23:00:00, 23:30, 23:59 is considered the last hours of a day, while 00:00:00, and 00:30:00 are considered the beginning  hours of a day.


How can I close my account?
On the top right of page, click on My Contract. In the opened page of contract, click on Cancel Subscription button.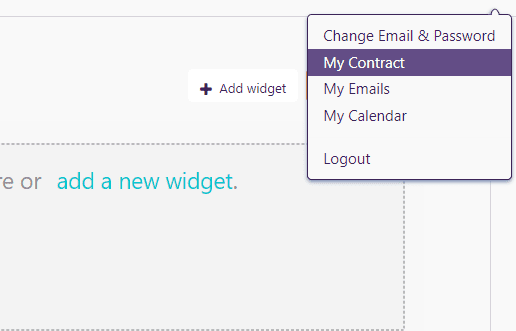 How can I remove the imported iCal link?
In Zeevou Sell-> Blocked Dates, click on Manage Calendar Import button. In the opened page, choose your preferred imported option and click on Edit button.
Remove the tick from Active iCal Import box and save the page.
How far in advance does Zeevou open up the calendars on OTAs?
Zeevou sends 720 days of update in terms of availability & rates to channels. However, each OTA accepts updates on a different basis. Most of the OTAs accept 365 days of availability but some of the OTAs like Expedia, Booking.com & Airbnb support 500 days of updates.
How can I disconnect from Xero?
Under Zeevou Set -> System Integrations, scroll to Xero and click on Disconnect from Xero. You will see the red button turn to a green Connect to Xero button once successful.
How can I activate automatic invoice posting?
You can force Zeevou to generate booking invoices automatically a set number of days after check-out. The system can also post invoices automatically to Xero. We recommend that you try a few manually before activating this option.
To activate automatic invoice posting, simply go to
Zeevou Set → Organisation Configuration → Invoice & Xero Configuration
Click on the tick-boxes next to the following properties:
Auto Post Invoices to Xero
Auto Generate Invoice
Enter the number of days after check-out when you want the invoice to be auto-generated and posted across to Xero.
How can I post an invoice manually?
Make sure the booking has its status set to Checked Out. Create an invoice manually in Zeevou in the booking view, by clicking Download PDF Invoice.
View all Guest Invoices:

From Zeevou Pay menu, choose Guest Invoices. To post an invoice to Xero, select an invoice from the list of generated invoices and go to view mode.
After posting to Xero, the Remote No field will be auto-populated with the Xero invoice number and the description field will show information about the posted invoice. If any error occurs during the posting process, the error message will be shown in the Post Info field.
You should now be able to see the see posted invoices in Xero's Invoices section.
The Zeevou Booking Number will be shown as the invoice's Reference along the top of the invoice.
How can I set Min Stay for my property?
To set the minimum stay for a property/unit type/unit and get it applied to channels, in Zeevou Sell-> Rates, click on Create Rate button. In the opened page set the Min Stay for the maximum period of time you would like. Please note that data you enter in this page will override the previously set ones. However, for the fields that you leave empty, previous data will be applied automatically.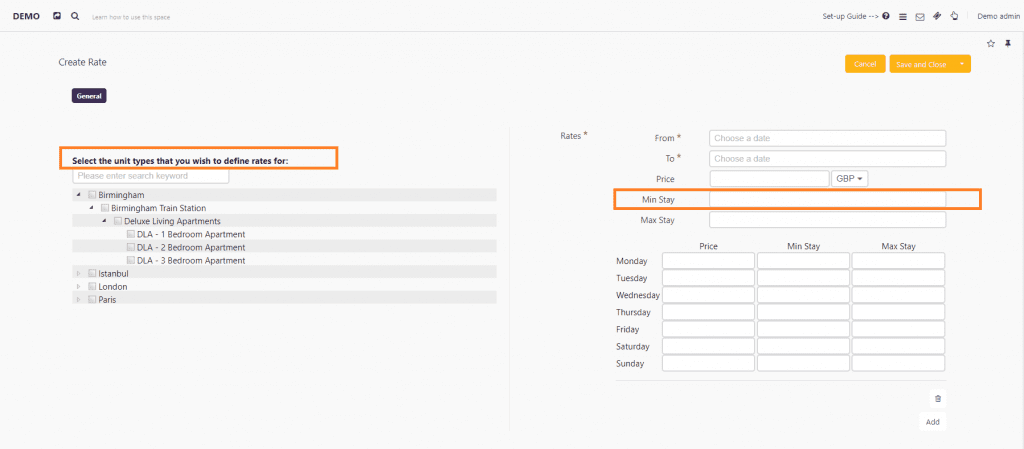 How can I delete a property?
Since system keeps the records of all created bookings, if there are bookings associated with a property, system does not allow property deletion.
In such case, you can Deactivate the property instead.
First, make sure property is disconnected from Zeevou Channels.
Second, check the status of below boxes in the property edit page: Allow Direct Booking, Publish On Zeevou Direct, Publish On Here To Help
Third, click on Deactivate Property.

If there has been no booking associated with a property, first you need to delete the associated unit, then unit type, and finally the property can be deleted.
As long as bookings are associated with a unit, system does not allow deleting it. You need to first make sure the unit you want to delete has no booking associated with it. Please edit bookings, remove the units (make the booking unallocated), and save the changes. Once all the bookings associated with the unit get unallocated, system will allow unit deletion. 
Also, to delete a unit type, you need to first delete its associated unit, then system will let you delete the unit type. 
How to duplicate a Unit Type?
If you would like to duplicate a unit type and add only slight changes to some fields, in Unit Type view page, click on Clone option. Clone option will lead you to Create Unit Type page in which all fields are filled based on the main unit type data and you can change your preferred fields.



How to breakdown the total price of a booking?
In booking view page, click on Finance button and choose Generate Partial Payment Link.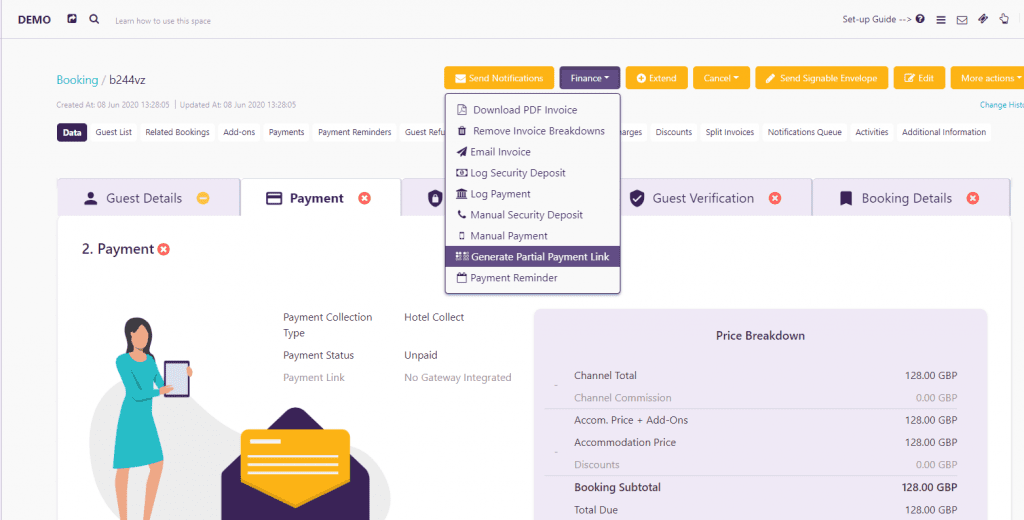 In the opened pop up, once you enter your preferred amount, the new payment link gets generated. You can Copy or Send the link to the guest.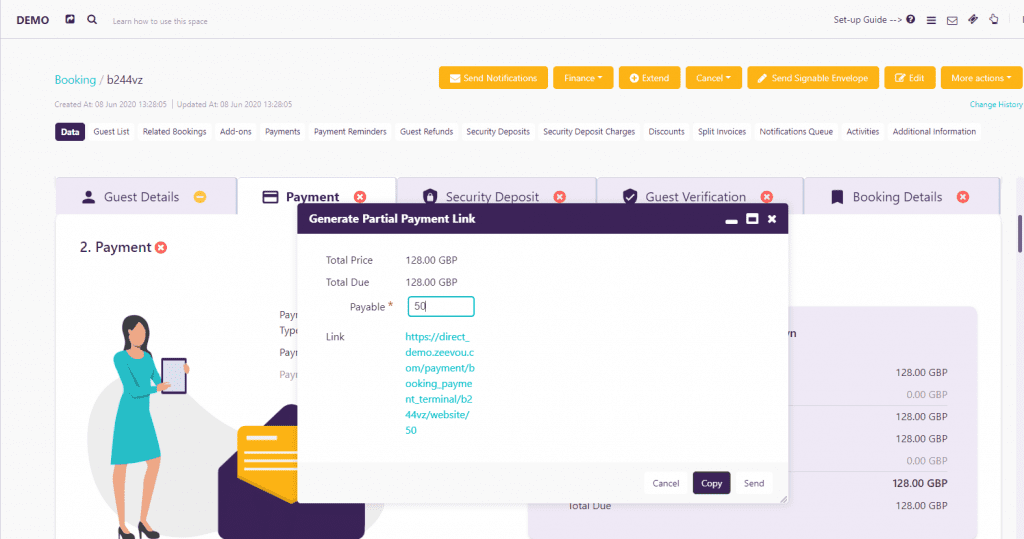 How can I create an automated email or SMS trigger rule based on custom conditions?
To create a trigger rule for an email or SMS, go to Zeevou Set-> Notifications -> Trigger Rules.
Click on Create Trigger Rules
Choose a title for the Trigger
Make sure it is active. (if you want to deactivate one trigger rule and stop an email you can take the tick off).
Set your conditions.
Choose the corresponding email or SMS template. (You need to create templates in Zeevou Set-> Notifications -> Templates. Please note that the SMS template should have plain text and shouldn't be long)
You can attach Invoice or House Manual or Check-in Guide to the email.
If you want to see the email in Send Notification in the Booking View page, you need to click on favorite.
Choose who you want to send the email to. You can choose the guest, Zeevou Users or a specific email that hasn't been registered in Zeevou.
How to set a condition:
You can set as many conditions as you want for your emails and SMS. These trigger rules make sure when and to whom they are sent. Please make sure the sets of conditions you choose for an email or SMS don't contradict. For example, you shouldn't choose one condition as "Booking status equal to booked." And the other one "Booking status equal to cancelled."

Please do not change or delete the two default set conditions but add to them. The default conditions in the trigger creation page are set to make sure, your template won't get sent to cancelled and previous bookings.

1. Choose the variable. (date, booking status, due payment, property, etc.)
2. Set the Operator. (It's better to use => or <= for dates and time rather than = )
3. Specify the variable in the Value, Property, city or area (depending on the variable).
4. If you can't see a box in front of Value, click on "add" and the box will appear.
5. The purple box shows your condition.
6. You can delete a condition if you click on the trash bin under the purple box.
7. When you save and close, a message may appear and show how many bookings are affected by the trigger rule or changes applied. If the number is not what you expect, please check the conditions again.
Notes:
How can you make sure a new email is not sent to previous bookings?
In Trigger Rules, set one condition as "Booking date after (the date you set the condition)." This email won't be sent to previous bookings.
How can we disable emails (such as Booking confirmation and Check-in instructions) for the extended bookings?
You can add a condition in the Trigger Rules for the emails that you don't want to be sent to the extended bookings as "Extended is equal to False".

Why my email (for example my Check-in instructions trigger) was not sent?
Please note that triggers won't get fired unless all their set conditions are met.

Can I set a trigger to get fired at a specific time?
Unfortunately, at the present time, it is not possible to fire a trigger at a specific time.

What will happen if I set a template, tick Favorite box, and specify no condition?
Trigger will be available in booking view page->Send Notifications, but can be sent only manually.

How can I add an additional brand?
Go to Zeevou Set -> Organisation Configuration. Click on Create New Brand on the top right hand corner.
Enter the new brand details and click Save.
Open the property and click on Brand. Click on the Add button on the right.
Select the Brand(s) you want to apply to that property. If selecting multiple brands for a property, you need to select a default brand. Click Select and then Save and Close.
Why are housekeeping tasks not appearing on the mobile app?
Make sure you have:
Set the profile of the housekeeper to enabled.
Set the availability of the housekeeper in their profile.
Allocated the housekeeper to the property.
Set the correct average housekeeping times in your unit types.
The system will try to auto-allocate the housekeeping tasks to your housekeepers based on the above, as well as check-in and check-out times, and travel time between properties to try and achieve the highest optimisation possible. You can override the allocation set by the system in Zeevou Do -> Housekeeping -> Upcoming Housekeeping Schedule
Why is my property not appearing in search results on the website?
Make sure you have:
Created a Country, City, Property, Unit Type, and a Unit. If no units have been added, nothing will show in search results.
You have rates showing in Zeevou Sell - Rates & Availability Calendar under Zeevou Sell
How do I deactivate a unit or property?
Remove all the mappings with the channels.
Mark all your bookings as cancelled.
Open the property and click on Deactivate Property button if you want to deactivate the entire property, or edit the unit and click on Delete if you just want to remove the unit itself.
How can I set up add-ons?
In Zeevou Sell/Add-ons, you can create different Add-ons as you wish.
There, you need to choose a name, determine its Type, and Price (Fixed or Percentage).
Then, by filling Default Sales and Purchase Price fields, you can set the price you have purchased it (say the add-on is Breakfast) and the Price you are going to sell it. These fields are helpful in calculating the business income and accounting processes.
For Category fields, Add-ons are usually categorized as "Service".
If the "Needs Admin Approval" box is ticked, for any booking that includes that Add-on, system cannot apply the Add-on until Admin approves it. For example, if a booking includes Early Check-in Add-on, system will not increase the booking Price until Admin user approves it. If the box is not ticked, system will consider Add-on Price and increase the booking Price automatically.
Booking Deadline field determines the deadline for applying that Add-on. For example, you can determine that Early Check-in Add-on cannot be applied one day before the guest arrival.
When you save the Add-on creation page, you can add the created Add-on to all your properties in Organisation Configuration, or to a specific Property in Zeevou Huts.
In Organisation Configuration, you can set Early/Late Check in/out Add-ons. Please note that if you set for example Early Check-in Add-ons in Organisation Configuration, it will affect all your properties.
In Zeevou Huts/properties/Edit mode, under "Check-in/Check-out Times" title, you can tick the "Check-In/Check-Out Time Override" box and customize that specific property Add-ons.
Another important field that is associated with Add-ons is Rate Plan. After you create Rate Plan, in the view mode, you can Add Add-on to the rate plan. Using this option, your set Add-on can be included in the rates that are sent to the OTAs and are shown in your Zeevou domain.
What do some options in Property mean?
This option determines whether the property can be booked through the organisation domain or not.
"Allow Booking From Zeevou Direct"
This option determines whether the property can be booked through Zeevou Direct or not.
What do the options under the Create Rate Plan page mean?
When Is Default option is ticked, it helps in providing the default rate plan in manual booking creation. As you know, different rate plans can be set for a Unit Type. Each rate plan can include various add-ons and prices. When a user wants to create a manual booking, s/he needs to specify the her/his preferred rate plan. However, if the option of "Is Default" is ticked, system will set the default rate plan and all its associated Add-ons in manual booking creation.
"Apply To Channel Manager/ Booking Engine/ Admin"
These options specify the rate plan will be applied either to
Channel Manager that will be presented in OTAs or to
Booking Engine that is Zeevou domain or to
Admin that would determine the rate plans Admin can see in Zeevou.
How do I create a promotion, discount or voucher code for the direct booking engine on my website?
Firstly, you need to create a promotion.
Under Zeevou Sell from the main menu select Promotions, and then click on the Create Promotion button on the top right hand corner.
On the page that opens, fill the Name field with a name of your choice.
If you would like to apply this promotion in conjunction with other discounts, tick the Apply On Other Discounts box.
At the present time, only Amounts, Days Before Arrival, Number of Sleepers, and Number of Nights are available. For these options, you can specify for example that you would like to consider the promotion for all the bookings whose Amount (ie total price of the reservation) is between 20 GBP to 200 GBP; or for all the bookings whose Number of Nights are between 3 to 10 nights.
Then you can determine how you would like to set the promotion: Percentage Per Item or Fixed Rate Per Item, or a combination of both options simultaneously.
Click on Save and Close.
Now that you have created a promotion, you need to specify how it should be applied for it to be activated. To do so, follow the steps below:
Clicking on the created promotion. On the top right of the page, you will be able to see and click on the button "+Promotion Application".
You can use the Booking Date and Arrival Date fields to specify the periods for which the promotion should apply.
The Limit allows you to limit the number of times that a promotion can be used.
The Explicit box function is not available at the moment, so please ignore this.
By ticking or leaving the box "Can be applied alongside other promotions" unticked, you can determine how you would like the promotion to be applied.
Then, under Vouchers title, you can specify the number of Vouchers and their codes.
Finally, "Apply on Specific Unit Types" allows you to select specific unit types to which you want the promotion to be applied.
Click on Save and Close.
Please note that once the promotion and its application have been created, you will also be able to access the promotions from the booking view page.
How do I disable automated emails?
To deactivate a notification trigger, you can visit the Notification Trigger Rules and remove the template from the corresponding notification. You can do this by disassociating the Template from the notification trigger rule (once you have opened the trigger, click on the cross to the right of the template and then click on Save and Close).
How do the automated security deposits in Zeevou work?
If a channel collects security deposits or provides a guarantee for them, the bookings coming from that channel will automatically be marked as "Yes" under Security Deposit in Today's Check-ins and will show as "Channel" in Booking View. If this is not the case, and if your payment gateway has been set up, as part of the Booking Confirmation Steps, the guest will be asked for a security deposit.
If Zeevou processed the payment, and the guest asks to use the same card as they paid with for the security deposit pre-authorisation, Zeevou will attempt to pre-authorise the funds from the guest the day before arrival. Should this fail, the guest will be sent a follow-up link where they can re-enter the same card details or new ones.
If Zeevou did not process the payment (ie the booking was Channel Collect), or if the guest asks to use a different card from the payment card in the Booking Confirmation Process, then the day before arrival they will be asked to enter their card details for the security deposit to be pre-authorised.
Once a security deposit has been successfully pre-authorised through Zeevou, the Security Deposit field will get toggled to "Yes" in Today's Check-ins, and it will display in Booking View under Security Deposits. If there are failed attempts, these will also show there. If a security deposit is paid to you directly outside of Zeevou, you can log this in the Booking View by clicking on Finance -> Log Security Deposit.
How do the automated payments in Zeevou work?
Once you complete the integration with your payment gateway, each time a booking comes in, Zeevou will check whether the OTA has informed us or not whether payment has been taken. If the OTA has already collected payment, the booking gets marked as Channel Collect. If not, it gets marked as Hotel Collect.
If a booking is Channel Collect, a credit memo gets added to the booking, and the booking displays a "Credit" status under the payment field. You will also see the credit memo in the booking itself if you open the Booking View mode. Once you get paid by the channel, open the booking, click on Finance -> Log Payment. Once payment is logged, the credit memo is removed. If a booking is marked as Credit, then that guest will not be asked for payment.
If a booking is Hotel Collect, the guest will be asked for payment as part of the Booking Confirmation Steps.
How does the integration with Signable work?
If you would like Signable envelopes get sent automatically, please make sure the plan you are choosing supports API&Webhooks. If your present plan does not support API&Webhooks, you can upgrade your plan in your Signable account.
Once you complete the integration with Signable, Zeevou will automatically trigger Signable to send out the selected template each time a new booking comes in. If you wish to collect ID, you need to add an upload field in the template you create in Signable requesting the guest to upload their ID.
Once the guest gets the email from Signable, they will be requested to digitally sign your terms and conditions and upload their ID. Once this is done, Zeevou will update the "Signed" field in Today's Check-ins to "Yes" and Signable will send you an email to notify you too. You can then log in to Signable and check the template for the signature and their ID. If you are happy with everything, you can then verify the guest in Zeevou. This can be done either on the Booking View page, or the Guest Profile page, or in Today's Check-ins report.
You can customize the time Signable is triggered in Zeevou Set>Organisation Configuration> Signable Account details.
I'm trying to map a property, but it says "No Rooms Found". What am I doing wrong?
You probably haven't created the units yet inside the property. Go back to the property under Zeevou Huts and check whether it contains any unit types and whether the unit types contain any units.
Why can't I finalise the mapping with Booking.com?
If you are getting the below error message, you may not have reached step 3 yet on Booking.com's process of connecting to a channel manager. Please initiate the connection on Booking.com as per the instructions provided before attempting the steps on Zeevou's side.
Can I connect to an Airbnb account if I'm the co-host?
No, you can only connect to an Airbnb listing through the main host's account. If you are managing for someone and they are not happy to share their login details with you, you can follow the steps on integrating with Airbnb up to the point where you Generate Client ID. You can copy & paste the URL of the new tab that opens, and send that to the host. Ask them to authorise the integration, and to send you back the token that they are provided with. Use that token to finalise the connection.
How do I inform housekeepers of their cleans?
Visit Zeevou Souls -> Zeevou Staff -> Profiles, and create a profile for each housekeeper by clicking on Create Zeevou Staff. Then open the properties that they are meant to clean one by one, and assign them as a housekeeper. Share the login details that you set for them with them, and ask them to log in at hub.zeevou.com.
How do I export an iCal from Zeevou and import it into another site?
How do I enter details around how I work with investors?
On the left hand menu, find Zeevou Souls. First, set up the Investor Profile. Then, set up a Deal Template. If it's a management deal, set the % splits. If it's a R2R, just save a Deal Template called Fixed Rent Inc/Exc Bills. Then go to Investor Deal and create a new deal. You can enter the rental amount here if it's a fixed rent/mortgage amount per month. Invoicing options:
Proxy: This is for management deals where you are invoicing guests on behalf of the investor and then keep your cut from the investor for your management services at the end of the month.
TOMS: This is a special VAT scheme for EU countries.
This is the normal invoicing method if you are the entity that's invoicing the guest directly and VAT applies on your total turnover.
How do I change the email address that a notification goes to?
Visit the Notification Trigger Rules. Open the Trigger Rule that you wish to edit. Click on the cross under Config Users (N.B. this will remove the email address but will not delete the user). Click on the Add button under Emails and add the email address you want the emails to go to. Click on Save and Close on the top right.
What automated emails get sent, and when?
Booking Confirmation
Upon booking, each guest gets sent a booking confirmation email asking them to confirm their details, provide an arrival time, and, if not already previously taken care of, pay, leave the details of which card Zeevou should pre-authorise the security deposit from, and sign your T&Cs and provide their ID. Signable sends out an email for the last step if the integration has been activated.
Booking Confirmed
Once the above steps are completed, an email goes out to the guest to provide them with a confirmation of their stay.
One Day Before Arrival
A day before arrival, the guests get sent an email reminding them of the property's address/providing directions. They are also shown the arrival time they had previously provided and given a chance to amend this if necessary. If the system has not yet had a security deposit successfully pre-authorised for the booking, they will also be provided with a link to enter their card details securely.
Check-in Instructions
Check-in instructions get sent automatically if the guest has completed all the required booking confirmation steps. In terms of timing, the instructions get sent out if (and only if) an hour before their indicated arrival time, they open the email that they get sent to ask them to confirm their arrival, and confirm that they are on time. If you want to send check-in instructions to a guest manually, open the relevant booking, click on More Actions on the top right, Sent Email, and under Apply Template select Check-in instructions.
Security Deposit Captured
If you capture a security deposit for a guest within Zeevou, they will get sent an automated email to let them know that you have charged their deposit, and it will inform them of the amount charged and the reason for the charged as logged by you when charging the deposit.
How do I waive the requirement for a security deposit for a particular booking?
When creating a booking, you will see a tick-box on the bottom right. Tick the box to waive the requirement of that guest having to pay a security deposit. If you don't want any of your bookings for a particular unit type to have to pay a security deposit, leave the security deposit field blank in the unit type information.
You need to go to Zeevou Sell, then to Zeevou Blocked Dates and set the dates or hours you want your property to be blocked.