Supposing that you are a vacation rental owner, being involved in the property management industry, chances are that you have used a Channel Manager, a Property Management Software, and/or a booking engine. You might be looking for the best possible tools to start your short term business or you are thinking about trying a new solution. Either way, you'll be more than likely to experience difficulty choosing the best option. A whole lot of pros-and-cons-weighing is required.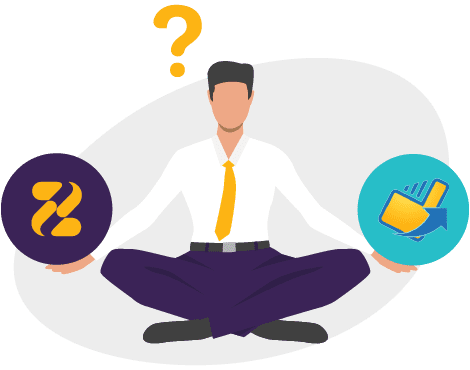 While seeking the solutions, all demos look great. But once you sign up, you quickly notice that all that glisters is not gold! You might not distinguish between the existing tools and features unless you have used a PMS or a channel manager in the past. In addition, you find all the features checked while exploring the existing solutions' webpages. In a series of short articles, Zeevou will be comparing the features and functionalities of other providers against its own in a fair manner. Ultimately, it's up to you to choose the PMS and/or channel manager that best suits your requirements as a property manager. These product comparison posts aim to provide a detailed aspect-centric comparison. In an aspect-centric comparison, we review how these systems perform in some aspects.
The Problem of Hidden Facts
Comparing PMS solutions, you hardly recognise some aspects which are normally quite impactful to performance of your vacation rental business. Hidden fees and unresponsive support team are two of the main ones in that list. Hidden fees might become a considerable portion of all your expenses. Late or unresponsive support teams will make severe consequences such as loss of bookings and revenue. In this article, we would like to provide you with the facts collected through review sites such as Capterra and Softwareadvice, as well as detailed study of Zeevou vs Newbook.
NewBook was founded in 2010 by Brad Illich to provide a cloud based Property Management Software, especially for RV parks and resorts. NewBook keeps updating and its PMS's new interface proves its urge to keep up with new trends. Its online booking solutions, 2 Way SMS and Email Inbox, Paperless Check In and Mobile apps for guests are amongst its top features. NewBook provides a lot of different reports for checking revenue, bookings and staff performance. NewBook also enables the user to set different kinds of surveys with smart detection of keywords to optimise the VRO's businesses. Currently, NewBook has employees across Australia, the United Kingdom and the United States.
Zeevou is an easy-to-use online platform that automates all aspects of hospitality management, from marketing, to bookings, to operations in a single unified hub. Zeevou was born out of Na'ím Anís Paymán's short term rental business result as he saw the inadequacies of property management systems and channel managers in the market.
Zeevou claims that it has devised a platform to bring about The Direct Booking Revolution! Some of the unique features of Zeevou are listed below:
5-Step Booking Confirmation Process to automate the booking process.
Reduction of operational management headaches with Zeevou Do.
More direct bookings through Zeevou Show's SEO-friendly website.
Management of direct payments, deposit pre-authorization and its automatic release.
Customised reports


Zeevou's channel manager connects to over two hundred (200+) external channels, ranging from OTAs to property listing sites. Zeevou has a built-in channel manager
included in the package price, so you don't need to set up two systems. The rates you set will be pushed to different platforms, removing the hassle of overbooking due to the two- way connection. What makes Zeevou special is that Zeevou offers a channel manager which not only runs with the PMS and an accounting system but it is also integrated with Signable for online payments. The functionality of all these together is unique in Zeevou's channel manager.
Read More »
The integrated channel manager of NewBook allows you to manage your listings on OTAs, pushing rates and avoiding overbooking. The cost of booking through
the channels is £1.20 per booking for 0-150 and £0.00 per booking for 151+. If you wish to get direct bookings through the increase in the number of reservations on your website, NewBook captures some money per booking which is 0-30 at £0.00 each, 31+ at £0.60 each.
Read More »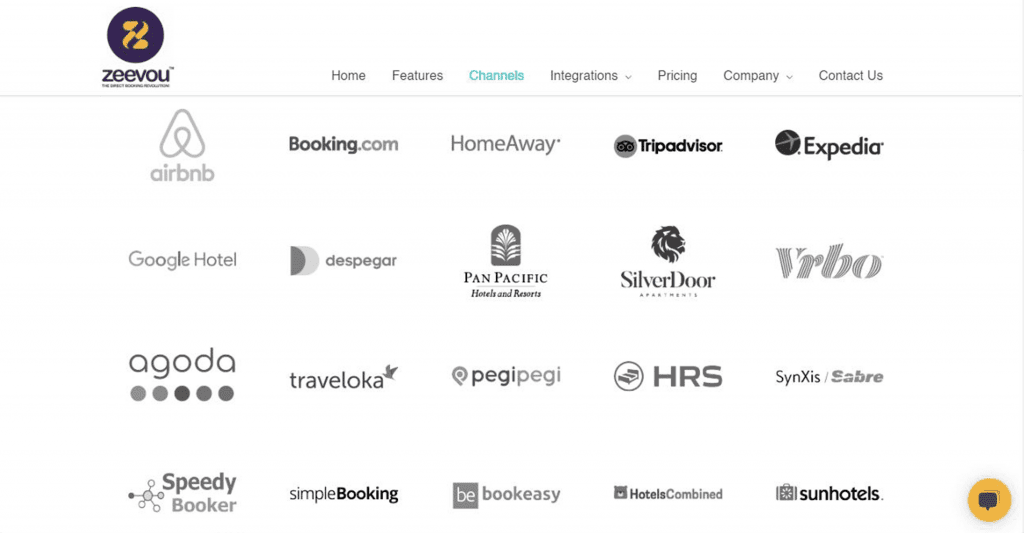 Zeevou has developed two different calendars. Zeevou Cal is the module in which you can find the Zeevou Occupancy Calendar. It shows all the reservations of
different units. You find the dirty and clean status of the rooms in the same calendar besides unallocated bookings in black color. The advantage of unallocated booking, which is exclusive to Zeevou, is that it resolves overbooking issues. The other calendar is Rates & Availability Calendar of Zeevou Sell module. This calendar shows the minimum night stay and the rates. You can either set the rates yourself or apply dynamic pricing tools and the rates will be adjusted in this calendar. Zeevou works with unit types which means you can set rates for a group of similar units. So, in setting the rates, Zeevou makes the work much easier.
Read More »
NewBook's PMS calendars are pretty simple. Actually the calendar is dedicated to each month's occupancy and there is the possibility of editing guest's information or making a quote in place.
Read More »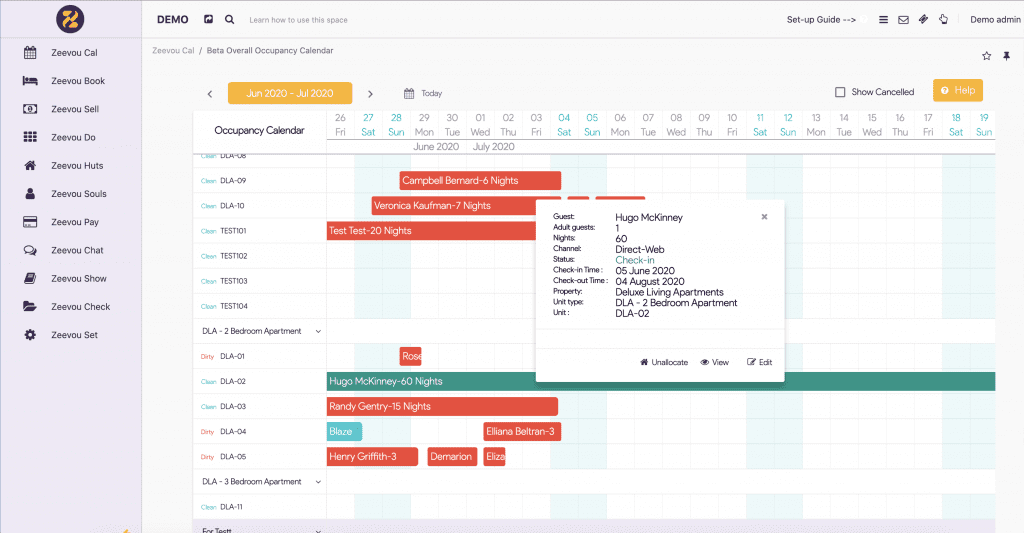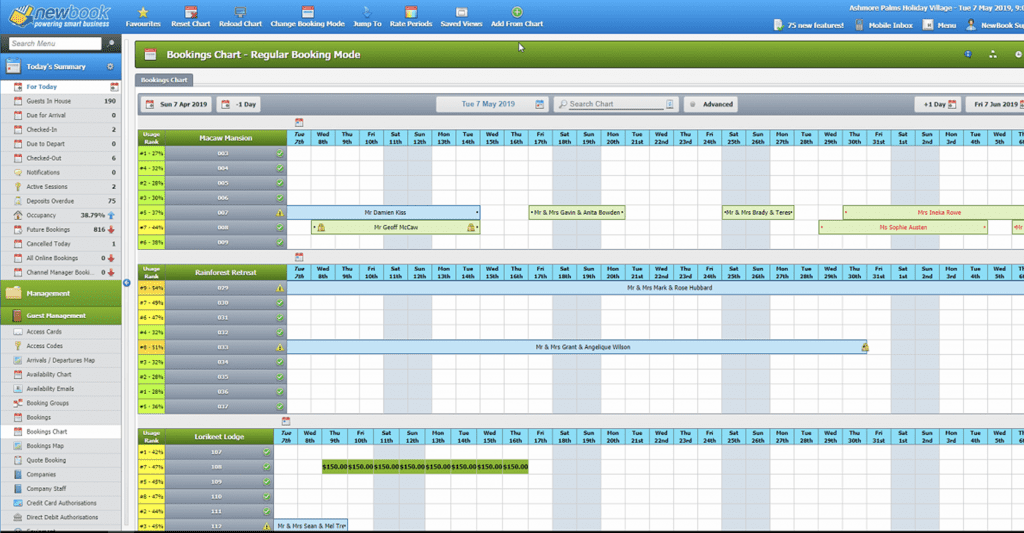 Zeevou operates the booking process by its one-of-a-kind 5-Step Booking Confirmation
Process smoothly. All bookings made via Zeevou go through a 5-step confirmation journey. An email is automatically sent out by the system at the time of booking, initiating the process. To learn more, read Zeevou Book.
Read More »
Booking process is quite simple. Guests have to select their room based on availability on the website. Selling Add-Ons and Activities helps upselling and is scheduled in during the process. The payments can be made in installments. Stripe is among the payments gateways and the user of the system can adjust the number of days before pre-authorization expires.
By pressing the Default Booking Tasks button, the staff in charge will be notified of a set of tasks before the guest's arrival.
Read More »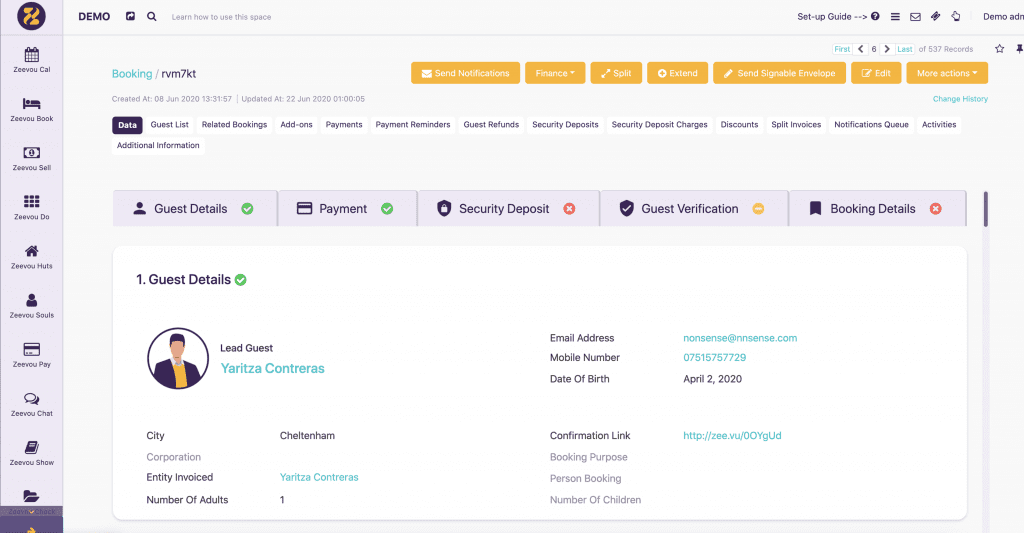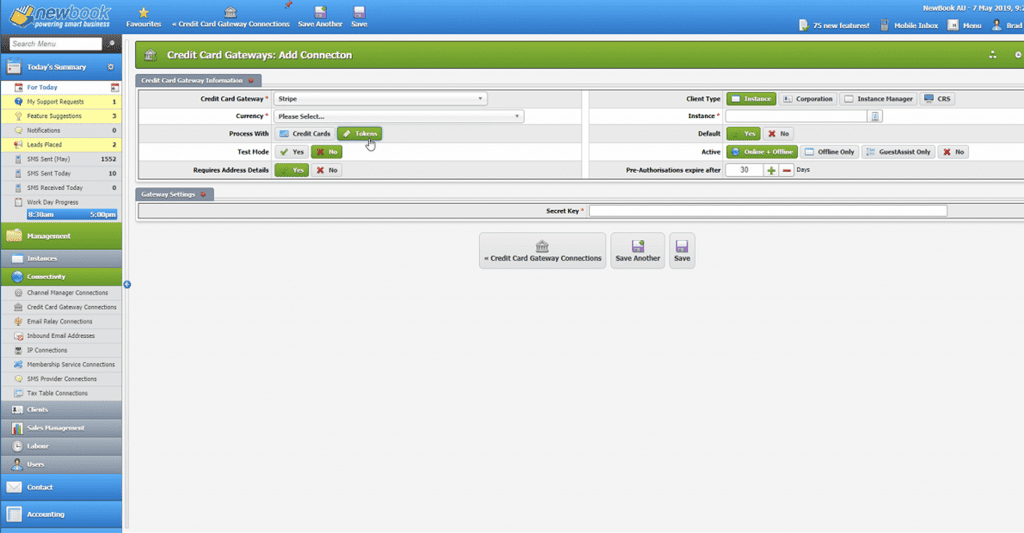 In Zeevou, you can set trigger emails and make customised automated templates. You can set an email template for check-in and check-out instructions, as well as other purposes.
Read More »
In NewBook, you can set trigger emails and create customised automated templates.
Read More »
Zeevou provides different customised reports like Booking Incomes Report, Sales Reports in different intervals, Monthly Profit Report, Occupancy Percentage, Bills Reports, Refunds Reports.
Read More »
NewBook provides a lot of different reports like the Performance tab, which shows revenue received, cancelled bookings and all bookings made. Likewise, the Staff Statistics tab shows who is performing most
efficiently among the staff members and who is bringing the highest revenue.
Read More »
Record of Guests' Email addresses
To boost direct booking, Zeevou builds up a database of real email addresses for all of your guests. Real email addresses are automatically collected when the guest
confirms their booking on Zeevou after it has come through an OTA or property listing site. Zeevou has even provided GDPR-ready features that will cut down the hassle of dealing with guest data from the EU. The database can be used as an email marketing list. Additionally, guests are reminded throughout their interactions in email footers and on invoices that they can get a better deal by booking directly. The invaluable database of GDPR-compliant contacts can also be used to send promotions and discounts for returning guests by a specific voucher code to encourage direct booking.
Read More »
Setup, Training, and Support
Zeevou does not charge any money for setup (onboarding), data migration, training and support. Zeevou is committed to offer online support forever and for free. Zeevou
also imports your existing future bookings from Airbnb and Booking dot com among many other channels at the point of connecting.
Read More »
Setup, training and support all cost a noticeable amount of money with NewBook. For the operation of one hundred units, NewBook charges £90.00/hour for training
and setup. All properties must conduct a minimum of 6 hours of training and 10 hours of setup. Data transfer from the existing reservations to NewBook similarly costs a considerable amount. Travel expenses of the NewBook people coming for your help will be added to your expenses in addition to £25.00/hour.
Read More »
Record of Holiday and Sick Leaves, creating Groups of Staff Members, detailed Housekeeping Schedule, Mid-stay Housekeeping Task Generation, and
Housekeeping Pro Mobile App are among the services Zeevou offers. Housekeepers are asked to upload photos of each room/unit they clean. And as the number of toilets, bathrooms and rooms are specified previously in Zeevou Huts, the system knows how many photos to request from the housekeeper. The cleaners can also report maintenance issues.
Read More »
By defining a task, a staff member can be assigned and notified via email, SMS or NewBook notification.
Read More »
Zeevou is integrated with PriceLabs and Beyond Pricing. These tools generate variable price ranges for different
days of the year and you can push rates to different channels from Zeevou. You need to pay for the dynamic pricing tools' subscriptions separately.
Read More »
IDeaS is integrated with the NewBook PMS system to make rates adaptable and dynamic. Setting the rates in NewBook also includes different options with different rates
which are Daily Rate, Hotel Loyalty Rate and Corporate-7 Night Rate.
Read More »
Mobile App (For Guests and Staff)
Mobile app for housekeepers is live. However, staff and investors can log in on a mobile responsive web app.
Read More »
NewBook has developed mobile apps for guests and staff.
Read More »
With Zeevou, it is possible to create group bookings. Group booking is very handy to save time and minimise human error for making reservations for a group of people at once in several units/rooms.
Read More »
Zeevou has recently put into place a new pricing strategy. The more units or rooms you have, the less you will have to pay per unit for Zeevou's subscription. There's a
defining difference between apartments, houses, and cottages on the one hand and guesthouses, B&B, and hotel rooms on the other hand. In other words, you won't be the same amount as Zeevou's pricing packages differ based on unit types. No matter what unit type you're offering, there will still be a fixed rate, with no commission requests or hidden fees. From now on, if you sign a contract for a year, you can save a remarkable amount of money. Monthly packages will give you the option to still enter a contract with Zeevou before deciding to subscribe to Zeevou's annual packages.
Read More »
Zeevou includes more functionalities if you are operating a vacation rental business with many properties or you are planning to expand. The geographic hierarchy of Zeevou which organises the properties in multi-country, multi-city, and unit type grouping categories are quite new between property management systems. If the business is the operation of properties in different locations, this option is what you'll need. Unit type grouping is also useful in case you have a property including similar units, so you can define a unit type and enter information for the unit type which can be applied to the other rooms in the group. Gathering guests' real email addresses for email marketing is very unique to Zeevou, stimulating direct booking. Zeevou provides unlimited and free support and it does not charge you for setup and training. Its new pricing packages are also particularly designed for the benefit of the owners and managers with many units. The more you put in Zeevou's trust, the less you pay and it is always cheaper when you ask for an annual subscription.
Zeevou does not charge you by hidden fees. Zeevou is committed to offer online support forever and for free.
NewBook is a cloud-based solution to streamline management processes of hotels, holiday parks/camps, apartments/villas, motels, hostels, student accomodations, permanent residentials, marinas, etc. To manage all different types of accommodations the software must be very comprehensive, based on a very accurate study of all those requirements. According to one of the reviews recorded at Softwareadvice is about lack of some features related to maintenance and management of assets which are unique to vacation rentals and different from typical motels or caravan parks. There were a complaint related to poor support and also one recorded about direct connections to mostly Australian based channels. The good point is that Newbook has a section dedicated to feature suggestions.