Hostfully is an established brand in the vacation rental industry, focusing on streamlining operations through automation and providing property managers with tools to drive more direct bookings and 5 stars reviews. Hostfully was founded in 2016 in San Francisco. Orbirental and Hostfully merged and have continued their operations under Hostfully since then. Orbirental helps distribute bookings across different platforms.
Hostfully believes in its property management end-to-end solutions and is also recognised for its very customisable and user-friendly digital guidebooks. Hostfully offers bookings distribution, direct booking tools, channel management, automated tasks and communication, personalised customer experience, and integrations with important business tools for accounting, payments, cleaning and pricing.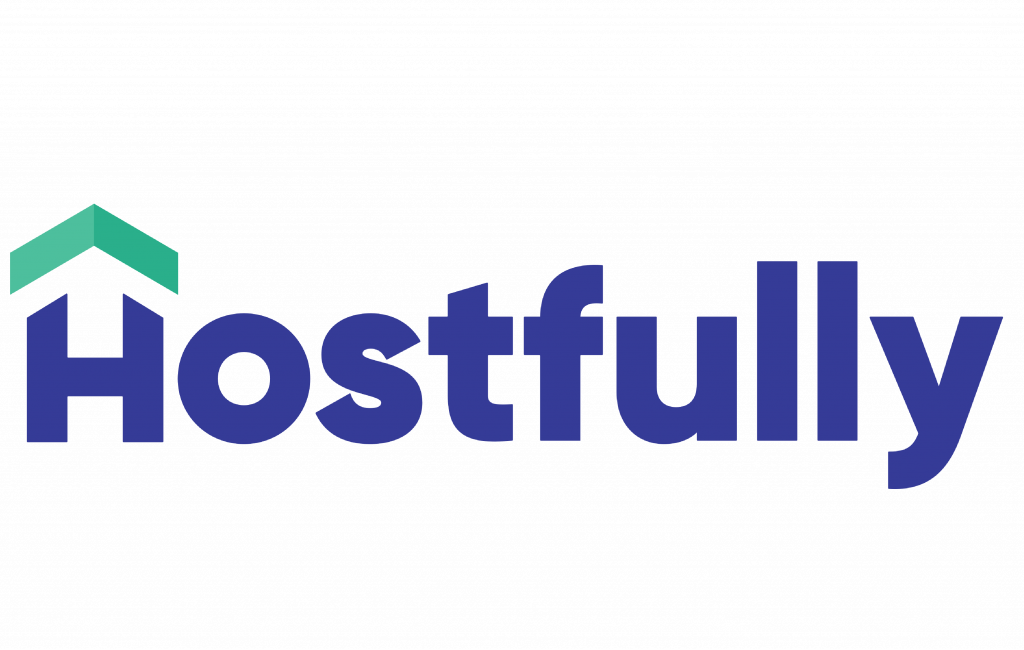 Hostfully is a complete, end-to-end property management platform that helps vacation rental property managers increase bookings and boost revenues. By streamlining the workflow and simplifying daily operational needs of vacation rental businesses, Hostfully empowers property managers to provide 5-star hospitality at scale in an affordable, easy-to-use solution.
Hostfully is an official channel partner for Airbnb, and has reached the exclusive Preferred Partner status for Vrbo, and Premier status for Booking.com. Hostfully also integrates with many other OTAs and channel managers such as Rentals United or NextPax.
Hostfully features include:
Reservation Management

Bookings distribution

Channel management with direct API connections

Inbox for Airbnb and Direct Bookings (Vrbo and Booking.com coming soon) 

Automated tasks and communication

Direct Booking website and tools (SEO Friendly)

Upselling

Owner's Portal

Pipeline Management

Analytics and Reporting

Customer data management (CRM)

Personalised customer experience

Integrations with important business tools for accounting, payments, cleaning, dynamic pricing, Home Automation, Insurance and more.

Digital Guidebooks
Hostfully charges a $400 setup fee for monthly subscriptions, which can be waived if you sign-up yearly. The setup fee will grant you access to an onboarding manager that will work with you throughout your first month. After that, you have access to unlimited 24/7 customer support.
How Important Is Transparent Communication with the Owners?
While managing property on behalf of an owner or investor, the best case scenario would be providing the owners with real-time access to bookings and other relevant data. It will also reduce your workload as the owners could check the calendar themselves in case they would like to stay in their properties once in a while. If you do not find the necessity of giving the owner login access to the system, you must provide them with financial reports or profit analysis datasheets, at least periodically. What if you do not trust the reports produced by your PMS? This means you need to consume hours to check critical aspects of your reports before handing them over to the owners.
Automated Booking Processing
Hostfully can automate completely your booking process, no matter if the booking is coming from OTAs or direct through your website.
Through the Hostfully dashboard, you can see all received bookings and from there, you can manually or automatically assign the reservation to an agent that will be responsible for it.
Once assigned, the booking moves over our Hostfully's Pipeline management, which gives you a general overview of all bookings, including where the booking came from, what step of the booking process the guest is, payment status, and more. Through the Pipeline, you can also take actions on these bookings such as send a quote, place a hold, mark as booked, show alternative options, change payment status, send messages,close the lead, and more.
Hostfully also allows you to create unlimited templates and set triggers based in many conditions in order to automate all the communication to your guest. 
A pre-arrival form can be automatically sent in order to collect information about all your guests, including name, real email, phone numbers, information about their trip, government IDs. You can also customise this form to request any additional  information you might need. 
Rental agreements can be automated and digitally signed with Hostfully proprietary digital signature features, no matter if the booking is coming from an OTA or directly.
Hostfully has tools in place within the pipeline to show whether the guest has completed the pre-arrival form, as well as provided an electronic signature on the hosts rental agreement.
All Hostfully communications are GDPR-compliant.
Hostfully direct booking system also allows you automatically offer upsell services such as early check-in, or late check-outs, mid-stay cleanings, and any other services you'd like to offer.
Payment can also be automated through Stripe, Paypal or VacationRentPayment and Hostfully allows you to set a rate multiplier on a channel-basis so you can offset OTA commissions and make sure you're getting paid what you want. 
If the guest pays in an alternative form (ie: wire transfer, venmo, check or cash), the host can manually mark the reservation as paid and keep total control of payments. 
It is also quite clear whether the guests have paid or not in the software. The pipeline will colour-code each reservation based on payment status. If you need to collect additional payment from the guest, the PMS will trigger an automated message to the guest with a secure payment form, allowing the guest to complete the remainder payment. You can also manually click to trigger "Payment Balance Request" reminders to the guest.
Security deposits can be fully automated and refunds can also be provided directly from the Hostfully platform. 
All confirmed reservations will also populate in the calendar view within the Hostfully PMS, where all reservation details can be referenced, in addition to filtering and quote building tools. The calendar is a multi-channel colour-coded calendar, indicating to the host which channel each reservation was made through.
Hostfully integrates with Zapier, an online automation tool that connects Hostfully to 400+ softwares such as Gmail, Trello, Slack, Mailchimp, Salesforce, Hubspot, Google Sheet, and many more. 
Hostfully also integrates with many partners that can help you automate your booking process even further:
Home Automation: RemoteLock, Lynx, Point Central, and Operto. 
Cleaning and Management: Breezeway, Properly, VrScheduler, EazeCade, and TurnoverBNB.
Insurance and guest screening: Safely, InsuraGuest, and Autohost.
Home Monitoring: NoiseAware
Marketing Automation: Mailchimp
Data Tools: KeyData
Hostfully has built its channel manager allowing hosts to connect with many OTAs directly without the use of third-party channel managers. Among Hostfully's direct API integrations are Airbnb, Vrbo (Preferred Partner), Booking.com (Premier Partner), TripAdvisor, HomeToGo, Tripvillas, Yonder, GoLightly, and more.
Hostfully also integrates with channel managers such as Rentals United and  NextPax, allowing you to integrate with hundreds of additional OTAs.
By using Hostfully, you can:
Import all your listings from Airbnb and avoid manual work.

List your properties on the Hostfully channel to increase direct bookings. 

Use the rate multiplier feature to offset commissions.

Sync pictures, description, amenities, prices, and real time availability.

Automatically create listings on OTAs.
charges 3% per booking for all the payments without Kigo, for example, for your Airbnb bookings.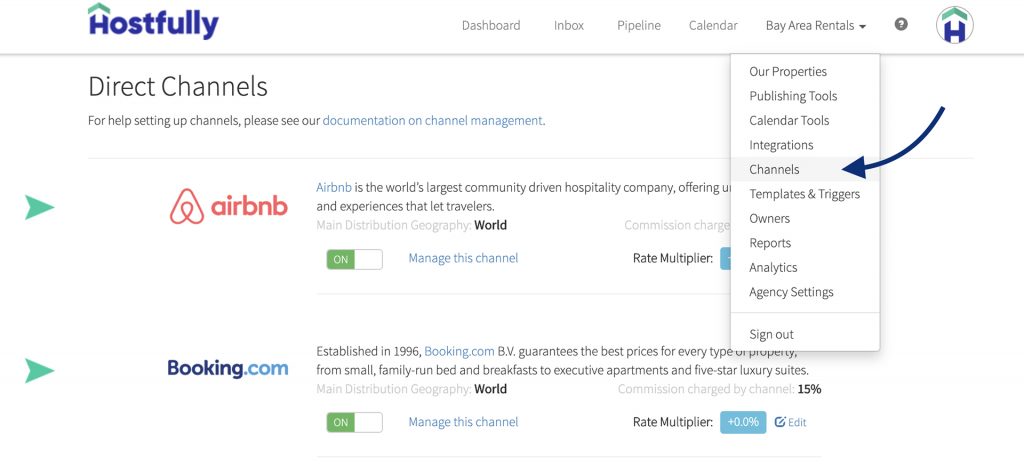 Hostfully seeks to help their clients automation all parts of their business. 
By using Hostfully, you can choose between their own cleaning/task portal or use of the cleaning/management integrated partners:
Breezeway

Properly 

VRscheduler

EZcare

TurnoverBNB
Hostfully cleaning/task portal can help you:
Automate the creation of tasks such as greeting or check-out cleanings for every booking.

Automate emails or text messages to all your cleaners and maintenance workers.

Provide access to a service provider portal that includes calendar, tasks, notes per properties.

Get to know when a task is completed directly on the Hostfully main calendar.
In order to provide clients with the most advanced technologies for self check-in, Hostfully is fully integrated with home automation softwares such as PointCentral, RemoteLock, Lynx and Operto.
By using these integrations, door codes can be automatically generated for all bookings and automatically sent to guests upon different parameters set in the trigger's section.
If you'd like to share the door codes in a more elegant way, the Hostfully Digital Guidebooks are fully integrated with Hostfully PMS, allowing you to generate a secured link guidebook for each of your reservations, including guest's first and last name, check-in and check-out dates, and of course, the door code they will need to use to get into the property.
Additionally, the Hostfully Guidebooks can provide detailed information about arrival, house manual, departure, local recommendations and through the Marketplace, you can upsell services, creating a new streamline of revenue to your business.
Hostfully offers free direct booking websites to all PMS clients. 
Hostfully direct booking website provides a search bar so guests can find their perfect property.
Property pages are completely synced with the Hostfully platform and will auto-populate your property information such as pictures, descriptions, amenities, pricing, availability and reviews, and more, while keeping this information consistent across the other channels being used.
By using the Hostfulluy direct booking, you can also:
Customisable header, footer and Meta using HTML and CSS;

White-labelled with your logo, domain, hero image and headlines;

Track your performance on Google Analytics;

Track bookings uncompleted. 
Hostfully also understand that some property managers will want to have their professional website custom designed for their operation. In order to support it, Hostfully provides:
Search widgets

Booking widgets

Calendar widgets
These widgets can be integrated with any platforms you choose to create your website, including WordPress, Wix, Squarespace, and others.
Hostfully also provides a discount code feature, that allows you to create codes to provide discounts, track marketing campaigns, or even create special promotions. Discounts can be provided on a percentage basis or amount basis.
allows

map search

Manages multiple properties easily by organising units from countries to buildings based on a

geographic hierarchy
group properties

together to increase the occupancy rate  like Homes by the beach, pet-friendly, cabins, etc. 

tracks your website performance through

analytics

Kigo charges for Premium Websites: a setup fee of $499 and a monthly subscription of $59
Hostfully platform is designed for short-term rentals and can accommodate long stays including two payments from the guest, as well as discounts for longer stays.  Hostfully does not support automatic recurring monthly payments or lease management.
Hostfully is widely known for its digital guidebooks, providing one of the leading digital guidebooks in the industry. 
Completely integrated with the Hostfully PMS, Hostfully guidebooks allow you to pull name, check-in and check-out dates and door codes automatically, providing a seamless experience to the guest.
On Hostfully Guidebooks, you can add pictures of the property, welcome messages, check-in essentials, access information, directions, parking information, house manuals, amenities, and local attractions/ recommendations.
Setting up a guidebook is a 30-minute process, and the hosts can build the guidebooks up incrementally over time. 
Besides the Guidebooks, Hostfully PMS has a lot of ready-to-use email templates, SMS templates, and trigger rules. The link to the property guidebook can also be automatically included in the templates, making it really easy to send it to the guest.  To see example guidebooks, click here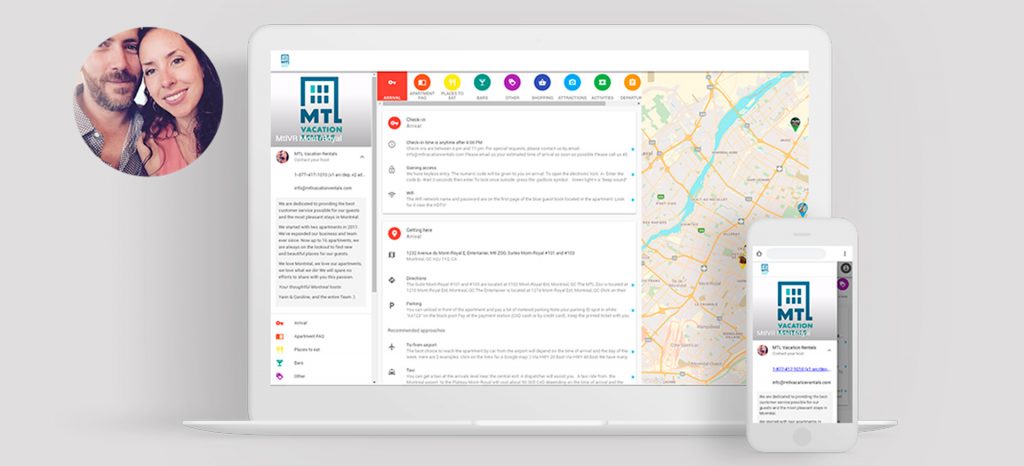 Hostfully's Property Management Platform also has a built-in CRM, separated in two different sections:

1.Pipeline: The Pipeline was designed to allow you to manage all your leads, inquiries, current bookings and past bookings.

Through the Pipeline, you can visually see payment status, source, check-in and check-out dates, guest name, price, and number of people in each reservation. Besides that, the Pipeline can tell you where the guest is in the booking process. Stages are: Quote, Hold, Booked, and Staying. From the pipeline you can also open a reservation and easily manage it. Lastly, the Pipeline allow you to filter reservations by Status, Channels, Properties, Agents, and also sort it by most recent or arrival date. A search option is also provided, making it really easy for the property manager to find any specific details on any reservations.

2.Customers: The customer section was designed to allow the property manager to find all past, current, and future guests, and all reservations related to them.
 In addition, Hostfully has an integration with MailChimp to export all guest details for re-marketing purposes, and through the Zapier integration, pretty much any other marketing software, too.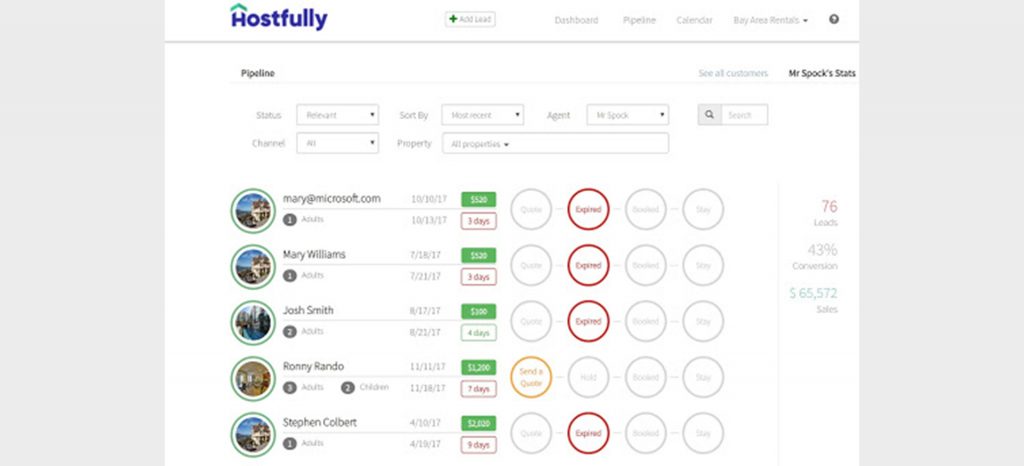 Although most of the successful clients on Hostfully are using one of the integrated partners to manage cleaning/maintenance, Hostfully PMS also provides you with a maintenance portal. 
Each service provider will receive access to their own service portal, where they can see all jobs assigned to them and either decline or accept those jobs within their portal, which then communicate to the platform. They can also access a maintenance calendar, and notes.
Through the templates and triggers section, PMs can automated emails and text messages to all service providers.
set your expectations by attaching photos and have a place to receive photos in real time from cleaners

automate all communications through the system by email and SMS.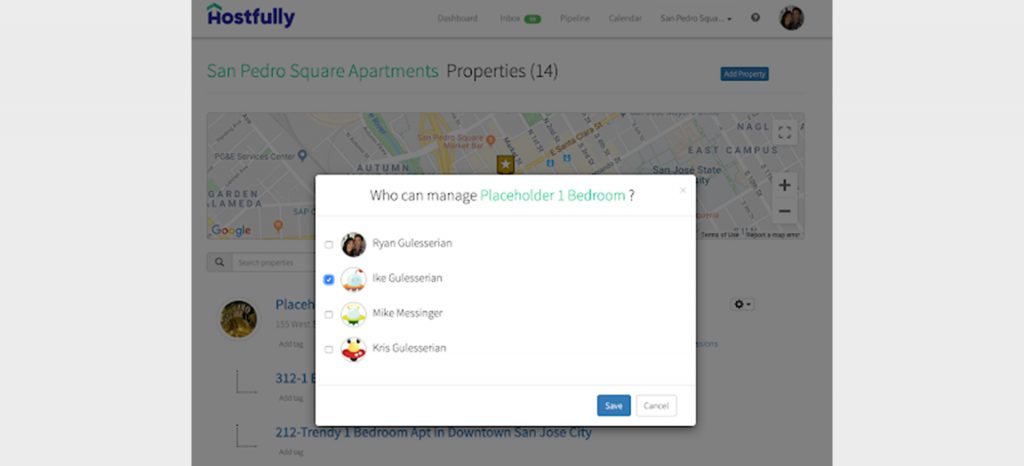 Hostfully has not developed mobile apps yet, although all sections of its PMS and Guidebooks are completely mobile friendly, responding well across all devices. Its digital guidebooks are "responsive design", so they look and feel like an app without the guest needing to download anything onto their phone. It is accessible through mobile, tablet, and desktop, as well as a printed version, which includes a QR code for the guest to access the digital version.
Both platform and guidebook communicate seamlessly to any device.
Using Hostfully, you can manage properties in different countries and currencies. 
You can also group properties by tags, making it really easy for you to filter or retrieve these properties using the Hostfully open API.
If you already have properties created on Airbnb, Hostfully is able to all your listings to the system, avoiding any manual work.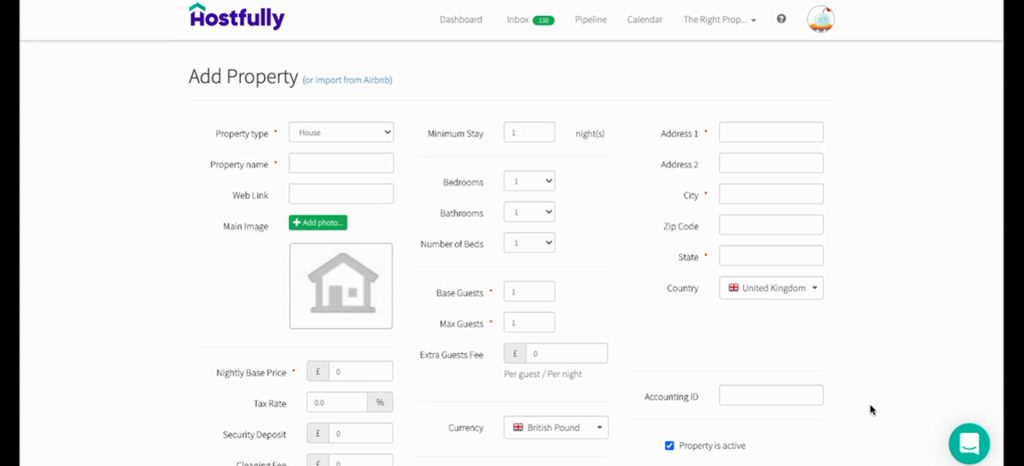 Hostfully defines user "roles" to provide access control to particular parts of the system for the people managing a specific area of your business. 
Hostfully also empowers you to send all your check-in information through their template and triggers section, based on the status of a reservation, or payment status.
Once a booking is created, Hostfully can automate the creation of check-out cleanings, maintenance orders, or any other order you'd like to set up.
You also can create a profile for each of the service providers and give them access to the Hostfully service providers portal. That way, they will have access to all pending and completed orders and real time calendar view to all properties they're assigned to.
Hostfully provides vacation rental management companies (VRMCs) with a way to manage calendars collaboratively with the property owners they represent. It allows each property owner to access the "Owner Portal", a part of Hostfully's site where owners can co-manage the availability of their rental and get informed about the status of their calendars. VRMCs can also publish financial statements to owners, to keep owner's informed about the monthly revenue generated by their rental, as well as expenses, commissions, taxes. And more.
Some key features include:
the ability to notify owners of every new booking

the ability to provide multiple email addresses for the above notifications

the ability to allow/disallow owner to block dates on their calendar

the ability to decide Agency or Owner will collect and remit tax(es). This will affect the Due Agency and Due Owner amounts in financial report accordingly.
Owners can: 
check property availability calendars.

book an owner stay, or guest-of-owner stay

download their owner statement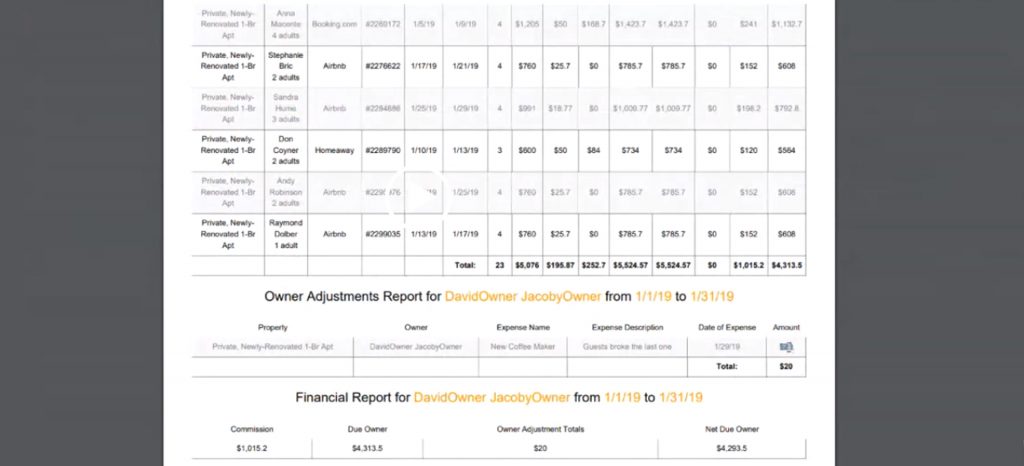 Hostfully can completely streamline your payment process with different payment processors:
Stripe

PayPal

VRP (VacationRentPayment)
 These payment processors can be used for direct bookings and channels that require/allow you to be the merchant of record.
As part of the check-out process, Hostfully can offer:
 Split payments

Upsells

Rental agreement digitally signed

Collect payment information
Process the payment with custom security deposit amounts
You can also take payments outside the system (back transfer, Venmo, Cash, Zelle, etc, and easily add a new payment record in the order.
KigoPay generates event triggers and notifications for reconciliation, fraud, charge-back disputes, etc., automatically.

Kigo payment processing services are PCI DSS compliant with bank-level encryption.
Hostfully reports can be created by dates, properties, and/or owners. 
You can create reports for:
Bookings

Payments

Check-in and Check-outs
Hostfully also recently launched the Extended Data Report, that allows you to export all the data you have related to all bookings, properties, channels, etc, to an Excel Spreadsheet. That way, you can have all your data in one single report.
All reports can be exported to PDF and Excel.
Hostfully has integration with the top three dynamic pricing companies in the VR industry: 
PriceLabs. 

Beyond Pricing
All dynamic prices can be synced with your direct booking website, as well any other channels you're integrated to.
You can also set pricing periods and apply them to specific seasons, holidays, conferences or special events.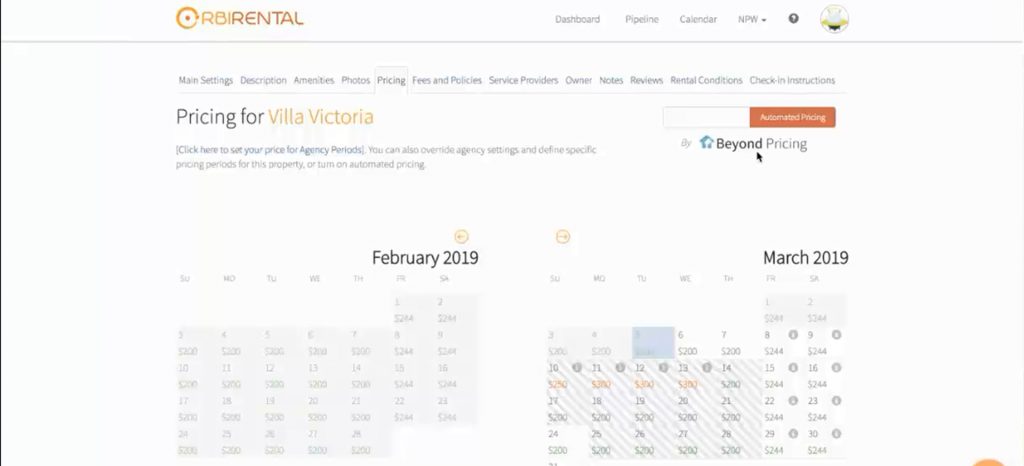 Every Hostfully client has access to an onboarding manager that will be able to schedule 1:1 meetings in order to show you how to use the platform, help you set-it-up correctly, respond to any questions you may have and  make sure your foundation is strong and built for success!
During your on boarding process, your designate donabording manager would assist you with:
Importing your properties from other channels to which we are connected.

Configure pricing. Once you configure pricing in Hostfully and sync to the bookings channels, Hostfully becomes your source of truth for all data 

Set-up your Payment Processor

Add your Calendar Reservations

Automate Messaging

And much more
Setting up the booking channels.
Additionally, Hostfully provides unlimited customer support to all subscriptions. 
Hostfully support team is distributed among different time zones in order to provide 24/7 responses.
Important metrics from Hostfully support:
Chat time average: 1 hour 

Email response average: 3 hours. 

CSAT scores: over 90%
Additional training and onboarding sessions are also available upon request and might be charged separately.
Kigo Platinum Support costs Monthly subscription of $500
Hostfully has a direct integration with Quickbooks. 
Besides that, Hostfully also integrates with Zapier and allows you to integrate with many other accounting softwares.
Hostfully has three different pricing plans, Starter, Pro, and Premium. On monthly subscriptions, Hostfully charges a one-time implementation fee of $400, which is automatically waived on annual subscriptions. There is also a 10% discount for annual payments too. Team Access Roles, and Digital Signature features are not included in the Starter plan. Starter plan supports up to four properties and costs US$79 on a monthly-basis. The Pro plan supports up to 19 properties and costs US$189 on a monthly-basis. Premium plan starts from US$250 for 20 properties, and you pay additionally for additional properties. The 21st property costs $12 and price goes down as you increase the amount of properties. Additional properties can cost as low as US$6 if you have more than 100, or even US$3 if you have more than 1000.
Hostfully: A Property Management System to Choose?
Hostfully is currently Recognised as one of the best PMS in the industry. Their PMS product has been back-to-back winners on the VRMB All-Around Vacation Rental Software and their digital guidebook was also recognized by Software Advice (sister company to Gartner's magic quadrant). Hostfully is recognized for its clear interface, pipeline management, reliable direct integration with OTAs, dozens of integrations with best-in-class VR softwares, and also its affordability when compared to top PMSs.
We are committed to ensuring that all our analytical articles are factually entirely correct and accurate. If you have spotted anything that you feel is wrong or misleading in this article, we'd appreciate hearing from you..