Zeevou As a Stage Partner
On Thursday 12 March 2020, Zeevou is delighted to be speaking at the Short Stay Show in London. Zeevou is also sponsoring the Technology Stage at the event. Na'ím Anís Paymán, Zeevou's Chief Revolutionary, and Ammar Shaer, Zeevou's Chief Strategist, will be giving interesting talks and participating in panels at this event. Na'ím's talk will be dedicated to direct bookings and how these can be increased by getting to know your guests better online. He will be joined by other panellists from well-known organizations to discuss topics relating to technology, people, education and continuous improvement. Join Zeevou at the Short Stay Show 2020 to learn more about the industry. You will here, particularly what Zeevou has to offer to those seeking to ensure consistent growth.
What's on at the Short Stay Show 2020?
The content and networking available at this event will be very informative. Carlos Villaro from EHHA will moderate a panel session. Panellists are Alessandro Pacilio from Booking.com, Maxime Leufroy-Murat from City Relay, Humphrey Bowles from GUARDHOG Technologies, and Na'ím Anís Paymán from Zeevou. It will be a chance to find out about the latest trends that will help improve your business. To prepare what's ahead of you as a short stay business, you'll get invaluable insights by attending this particular stage session.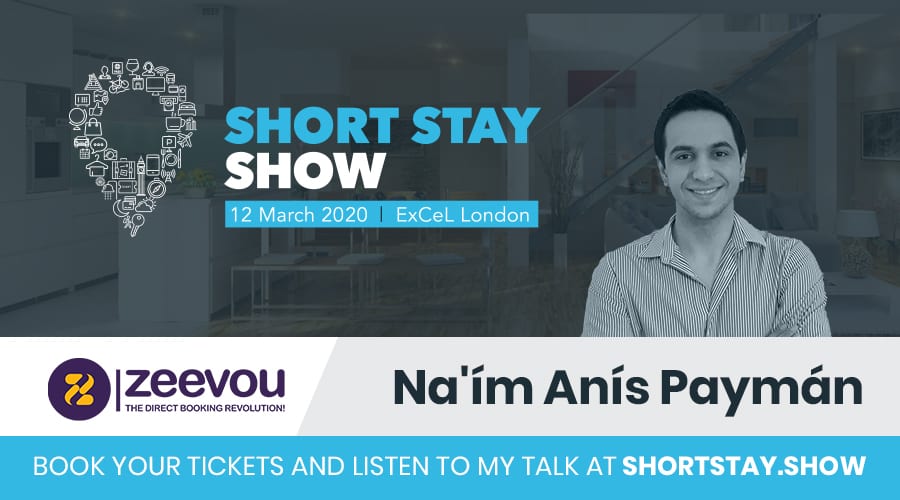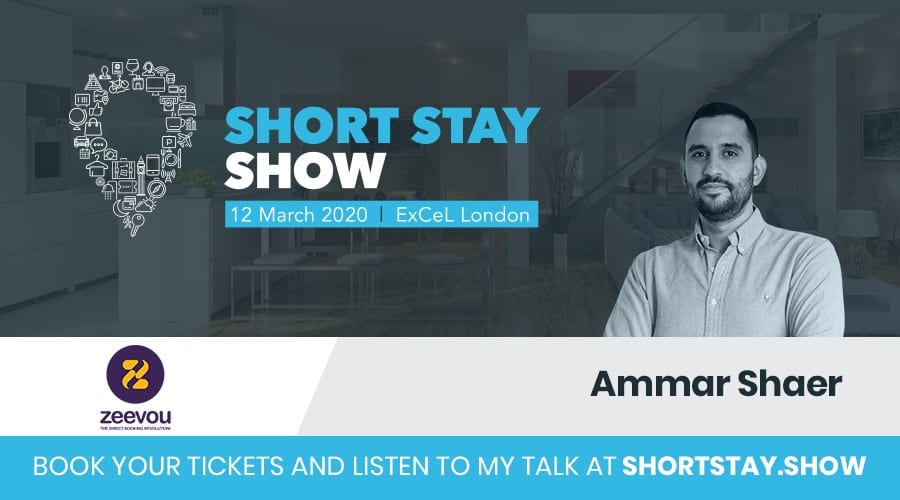 The Short Stay Show takes you to the midst of the vacation rental marketplace. It showcases products and services related to the industry. In a nutshell, you will land in a networking area full of peers, professionals, and pioneers. For tickets, click here. Contact us, and we may be able to get free tickets for you!
Where to Find Zeevou?
The venue is located at Royal Victoria Dock, 1 Western Gateway, Royal Docks, London E16 1XL. The doors open at 09.00 am. Zeevou's impressive stand is located across the Network Area at booth 435 in front of that of Beyond Pricing and surrounded by other giants of the industry. Zeevou will be officially launching in March, around the same time as the event is held. Feel free to come and see us at the Zeevou booth. You can have a chat with one of the members of our Partner Success Team about our features and functionalities.
We will be also rolling out our new annual pricing plan, which, we are sure, will just amaze you! To make things even more interesting at the show. We'll be offering one free annual subscription to Zeevou for up to 5 units, worth £2300 to one lucky person. Simply leave your business card, subscribe to our newsletter using an online signup form, and you'll automatically be entered into the competition.
How to get there
ExCeL London® is located at the Royal Victoria Dock, One Western Gateway. Parking should be booked in advance through the official website. ExCeL® is situated on the Docklands Light Railway line, via the Custom House (for the west entrance) or Prince Regent (for the east entrance) stops. If you are going by London Underground, the Canning Town (Jubilee Line) stop allows you to change onto a Docklands Light Railway train to the venue.

To learn more about Zeevou before or after the show, simply click on this link. One of our friendly staff will reach out to you and walk you through The Direct Booking Revolution.